Chouxnuts Give Crullers a Glazed Glow Up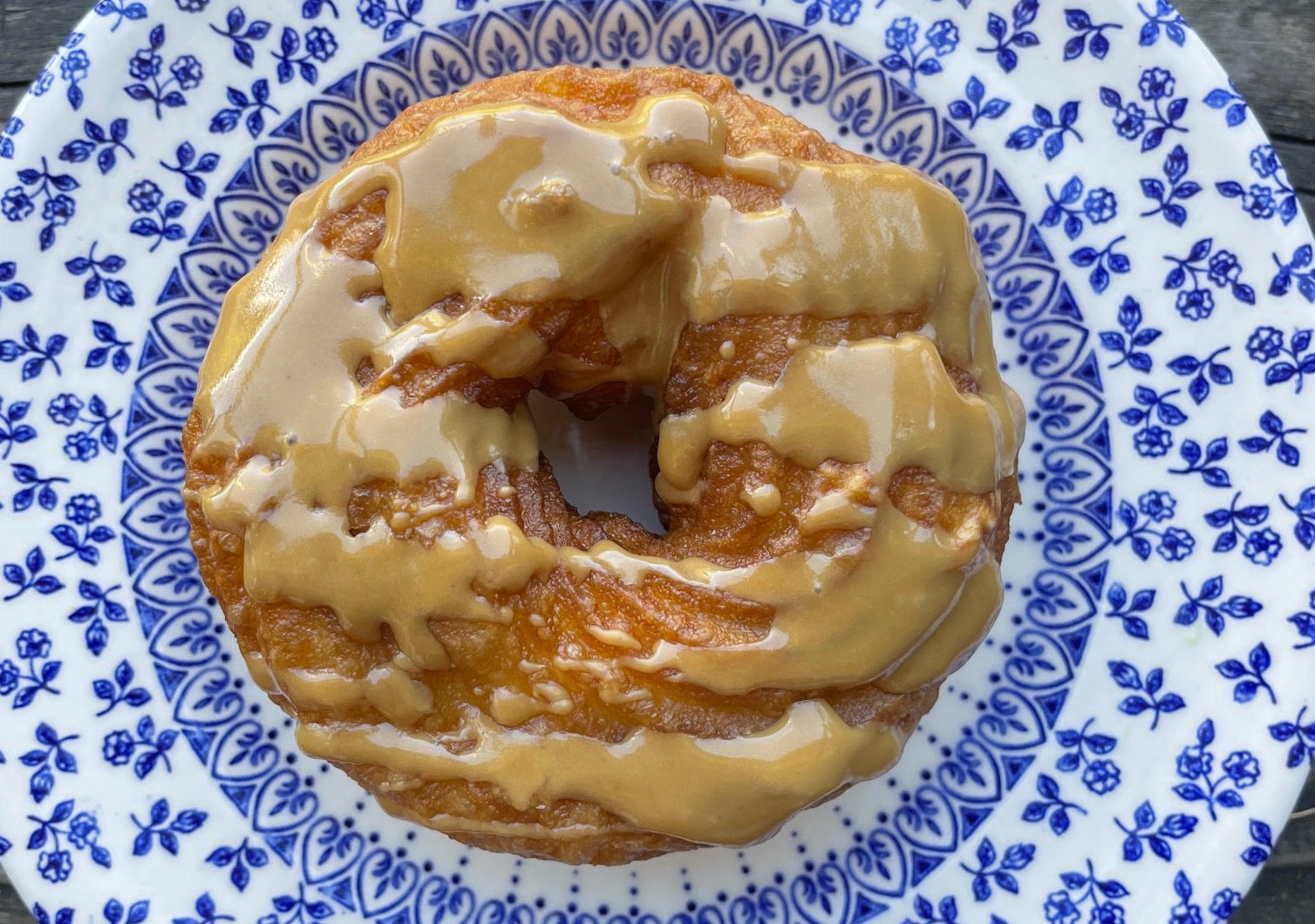 Choux pastry makes an airy, churro-like donut that begs to be filled with cream.
Recently, I was winding down from a day's work with an episode of The Great British Bake Off—an admittedly funny way to relax after teaching a baking class in my hometown of Seattle. It was pastry week, and the contestants were asked to make something called a "chouxnut," a hybrid pastry that is essentially a doughnut made from pâte à choux (also called choux pastry). I wached the bakers fill their creations with creams and custards made of passion fruit, yuzu, and caramel, and I suddenly found myself in the kitchen, whipping up a batch for myself.
From fry bread to beignets to gulab jamun, people all over the world enjoy dough cooked in hot oil. It's all inherently delicious, but it is my opinion that the chouxnut is among the highest forms of fried dough. At its most basic, a chouxnut is an éclair that has been piped into a ring shape and fried until perfectly golden before being filled, glazed, and/or rolled in sugar. A chouxnut is crispier and lighter than a doughnut, like an eggier churro with an almost custardy interior. The pastry puffs up when fried, leaving large pockets inside that beg to be filled with custards and creams.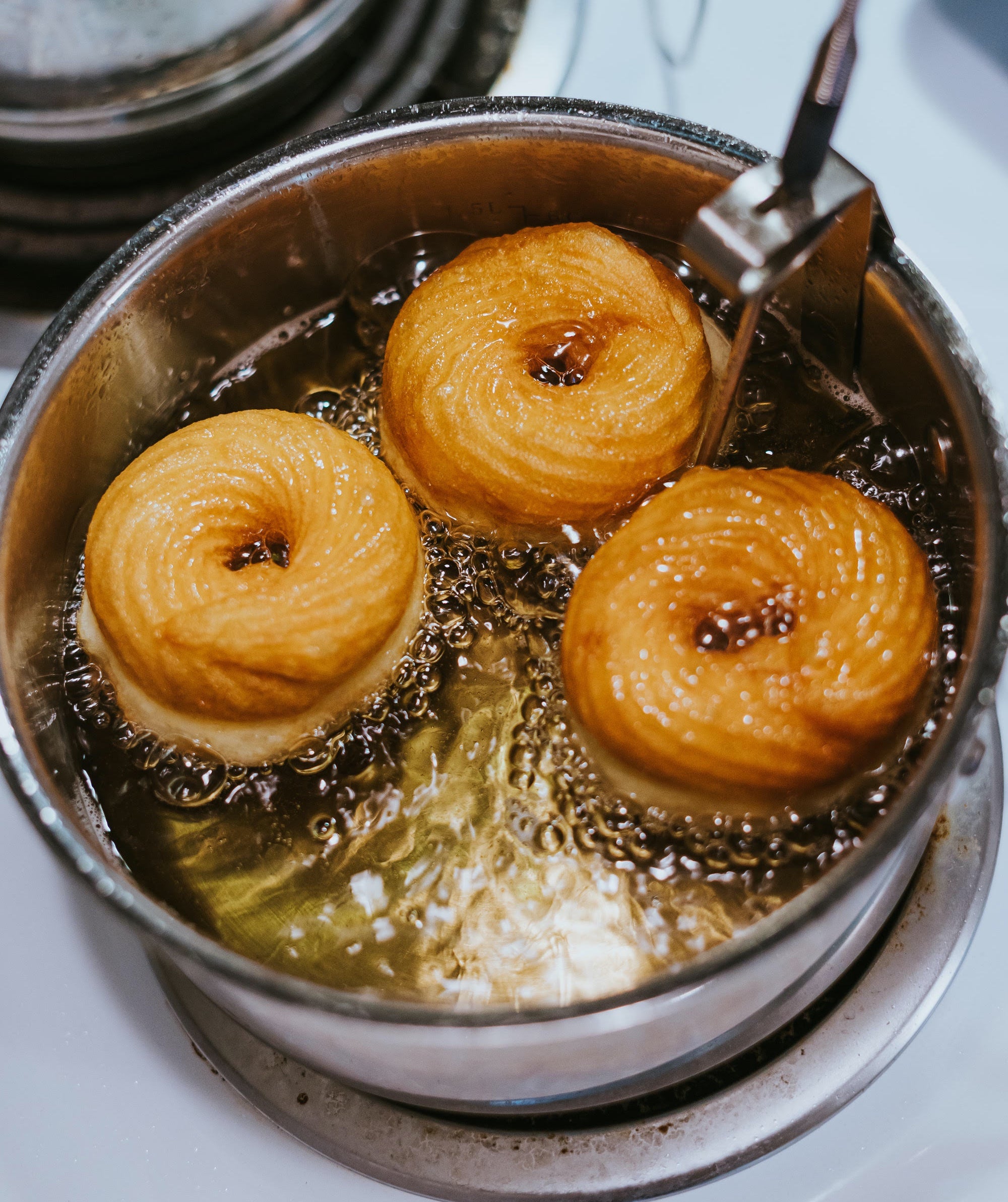 While the term "chouxnut" is fairly new, these fried pastries have long been known as "French crullers," yet they are not French in origin at all. Crullers originally came from Germany and the Netherlands but over time have become distinctly American, with proud regional variations such as the Milwaukee kruller and the Pennsylvania Dutch cruller. The term "French cruller" refers specifically to a variation made from choux pastry, a staple of French cuisine. They are traditionally served with just a light coating of plain glaze, but in recent years, trendsetting bakeries like Choux bakery in San Francisco and the now shuttered Bijou Choux in London gave new life to the classic treat, upgrading them to include rich fillings and colorful toppings with a new name to match. "Chouxnut" is reminiscent of other massively popular hybrid pastries such as the cronut and the cruffin. Essentially, the chouxnut is the "glowed up" version of an old classic.
The best thing about chouxnuts is that they are simple to make: You can have one warm and ready to serve in less than an hour. In contrast, homemade doughnuts take well over three hours to produce, as most yeasted doughs require two separate rises in addition to time spent mixing, kneading, and shaping. Even though it is quicker to make, the most important thing to know about choux pastry is that it is cooked twice. 
Butter, flour, and water are first cooked on the stove to form a thick paste. Then, eggs are added in one at a time until the mixture is smooth and glossy. Getting the texture of choux batter just right is the key to light and pillowy chouxnuts; it should be firm enough to hold its shape when piped, but loose enough to fall off a spatula in a thick ribbon. Once piped into rings, the chouxnuts are fried until crisp and golden.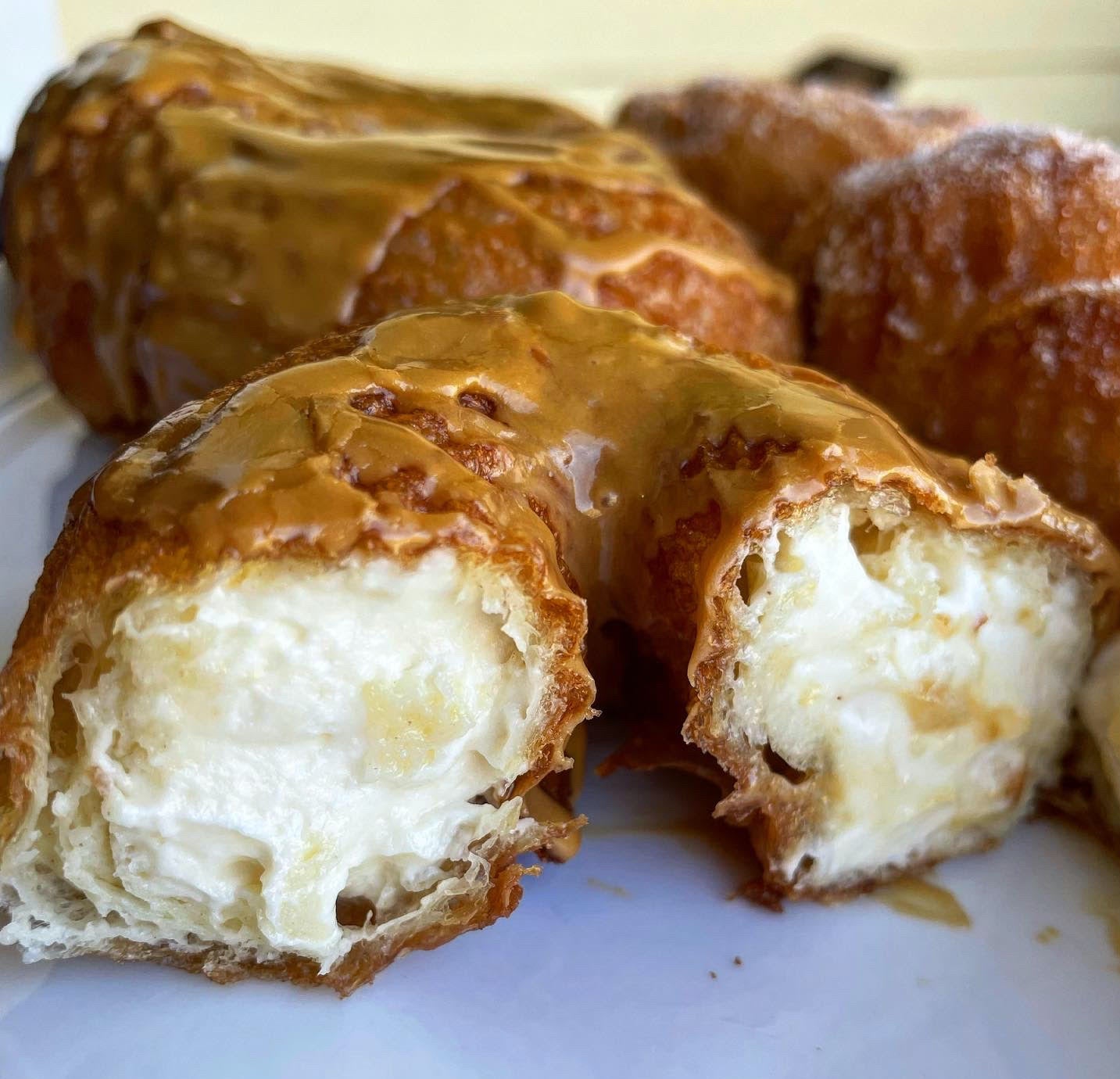 Deep-frying can be scary the first time you try it, but it doesn't require any special equipment like a deep fryer. You can even use an oil-filled pot on an electric coil stove (the kind of stove that I am stuck with and embrace). To simplify the ordeal of deep-frying, the trick is to work in batches with a smaller saucepan (2–3 quarts in size). It's easier to control the temperature with less oil.
While you may be jumping out of your comfort zone making chouxnuts at home, you won't be disappointed. Just an hour of work is rewarded with an irresistible, fresh pastry. They are best eaten straight away and won't keep their crisp texture for more than a few hours, so be sure to share them with your loved ones and neighbors. No one is more popular than the person handing out doughnuts—except, perhaps, the person handing out chouxnuts.
RECIPE: Chouxnuts
RECIPE: Earl Grey Crème Légère
RECIPE: Espresso Chouxnut Glaze