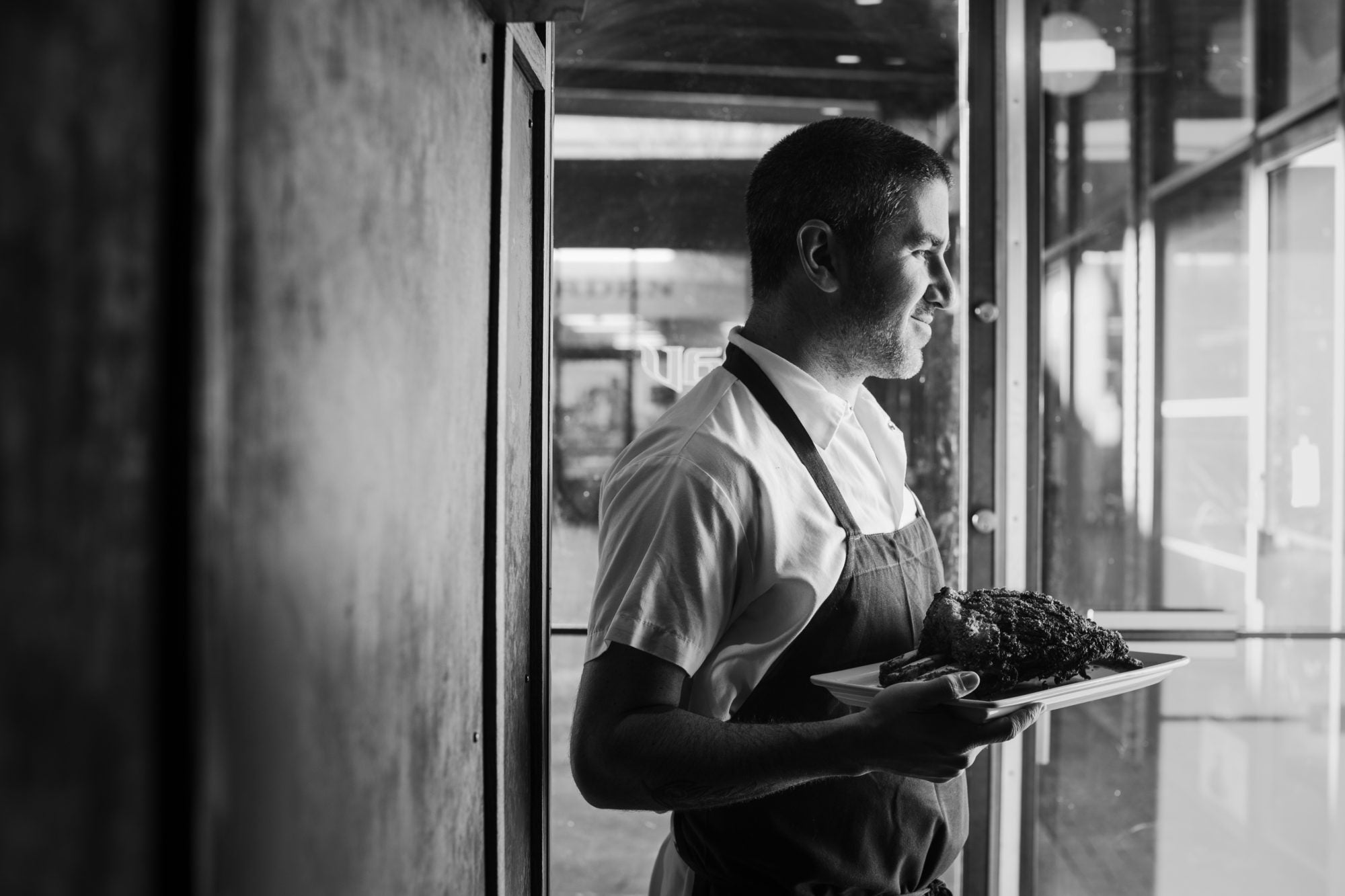 No restaurant in America has brought Israeli cooking to the front burner more than Zahav in Philadelphia. A decade in, a co-owner looks back at the highs, lows, and 134,409 orders of pomegranate lamb shoulder.  
When Zahav began in the spring of 2008, it may have seemed like a curious time to open an upscale Israeli restaurant in Philadelphia. The country was in the middle of the worst financial crisis since the Great Depression, and people weren't exactly flush with cash to spend at restaurants whose food they couldn't pronounce.
On the other hand, there were signs that good things were on the way. That fall, the Phillies won the World Series and Barack Obama was elected president. Anything seemed possible. Even a restaurant like Zahav.
But when we swung open the doors on May 3, 2008, was there a sizzling demand from customers for Balkan-style mackerel or pickled labneh? Sadly, no.
Ten years later, it's easy to take Zahav's success—or the wide acceptance and growing adoration of Israeli cuisine in general, for that matter—for granted. My partner, chef Michael Solomonov, would go on to win James Beard Awards in 2011 and 2017. But during its first year, Zahav was seemingly often weeks away from being a footnote in Philadelphia restaurant history: yet another critical success that just couldn't figure out how to stay in business.
We made a lot of mistakes. A lot. But we were up against something bigger than our own incompetence. People simply did not understand what Israeli cuisine was. And at the time, I'm not sure we knew exactly ourselves.
In 2008, Israeli food in America was largely designated as falafel and shawarma, often in the hands of Israeli businessmen catering to a relatively insular kosher market. Yotam Ottolenghi was a few years away from becoming a household name with the release of his book Jerusalem in the fall of 2012. The legions of Israeli-inflected restaurants around the country that have now created an actual trend—from Balaboosta to Kismet to Nur (shoutout to Taboon in NYC, which predates us all!)—wouldn't burst onto the scene for several more years.
And so in this vacuum of Israeli food in America, the void was filled with clichés along with the widely held belief that Israeli food equals Middle Eastern food.
The reality is much more complicated—and amazing. For two millennia, Jews have been wandering the earth, embracing the culture and cuisine of their local hosts, adapting it to their religious and dietary needs, and transmitting the results at each stop along the way. The establishment of Israel as a country in 1948 created a repository for all of these traditions.
For ten years we've been calling Zahav a "modern Israeli restaurant." We used the phrasing because we couldn't think of anything better, but it's never felt particularly apt. After all, there's nothing modern about cooking pita in a wood-burning oven or Romanian kebabs on a charcoal grill. It's taken me years to realize what is modern about Zahav: the way it attempts to unpack what Israeli cuisine really means.
The cooking is not just what landed on the tables in pre-Mandate Palestine, a cuisine that was very familiar to the Jews of Iraq and Syria and Lebanon. Nor is it simply the collected recipes of European and Balkan and North African Jews returning to their ancestral homeland.
The soul of Israeli cuisine lies in the journey these foods have taken—to the ends of the earth and back—to be joined together in a piece of land the size of New Jersey. Israeli cuisine is the culinary equivalent of one of those massive family reunions, the ones with the matching T-shirts, where people meet relatives they've never heard of.
Israeli cuisine is sabich, the now-classic sandwich of fried eggplant, hard-boiled egg, and amba that developed in Israel out of the Sabbath breakfast traditions of Iraqi Jews. It is rugelach, the Ashkenazi pastry, made now in the Arabic tradition of saturating pastries in syrup. It is malawach, the humble Yemenite fried flatbread, now available in the frozen-food department of every Israeli supermarket. It is borekas, the stuffed savory pastries whose flaky dough made its way from Spain through the Ottoman Empire to Bulgaria and finally to Israel, where they are now a national obsession.
Ironically, Zahav is an Israeli restaurant that probably would fail in Israel. In Israel, there are grill restaurants and hummus joints and Moroccan restaurants and Romanian restaurants. But Zahav is all of those things, packaged together in a way that makes sense to American diners (our customers), centering around a cuisine based on traditions from dozens of different cultures.
But what most defines Zahav as an Israeli restaurant is the way we evolve these traditions and adapt them to our own reality—the way immigrants did when they arrived in Israel and the way Jews have done for thousands of years. In eastern Pennsylvania, for example, we only grow great tomatoes for chopped salad three months out of the year, so in the winter we might substitute mangoes or pickled onions.
And the working title for our signature dish may as well be "An American Pitmaster in the Persian Royal Court": a whole-roasted lamb shoulder, smoked and then braised with pomegranate juice and chickpeas and served with crispy rice. It is Israeli in spirit, if not in fact, and the hundred thousand people who have ordered it don't seem to mind.
Before we opened Zahav, we debated whether we should even call it an Israeli restaurant. Israel carries so much baggage; "Middle Eastern" would be a safer, more broadly appealing choice was our initial logic. The vast majority of news we see on television about Israel involves violence and conflict.
For my celebrated chef-partner, whose family has been deeply affected by this conflict, there was no debate. Zahav would be an Israeli restaurant precisely because of the way Israel was perceived by the world at large. Through food and hospitality, we would show a different side of the country—one that transcended politics.
This has always been one of the secrets of Zahav's success. Not only does the restaurant tell the story of Israel through food; it gives our guests (and us) permission to be proud of a country that so often finds itself on the wrong side of the headlines. In our food-obsessed culture, where pictures of food sometimes seem like they matter more than the food itself, Zahav celebrates a living tradition that brings us to the table around what unites us, rather than what divides us. We all have to eat.