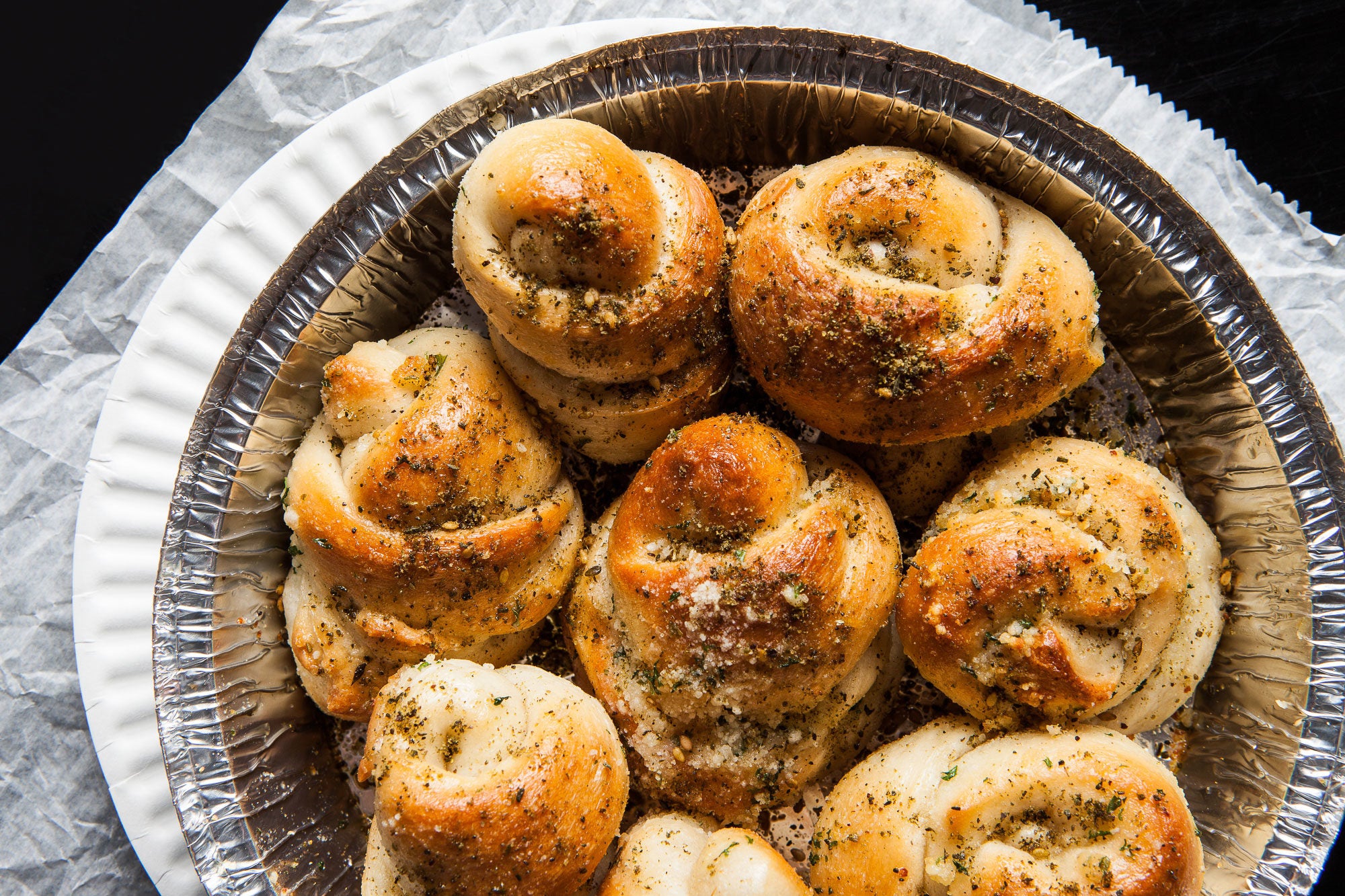 Put the savory, citrusy Middle Eastern spice mix on everything from garlic knots to scrambled eggs.
It's not that the mighty and muscled Middle Eastern spice blend za'atar has had a moment over the past decade. There's been a movement. Through the effort, and some smart recipes, from Middle Eastern cooking evangelists like Anissa Helou, Yotam Ottolenghi, and Michael Solomonov, to name a few, za'atar has been sprinkled into our lives from all directions. You've possibly read about it. You've maybe even tasted the salt, tang, and herbaceous kick. But what exactly is za'atar, and why are we telling you to buy it by the pound?
"The blend elevates every dish," writes cookbook author Adeena Sussman in her sparkling new homage to Israeli home cooking, Sababa. According to Sussman, za'atar is both the name of the plant that forms the spice's foundation and the blend itself. It's built around the wild hyssop leaf (a close cousin to oregano, but a little more woodsy), which is picked in Middle Eastern countries like Lebanon, Jordan, and Israel every spring and dried on rooftops. The spice mix is then made by grinding the dehydrated leaves and adding in heaps of citrusy sumac, marjoram, toasted sesame seeds, thyme, and a good amount of salt. In Middle Eastern home cooking, za'atar is used as a table condiment, and it's shaken onto a flatbread called man'oushe in Lebanon.
Sussman uses it on grilled pineapple. "Its savory elements play so nicely with that tropical sweetness," she confirms. She uses it in vinaigrette, which obviates the need for any chopped or dried herbs. "On a skin-on roasted chicken, its astringency and tartness counteract all that schmaltz."
In the Arab neighborhood of Wadi Nisnas in Haifa, the port city in northern Israel, I bought a kilo of za'atar at a shop called the Appetizer. The owner said he cut the blend with tingly citric acid and that his recipe was hands down the best in the country. And upon returning to my kitchen in New York City, I could not disagree. I dashed the fragrant mix on many things—roasted root vegetables, cottage cheese, popcorn, an uninspired shakshuka that became more inspired, garlic knots from my local slice shop, an olive-oil-fried egg—and laced it into the tub of industrial, CVS-procured hummus that was leaving me extremely unsatisfied after my return from abroad. A few spoonfuls of that Haifa shuk za'atar made it so much better.
Buy It: Burlap and Barrel ($9.99 for 2 oz)
Recipe: Homemade Za'atar Spice Blend
Recipe: Buttered Za'atar Garlic Knots
Recipe: Grilled Chicken With Za'atar
Also: Ottolenghi Wants You to Put Za'atar on Everything