The Young Chefs of Juarez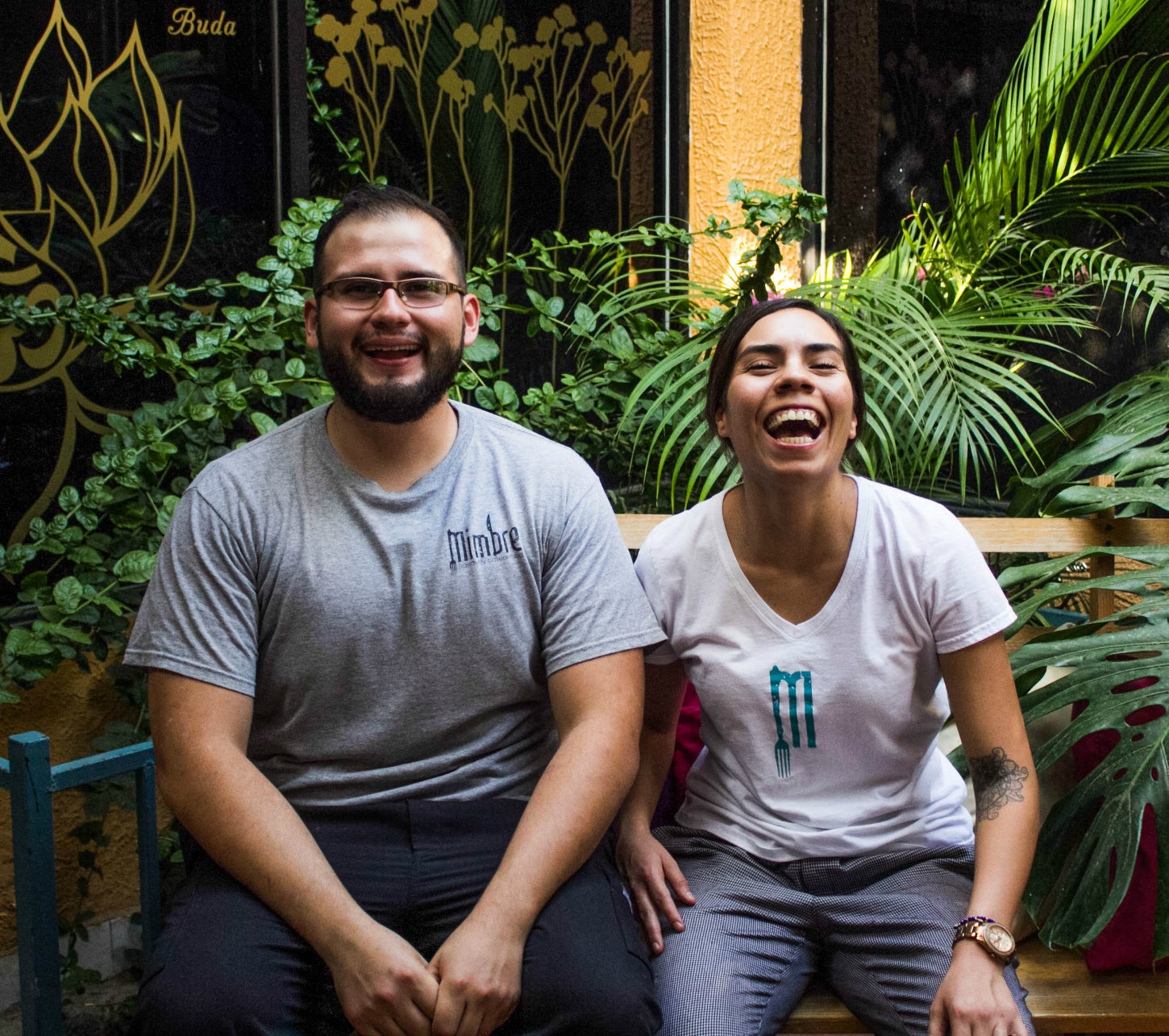 After years of unrelenting drug cartel violence, a group of ambitious Mexican chefs are helping reshape the city's culinary identity.
When a friend, Dinorah, asked me to meet at her favorite hole-in-the-wall in Juarez, I was sure it was going to be a taco shack alongside a busy road. So when we drove into the empty parking lot of an old church, I was confused.
Dinorah, who had just pulled in, waved and led me into a nondescript outbuilding across from the church. Inside, we were greeted with a glass of cool hibiscus tea—and a multicourse tasting menu comprised of savory Gruyère beignets, candied strawberry and roasted pepper gazpacho, cappelletti with short beef rib in rosemary oil, and saffron tiramisu.
We had found our way to Grulla, an underground restaurant launched by Ekan Augustus Essien-Udoedi in 2016. Ekan, 27, is one of a handful of young, ambitious chefs in Juarez who, after years of violence, have found an opening to transform the culinary landscape of a city that has been long characterized by the humble burrito.
While many still think of Juarez as the world's murder capital, gang violence has declined sharply since 2011. Increased security, coupled with the city's status as the second-largest border town in Mexico, has made Juarez the poster child for the North American Free Trade Agreement (NAFTA)—a controversial 1994 free trade agreement between Mexico, Canada, and the United States.
Juarez County now is home to the second-largest number of maquiladoras (factories) in Mexico. This has led to an unprecedented increase in the city's population and an influx of new developments. American big-box retailers and fast-food restaurants line the city's otherwise lonely landscape. Juarez's aggressive development has been welcomed by residents, who are heartened by the city's revival after years of violence.
"It makes your heart happy to see your people no longer suffering," says Ana Mariella Dominguez, a culinary arts instructor at El Paso Community College and the pastry chef at Frarsa, an inventive Italian restaurant that opened this summer. Since eighth grade, Mariella dreamed of a career as a professional chef, but because of a lack of options in Juarez, she began to train at restaurants across the border, in El Paso, Texas.
Mariella's first job was working the griddle doing pancakes at IHOP. Through a series of jobs, she moved up to become pastry chef at downtown El Paso's Ansen 11. She would travel from Juarez to El Paso for work every day, but during the violence, she did not want to risk the daily commute any longer and relocated to El Paso. "The violence initially didn't prevent me from going out," Mariella recalls of the difficult time. "What eventually stopped me was being inside a club when there was a shooting." Shootings in public places became so commonplace that the whole city shut down.
"The city had become a ghost town," remembers Carlos Castillo, the executive chef and co-owner at Frarsa. Carlos left the city when he was 16 to pursue his culinary career. After six months of training in Oaxaca, Carlos moved to France and spent over three years working in fine-dining establishments in Paris, Marseille, and Lyon. He then moved to San Francisco, where he worked as the sous chef at Flour + Water, before returning to the border. According to Carlos, the culinary scene was limited before Juarez became safer. "It's after the violence [stopped] that the dining scene started happening," he says. "Before, you had a lot of traditional Mexican restaurants and steakhouses."
Frarsa, which opened in June and is Carlos's first restaurant, has been very well received. Frarsa offers a creative take on Italian cuisine, with the menu changing every month based on seasonal produce—a rarity for a place like Juarez, where restaurants offer a fixed menu regardless of the time of year. Classic Italian dishes maintain a focus on Mexican ingredients: rigatoni with mirasole chile, ravioli with cream of elote. There's rabbit stuffed with Huitlacoche and fontina cheese and served with poblano puree and pumpkin flower sauce.
Frarsa's concept is inspired by Carlos's experience at Flour + Water. "There was no pretentiousness at Flour and Water. Just great food, great flavors," Carlos remembers of his time in SF. He wanted to bring back a similar concept and energy to Juarez. The restaurant's instant popularity has taken Carlos by surprise. "I didn't think this place was going to be so successful," he laughs. "I have gotten a great response from people because the dishes are different from what they are used to."
Not all restaurants pushing the boundaries of Juarez's palate enjoy Frarsa's quick success. Close to the Chamizal, one of the city's few green spaces, you will find Mimbre, a globally inspired restaurant founded by Bricia Romero and David Rodriguez in 2013. Bricia and David, both 27, who met when they were students at the Culinary Institute in Puebla, have developed a diverse and eclectic menu that is inspired by their travels. Bricia has done research on India and has experience in Thailand—where she served as an apprentice at the award-winning Indus Restaurant—and David's roots are in Veracruz.
The duo offers colorful takes on traditional Mexican, Indian, Thai, and Middle Eastern dishes. You will find falso tamale (false tamale)—bean paste with local Chihuahan cheese wrapped inside fragrant hoja santa (pepperleaf); concha (traditional sweet Mexican bread) stuffed with savory black beans and sweet curd; and Indian chuchumber (cucumber, tomato, and onion) salad infused with turmeric oil and topped with deep-fried, crispy wonton shells. While Carlos found customers to be responsive to his experimental take on Italian cuisine, Bricia describes a mixed experience with their fusion offerings when they first started. "At the beginning, customers would look at the menu and give up," she jokes. "It was hard, but it was good learning for us."
Currently Mimbre only serves breakfast and lunch. But after building a strong, steady clientele, Bricia and David now feel ready to start dinner service in November, with a heavier focus on Indian and Middle Eastern cuisine. Bricia is excited to offer Indian breads, such as naan and chapatti, and has plans to ultimately bring a tandoor to Mimbre. While they are currently working on finalizing the dinner menu, Bricia told me to look out for beet and hibiscus hummus, beet and chayote (Mexican squash) salad, and shrimp masala. While Bricia and David found Juarenses initially reluctant to try new flavors, Ekan at Grulla experienced a similar attitude from the restaurant side. It was one of the primary reasons he wanted to strike out on his own with his personal savings.
Ekan also launched his culinary career in El Paso, juggling coursework at El Paso Community College while working the kitchen in multiple restaurants. "I knew I wanted my own business," says Ekan. "I had trouble renewing the menu in most places I worked. I didn't want to get stuck. I wanted to keep learning." The chef went to San Francisco to pursue additional training. He did a three-day stage at the Michelin-starred Mourad and made the cut. But the high cost of living in San Francisco and bouncing from hostel to hostel for a month left Ekan exhausted and worried for his son back in El Paso. "One day, I came back from work and didn't have a place to stay," he recalls. "That same night, I bought a bus ticket to El Paso and returned to the border."
Ekan describes his approach at Grulla as "freestyle cooking" and works to change the menu every week. While he scouts for new ingredients in El Paso and Juarez, he is envious of the produce available in other parts of Mexico. Bricia has also found the lack of local, fresh ingredients on the border to be a challenge.
Carlos is currently working with Juarez-based suppliers to address the problem so he can source the majority of his products from Mexico. Most restaurants in Juarez purchase their products directly from stores in Juarez and El Paso. According to Carlos, this is time consuming, expensive, and limiting because of the shortage of ingredients in the immediate area. "You can't do new dishes if you don't get new produce," asserts Carlos. The chef approached vendors that would box and deliver produce from south and central Mexico to Juarez's local markets, and began to place food orders directly with them. He is now encouraging other restaurant owners to do the same.
Due to people like Carlos, Bricia, Mariella, and Oscar Herrera (owner and executive chef at Flor de Nogal, Juarez's first farm-to-table restaurant), Ekan feels that Juarez is now on the right track. "In a few years, I'm pretty sure there will be even more talent."
In the meantime, Juarez's current pool of young chefs remains steadfast in their desire to give back to the city. "Frarsa gives me an opportunity to come back and establish something here, in my home," says Mariella. She now offers apprenticeship opportunities to Juarense culinary students, an option that she personally did not have starting out as a chef. Ekan echoes that sentiment: "I feel that I owe the city a lot. The city deserves this kind of establishment, this kind of food," says the chef, who has started to look for investors to formalize and grow his restaurant. "Juarez has been through a lot. I want to refresh the view that people have of the city."
With a growing number of graduates from Juarez's new boutique culinary schools, and local restaurants working to expand the Juarense culinary palate, the city may well be on its way.