Where No Jewish Cookbook Has Gone Before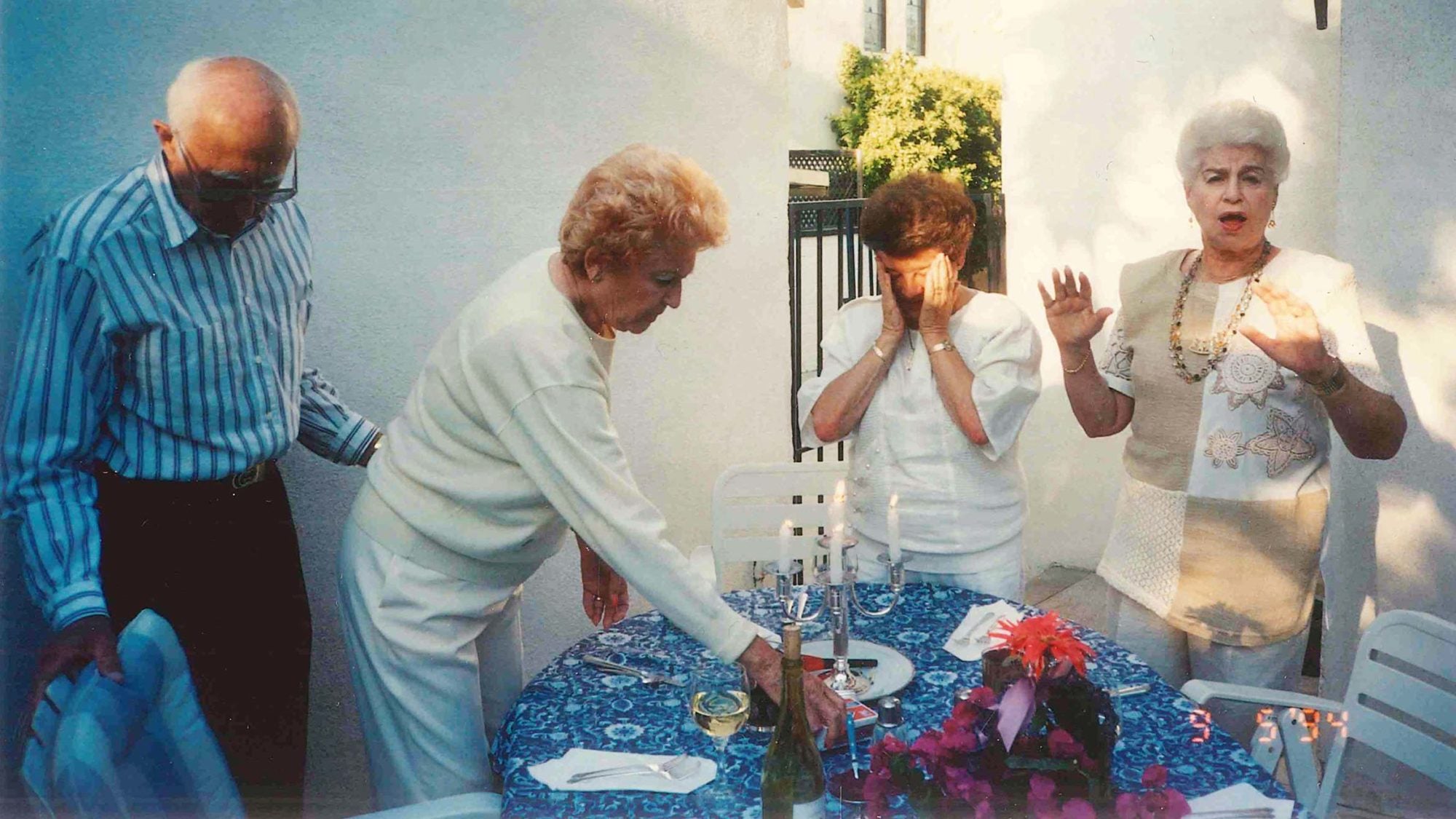 Eat Something looks at Jewish life through the culture of food, from bris to shiva.
I didn't need to read too many pages of Eat Something, a raucous and highly original Jewish food book from Evan Bloom and Rachel Levin, to realize that this was something special. It was at the opening page of the first chapter, entitled "The Early Years: Bris, the First Slice," in the nostalgic Cooper Black typeface. Most cookbooks like to flex their best food photos for these openers. The stretchiest cheese pull, the crispiest chicken wing. In this book, though, the opener is a 1956 photo depicting the ceremonial pricking of some poor kid's foreskin. Right there on page 22, followed by the essay "On Pastrami & Penises." And, of course, a really great recipe for pastrami carbonara.
"Jewish humor is all over TV, movies, Netflix specials, from Jerry Seinfeld to Jenny Slate, but why never in cookbooks?" Levin, who served as editor at Sunset and was Eater's San Francisco restaurant critic, ponders. She isn't wrong. Jewish cookbooks, while often well researched and dependably cookable, have stood mostly on the comedy sidelines—though credit goes to the Atomic Age pioneer Love and Knishes.
What I like so much about this book is its heart, both that it's in the right place, and that it exists to begin with. The authors embrace both joy and embarrassment with real honesty, and the book's progression through many milestone moments of a Jew's life—including the most awkward mitzvah of all during the 13th year, as well as Purim, summer camp, JDating, marriage, kids, and the snowbird years—keeps the pages turning and the punch lines landing.
The book is affiliated with the San Francisco delicatessen Wise Sons (there's also a location in Tokyo), but it should be viewed as its own work—it's hardly the flabby restaurant tribute text that has become the norm. But it's also a book worth picking up with your plates of latkes and chicken liver toasts at their restaurant's six locations.
Oh, yeah—the recipes in Eat Something are also really good, and make no mistake, codes are cracked for really good babka, apricot chicken, health salad, oven-poached salmon, and pineapple upside-down cake. As I wrote Levin, this was a book I didn't think I needed. She wrote back in this email interview with some really fun thoughts about bagels, tweenagers reviewing bar mitzvahs, and why rugelach is the most perfect little bite.
In the intro, you write cheekily about going "where no Jew has gone before"—contending that there was a void in Jewish food letters. What void do you fill?
Jewish cookbooks are always so serious. Very earnest and informative, almost academic. They are written, of course, by super knowledgeable and talented cooks and writers, but rarely do they reflect the way cultural Jews eat today, and the real relationship between Jews and food, which is often funny and fun and fraught.
You write that for Jews, food is "at once fanatical, logical, and comical, and, to be honest, kind of pathological." That's a lot to unpack. I love it. What single Jewish foodstuff connects all of these dots?
Hm . . . bagels? (Always controversial, and everyone has an opinion.) But I'm not sure there's one Jewish food in particular, it's the focus on food—the way it orients the day and dominates discussions. All I know is, when my whole family gets together to order Chinese takeout, or storms the Florida buffet, it's hilarious and, honestly, kind of embarrassing. We included an illustrated sidebar called "Overheard at the Florida Clubhouse Buffet," which I think kind of sums it up. All real quotes. I stood by the buffet, eavesdropping, and took notes as people surveyed the various stations.
For those who don't know, what is Wise Sons like? Is it like Katz's, Zingerman's, Stage, Wexler's?
As far as New York comparisons go, Wise Sons is more Mile End than anywhere else. Evan was raised in LA, and his classic deli reference is more Langer's than Katz's. Wise Sons came on the next-generation deli scene around the same time. I was an early fan of their pop-up, and I wrote the first piece about it for the NYT, in 2011. They now have two delis, one at the Contemporary Jewish Museum, and a bunch of bagel shops, including one in Tokyo. The 24th Street deli is my favorite; it's sort of become the unofficial JCC of San Francisco. It's where I go when I feel like feeling Jewish. They have a family photo wall that could be any Jewish family photo wall. My son once pointed to a shot of a little brown-haired, brown-eyed boy and asked, "Is that me?" Might as well be.
The tweenager reviews of bar and bat mitzvahs. Are those real!? If not, that is okay. I just want to reference a couple. They are amazing.
YES. My kids are too young for the bar/bat mitzvah circuit, but I sent an email out asking if anyone's tweens had gone to any good ones recently, with some questions. I had so much fun editing these into mini reviews. "The theme was Tesla." Too much.
Why is Friday night Shabbat dinner "coming back" with young Jews?
It's speaking to Jews, but also to gentiles! I have several non-Jewish friends who are more into Shabbat than any Jews I know. The idea of unplugging at the end of a long week at work and online, and coming together at home over dinner appeals these days (I mean, it's really all we're doing these days. But pre-corona, people were doing it and calling it not "Netflix and chill" but Shabbat.
Answer this great mystery for me: Why do Jews put sugar in salad dressing? My grandma Gert, living in Highland Park, Illinois, did this, and boy, did I think it was weird, even as a ten-year-old. But in your health salad recipe, you include a good amount of it.
I guess for the same reason our grandmothers and mothers put Heinz chili sauce and Coke in brisket? They think it tastes good. (And let's be honest: it kind of does.) Seems like so much of immigrant cooking, when it's brought to America, adds sugar. Maybe it's a generational thing. Health salad is basically coleslaw without mayo, and coleslaw often has sugar. As Evan said, we included health salad in the book "as an ode to deli freebies."
You have a debate with your coauthor to include or not include bacon in the book. What side did you come down on? I'm not kosher, and definitely eat bacon, but for our Jewish wedding, we sort of had a no-shrimp-and-bacon rule. It just felt like a . . . weird flex to serve mini BLTs—so I feel it.
I was pushing for some sort of bacon something in the book. It's Jews' gateway pig! Evan doesn't serve it at the deli (though he did serve a whole nose-to-hoof pig roasted on a spit at his wedding). Ultimately, Evan's older brother and business partner was adamant: NO PORK. I mean, it's fine, no one is coming to a Jewish cookbook for bacon recipes anyway. We do have a delicious "Big Macher" cheeseburger, though.
Should we be making our own matzo—not just for Passover, but all the time? You call yours "really good"!
It really is. I first had it years ago at Wise Sons' first sold-out Seder, at a hip cafe in the Mission, and as a lifelong Streit's and Manischewitz matzo-eater/hater, I was blown away. The recipe is actually from Evan's friends at Beauty's Bagel Shop. A little olive oil and sea salt go a long way. It's so easy to make, why not do it yourself? Just have the cardboard box (pun intended) as backup. 
Why is apricot chicken so Jewish?
Meat and sweet, sweet and sour. Every culture has it, Eastern European culture included. Evan's recipe adds soy sauce—a quintessential Jewish ingredient, which gives it that umami and depth. And the apple cider vinegar adds a nice tart balance to the sweetness of the apricots. Is apricot chicken Jewish? Not necessarily, but the food you eat with Jews becomes Jewish. You know, like Swedish meatballs.
And you include a babka milkshake that is . . . genius. How did that happen?
"I was probably stoned?" says Evan. I think it's because I drank a milkshake every day when I was pregnant, and we wanted to include a pregnant section in the book. At some point, Wise Sons cofounder Leo Beckerman had brought in an old Hamilton Beach milkshake machine, with the old metal containers, and he and Evan had had this idea about making Jewish milkshakes with their beloved babka. Apparently, they'd already tried a babka cereal ("It was so good," says Evan. "Like Jewish Cookie Crisp!"). Evan never actually got around to trying the babka milkshake. Until now. If only I'd known about it when I was pregnant.
To close, what makes rugelach such a perfect little bite?
I mean, it's not the world's best cookie—but it's the best Jewish cookie. The buttery, fatty dough, laminated like a croissant; it's sweet and salty, like a mini, bitty piece of pie. And it's definitely better than mandel bread. Even Evan's, made with almond extract and orange zest. "Nobody likes mandel bread," says Evan. I do love it, and rugelach, though, for what they represent: grandmothers.