Where Hummus Meets Avocado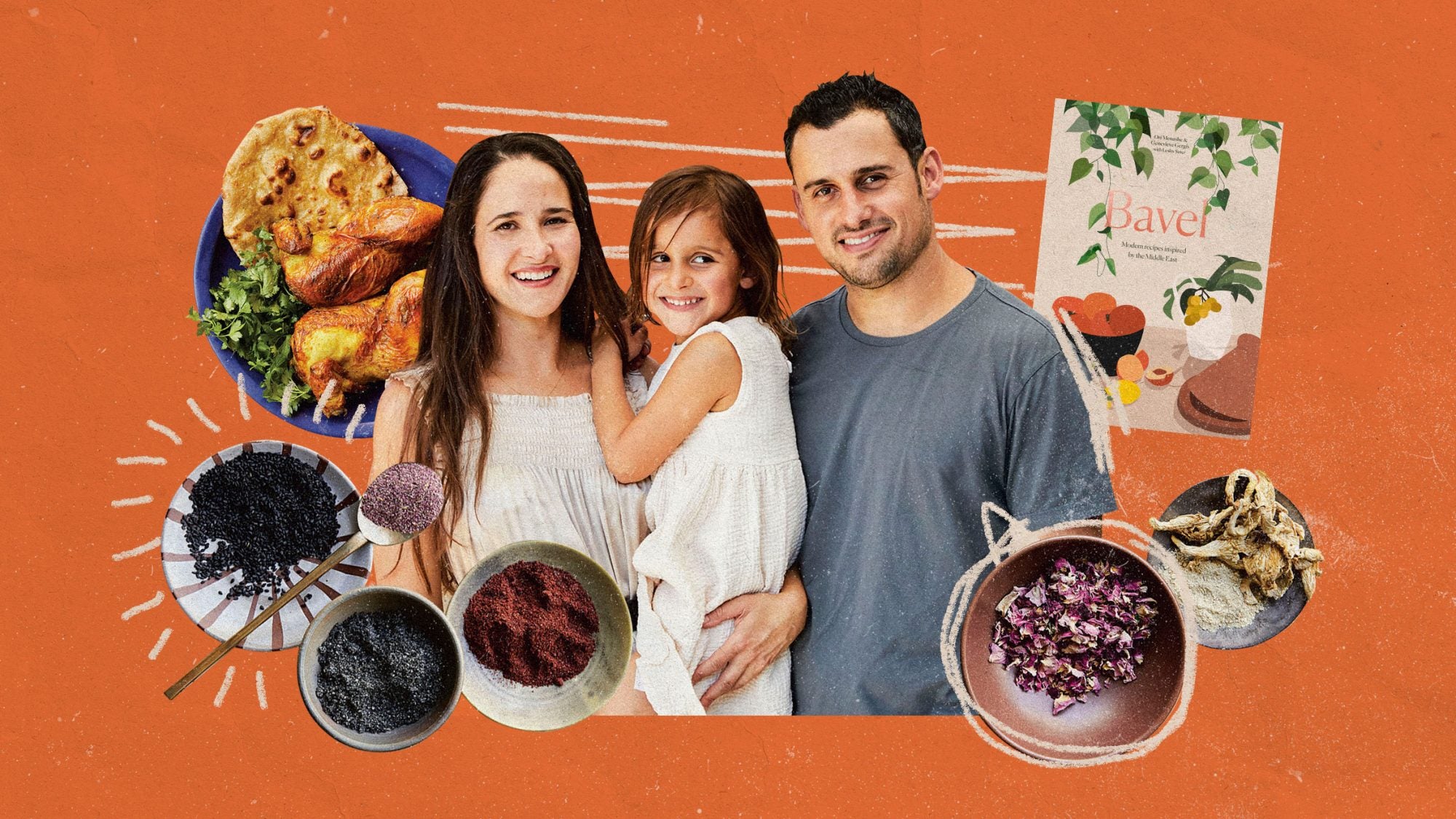 Los Angeles chefs Genevieve Gergis and Ori Menashe, the brains behind Bavel, return with an adventurous cookbook that pushes the boundaries of Middle Eastern cuisine.
In early 2019, I interviewed Genevieve Gergis and Ori Menashe while seated in preservice placidity in the airy dining room of their immensely popular and perpetually packed Los Angeles restaurant Bavel. The partners in business and life, who are the Los Angeles food world's most low-key power couple and also behind Italian powerhouse Bestia—were humble, at moments equally hilarious and adorable, and dead serious about the California-inspired, laser-focused Middle Eastern cooking they were putting out night after night. Bavel may have captured LA's imagination with its outrageously delicious and crowd-pleasing lamb neck shawarma, but it also rewrote the script with more adventurous cooking like foie gras halva and outstanding pastries laced with powerful spices like sumac, cardamom, and cloves.
Two years later, and holding a copy of the restaurant's namesake cookbook, Bavel, Ori and Genevieve popped up on my Zoom screen with the same warmness and candor they had before. Much has changed over the past two years for anybody working in the restaurant world, which we discussed in our wide-ranging conversation that volleyed between tipping structures and hummus with avocado. And, while the future of adventurous and creative destination dining may still be up in the air for the time being, what remains strong is the duo's passion for a style of cooking that can hardly be put into a box. But it can be put into a book, and this one's on sale now.
Let's talk about this past year. What did you learn, and were there any positive takeaways?
Genevieve: There are definitely two or three. One of them is that we've been having trouble for years with the minimum wage rise—the minimum wage does need to rise, but when you have someone at the front of the house making $300 or $350 cash in tips, and then you raise their minimum wage, and they're walking away with $15 an hour plus $300, $350 in cash tips, it's a very high salary, and it's caused even more inequities between the front and the back of the house. That's been very difficult.
Wait, so you fixed this long-nagging problem?
Ori: Our kitchen is now included in the tip pool, and they want to serve more people, and it creates this equality within the whole restaurant. So everyone feels a part of the same thing; everyone has the same goal. It created a lot of balance.
Did the servers who were making $350 nights push back, or . . . I guess they had no choice.
Genevieve: When we first rolled it out, everyone had been laid off, and we felt like it was the perfect opportunity, because it's very hard to say to someone mid-work, "By the way, you're going to get a pay cut." It's easier to say, "Listen. You're already not working for us anymore. If you choose to come back, this is the new structure."
And the kitchen is happier, and hopefully your front of house is into pay equity, and they're actually conscious people.
Genevieve: The ones who came back have been amazing. The waiters and the front of the house that went with the system—that's why you said there's the positives—are surprisingly amazing and positive about it, and have really been team players. And I feel like it's lightened the mood of the whole restaurant, because when everyone is getting a living wage, they have less weight on their shoulders.
You make a really important note in the book's introduction about how, when you started cooking in Los Angeles, so-called "Middle Eastern food" was pretty marginalized and almost considered banquet food. It was not popular. And now it's everywhere. Spices like sumac and za'atar, the travel to the region, all the restaurants that have opened . . . Why is this cuisine popular now?
Ori: To be honest, I don't know why. I mean, why is Italian food popular? Italian food is basically a combination of a couple of ingredients, water and flour, and it's poor man's food as well that became popular, and now you can sell pasta for $35.
Why is Italian food popular? It's because there's familiarity with it, too. I mean, there's a place called Olive Garden that everyone knows of. But I guess, in general, are you surprised that it took this long for this cuisine to take off?
Ori: No. I honestly didn't even think it would take off. I always thought it would be considered street food. I'm happy that chefs like Michael Solomonov and Alon Shaya were successful before us, to kind of make the cuisine be respected the way it's respected today, before we opened. It just gave us a better stage to be successful.
Ori, let's talk about okra—because you said it was your grandmother's favorite vegetable.
Ori: For my grandmother's okra, she basically salts it and then dehydrates it in the oven for like three or four hours at a really low temperature, with a little bit of olive oil. Probably not olive oil—canola oil, or some type of vegetable oil. And the okra would shrivel, and then she would make a tomato base with onions, garlic, tomato, cumin seed, and a little bit of turmeric, and she would start this braise, and then she would drop the okra in there. And the okra would rehydrate from all those juices. She would just serve it over rice, and it was mind-blowing—so simple, but mind-blowing.
I'll ask you about hummus with avocado. Because for our readers, they might be like, WTF? Tell me, when you started doing a California hummus at Bavel—and now it's in your cookbook—did you get some pushback?
Ori: I think in the beginning, when we opened Bavel, I did get some pushback from people, because they thought it was a traditional Middle Eastern restaurant. For the first month or two, I would get some pushback from, you know, people from Israel or Armenia—they would be like, "This is not so-and-so, my grandma makes it this way!" And after those first two months, I feel like people were more into trying new things and having an open mind, so there's not really that much pushback.
Of course, it's like part of your vocabulary in Southern California, the avocado.
Ori: Yeah, I mean, we have a crudo on the menu that's basically an aguachile, but it has Middle Eastern flavors in it, and it tastes Middle Eastern, but it tastes like an aguachile, too. I think that's why people like it so much: because it reminds them of something they had before.
Genevieve, let's talk about the desserts section of the cookbook, which I love so much. The recipe development, and just the way that it's crafted, is beautiful, and I feel like it could have been its own little book.
Genevieve: Oh, no.
Ori: It definitely could!
Genevieve: It definitely could not [laughing].
Ori: Next book, we're going to just have a book for Genevieve.
Genevieve: Nope, we're not!
Genevieve, how do you define your style of dessert? I've spoken to a lot of friends who have been to your restaurant, and the desserts are—no offense, Ori—one of the major highlights. I know there's not a lot of chocolate; there's definitely not a lot of coffee. There's a lot of tropical fruit, there's a lot of stone fruit—just from reading the recipes.
Genevieve: I really love chocolate—don't get me wrong. I just feel like, when you make a dessert out of chocolate, chocolate is always going to be the most dominant thing.
A hundred percent.
Genevieve: And so I usually only have one chocolate dessert on the menu at a time. Because, like I said, it's a very dominant thing. I don't know how to describe my style. I'm very unconventional. I mean, when we traveled—when I was in Turkey, and Israel, and Morocco, they don't have a lot of desserts. Their desserts—there'll be, like, sweet cheeses with honey.
Ori: A lot of cookies.
Genevieve: A lot of cookies—like, after dinner, you'll get a plate of dried fruits, like apricots and dates, with cookies. Or you'll get something like a shredded phyllo—a lot of baklava influence. They don't have a lot of tartness in their desserts. For me, when desserts are just sugar, I can't, so I have that sweet cheese filling with a pastry, but instead of the phyllo with the sugar syrup, it's a pastry dough with yogurt in it, and it has that play—and then, with the dried fruits, instead it's the candied strawberry, which has that tartness, and the sumac, which is not used in desserts at all in the Middle East that I've personally seen.
Have you done a knafeh or anything of that riff? That's my fave.
Ori: I'm trying to get her to do that.
Genevieve: To do that—it's a very simple dessert to make, it's just hard with the amount of diners we have—you have to have someone cook it.
Made to order, right.
Genevieve: Yeah. And you have a little pan—it's basically a shredded phyllo, which is why it's called knafeh, and it's filled with sweet cheese, and then the syrup.
Ori: That's one thing, too—Genevieve, she makes all her desserts from scratch. And to make shredded phyllo, regular phyllo, you don't really need a machine to do it, you can do it just like that, but to make those massive amounts, you do need a machine for it. And she doesn't want to buy shredded phyllo, because she makes everything. And I think that's the main reason why she doesn't want to do it.
Genevieve: That is. Because it's also, by the way, hard to find—I think the places that make that in the Middle East, they make their phyllo. Or maybe they have access to a better product. But here, not so much.
This interview has been edited and condensed for clarity.
FOUR EXCITING RECIPES FROM BAVEL:
Confit Okra with Whipped Feta
The okra served at Bavel is loosely inspired by a recipe from Ori's grandmother, but also by a dish that Gino Angelini served at his LA restaurant, Angelini Osteria.
Turmeric Chicken
The yogurt marinade acts like a brine, tenderizing the meat and making it even juicier than a normal roasted chicken.
Rose Za'atar
Za'atar, a strong, oregano-like herb that grows wild throughout different parts of the Middle East, doesn't grow wild in LA. Instead, Ori uses a blend of marjoram, thyme, and sumac to get a similar flavor, as well as a little sugar for balance and some citric acid to help the sumac pop.
Apple Prune Cake
A play on the classic sticky toffee pudding with the sweetness dialed down a bit due to the addition of tart Pink Lady apples.
MORE BOOKS TO BUY, READ, AND COOK FROM:
Last week, we spoke with Reem Kassis, author of The Arabesque Table, a book that considers a centuries-long culinary journey through fusion, migration, and industrialization.
Mister Jiu's in Chinatown shares the past, present, and future of Chinese cooking in America through 90 creative and historically rich recipes.
Coming soon is Bress 'n' Nyam: Gullah Geechee Recipes from a Sixth-Generation Farmer, written by a chef and farmer working the lands of his great-great-great-grandfather.
The internet's favorite baker, Claire Saffitz, shows us how to improvise with confidence.
Late last year, we talked to Yotam Ottolenghi and Ixta Belfrage about their newest vegetable-centric book, Ottolenghi Flavor.
Have you picked up (and possibly not put down) Crying in H Mart yet?