Pig Guts and Spice, Over Rice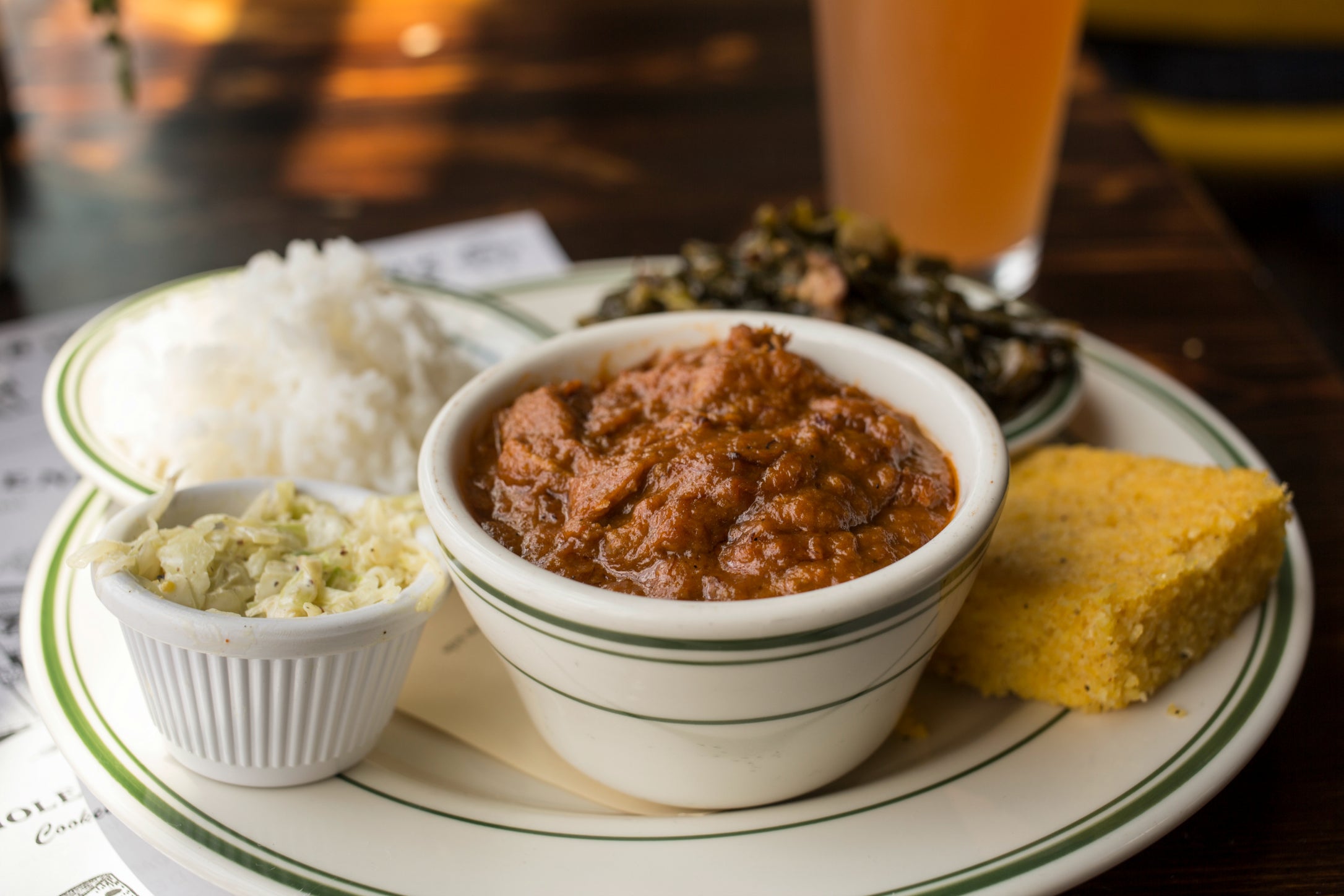 Chef Elliott Moss is on a mission to document, and celebrate, the dying art of South Carolina hash.
Let's be real: Forrest Gump is an average movie. A melodrama and pure Oscar bait. But what it lacks in subtlety, it makes up for with that famous shrimp scene. Shrimp kebabs, shrimp creole, shrimp gumbo. Pan-fried, deep-fried, stir-fried. You know this scene. The moment portrays a true regional food obsessive, and that's a beautiful thing. Elliott Moss is one of these obsessives.
"There are some hashes that are acidic and some hashes that are just kind of vinegary, there's some hashes that are all mustard, there's some hashes that are all tomato, and then there are some hashes that are mustard and tomato," says the chef and pitmaster about his favorite food on earth. "Then there are the hashes from where I'm from that don't really have a sauce—it's just like a broth-y mush of ingredients that you eat over rice. That is good, too."
Moss, the chef at Buxton Hall Barbecue in Asheville, North Carolina, obviously loves hash. He was born in Florence, South Carolina, and from an early age was raised on this food that is native to—and almost exclusively adored in—the Palmetto State. So what in the heck is hash exactly?
Similar to Brunswick stew in Virginia, or burgoo in Kentucky, hash is not simply a barbecue side, but a sidekick. "A cross between a meat stew and a gravy…a regional twist that baffles newcomers to South Carolina barbecue," writes Robert Moss (no relation to Elliott) in Barbecue Lover's The Carolinas. Practically speaking, hash is an efficient way to use up an entire pig, including the organ meat (sometimes called offal, this includes the liver, heart, skin, and head), extra fat, and the smoky connective tissue that is left over after the body has been thoroughly pulled out.
The meat is tossed with a variety of spices and cooked in a sauce of tomato, vinegar, mustard, ketchup, water, or some combination thereof. Potatoes are sometimes added as filler, and the end result is either left chunky or blended in a food processor. Hash is usually served over rice or grits, but not always. It's part stew, part gravy, and fully soul-warming comfort.
Moss recalls visiting a Columbia barbecue spot called Little Pigs. "They had a really cheap buffet, and I was in my early 20s, and I would go eat there on my day off because I could go eat a whole bunch of hash for like 5 bucks," he says. Note: The menu is….intense. "Hash consumers tend to be loyal to a certain hash maker, or at least develop preferences for certain types of hash," writes Saddler Taylor in the New Encyclopedia of Southern Culture: Foodways. "In general, folks who prefer mustard-based hash do not consider ketchup- or vinegar-based hash to their liking and vice versa."
As Moss became more accomplished in the kitchen—he has twice been named a semifinalist for the James Beard Award for Best Chef Southeast—and his passion for whole-hog barbecue grew, he returned to hash time and again as a challenge to re-create a dish that reminded him so much of home. He started doing some research and couldn't find a lot of information.
"There were just, like, no recipes," he recalls of his quest, which started nearly a decade ago. "There were a few videos online, but the places would be out of business or out in the coal mines." Moss has concluded that hash nearly disappeared, and still to this day, when he visits South Carolina, he orders it wherever he goes. But with the soaring popularity of Buxton Hall, where Moss makes a mean version himself, hash might be getting the jump start it deserves.
"I feel like there's going to be a hash wave, with Elliott as the fucking apostle," says Buxton partner Michael Files with a laugh. "People are starting to take pride in it." But for Moss, the appeal is pretty simple. "It's the purest, humblest food there is, and that's why I like it. And it tastes fuckin' good."
Photos by Alexis Schultz, Johnny Autry, and Andrew Thomas Lee.