What Is It About the Vegan Caesar?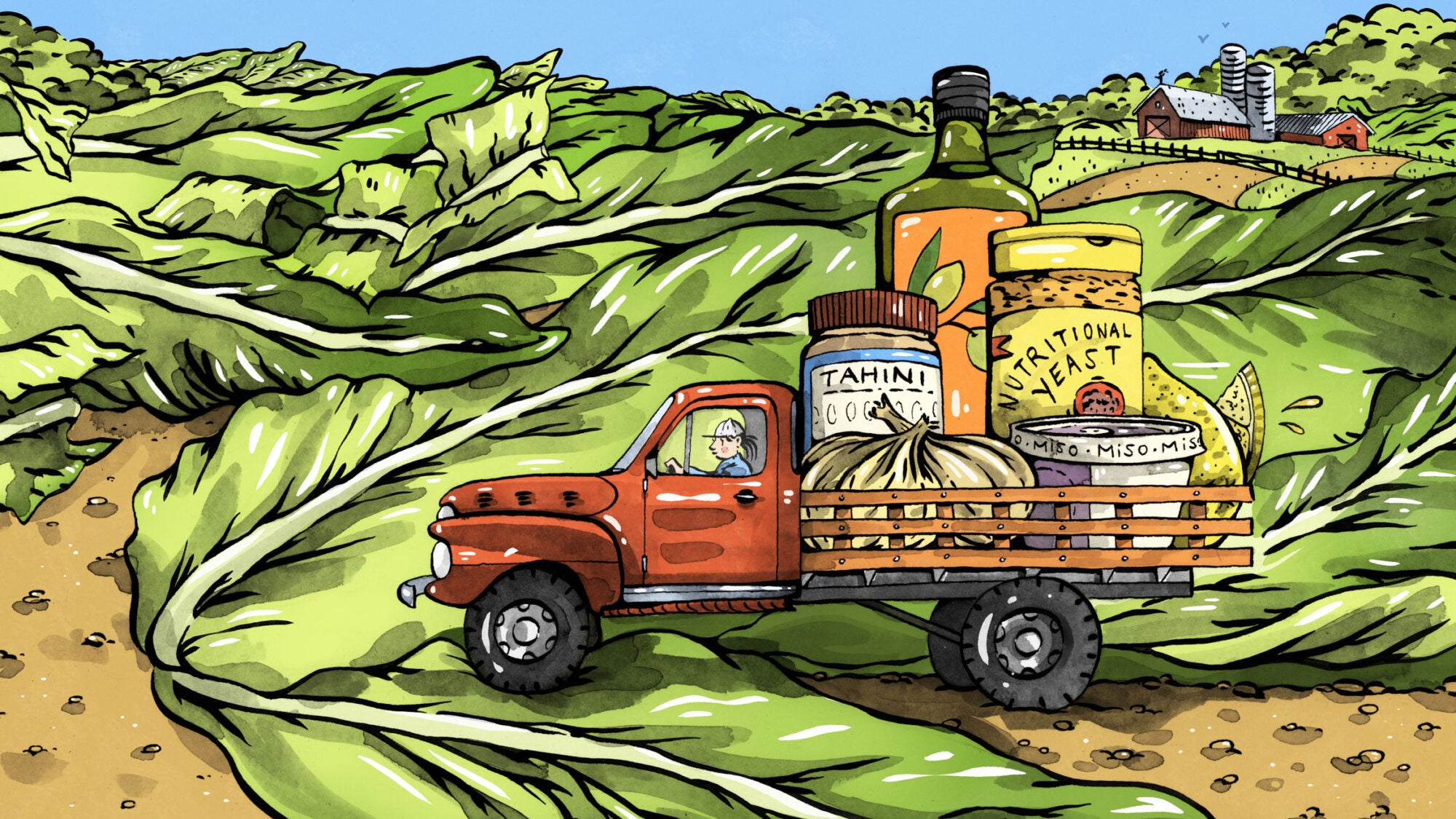 Served in plant-based restaurants, as well as butcher shops, bakeries, and swanky bistros, the vegan caesar has become nearly as ubiquitous as its forebear.
In 1996, Kate's Joint opened in New York City's East Village. The vegetarian bistro located at 58 Avenue B was a cult-favorite hangout for scenesters, where smoking was still allowed and Madonna filmed a VH1 special. "It was the place for vegans to come with their meat-eating friends," namesake proprietor Kate Halpern recalls in a recent phone call. Kate's Joint closed in 2012, but during its run, Halpern served some of NYC's most iconic vegan comfort food: crispy fried seitan, chili-cheese lentil burgers, and, from day one, a vegan Caesar salad.
"The Caesar slammed, it just worked. Everybody would want it for catering, or to buy the dressing by the quart," she remembers. The dish consisted of romaine lettuce—as is traditional in Caesar salads—tossed in a dressing made of blended silken tofu, garlic, lemon juice, oil, salt, and pepper, and topped with Lightlife's plant-based "turkey" or a Southern-style fried tofu cutlet. Sometimes Halpern would spruce it up for a special. Regulars were especially fond of a version that added diced tomatoes, pine nuts, and mock calamari. 
Although meat eaters were fans of Kate's Joint, too, Halpern's food was a source of joy for vegetarian and vegan converts who missed the meat-based comfort foods they were no longer able to eat. Halpern says she often had guests who would cry or hug her after having a vegan Caesar, buffalo un-chicken wings, or an un-turkey club—her three biggest sellers for the 16 years she operated.
Today, vegan Caesars are everywhere, and not just at vegetable-forward or plant-based restaurants. They're popping up at butcher shops, bakeries, and swanky Italian restaurants looking to cater to a growing population of vegans. The trendiness of the dish is due in part to a recent rise in plant-based eating and the enduring appeal of an iconic dish, but the vegan Caesar is also becoming canonized as a salad with a distinct flavor profile that allows diners to indulge in excessive amounts of salt and umami while avoiding meat and dairy.
In their pursuits to replicate and riff off the classic Caesar (traditionally leaning into Parmesan cheese, egg yolk, anchovies, Worcestershire sauce, croutons, and lots of garlic), chefs across the country have created vegan versions that satisfy specific cravings and cater to the way we eat today. And diners keep coming back for more. According to menu data analyzed by Technomic, vegan mentions in Caesar salad entrees are up 33.3 percent in the past year.
The chef June Rose, of the recently opened Lunch Nightly, a casual restaurant and butcher counter in Kingston, New York, jokes that his vegan Caesar is nothing like an actual Caesar. "Kale with a hearty, umami-creamy dressing is what defines it as a Caesar, to me," he says, adding that the dish has a similar appeal to faux meat. "With a vegan burger or a vegan slice of bacon, those things are nothing like the original, but people who have chosen to go vegan still have cravings for what they used to eat." Since the Caesar name markets itself, branding the salad as a replica of the beloved dish is a driving factor in its demand in a restaurant setting.
Rose's vegan Caesar, which contains unconventional add-ins like charred Brussels sprouts, roasted carrots, sliced apples, and crispy fried chickpeas in addition to the kale and umami, sells so well that it's the only salad that's stayed constant on the Lunch Nightly menu. The reason for its popularity, he thinks, is that "it gives you that feeling of knowing what flavor receptors it's going to hit."
Even if the final dish is distinctly different from the original, the dressing is still the clincher—mimicking the rich, salty, and punchy notes of Caesar dressing with plant-based ingredients is the challenge. Rose does this by emulsifying chickpeas and aquafaba (the liquid you get from cooking them in water) with tahini to create a velvety mayonnaise-like base, adding soy sauce (which has "straight-up glutamates to make people salivate," he says) and nutritional yeast for cheesiness, and finishing it with the traditional seasonings of garlic, pepper, olive oil, and lemon juice—plus, in a bit of a twist, tamarind paste. The result is a hearty vegan salad that's almost meaty in its savoriness, a desirable outcome for an imitation of a dish often enjoyed at steakhouses.
In the cookbook named after his celebrated vegetarian burger shop, Brooks Headley of Superiority Burger characterizes a Tahini Ranch Romaine salad as a mimic of a steakhouse Caesar. "Our pastry chef used to work for a guy who claimed that all anyone really wants when they go out to eat is a steak and a Caesar salad," he writes. "This guy is kind of a knucklehead, but he might be right, at least about the Caesar salad part. This is our vegan version. It's as salty as a bag of pretzels and, we like to think, as satisfying as a ribeye." 
To construct a vegan dish that fulfills the desire for a well-cooked piece of meat is a feat for any chef. Or Amsalam, an owner of Lodge Bread Company in Los Angeles, also cites the steakhouse Caesar as inspiration for their popular vegan salad. As with Rose, the first step was to solve for the fatty creaminess of egg yolks, the umami you get from anchovies, and the salty-nutty nature of Parmesan in the dressing, which they did with tahini, white miso paste, and nutritional yeast. "But then there's also a lot of garlic and black pepper, so it's very similar to that spinning salad bowl Caesar," Amsalam says. That dressing is used to top Little Gem lettuces, parsley and dill, and croutons made with whatever extra bread they have lying around the bakery. 
"It gives you that feeling of knowing what flavor receptors it's going to hit."
An increase in public awareness around the ways in which vegan diets contribute to a healthier environment and individual well-being has contributed to a 29 percent increase in plant-based food sales over the last two years, meaning that restaurants have had to accommodate the growing number of vegan and vegan-curious diners. When the Las Vegas chef Theo Schoenegger started developing plant-based offerings for his hotel restaurant, Sinatra, his first task was to create a version of their most popular dish, a Caesar salad. "We thought, well, of course we can't deprive [anyone] of having a Caesar," he says. For some chefs, their own diets were the impetus to offer a vegan Caesar.
Amsalam's co-chef, Alexander Phaneuf, is vegan, and Amsalam grew up in a kosher household where they loved eating Caesar salads with protein but couldn't pair dairy with meat. "During Shabbat, we'd make a vegan Caesar dressing—granted, it's far different than ours, but it's just something that I grew up with, that would always be around," he says. Halpern relates. Since she now prefers to eat less soy, she's started making a version of her Caesar dressing at home (where she's been studying, virtually, to get her degree in fraud examination and financial forensics), in which she crushes pumpkin seeds and sunflower seeds up in a mortar and pestle, then pulverizes them with garlic, olive oil, and lemon juice. She calls it her "seed-sar."
All of the chefs I talked to said that their salads are, or were, popular orders for vegans and meat eaters alike. Amsalam insists that it has to do with a widening desire to lead a healthy lifestyle while still wanting to derive the same pleasure from food. "I think people are more conscious of what they put into their bodies, and they want to feel better about what they eat. Knowing that the dressing isn't packed with tons of Parmesan cheese, egg yolk, and anchovy, they might be more drawn to it, since it still has that delicious Caesar flavor," he says. 
Schoenegger agrees, and says that education has played a huge part in shifting diners' mindsets: "One way or another, we all have to change our eating habits a little bit. If you want to live a healthier, happier life, it all starts with nutrition." Whether or not a vegan Caesar is healthy is up for debate, but there's no denying that it's a craveable, flavor-packed dish that's well suited to contemporary diets.
Perhaps most important, chefs love making vegan Caesars, and people love eating them. That's because the dish requires a certain thoughtfulness and culinary education to develop. A chef's understanding of taste and texture is what enables them to channel the attributes of one dish into another while using different ingredients, and the vegan Caesar is a mouthwatering example of this. When you take a bite, it triggers a moment of recognition and wonder. "I like cooking that feels like you could almost make it at home, but you'd never make the effort to do it," Rose says of his style of food at Lunch Nightly. 
When regulars used to ask Halpern for her dressing recipe, she would give it to them, but with a caveat. "It's too hard," she says of the recipe that required an industrial blender and yielded a quart's worth of sauce. "Even if the proportions are the same, if you make a small amount, you'll get a soupy mess. You need the volume to get the consistency and texture desired." What single household would go through an entire quart of dressing before it went bad, in a week? While, sadly, Kate's Joint is no longer an option for those looking to get their fill, the vegan Caesar is here to stay.