What Goodfellas Got Right About Garlic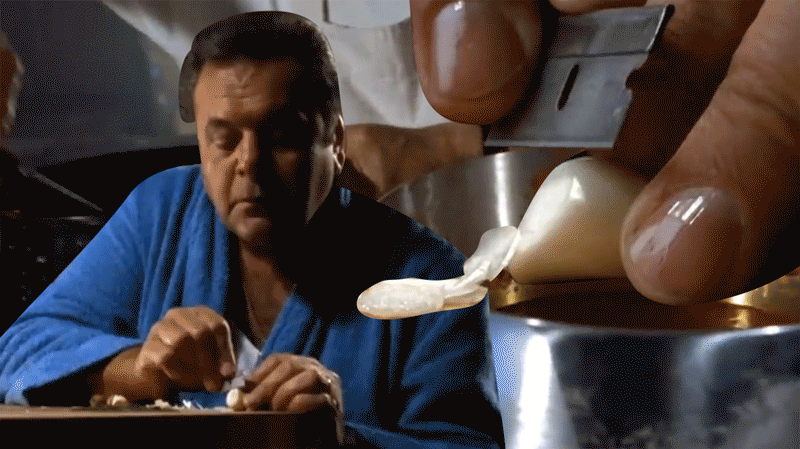 How a famous Scorsese scene taught a generation to slice just a certain way.
It's one of the most iconic scenes in one of the greatest movies in American history, and it has almost nothing to do with the rest of the plot. It's mob capo Paulie Cicero, played by the late Paul Sorvino. He's in a minimum-security prison with the rest of the wise guys. They've bribed the guards so they can have all the stuff they need for a proper Italian dinner, which they are about to cook themselves: Vinnie's making the tomato sauce, his meatballs a mixture of veal, beef, pork, and too many onions; Johnny Dio's cooking T-bones in a pan over a portable electric burner; then Henry Hill, played by Ray Liotta, shows up with fresh Italian loaves, prosciutto, salami, and a bottle of J&B Scotch.
There's some Bobby Darin playing, and, most importantly, they're using Paulie's system for slicing garlic in a seemingly knife-free environment "so thin that it used to liquefy in the pan with just a little oil," Liotta's Hill says in a voiceover, adding, "It's a very good system."
But is it? "I've never seen anybody do it that way," Sabino Curcio tells me of Paulie's approach, which we see almost exactly halfway through the 1990 film Goodfellas. I figured that if anybody knew, it would be Curcio. The Growing Up Italian podcast host was raised behind the counter at his family's Brooklyn sandwich spot, Anthony & Son Panini Shoppe. "What's crazy about the garlic thing is that it's the Italian Americans that really claim the garlic, not Italians in Italy. They make fun of us a lot for using it so much."
Curcio doesn't know exactly how garlic became a staple in Italian dishes made in the United States, but there are ideas about when it started becoming so prevalent, which Danielle Callegari wrote about for TASTE in 2020. Curcio says it's not far-fetched, though, that somebody would use a razor to slice it extra thin, since everybody has their own way of doing it. "Some people put the knife over it to make it flat before chopping; others chop it extra thin. It depends on the person, really."
As for the famous garlic bread sandwiches—including one variation on the classic chopped cheese and, my personal favorite, a chicken sandwich with broccoli rabe, mozzarella sticks, cherry peppers, and vodka sauce poured on top—they make at his family's shop, Curcio tells me it would be too time-intensive to chop as much garlic as they need to satisfy their customers, so they use granulated garlic. "About two gallons a week," he says, is the staggering amount required.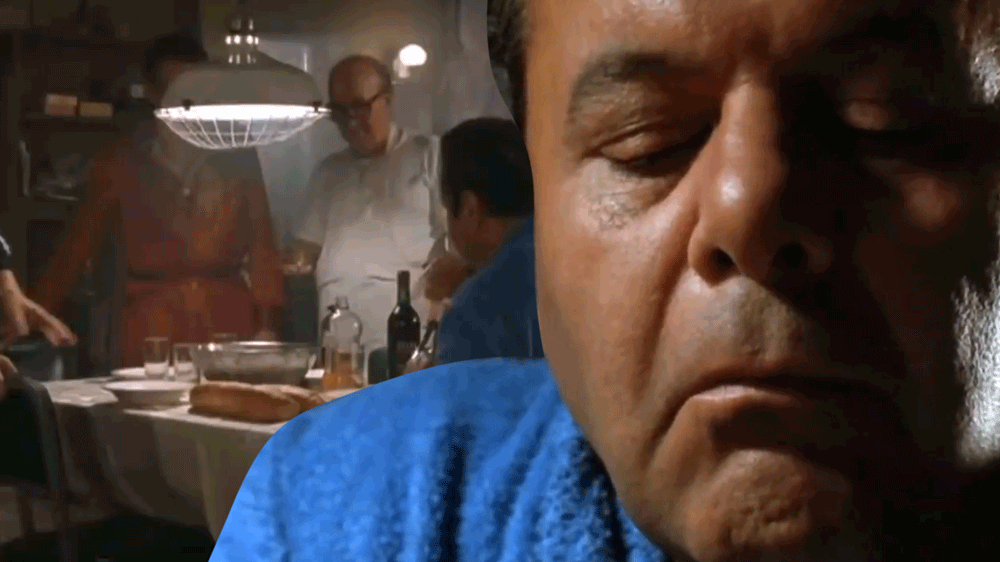 Garlic bread is what got me thinking about garlic and its impact on Italian American cuisine, especially the type we'd define as "red sauce," when I was out in Los Angeles last summer and eating at famous yacht rock haunt Dan Tana's in the city's West Hollywood neighborhood. My friend told me something I wasn't expecting—that I "must try the garlic bread." I haven't had somebody tell me that since I was ten and enjoying frozen Pepperidge Farm loaves I heated in the microwave, or the Little Caesars Crazy Bread I would happily ruin my dinner with if given the chance, but I couldn't say no to my three favorite things in one bite: bread, cheese, and garlic.
What I was surprised to find was that it wasn't like the garlic bread I was used to, the sort that I make at home on a split loaf of semolina slathered in garlic butter with some fresh parsley and sea salt sprinkled on top—or even the knots I get at my local slice spot, with little chunks of garlic that are visible to the eye. The server told me the secret to Dan Tana's bread is that they brush garlic-infused olive oil on it, then put some grated mozzarella on top and toast it. At first, I felt a little cheated, but then I thought that the Goodfellas approach is technically a garlic infusion.
"There are different ways to do it depending on your purpose," PJ Monte says. Shaving it with a razor blade is one of the ways Monte sees it being done. "I think there's a lot of validity to that."
Monte would know. He's red sauce royalty. His family has been cooking Italian food in America since the late 19th century, at what was in 1906 a tavern in the part of Brooklyn where Park Slope and Gowanus meet that would be rebranded Monte's Venetian Room in the 1940s and remain so until it closed in 2008. (It was reopened by new owners in 2011, only to close again a few years later.) Today, it lives on in the family's sauce that Monte sells by the jar. "You could also shave raw garlic on a mandoline for some dishes, or maybe a salad."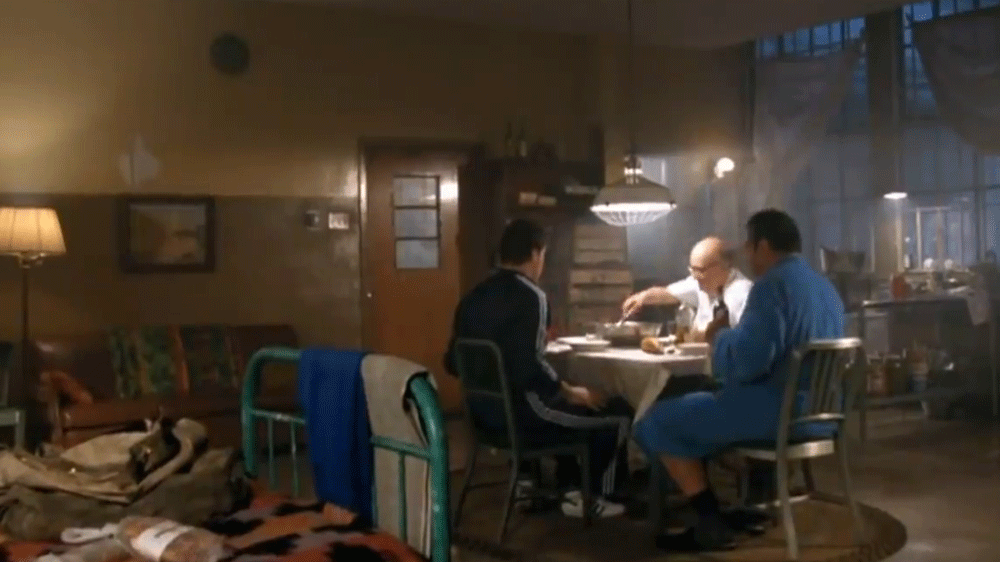 I've been eating in Italian American restaurants and households since as far back as I can recall. Even though I'm not Italian, I've always connected deeply with the food and the way the most arbitrary methods yield the most beautiful tastes. I once worked as a runner in a Brooklyn restaurant I'm certain was a mob front, when one of the guys I assumed was an owner walked behind the line and yelled at a cook for "not pounding the veal tenderly enough." He picked up the hammer and explained how "it's all in the wrist," then went to town on the meat as I noticed a pistol in a holster dangling under his suit jacket.
I've seen nonnas labor for hours over Sunday sauce—adding chunks of beef they needed two hands to carry, tomatoes they crushed by hand, and an amount of garlic that boring people might find offensive—and I've watched a chef count how many capers were on a plate of chicken piccata because he believed too few or too many threw the balance off. But no, I'd never seen anybody use a razor blade to slice garlic, and I hadn't done so myself. Thankfully, Monte gave me an excuse when he sent me the newest item of Monte's sauce swag: a box cutter with the brand's logo on it. Next to it is an image of fingers chopping a clove of garlic with a razor.
I used it when I made a simple side of broccoli rabe after my wife demanded I "add a damn vegetable" to what I like to call my "Moonstruck dinner," a panfried rib eye with a side of spaghetti that has butter and pepper mixed into it. The joke is that I could wipe out an entire family of vampires with the amount of garlic I tend to use, but something about the time and concentration it took to slice the cloves so thin—and also not take off the tip of my finger—really did bring something to my dinner. The side of greens I added wasn't overpowered, dare I say, it was subtle. It was the razor blade, I told my wife. It's a very good system.
Good Things with Garlic: In this limited-run column, Jason Diamond digs into the world of garlic around the world, from Brooklyn to Kazakhstan.