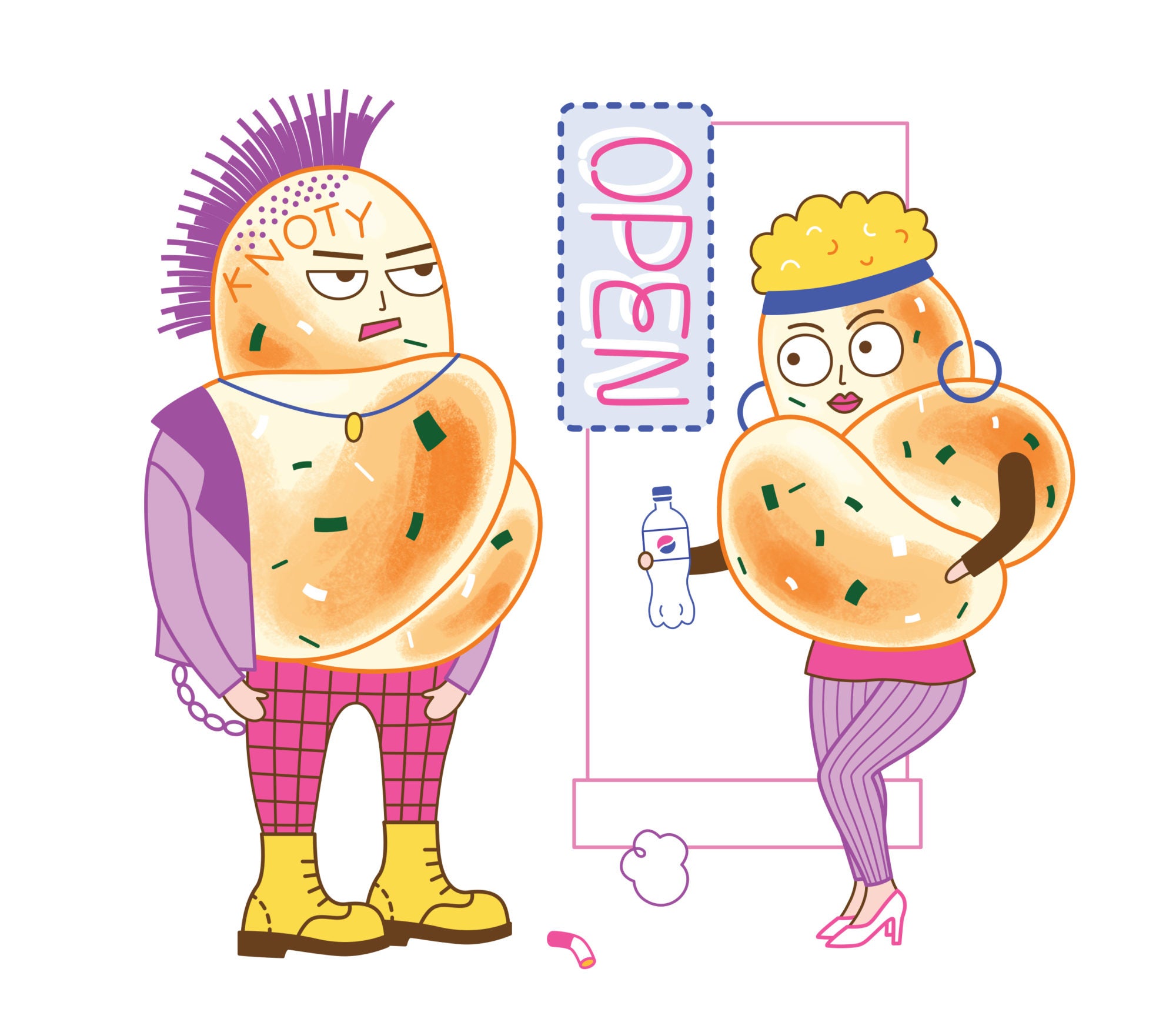 Garlic Knots, a 1980s pizzeria throwback, deserve a place in your weekday dinner rotation.
The most-liked post in my entire Instagram feed is a photo of garlic knots. Thanks to lucky late-afternoon light, they are some exceptionally photogenic garlic knots. Or za'atarlic knots to be precise—the melted butter they're brushed with is full of woodsy, woolly za'atar, the Middle Eastern blend of dried thyme (or oregano, in the La Boite brand I use), sesame seeds, and sumac. Speckled with parsley confetti, they nuzzle against one another, filling out the shape of a Lodge skillet in an ombré brown braid, ready to be pulled apart like monkey bread.
People like knots lots, an affection economical pizza makers have been stoking for decades. One of the earliest mentions of knots in print is from 1988, when Newsday reporter Marie Bianco wrote the article "Irresistible Garlic Knots" chronicling the twists' history. One of the pizzaiolas she interviewed, Frank Zitoli, riffed on his uncle's knot recipe and started selling them for 10 cents a piece out of his Plainview, New York, pizzeria in 1978. They became so popular, he told Bianco, "I hire part-time people who do nothing but peel garlic."
Over the years, garlic knots spread forth from Long Island into other cities with Italian-American populations. Today they're the appetizers for carb-on-carb dinners at pizzerias all across the country. They're split and stuffed like sliders at Hold My Knots, the vanguard of the fast-casual garlic knot frontier in New York's Gansevoort Market, and across the East River, sold with the care of croissants at Roberta's takeout space next door to the famous Brooklyn pizzeria.
But despite their sustained popularity, garlic knots have an undeniable nostalgia to them. For me, they're embedded in '80s-'90s amber like so many Jurassic Park mosquitos, primed for excavation by the arbiters who've brought choker necklaces back and Stranger Things into the pop culture phenomena of 2017. Bake a pan at home and watch your dining room ripple-dissolve into a Polaroid of a seventh birthday party at a bowling alley or a suburban pizzeria where the tables are Formica and every pitcher brims with Crystal Pepsi.
And bake them at home you should. The Instagram-gold knots that started this story were born from my wife's and my attempts to curtail spending what felt like a third of our income on takeout. Last year, we started buying frozen pies and baking them at home for our Friday night pizza date, which worked for a while. I bought frozen pizza dough one night, figuring semi-homemade pizza would be an improvement, but I left the dough out overnight uncovered, and by the next morning it had ballooned in size and formed a dry crackled skin.
Instead of throwing the afflicted dough out, I decided to freestyle a pan of garlic knots. I had just eaten at an Italian restaurant where poufy rolls drenched in olive oil and covered in raw garlic stood in for bread service, and they were lingering around in my consciousness. I cut and twisted the dough, arranged and buttered the knots in my biggest cast-iron pan, covered them to proof at room temperature for an hour, and then popped them in the oven.
I threw together a quick tomato sauce with some anchovies and fresh oregano and served it on the side for dipping. Eureka! Garlic knots are essentially a pull-apart pizza. I'd argue they're better than pizza. They're more substantial and more texturally complex, with marshmallow middles and crusty tops and bottoms (see also: stale Peeps). They don't get cold in five minutes and can still be reheated days later without much sacrifice in flavor or texture. As pizzeria owner Michael Macchia says in the 1988 Newsday article about one of his regular customers, "She leaves them in the refrigerator as snacks for her children after school. A few seconds in the microwave makes them taste freshly baked." Twenty-nine years later, the advice holds up.