We're Living in a Golden Age of Pasta Tools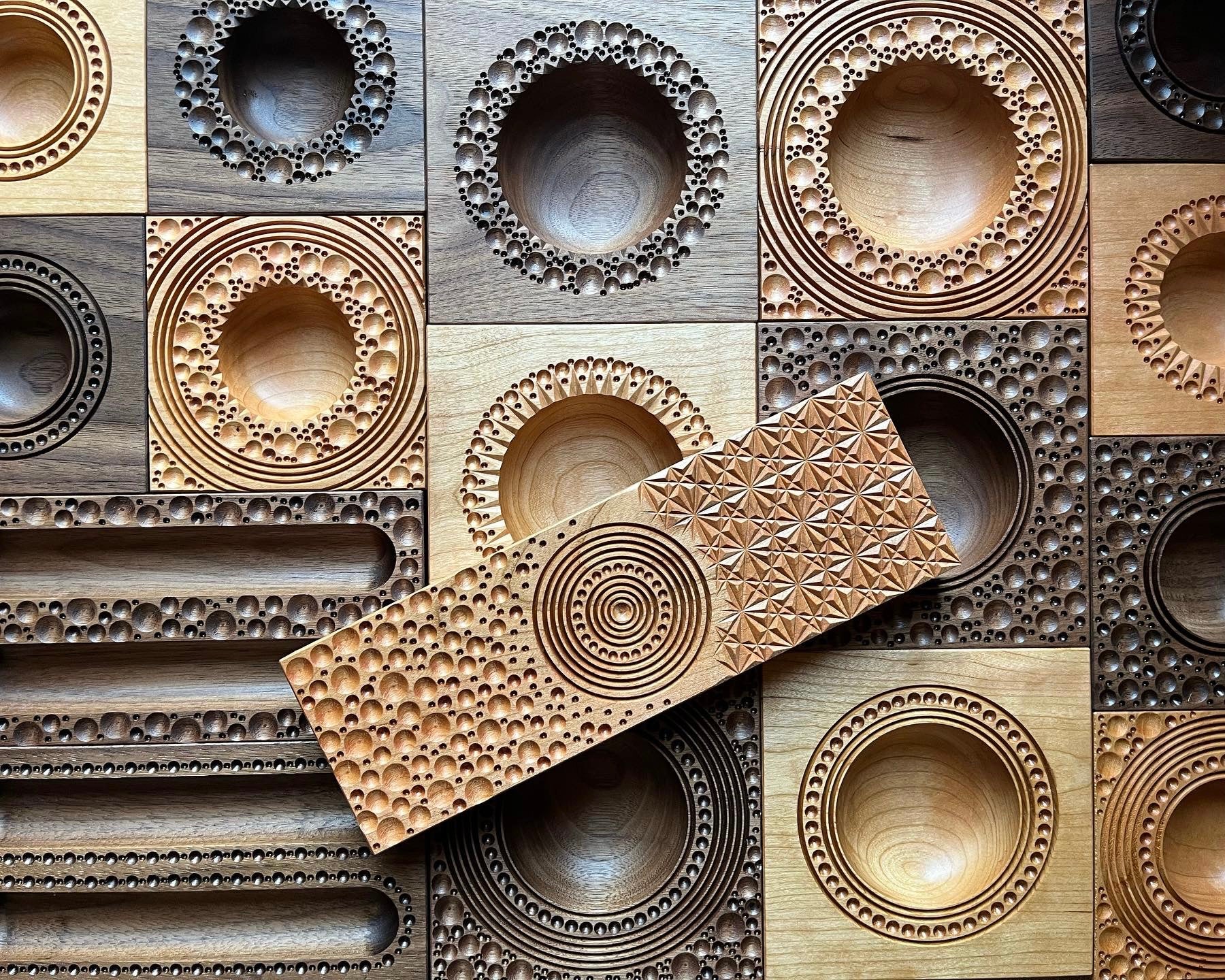 With a new wave of artisan pasta toolmakers emerging around the world, and mostly outside of Italy, there's never been a better time to roll a little cavatelli.
In a vulnerable moment during the dog days of the pandemic, I ordered something I never thought I needed: a ravioli mold. With an unprecedented wealth of free time to divert to cooking whims, my apartment became America's Test Kitchen. I got sucked into the sourdough vortex. I regrew scallions. I lacto-fermented a signature hot sauce. I adopted the pasta grannies on Instagram as my nonnas, daydreaming of spinning satiny sfoglia with the same preternatural dexterity. I already had a firm handle on the basics of making fresh pasta with the help of my KitchenAid—kneading dough, rolling it out, cutting ribbons, cooking it al dente—but something was missing if I wanted to graduate beyond simple fettucine.
This is when I discovered Imaikouba, a boutique Japanese company that specializes in artisanal pasta tools. The hand-carved ravioli mold that arrived was a work of art, a solid wooden block engraved with intricate textures around the edges and a large cavity in the center to hold a ravioli filling. After a few failed experiments, I made an artichoke ravioli with fresh ricotta and mint that was as close to chef quality as anything I've ever cooked at home.
Making pasta can be intimidating for amateur cooks, especially when it comes to moving beyond simple pasta and into more intricate shapes. But equipping oneself with well-made tools can go a long way toward allaying those misguided fears. A decade ago, there were only a handful of reliable sources for quality handmade pasta tools, mostly from established Italian merchants like Aguzzeria del Cavolo in Modena, a retail store specializing in Italian-made pasta accessories since 1783, and Romagnoli in Chianti, a family business spanning generations known for their traditional hand-carved corzetti stamps (for cutting flat, coin-shaped pasta).
It's difficult to quantify exactly how many pasta shapes exist, but most estimate the number to be around 350. "Well-made tools can help expand the variety of pastas you can make," says Bill Andersen, a retired civil engineer who designs one-of-a-kind pasta tools under his brand Wooden Essentials in Eugene, Oregon. Surprisingly, many of today's emerging artisans, like Andersen, can be found outside Italy. The trend echoes the revival in bladesmithing, where boutique knife makers use locally sourced and reclaimed raw materials to create unique cutlery that has both personality and terroir. Professional chefs meticulously choose their knives, and, similarly, pastai (the plural of pastaio, the Italian word for "pasta chef") scour the globe to find the finest handmade pasta tools. No matter whether you're a professional chef or a home cook, there's never been a more exciting time to make pasta.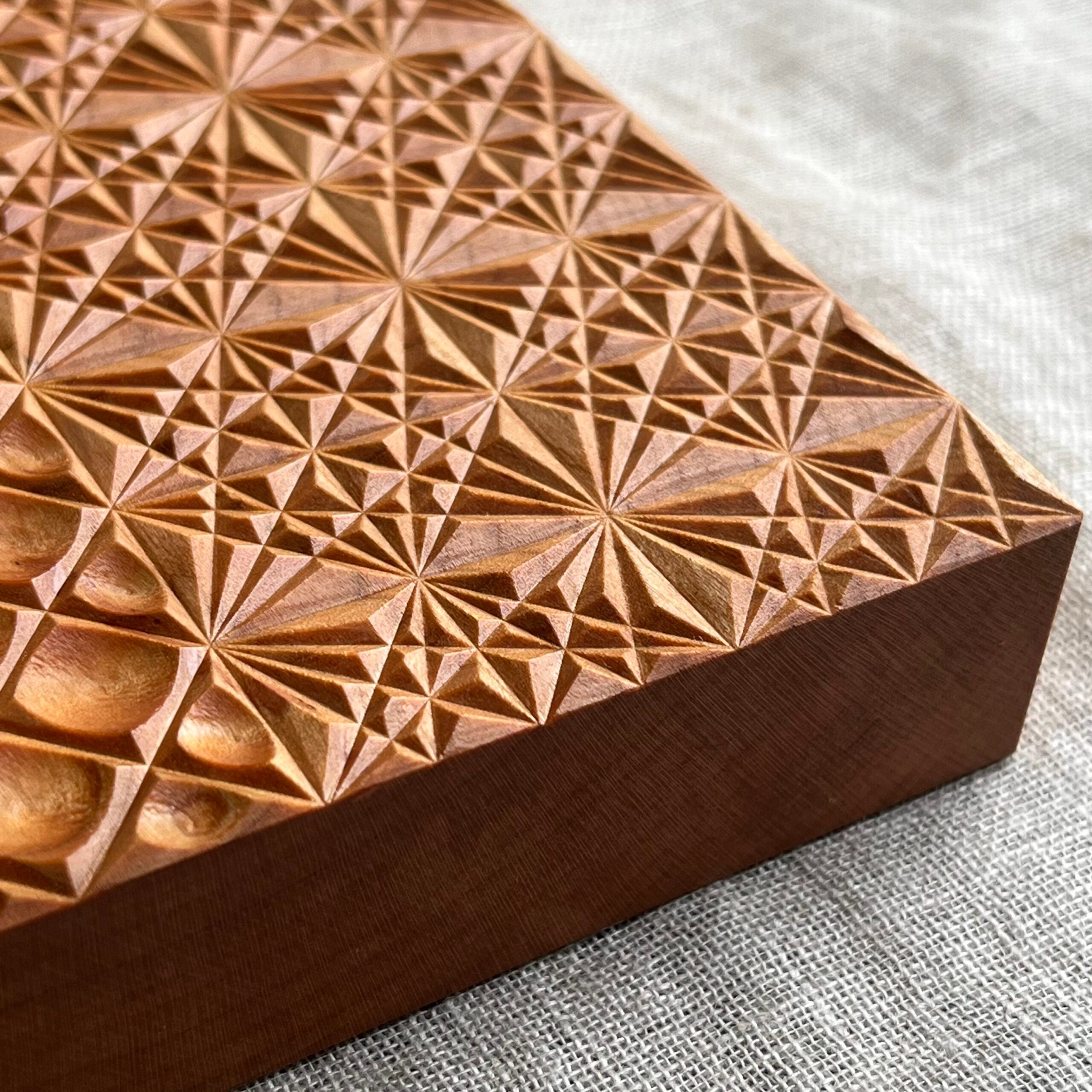 Yoko and Masashi Imai founded Imaikouba in 2018, a passion project inspired by Yoko's love of Italian cuisine. Masashi, a former hairdresser, took up woodworking in his spare time while the couple was running a beauty salon. From their workshop in Takasaki, located about 100 kilometers (around 60 miles) outside Tokyo, they now ship pasta tools to 47 different countries around the world. Their textured wooden boards for rolling impressions on pastas like cavatelli (elongated shell-shaped pasta) incorporate traditional Japanese designs like asanoha, a weblike pattern of hexagonal lines inspired by the shape of hemp leaves. Yoko tells me over email that she believes the company's recent growth has been fueled by interest from home cooks. "We still think that 50% of our customers are professional chefs," she writes, "but our products have also become very popular among home cooks, especially since the pandemic."
The pandemic has been a boon for pasta toolmakers. Dan Ewart had been working as a sous chef in a high-volume osteria in Vancouver, British Columbia, before COVID-19 shuttered his restaurant. His father owned a furniture business, so he'd always been handy with woodworking, designing cutting boards and knife strops for chef friends. The forced hiatus turned out to be a golden opportunity for him to expand his repertoire. In late 2020, Ewart launched Nonna's Wood Shop, first on Etsy, with a portfolio of mattarelli (large pasta rolling pins), cavarola boards (textured panels engraved with a herringbone pattern traditionally used to make stracenate, flat rectangles of fresh pasta pressed over the board), and brass ravioli stamps with customized burl, maple, and walnut handles.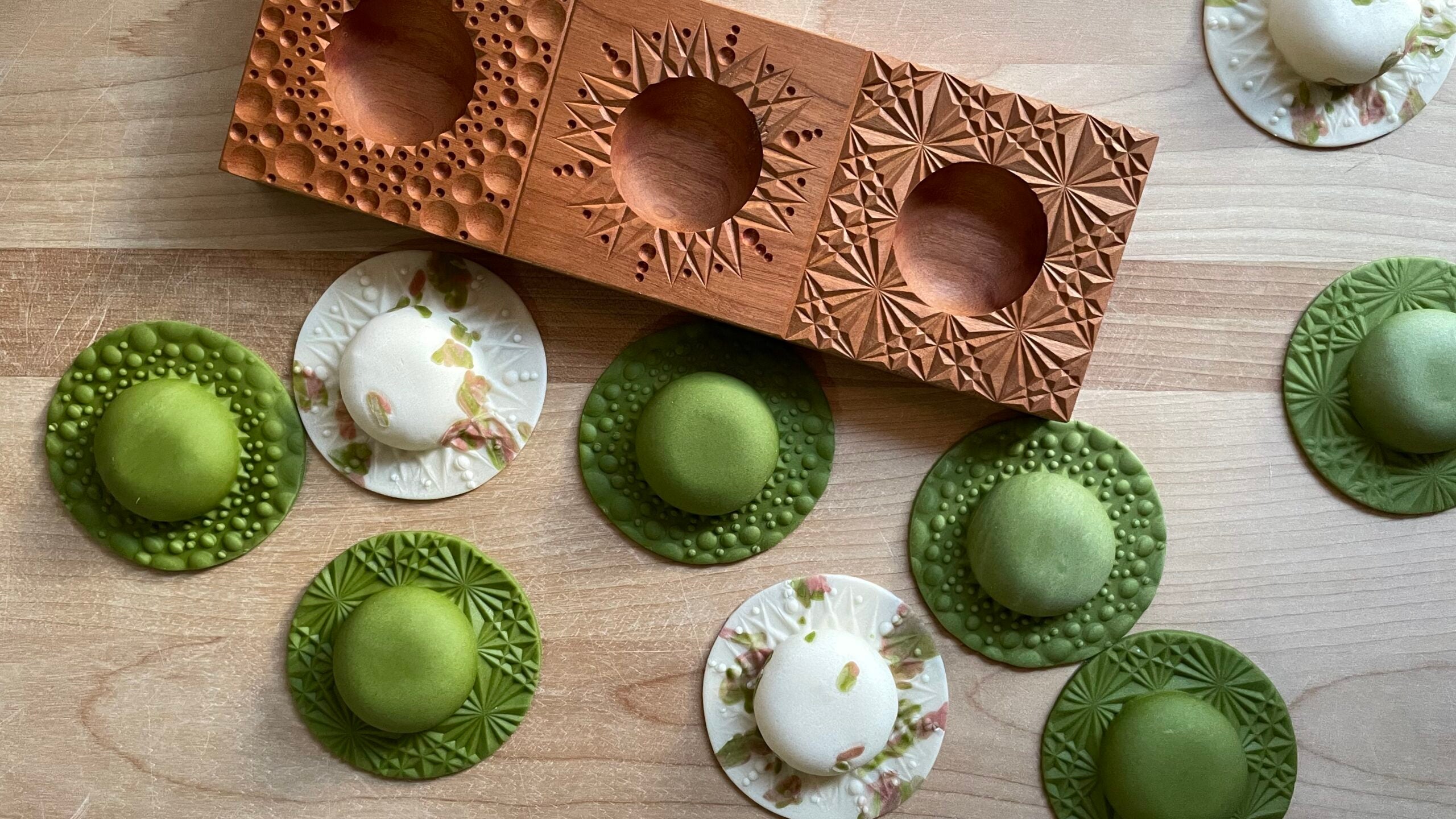 With more home cooks confined to their kitchens during the pandemic, the demand surpassed Ewart's most optimistic expectations. In order to keep up with the volume of orders, he relocated to a larger shop on a five-acre property outside the city and now plans to recruit additional staff to increase production.
Chefs from around the world, like Mateo Zielonka, the head chef at 180 Studios in London and author of The Pasta Man, were among those seeking out Ewart's tools. "With one wooden board, you can make all kinds of different pastas," says Zielonka. "You can make malloreddus (ribbed shells often infused with saffron), spizzulus (Sardinian teardrop-shaped pasta that looks like hoop earrings), garganelli (rolled tubes with pointed quills), and many more."
Zielonka's pasta obsession is likely why his Instagram feed, where he posts videos of himself demonstrating elaborate cooking techniques, went viral. After the pandemic started, his Instagram audience ballooned from 25,000 to more than 500,000 followers. His designs are imaginative and artful, like a pasta facsimile of Banksy's famous "Girl With Balloon" shredded through a pasta cutter (the way the painting famously was after being auctioned in 2018) or a leather-textured ravioli watermarked with Gucci's signature red and green stripes.
Stefano Secchi of Rezdôra in New York is a bit more discreet about his preferred source for pasta tools, referring to him in an email simply as "Marco." He means Marco Galavotti of Al Marangoun in Modena, who Secchi met while intermittently working in the city's finest restaurants, like Osteria Francescana, from 2014 to 2017.
Secchi still regularly contacts Galavotti through WhatsApp whenever he needs new instruments, like his handmade pettine (a comblike board made of stretched twine threaded like a loom between two pieces of bamboo, often used to roll tube-shaped pastas like garganelli), rigagnocchi (decorative paddles for giving gnocchi its signature shape and ridges), or chitarra boards (guitar-shaped cutting devices used to turn sheets of fresh pasta into strands).
Rezdôra currently serves 27 different pastas on its various menus, and Secchi's personal tool collection is integral to their production. To make one of Rezdôra's classic dishes, maccheroni al pettine with duck ragu, Secchi rolls thin squares of fresh pasta dough on a dowel over the ribbed surface of Galavotti's pettine to give it the grooved lines and shape of rigatoni.
While Secchi admits that more advanced tools are better suited to an experienced pastaio, he suggests pasta-curious beginners start by acquiring a well-made mattarello, or pasta rolling pin, to master the fundamentals of rolling fresh pasta dough by hand. Most chefs prefer hand rolling over machined methods because the grain of the wood imparts texture to the surface of the pasta, which helps sauces better adhere to it.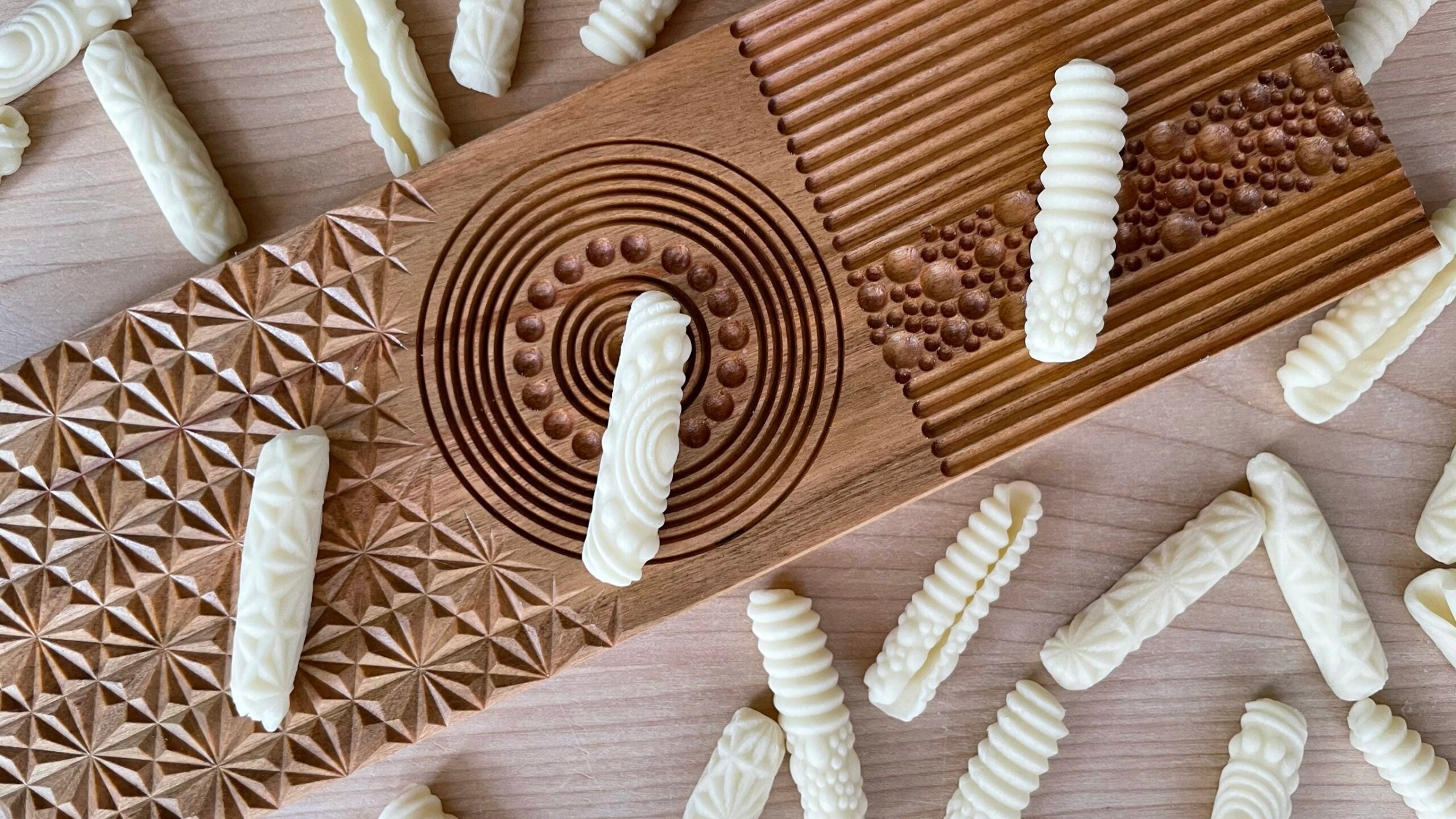 Quality pasta tools need not be extravagant purchases. When AJ Sankofa—the chef of ESO Artisanal Pasta in Morristown, New Jersey—teaches beginner pasta-making classes, he provides only one tool to each student: a wood-handled Dexter-Russell bench scraper ($26). "I have like ten of them," says Sankofa. "They're super versatile, not just for cutting and shaping pasta. You can use them for chopping things like onions and scooping ingredients into a bowl." He also swears by his Paderno pasta tweezers ($24) that he acquired as a culinary student in Italy, invaluable for twirling and plating long, stringy pastas. For those without resources to dedicate to fancy pasta paraphernalia, Sankofa points out that each of us is born with two of nature's greatest pasta tools. "We mainly teach beginners pastas you can make with your hands," he says.
But chefs and toolmakers agree that once you've sharpened your skills, upgrading your pasta tools is a worthy investment to take your game to the next level. "Maybe you'll spend a little bit more, but they're going to last generations—you can pass them along to your children and grandchildren," Zielonka says. He adds that owning these heirlooms can also bring ambience and character to the cooking spaces inside your home. "Even when you're not using your pasta tools," says Zielonka, "I think they look beautiful in your kitchen."
Justin Pedroza, the head pasta chef of Foul Witch in Manhattan, makes around 600 ravioli by hand every day, including tortellini filled with wood-roasted sweetbreads and taleggio agnolotti accented with dried phytoplankton. He hopes that the growing market for higher-quality tools will attract more people to the joy of pasta making, regardless of their level of proficiency in the kitchen. Making great pasta takes time, he says, but like learning to play a musical instrument or becoming a painter, it requires practice and repetition to develop instinct and feel. Even when the finished product isn't perfect, though, making fresh pasta is a skill that can transform a humble meal into a feast for the senses. "You're making a sculpture, a little edible sculpture," he says, "and you should be proud of that no matter what."
Photos: Imaikouba