We're Living In a Frozen Pizza Renaissance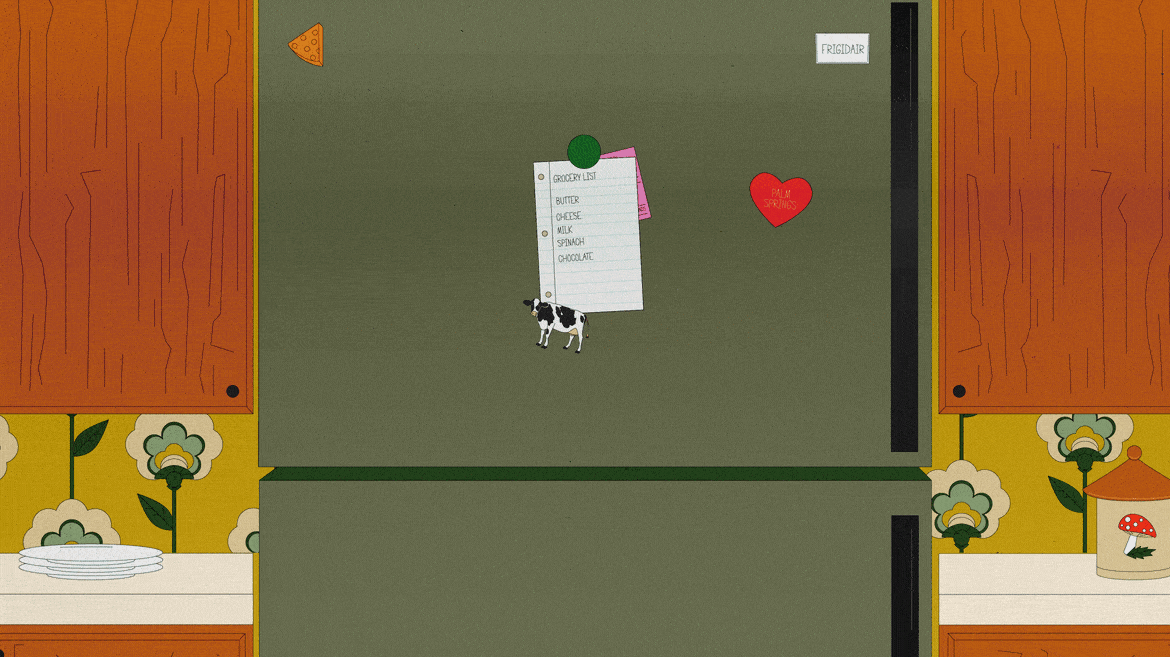 The frozen aisle is full of cauliflower crusts, Neapolitans madness, and outrageously artisanal toppings.
For over half a century, pizza has had a welcome home in the grocery store frozen foods aisle. Totino's and Tombstone began selling frozen pizzas in the 1960s, soon after easy-to-heat TV dinners debuted in living rooms across America. Red Baron got into the game with their own frozen pies in the 1970s, which quickly dominated school lunch menus nationwide. But perhaps the biggest development in at-home pizza came in 1995, when Kraft launched DiGiorno. The aggressively advertised "better than delivery" pies feature a signature "rising crust" that puffs up as it bakes, for a doughy result more reminiscent of freshly made pizza. Within a few years, DiGiorno rose to become the number-one-selling frozen pizza brand in the United States, and it has remained so ever since.
Today, the frozen pizza market is hotter than ever. In 2020, Statista reported a global market value of $16.2 billion. An increase in technological innovations and customers willing to pay more for higher-quality pies has resulted in a surge of emerging brands and longtime brick-and-mortar pizzerias bringing new pizzas to the freezer aisle. The ultimate challenge lies in the ability to marry accessibility and quality. Have we entered a new era of the battle for frozen pizza dominance?

Peter Reinhart, a baking educator and author, says both fresh and frozen pizza share the same challenge: nailing the dough. Reinhart has both observed and contributed to the growth of the frozen pizza sector since 1997, when he was first tapped by Amy's Kitchen to consult on the development of their frozen pizzas. He continues to clock in at Amy's facilities as a consultant on an annual basis to work on new pizza concepts and dough formulations, including the increasingly popular vegan pies and gluten-free crusts. "My feeling is that you can have the best toppings in the world, but if you don't have a great crust, the best the pizza could be is interesting," he says. 
A good pizza crust has a subtly tangy, slightly sweet flavor and a chewy, springy texture, both of which get developed as the dough ferments. It should not be bland nor dry. Take Frontera's discontinued line of frozen Mexican pizzas as an example of how subpar dough makes for a subpar pizza, even when the toppings (such as chicken chorizo sausage and roasted poblano peppers) are tasty. About ten years ago, Reinhart was brought on by that company to improve the quality of their crust. He experimented with adding preferment (a piece of dough that ferments for a longer period of time) to the crust to add depth of flavor, but in the end, Frontera's co-packer was resistant to adding an extra step in order to enhance the product. "It's because, even if it's not great, pizza works if it's good enough."
"The prevailing sentiment was that frozen pizza only has to be good enough, and that argument holds water when you think about how many people eat them and how many are sold every day," he says.
Sometime in the early 2010s, this notion of frozen pizza as a mediocre food product with mass-market appeal began to change. Whole Foods, widely understood by artisan food producers as the make-or-break supermarket to be stocked in, began to show interest in selling products from serious local pizzerias that were expanding their footprint by freezing and selling reheatable pies.
In 2013, the grocery giant opened its first Brooklyn location in the Gowanus neighborhood and reached out to the owners of the then (and now) legendary Roberta's, who had been making and distributing frozen pizzas on a small scale from their Bushwick restaurant. Soon enough, the wood-fired pizzeria was selling its now-signature blast-frozen pizzas to Whole Foods shoppers nationwide, vacuum-sealed in clear packaging to display charred crusts dappled with tomato sauce, oval slices of mozzarella, and a couple of basil leaves.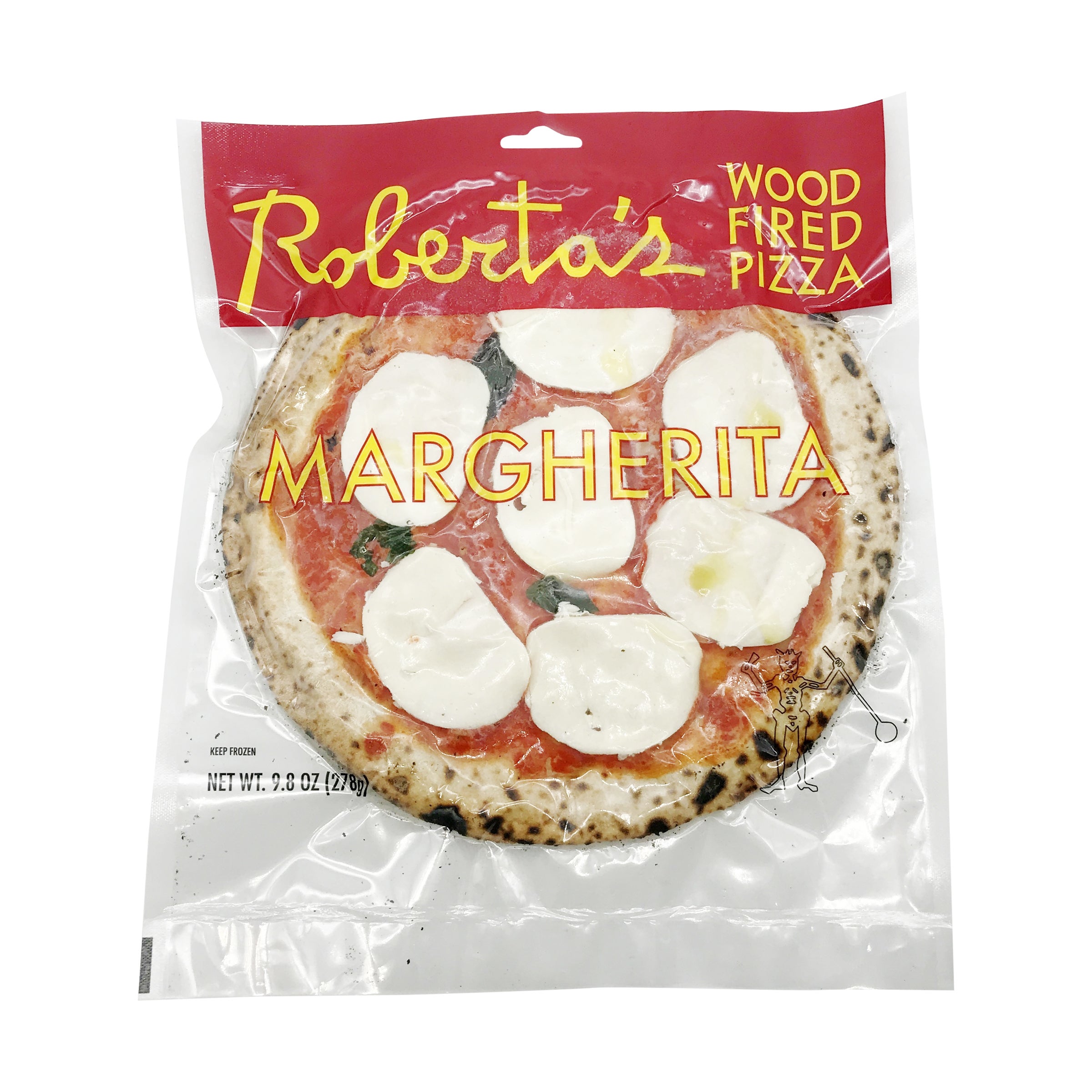 Thomas Cucco, who had recently opened the modest, if not slightly under the radar, pizzeria Table 87 near the new Whole Foods, took note. "When I was a kid, frozen pizza never came out like the picture on the box, and it never tasted good," Cucco says. The advent of the transparent packaging utilized by Roberta's showed confidence that a better frozen pizza was possible. "I thought, I could do something like this," he recalls. His coal-fired pizza would be sold as a single slice—to cater to snackers and offer something that Roberta's didn't—but the clear packaging, for the most part, would be the same, to show consumers that frozen Table 87 pies were "the real deal." The first frozen slices hit stores in 2015.

Now, Table 87 has a stamp of approval from Shark Tank and offers frozen slices and whole pies in 3,000 retail stores nationwide, from Wegmans to Walmart. They operate three brick-and-mortar pizzerias in Brooklyn, in addition to a 15,000-square-foot commissary kitchen devoted exclusively to frozen pizza production. Cucco says that the frozen pizzas are made in the exact same way as they are in the shops: by hand, with the same quality of ingredients, and fully cooked in coal ovens to be reheated at home. 
His son and business partner, Robert Cucco, adds that the clear packaging isn't just smart marketing. By removing air from the package, the vacuum seal keeps moisture out and prevents ice crystals from forming on the pizza to retain that crucial crispy crust after the rebake. Comparatively, legacy brands such as Amy's Kitchen and DiGiorno seal their frozen pizzas in plastic before slipping them into paper boxes, but they don't vacuum seal them, which is a more expensive process. This means that over time, moisture will inevitably escape from the frozen product and result in freezer burn.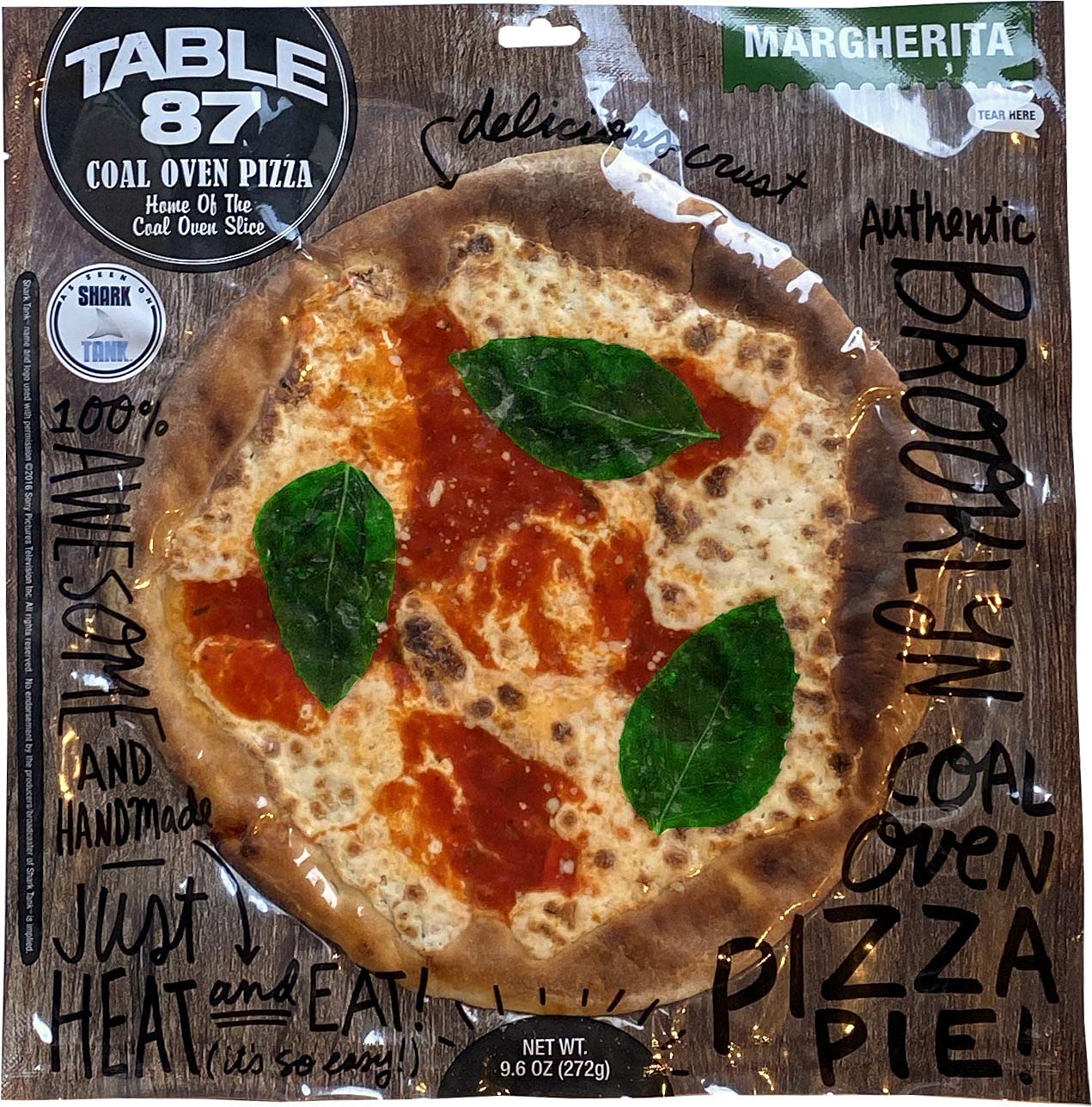 As pandemic-era dining restrictions have driven interest in high-quality frozen food for exhausted home cooks, a new crop of brands positioning frozen pizza as a higher-end product have begun to sprout. La Rossi Pizza was founded last year by Martina Rossi Kenworthy, who is also the founder of the Italian food importer Gustiamo. While large-scale frozen pizza brands enlist generic wheat flour and additives to extend shelf life, her dough is made using a blend of regional, stone-ground, whole grain flour and organic white flour. It's long-fermented for 24 hours for amplified tangy flavor, portioned and stretched, then topped with Italian tomatoes and cooked in a high-temperature stone conveyer oven to 95 percent completion. The pies are finished with more delicate ingredients like locally made mozzarella and vegetables, blast-frozen, and vacuum-sealed before being sold at New York City retailers and boutique online grocers like Farm to People for $13 to $14.
The Los Angeles–based La Morra Pizzeria, originally founded by restaurant industry veterans Marlee Blodgett and Zach Swemle as a mobile wood-fired oven, first started freezing pies after a catering gig was canceled in March 2020. The couple had talked about launching a frozen pizza line as a later-career endeavor, something to embark on well after they had opened a brick-and-mortar shop, but the pandemic sped things up. Now, La Morra produces and packages all their frozen pizza on their own in a commissary kitchen. They offer local delivery within LA, distribute to a handful of local wine shops and digital grocery platforms, and handle bulk shipping direct to consumers nationwide. That's a lot of work for one pizza shop to handle, though, and for a frozen pizza brand to operate at scale, it's necessary to bring on a co-packer. "Our dough and cooking process is so specific to us, and that's hard to find a co-packer to perform," Blodgett says. She recognizes, however, that their current process will be untenable if they someday choose to pursue major growth.
"The manufacturing process isn't designed to produce memorable product but to produce good-enough product," Reinhart reiterates. He cites Wolfgang Puck as an example of how attempting to translate a white-tablecloth pizza into a mass-distributed frozen product—"which frankly was pretty crappy"—can tarnish a brand's reputation. 
But as consumers increase their expectations for what a frozen pizza can be, dietary-restriction-conscious pies are experiencing a renaissance. Pizzas with crusts made from almond flour (Cappello's), chickpeas (Banza), and cauliflower (Caulipower) are in grocery store freezer aisles nationwide. Roughly 20 percent of Whole Foods' frozen pizza offerings—out of 18 global brands, plus additional local options—are vegan and/or gluten-free-certified.
Reinhart, who is particularly proud of the gluten-free crust made with broccoli, cauliflower, and sweet potato that he developed for Amy's Kitchen, argues that "in some instances, the [alternative] versions are better than the regular traditional frozen pizza," since there are fewer well-made, freshly baked vegan, keto, and gluten-free pizzas to compare them to. Further advancements in the frozen section are likely to mimic restaurant trends.
Reinhart thinks sourdough pies will be the next big thing in the frozen foods aisle.
Kenworthy is working on smaller, rectangular-shaped pizza designed to be shared among friends for, say, aperitivo hour. Jordan Eisma, who oversees frozen pizza purchasing for Whole Foods, says he's excited about innovative new brands like Feel Good Foods' gluten-free, Detroit-style pies and Urban Pies' large, Midwestern-style pizzas—plus the August debut of Rao's frozen pizza line (made with its signature tomato sauce). Meanwhile, the high-end food delivery company Goldbelly is enabling those who can afford to have a frozen three pack of pies from New Haven's Sally's Apizza or Buddy's of Detroit delivered to their doorstep—roughly $100—to think about frozen pizza in a new and improved way. "But can it be great at scale?" Reinhart asks. "That's going to be the next frontier, and it's going to be a fun frontier to pursue and explore."