We Can't Stop Buying Bagel Kits and Mail-Order Meat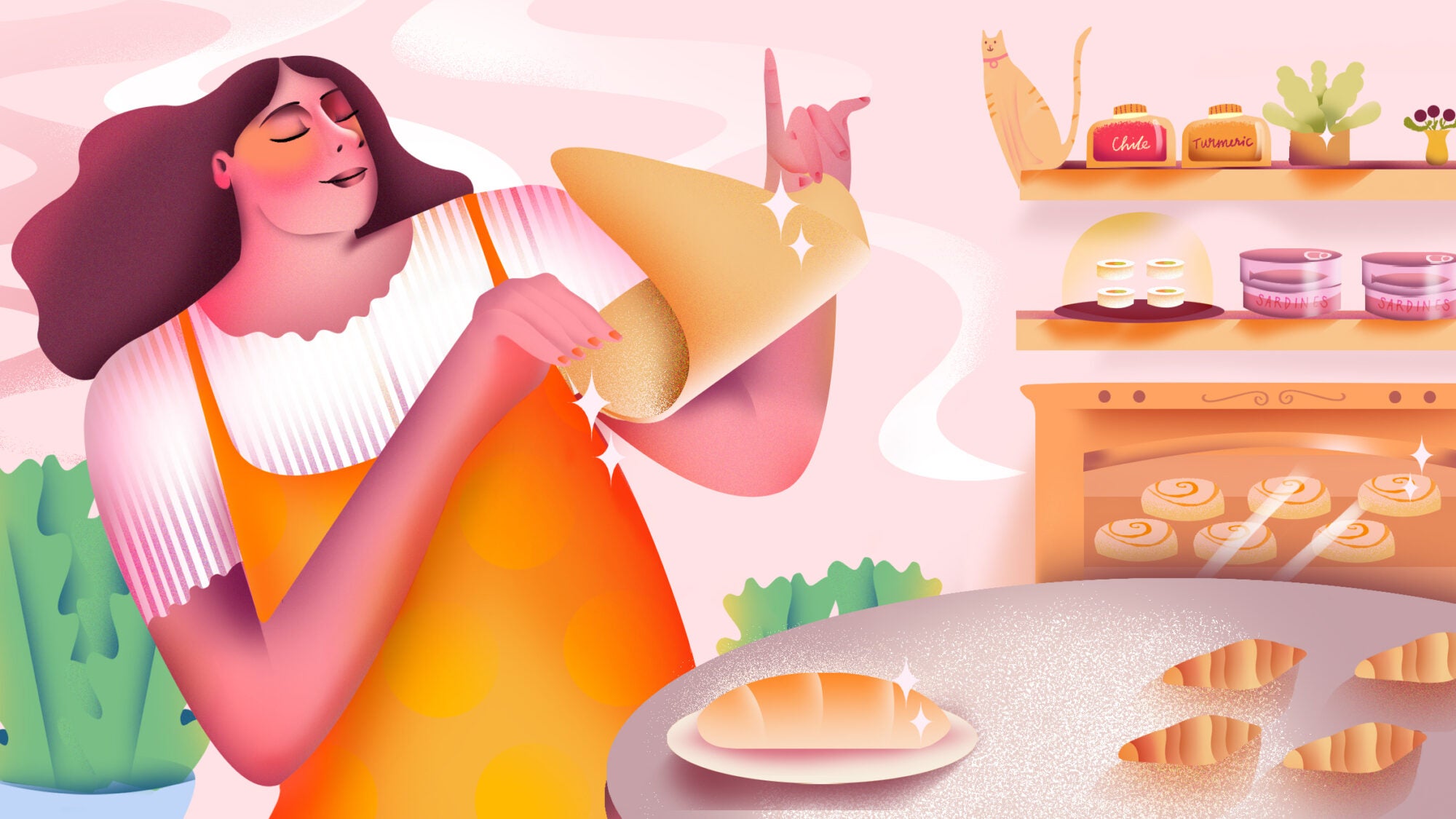 The last year has changed a lot of our buying habits. Here are some of the foods we can't stop stocking up on.
"You find your pleasures where you can," Corrado "Junior" Soprano once told his nephew Tony. We've all done a lot of dealing with it over the last year and change, and along the way, many of us home cooks and food obsessives have developed new habits, purchasing little treats and developing brand romances that may end up sticking around for years to come.
Certainly, I'm no stranger to the dopamine rush of click-to-order escapism. Coffee? You better believe I ordered it, trying out subscriptions from the likes of Yes Plz, KaffeBox, and Dayglow. Wine? I was there to sign for the 21-plus delivery, taking receipt from Kogod Wine Merchant, Astor Wines & Spirits, and the great Chambers Street Wines, perhaps my favorite wine shop in the world. One of the best things I had delivered this last year was, not surprisingly, chocolate—in particular the blue corn white chocolate from Monsoon Chocolate of Tucson and a double-chocolate panettone by the great From Roy. Both are examples of something I ordered once and then, beyond delighted with the product, made a point of ordering yet again.
And therein lies the moment for deeper consideration.
What sticks, and what doesn't, over the course of the last 18 months of pandemic life? What are the brands that have popped up and flamed out, Tiger King–style, and who is here to stay? Despite every last signal and reward our modern culture bestows, this is not, in fact, a moment for solipsism; these are exactly the sort of questions we should be looking outside ourselves to answer. So I spoke to a unique group of food and drink writers and editors from around the world, and I asked them about the pandemic spices, cookbooks, subscriptions, and shopping practices that now appear to be permanent fixtures in their lives.
Like most conversations centered around the pandemic, things quickly turned personal, even confessional at times. It turns out the habits we've picked up in the last year and a half might just mean the world to us.
Jesse Szewczyk, a New York–based food stylist and cookbook author, spent much of the early days of the pandemic working on Cookies: The New Classics, out later this month. But when it came time to do some personal baking, things took an unexpected turn. "It started with frozen croissants that my local Whole Foods bakery sold in plastic clamshells," Szewczyk told me. "You just defrost them, and they bake up perfectly into layered, buttery perfection." From there, Szewczyk began exploring take-and-bake options from several independent businesses, from Portale's take-and-bake cinnamon rolls to the Baz Bagels at-home bagel kit. "Taking these shortcuts is one way to fall in love with baking again, [and] if a bakery can make a profit selling frozen unbaked goods or DIY kits—and I get to enjoy a fresh-from-the-oven treat at home—I selfishly never want these kits and shortcuts to go away."
Speaking of shortcuts, Julie Will, VP and editorial director at Harper Wave, shared with me how the pandemic helped change her approach to that greatest of kitchen hacks: the miracle of advanced preparation. "While I'm slicing strawberries for my daughter's breakfast, I might also grab some vegetables to chop up for a salad I'll eat later," Will tells me. "I prep dinner components in the middle of the day when I have a quick break, because late afternoons tend to be a perfect storm of a hungry kid home from school and 20 last emails to send. It helps to have everything ready to quickly cook or assemble." Will also extolled the virtues of her Nespresso pod machine, which might be too much of a shortcut for some, but I won't yuck her yum.
From shortcuts to taking the long way: Daniela Galarza started a new job during the pandemic, writing the free (and very good) Eat Voraciously newsletter for The Washington Post, which led to a sea change in how she thinks about cooking at home. "I'm cooking more than before," Galarza says of her near-daily send, "but I'm also documenting almost everything I make now. Anyone who keeps track of their work will probably tell you: It makes you better! I have several notebooks dedicated to documenting new techniques and recipe formulas, and I try to keep them organized, so I can build upon my learnings." Cookbooks have played a central part in Galarza's cooking over the last year, and she mentioned Coconut & Sambal by Lara Lee, Chicano Eats by Esteban Castillo, Flavors of Africa by Evi Aki, and Mister Jiu's in Chinatown by Brandon Jew and Tienlon Ho, among others. And, like me, she's regularly ordering chocolate at home, from the likes of Socola in San Francisco and Stick With Me Sweets in NYC.
Some of those queried shouted out of their favorite local takeout joint, something to which I think many of us can relate. London's Dan Keeling, cofounder of the Noble Rot restaurant / wine shop / magazine publishing firm and coauthor of 2020's Wine From Another Galaxy, did his part to support the local restaurant industry by ordering takeout sushi and sashimi delivery from Artariya, helping the purveyor stay afloat through tough days "perhaps single-handedly," he jokes. Atlanta-based author and chef Seung Hee Lee did her part to support seafood purveyors, buying up specialties like oysters and fish roe that had been earmarked for the city's restaurant scene. "I was able to get my hands on a lot of things you can't usually get here," she tells me.
"I have several notebooks dedicated to documenting new techniques and recipe formulas."
"For a while there, lobster was $2.99 a pound." Meanwhile, food writer and educator (and TASTE's first Cook In Residence) Maryam Jillani—now based in Manila, but formerly of Phnom Penh—discovered a new favorite grocery store, the fantastically named Super Duper, "a Western-style supermarket," in lieu of her previous routine of shopping around the city at various specialty markets. "All the produce was imported, the meat wasn't great, and everything was overpriced, but I got addicted to the convenience," she admits. "When the Cambodian government was able to bring the pandemic under control, it took me an embarrassingly long time to quit Super Duper."
The utility of convenience over the last year simply can't be overrated. Emily Timberlake, coauthor (with Eric Wareheim) of Foodheim, has become "a mail-order meat freak." She specifically shouts out Cream Co. Meats and their evocatively titled "Bunker Box," including frozen bacon, steaks, ground beef, ground pork, whole chickens, and sausages. "If anyone is hesitant about mail-order meat or associates it with regrettable late-night QVC orders or Trump Steaks, let me assure you, Cream Co. is legit," says Timberlake. "They partner with smaller local farming operations who focus on sustainable and regenerative farming." Local pickup is available in Northern California, with national shipping. And she wasn't the only one to mention localized subscriptions: Seung Hee Lee loves an Atlanta service called Fresh Harvest, which allows you to focus on local shares of sought-after produce, especially chanterelle and morel mushrooms.
"If anyone is hesitant about mail-order meat or associates it with regrettable late-night QVC orders or Trump Steaks, let me assure you, Cream Co. is legit."
Sometimes convenience is another way to think about utility. Emily Schildt of Pop Up Grocer extols the virtues of Otamot ("which I'm certified obsessed with"), which offers a cashew-based tomato vodka sauce that can be used multitudinously. "I put it on eggs, I spread it on toast, I use it as a 'dressing' on salads, I bake chicken in it." Schildt also took up . . . lunch. It was a meal she'd never taken seriously before, and she found that it made for a delightful new pandemic diversion. "I've had more time to thoughtfully prepare something at home, and I've really welcomed how it breaks up the day," she tells me.
On the topic of diversions, I think it's fair to think of many of our newfound home food habits as a helpful form of beneficial distraction. Fanny Singer—author and cofounder of home goods purveyor Permanent Collection—pulled up her front garden and replanted a victory garden, focusing on items like herbs and lettuces, "things that we always eat and want to have available always." This approach was supplemented by Singer's lifelong appreciation for small farmers and regenerative agriculture. "This won't come as much of a surprise, given who my mom and I are," she tells me—her mother is the seminal Chez Panisse founder and author Alice Waters—"but during the pandemic, I truly realized the extent to which we are reliant on the health of our most immediate food systems." Local producers became sources of strength and resilience; Singer specifically shouts out Bay Area Bee Company, among a coterie of small Bay Area producers for whom the pandemic has helped anchor her ongoing appreciation.
Back to me. Throughout these conversations, I thought a lot about the foodstuff in my life that's made a big impact on me over the last year: my copy of The Book of St. John, received as a gift in the fall of 2020, now sticky and splattered with bits of trotter gear and pickle brine thumbprints; the little arsenal of vinegars, oils, and sesame seeds I have squirreled away from Gotham Grove; the birthday cookies from Chocolate and the Chip with which I celebrated over coffee just a few short days ago.
This is the sort of stuff I used to think about as being intertwined with travel and the joy of discovery. In a weird way, I think it's comforting to know that there's still a food universe out there to embrace, even when we can't leave the house, and that that joy and spark isn't something that can be snuffed out by even the most dire of circumstances. We keep connecting with the foods we love, even as the world shakes and shudders around us. There is no other way.