A Beginner's Guide to Vinegar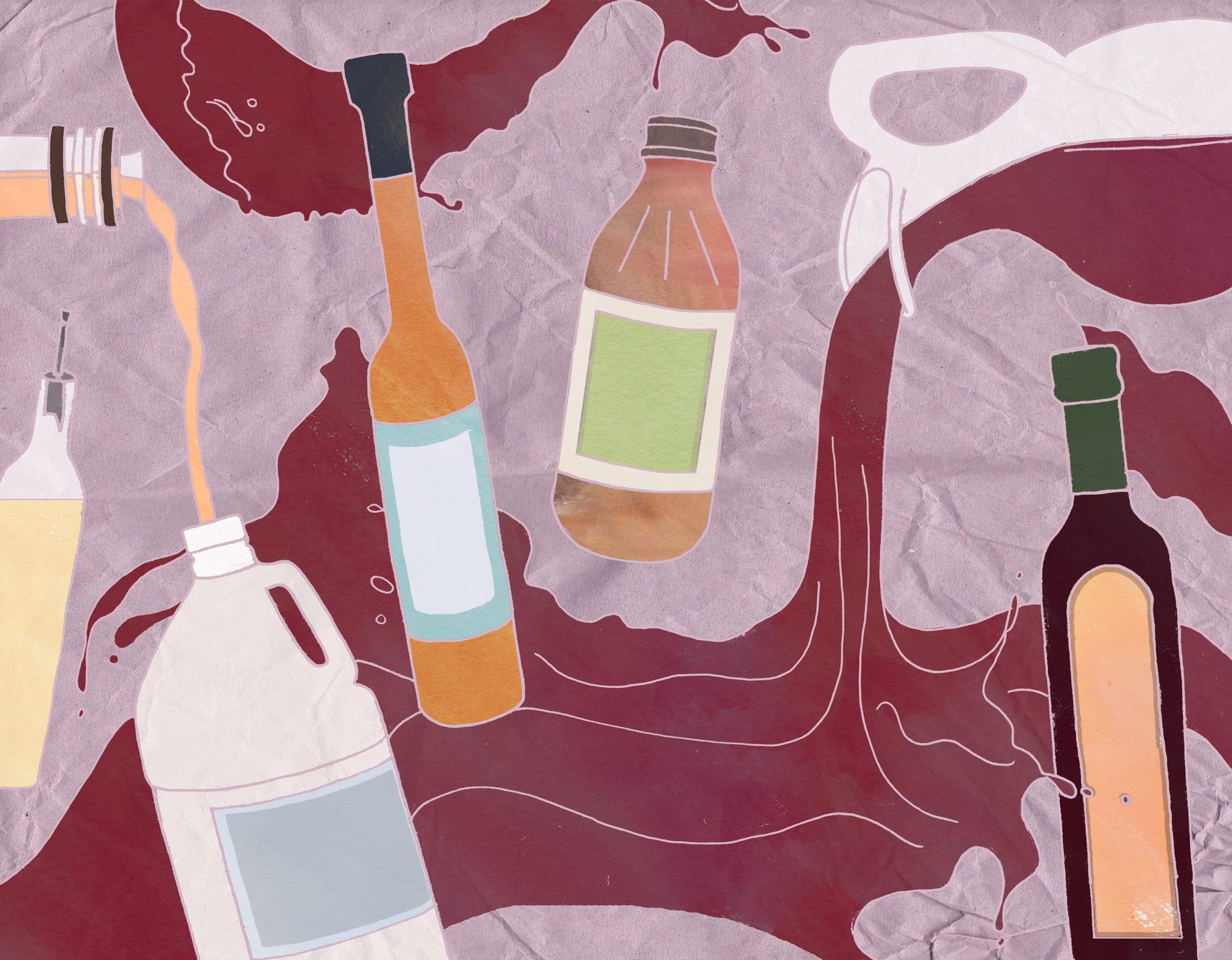 An entry into the world of all things acidic. 
At its most basic, vinegar is just acid and water, fermented or aged for varying amounts of time. But that description doesn't even hint at the liquid's allure. Vinegar can be traced back to 5,000 B.C.; everyone from the Babylonians to the ancient Chinese have used it in some form or another to ferment, preserve, and pickle foods, in addition to imbibing it for various health reasons. In fact, Greek scholar Hippocrates is said to have prescribed apple cider with honey for colds and for detoxing (way before juice cleanses became de rigueur).
Today, people mostly know vinegar as part of a boring salad dressing (as in, "I'm on a diet, so I'll have the oil and vinegar"). Yet it can be so much more. With the right recipe, that tang can bring new life to a salad, make a mean marinade, guarantee gorgeous baked goods, and even create a delicious drink.
You don't have to spend a fortune to get a good product.
When you're buying vinegar, make sure to look at the list of ingredients. Companies often add colorings or caramel and other sugars to make vinegars look richer and seem thicker. But you don't have to spend a fortune to get a good product. Though real balsamic vinegar comes from the Modena region of Italy and real sherry vinegar comes from the Spanish province of Cádiz, Whole Foods culinary content editor Molly Siegler says that you can find good vinegars made in that style but not from those regions (kind of like you can find great sparkling wine that isn't technically Champagne). "That's a nice way to test out some cool vinegars but not spend as much as you would if they were imported," she says.
Taste isn't the only reason to use vinegar. Recent research has shown that the acetic acid in this special liquid may help reduce your glycemic index and fight heart disease and cancer, among other health benefits. Balsamic vinegar in particular is high in quercetin, which acts like an antihistamine and anti-inflammatory in the body. In fact, Jeff Conarko, who co-owns Con' Olio Oils & Vinegars and teaches at the Bayley Seton Hospital dietary special needs clinic in Austin, Texas, says that for special-needs patients (those with diabetes, heart disease, and cancer), the clinic recommends taking one tablespoon of balsamic vinegar in the morning and one after the biggest meal of the day.
Here are the five most common types of vinegar, and the best ways to use them in your daily cooking.
Balsamic Vinegar
The original vinegar, balsamic has been around for more than 2,000 years. The term comes from the Latin word balsamico, which means "curative." It is traditionally made from reducing white Trebbiano grape juice and grape must, and real balsamic comes from the Modena region of Italy. Bob Foster, the chief judge of the Central Coast Wine and Vinegar competition, says he looks for an "intensity, a roundness of flavor and the right kind of tang" when he's trying balsamics.
You've probably noticed quite a few olive oil and balsamic specialty shops. Why the pairing? "Balsamic is the best in taste and health benefits, and you can do so much more with it," says Conarko.
Did your mom add sugar to spaghetti sauce to cut the acidity of the tomatoes? Mine did, too. But Italian mammas fight fire with fire: They add balsamic vinegar instead of sugar, because its natural sweetness also works to cut the acid. Conarko says you only need one or two tablespoons for a few cups of sauce. Try this spicy tomato jam if you're looking for intensity.
Conarko also likes to use balsamic as a "natural meat tenderizer" that works on any sort of protein (such as short ribs or fish). He also uses it to macerate vegetables for side dishes and fruit for a sweet dessert. Or reduce the liquid to a thick sauce and spoon over ice cream, yogurt, or even balsamic-macerated fruit!
Siegler likes to use white balsamic in place of the regular inky version. "You get the same soft sweetness without the color," she says, noting that it's particularly good for recipes where you drizzle the vinegar over a completed dish. For example, who wants a brown caprese salad? Use white balsamic and your mozzarella will stay that gorgeous cream color.
For a real treat, drink your vinegar. Hip restaurants like Pok Pok in Portland and New York, as well as cocktail bars around the country, are serving drinking vinegars, made with vinegar syrup and carbonated water, something akin to a tart Italian soda. These drinks are a fun virgin treat, or you can add alcohol to turn them into something more adult.
Apple Cider Vinegar
You probably already know this, but just as a reminder, apple cider vinegar is quite different from apple cider. The latter is a drink, while the former is a potent type of vinegar. It's made from crushing apples and then fermenting the liquid that comes out, and you'll notice a familiar sweetness to it.
Of course, you can make a mean vinaigrette with cider vinegar, but there are plenty of other ways to use it. Siegler says she likes it as a base for homemade mustard, because its "sweetness and power can break down mustard seeds" like nothing else. Cider vinegar in particular is also great as a finishing element. In place of salt or even citrus, add a splash of it to "wake up the palate" and brighten dishes like lentil soup.
Sherry Vinegar
"If you like balsamic," says Siegler, "try sherry vinegar." Real sherry vinegar is produced in Cádiz, Spain, from sherry that is fermented further, which converts the alcohol into acetic acid (yep, the same acetic acid that has so many health benefits, mentioned above). It's then aged for at least six months in oak barrels, resulting in 80 aromatic compounds that make it truly unique.
"This is a nice vinegar to use if you're in a dressing rut," Siegler says, noting that it feels very Old World. Swap sherry vinegar for red wine or apple cider in a recipe to add surprising depth. Or use it in place of balsamic vinegar, which Siegler says can get "heavy," whereas sherry vinegar is "lighter and more intriguing."
To experiment with sherry vinegar's Spanish roots, she recommends grilling mushrooms and peppers, then tossing them in a sherry-based vinaigrette with capers and shaving Manchego cheese on top. "It's everything you love about super-accessible Spanish cuisine in one dish," she adds.
Red Wine Vinegar
This is another of those tableside staples that often gets overlooked because we're so used to seeing it in salads. But there are plenty of other ways to use red wine vinegar, which, as you might guess, is made from red grapes.
Marinate vegetables like eggplant with olive oil, mint, and capers for a bright side dish, or change up wilted spinach by adding chickpeas and a dash of red wine vinegar to make the Spanish espinacas con garbanzos (spinach and chickpeas).
The traditional French sauce beurre rouge uses red wine vinegar as a main ingredient, along with red wine, shallots, sugar, and plenty of butter. Try it with salmon to mix your good fats with your heavier ones.
Siegler says that it's also a nice vinegar to use in drinking vinegars, particularly with cherries and strawberries.
White Vinegar
Also known as distilled vinegar, grain vinegar, or spirit vinegar, white vinegar can clean and deodorize, and you probably have some under the sink right now. But did you know it can also be used to cook?
It's not recommend to drink this vinegar straight, but it's great for vegetable dishes like Southern collard greens. "Because it's been stewing for so long and it has ham hock, that shot of intensely flavored grain-alcohol vinegar is what it needs to brighten it up," says Siegler.
It's a common ingredient in baked goods, particularly vegan ones, because it reacts with the baking soda (or other leavener) to make cakes light and airy. You'll also find it in good old-fashioned non-vegan red velvet cake. Because it doesn't have a distinctive taste, it blends into the background of baked goods.
Interested in making your own flavored vinegars? Siegler recommends trying out white vinegar with additives like tarragon and lemon peel. "Let it hang out for a bit, but not more than a week," she advises. Then strain and use the resulting vinegar as a custom marinade for meat or vegetables.