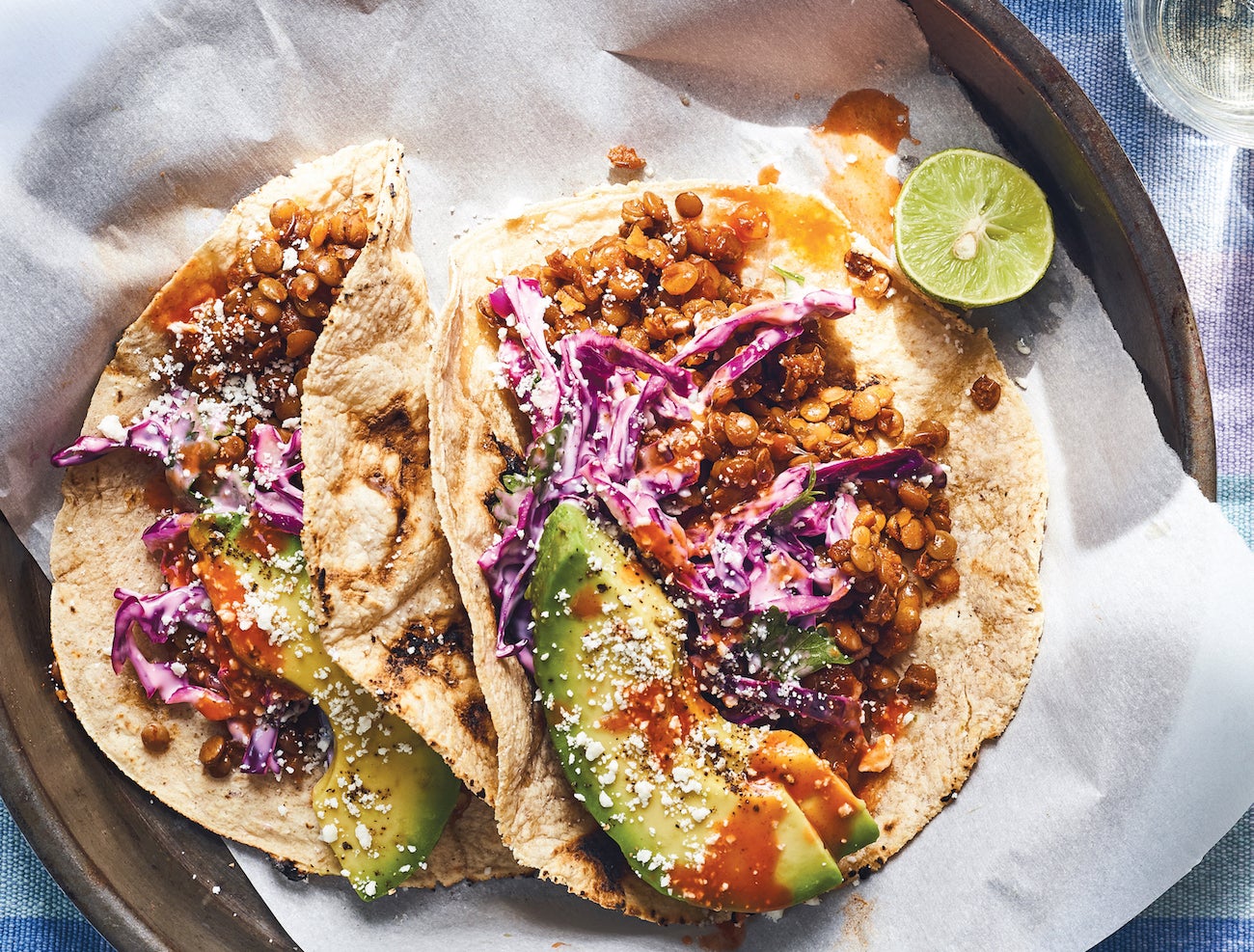 Whether they're canned or dried, make some space for beans and lentils on the grill. 
In the process of writing my latest cookbook, Thank You for Smoking, I smoked pretty much everything I could get my hands on. There were ribs and bacon, of course. But there was also quinoa, cashews, pink peppercorns, and oats.
I was amazed at how smoked walnuts created an even lustier version of pesto, and how the intoxicating fragrance of dried smoked lentils carried itself through the simmering process. Smoking dried beans and legumes created deep, satisfying flavors in all sorts of dips, salads, and taco fillings—no ham hock required.
I found that it was surprisingly easy to infuse pantry staples (both dry and wet) with an intriguing whiff of smoke. The "whiff" component is crucial here, because my aim was (and is) to deploy smoke as a seasoning—not an overpowering presence that obscures everything else on the plate.
In my book, this whiff comes along in two basic ways. You can smoke individual ingredients over indirect heat (in a closed grill that's vented for smoking, allowing a steady stream of smoke to waft over food and out the vent, keeping air circulating). Or you can cook them over direct heat with a wood-enhanced fire. In other words, adding wood chips, chunks, or even a hardwood log to a bed of coals (or wood chips in a smoke box in a gas grill).
In the book, I offer instructions for smoking both dried and cooked beans. Smoking dried beans yields a more delicate smoky nuance, and starting with cooked beans yields a more pronounced flavor because their moist texture helps absorb the aromas in the cooking chamber. A chef friend takes the middle ground and smokes beans after they've been soaked (overnight or for an hour with the quick-soak method). As a longtime bean lover (I wasn't the only one who survived college on black beans and rice, right?), I was compelled to know the precise differences between smoking beans at each stage. So I decided to spend a Sunday test-driving all three approaches.
Following the method from my book, I built a two-zone fire, and when the coals were glowing red and covered with a fine gray ash, I placed a drip pan with an inch of warm water on the side with no coals. The water creates humidity that's essential—especially for dried ingredients—for smoky flavors to "stick." I placed a pound of each version in disposable aluminum pans (large enough that the layer of beans is no thicker than an inch) on the grate above the drip pan.
I smoked the three batches of pinto beans (dried, soaked, and simmered) for 30 minutes and used oak chunks as my smoke source (one or two chunks per batch, adding additional wood as needed to maintain a steady stream of smoke). My grill maintained a steady temperature of 300° to 325° throughout the process. After smoking, I refrigerated all three batches overnight, so my shift over the fire didn't hinder my ability to taste and smell. The next day, I finished cooking the soaked beans and simmered the dried beans, served the results in identical bowls, and subjected my husband to a blind tasting. Here's what we found:
Smoked Dried Beans: The surprising favorite. I simmered the smoked dried pintos (without soaking them), and they cooked into a wonderful "bean-y" texture, meaning they were tender and creamy (not mushy) and held their shape. Best of all, they created a savory broth that had the richness and complexity of beans cooked with meat. Definitely the deepest and most satisfying smoky flavor.
Smoked Soaked Beans: The least favorite. The texture of the cooked beans was somewhat uneven, with a slightly grainy quality. My sense is that the moisture the pintos acquired from soaking was redried and almost partially toasted by the heat and wafting smoke. The smoky flavor was subtle and more of a top note than the deep flavor created by the dried beans.
Smoked Cooked Beans: Because I began with tender beans, the pintos began to break down during the 30-minute smoking process (especially when I stirred them). The result was the most overt "smoky" flavor and a soft, mushy texture best suited to a puree (like the Smoky Bean Dip With Pickled Jalapeños below) or refried with rendered bacon or olive oil that would help balance their assertive flavor.
Of course, all bean varieties are different. If I smoke cooked pintos again, I'll likely undercook them slightly, so they'll hold their shape better. And denser legumes like chickpeas are less likely to break down. Canned, drained beans like chickpeas absorb the smoke beautifully (in 20-30 minutes) and make a stellar hummus. If you don't have time to fire up your grill, you can use a smoking gun (I have a Breville) on cooked or drained canned beans by placing them in a glass jar or metal bowl and following the manufacturer's instructions to give it a shot or two of wood smoke.
As with grains and nuts, the color of dried beans darkens slightly after smoking, so stir them a few times during the process to ensure even results. Keep in mind that the flavor of cooked smoked beans intensifies overnight, especially when they're soaking in liquid or some kind of fat (like olive oil or mayo). The subtle smoke you taste just after your lentils are tossed with vinaigrette blooms and becomes more pronounced (in a good way) the following day.