Tuna, Uncanned and Caramelized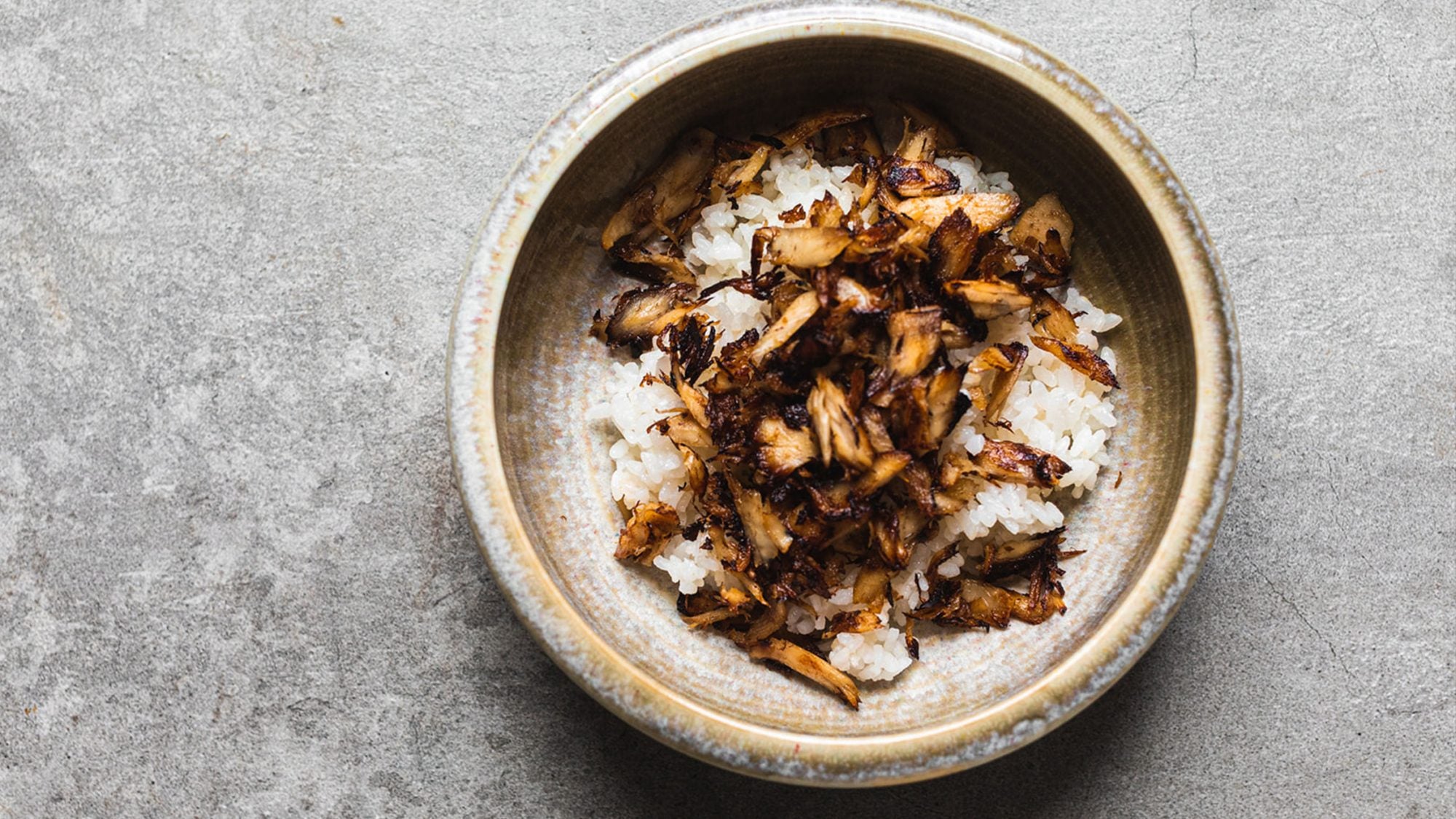 A childhood trick involving a splash of fish sauce and a sprinkle of sugar turns those dollar store cans into something transcendent.
The collective American palate tends to see a tin can of tuna and instantly call to mind mayo, celery, maybe some minced onions and flecks of parsley—the foundational ingredients of any good tuna salad. But when I see canned tuna, my brain goes someplace completely different. I think about dumping it into a screaming hot pan with a splash of fish sauce and stir-frying it with—trust me here—maple syrup until there are bits of char and caramelization. And then, instead of wedging it between slices of rye bread, I think about scooping these flavorful flakes of fish over a bowl of warm steamed rice.
These meals of tuna-plus-rice remind me of the days during childhood when we were between grocery trips to LA's Chinatown from our home in Glendale, California, or when my mom just wanted a fast, dependable dinner. Sometimes sardines in tomato sauce or Vienna sausages were part of the rotation. My mom would heat up the sardines in their sauce—no doctoring required—and we devoured it all with dollar baguettes we lovingly referred to as bánh mì cóc, or frog bread, as the loaves are sometimes called in Vietnamese. The Vienna sausages were sliced in half, seared to a crispy brown, and served with scrambled eggs on rice. Though we enjoyed all our canned foods on rice, crispy tuna with fish sauce remained a firm favorite.
As Vietnamese immigrants finding our way in a new country in the late '90s, the 99 Cents Only store in our neighborhood was indispensable. I loved the way its fuchsia, green, and blue signage gave way to fluorescent aisles within, shelves beyond shelves lined with toys and snacks and canned foods. My dad worked six days a week, so when he was home on Sundays, we liked to make a family trip to 99 Cents Only on foot. My parents, my little brother, and I would wear our nice shoes for the five-minute walk just around the corner and down the street.
At seven, I was in awe of San Fernando Road's expansiveness and the way it seemed to extend infinitely into the valley, past gas stations and strip malls and the always-vacant Wonder Hostess Bakery Thrift Shop. With hills looming on either side, walking along our stretch of San Fernando was half the adventure of visiting 99 Cents Only. Inside the store, we always made an immediate beeline to the canned food section, where we piled our basket with the usual sardine-tuna-sausage combination, as well as canned corn, which my mom sautéed with scallions and vegetable oil to eat over rice.
My mother stresses that it's about waiting for the right color to appear, almost like a mood ring, from pinkish beige to a deep amber with flecks of char.
Back home, my mom would prep the rice cooker and crack into one of the tuna cans. It was her remix of tép rang, a sweet and salty Vietnamese dish of tiny shrimp caramelized in fish sauce and sugar, then topped with black pepper. To this day, I still don't know if tép is sold in Asian grocery stores in the United States, but in my memories, bags full of dried shrimp the size of raisins arrived every time a family member came back from a visit to Vietnam, or when one of my mom's sisters in Saigon sent us a care package of jasmine tea and special, hard-to-procure ingredients. It was soothing simply to fill our home with facsimiles of our most beloved Vietnamese foods.
Everything I understood about Vietnamese cooking when I was a kid came from glimpses of my mom at our stove, hands fluttering from pot to pot to pan—never aided with recipes. My mom cooks by feeling, by memory written into her body. In my family, you wait for the floral smell of jasmine rice to waft from the cooker. You feel how the scent of garlic and crackling hot oil, finally ready for vegetables, sits at the base of your throat when you breathe it in.
For the sweet and salty tuna, my mother stresses that it's about waiting for the right color to appear, almost like a mood ring, from pinkish beige to a deep amber with flecks of char. Just as my mom brought memories of her home country to life by cooking familiar dishes with what she had on hand, there's an intimacy I experience today when I try to feel out how she cuts vegetables or measures her spices. There's a thrill in re-creating the same foods, recognizing the similar fermented, oceanic smell of fish sauce hitting tuna. Even though we're on opposite coasts now—me in Providence, Rhode Island, and her in Glendale—producing an approximation of the flavors from my childhood makes me feel closer to her.
In Don't Call It Comfort Food, a TASTE essay series, writers share the recipes (and not-recipes) that define comfort for them. In last month's column, Leonel Ramirez wrote about the joys of pupusas, straight off the comal.