Tofu Skins: Fried, Steamed, Stuffed, Seared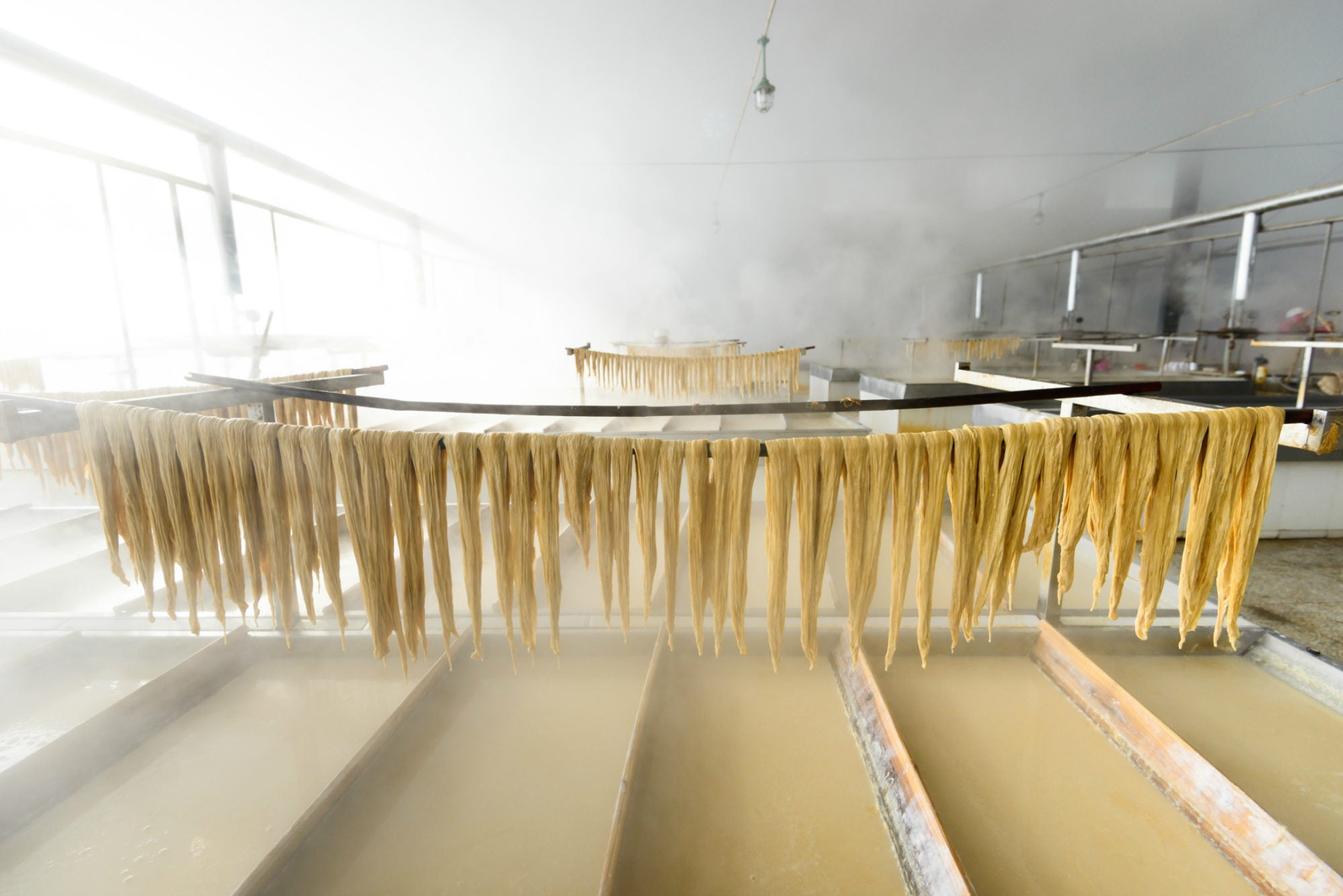 Home cooks have a lot of reasons to love yuba.
I recently posted to Instagram a photo of dish I've come to call double tofu—a rehydrated tofu stick and cubes of firm tofu simmered in coconut milk and soy sauce, the skin's mild flavor brought to life with curry leaves, lime juice, black sesame seeds, chopped roasted peanuts, and a spoon of Chinese chile crisp. In reaction to the post, Beijing-based food writer and editor Lilian Chou, whom I met while working at Art Culinaire, weighed in. "White people tofu skin dish," she wrote, accompanied by the kind of eye-bugged, tongue-wagging smiley-face emoji that let me know she was kidding, but not really.
She's right. I am a white person, and I made the dish with no particular allegiance to one country's flavor profiles or traditions; it was strictly about what I had on hand that might work well together and help me get dinner on the table quickly. I asked Chou what she likes to do with tofu skins.
"Traditionally, my Cantonese mom put super thin strips in her jook [congee], where they would get thinner," says Chou. "In Beijing and other parts of China, it's served as a 'cold dish,' or Chinese meal starter. It's dressed with mu'er [woodear mushrooms] and sometimes cucumbers, celery, or whatever veg contrasts with the texture. I just made some with black sorghum vinegar, sesame oil, and salt." She went on to say that in Beijing, tofu skin isn't as often served hot, with hot pot or soups being the exception.
In an ideal world, I would eat orecchiette with bacon and eggs for breakfast, lasagna Bolognese for lunch, and linguine with white clam sauce for dinner—and late at night, I'd lean against the open refrigerator door while picking at the cold, but no less delicious, leftovers from the day's pasta feed.
The world, however, is far from ideal, and I often deny myself many of its carbohydrate-based pleasures in pursuit of a healthier diet and pants that fit. With apologies to all the clean-eating entrepreneurial moms touting pyramid-scheme health shakes and workouts via social media, zucchini noodles are depressing and shirataki noodles—the water-packed gluten-alternatives made from the Japanese konjac yam—feel (and smell) more like a mouthful of squeaking rubber bands than toothsome spaghetti. Steamed spaghetti squash is straight-up tragic. Enter tofu skins.
Tofu skin noodles will never replace my beloved pasta, but they come closer than anything else to absorbing sauce and replicating its glutinous chew, so lately I'm cooking with them all the time.
Tofu skins, sometimes called yuba, are a prized part of the tofu-making process, in which soy milk is boiled and concentrated. A thin film naturally forms on top of the cooling milk, which is skimmed off in sheets, often hung to drip-dry, and sold either fresh or dehydrated. Chinese and Japanese cooks have long used tofu skins in braises, stir-fries, stews, and soups.
I fell for tofu skins years ago in a (sadly now-shuttered) New York restaurant called Biang!, which specialized in hand-pulled wheat noodles and other dishes from the city of Xi'an in central China, including an intriguing appetizer of tofu skins, impaled on skewers and coated in a garlicky Szechuan peppercorn sauce.
On a recent trip to Hong Kong, and as I made the dim sum rounds, over and over I ate paper-thin tofu skins wrapped around seasoned pork, shrimp, and vegetables. In Kyoto, I enjoyed an extensive yuba tasting menu and tried my hand at skimming my own (with decidedly mixed results) at one of that city's several yuba-focused restaurants. Closer to home, Superiority Burger in Manhattan's East Village offers a sandwich of marinated and griddled yuba strips served with chickpea mayo and pickles, called New Creation, the recipe for which is in the forthcoming Superiority Burger Cookbook, to be published in June 2018.
I live in a crossroads-of-the-world-type neighborhood in New York, where it's easy to find a wide variety of tofu skins, both fresh and dried, of varying thicknesses and textures. For those whose local grocery store lacks such bounty, fresh and dried yuba are available online at veganessentials.com, on Amazon, and via the website for Hodosoy, which currently dominates the fresh yuba market in the U.S.
Hodosoy is a California-based company with national distribution that makes a variety of fresh yuba products, the most delicate and perishable of which is a soft, barely congealed kumiyage yuba, the first to be scooped from the simmering soy milk. Then there's tsumami, a gossamer-thin tofu skin variation that resembles caul fat, harvested between gently pinched fingertips; hikiage, a young, delicate—but structurally sound—tofu sheet that's often rolled around fillings or served as tofu "sashimi"; and what the company simply calls "fresh" yuba, the hardiest variety. It looks and feels like a greaseless sheet of chicken skin, is easy to cut, and is a great stand-in for boiled noodles or any pasta that you'd finish in a pan sauce.
The dried variety of tofu skin, which looks a little like a bag of desiccated corn husks upon purchase, is cheaper and obviously more shelf-stable than the fresh variety, though far more difficult to separate into single sheets, even after a long dehydrating soak, and is therefore better used as a chunky noodle substitute in soups and stir-fries. I like to float it in chicken "noodle" soup, or sear it with ground pork, aromatics, and leafy greens in a hot pan. It also does well in spicy noodle soups, like Pork Ragu Noodle Soup, Nam Ngiew, from the excellent Night + Market book by Kris Yenbamroong. It is sold under various names, including dried tofu stick and bamboo stick.
So try Lilian's excellent cold dish suggestions above. Sub in tofu skin wherever you'd use pasta. And try my recipe below.