Time for a Winter Cooking Project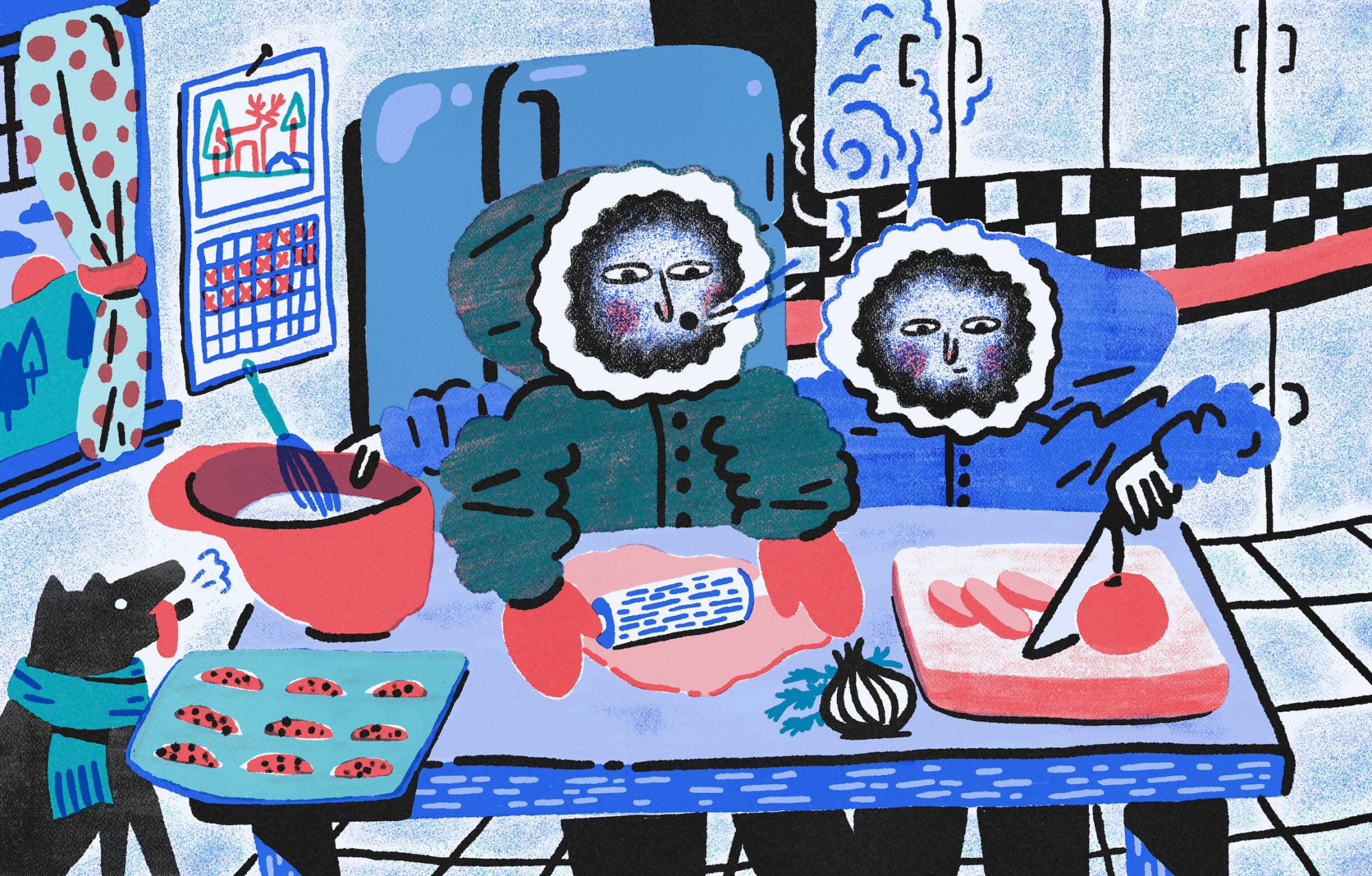 We all could use a little more Korean milk bread, toffee date cake, and blowtorching to break up our kitchen routines.
In a normal time—and let's not even go there with talk of "normal" versus "new normal" versus "return to normal" versus "quite normal"—that we will call December 2018, the idea of a winter cooking goal had great novelty. This is when my colleague Anna Hezel wrote about her lasagna quest (which eventually bubbled over into book form) and reached out to a handful of friends to find out what cooking goals and recipe grails they were hoping to achieve. We heard about DIY croissants, hand-pulled noodles, and contributor Tammie Teclemariam's journey with green and orange salsas. "When I commit to a cooking goal, it's more about strengthening kitchen intuition than adding a particular dish to my repertoire," Teclemariam said at the time. Anna concluded that the winter cooking goal took many forms: repetition, discovery, killing a slow afternoon to figure out what is up with burnt cheesecake.  
As we enter the year's coldest period of hibernation—project cooking season—the fact of the matter remains that the context in which we cook has changed greatly. Nonetheless, I wanted to get in touch with writers and friends to find out if January project cooking was still happening—as opposed to the April, June, October, November, and December cooking cooking seasons we all participated in. In fact, it is.
My friend Judith Hoetker is a Brooklyn jewelry designer and a heck of a home cook—equal parts ambitious and pragmatic, and always thinking about her next recipe conquest. In the first four months of the pandemic, she avoided takeout and instead dove into re-creating and retooling some of her favorite dishes ("thank you Woks of Life blog"), with her current goal of making biang biang noodles using gluten-free flour. She also has her eyes on re-creating the Australian sticky toffee date cake she last tried at Café Moto in Williamsburg (RIP). Some quick internet research found that Smitten Kitchen had a similar thought a few years back, and I passed the recipe along to Judith. Her reply: "I do what Deb tells me to do."
Cookbook author Andrea Nguyen has been eyeing great biscuits "like ones by Kelly Fields in her awesome book," she says. (Indeed, check out the recipe which is extremely great.) Nguyen is also looking forward to diving into Christopher Tan's The Way of Kueh. "It demystifies a lot of Southeast Asian treats." My colleague Tatiana Bautista called out the same book as the source of her winter project, and is planning on tackling kueh lompang pandan as an entry point. "It sounds simple (see: steaming) and requires not too many ingredients (rice flour, tapioca starch, pandan extract, sugar, water)," she says. 
Late last year, Anna wrote about Naoko Takei Moore's cookbook, Donabe, and in anticipation of the winter project window, she bought a clay pot of her own. On her hit list: small batches of stews, like a kimchi jjigae or a Catalan seafood stew, and plenty of winter lunches fueled by Moore's artfully layered sardine rice. She's also planning to mess around with frozen puff pastry and phyllo dough. "It's such an overlooked grocery store item, and the possibilities are endless—a whole fish en croute, a Moroccan bastilla, Nik Sharma's samosa pie, little savory hand pies."
Writer and author Julia Bainbridge simply hopes to cook. "I'm not hand-massaging my way to hoshigaki, and I'm not endeavoring to make pithivier from scratch; I want to run the kind of home kitchen that feeds me daily," she says. "Is this about gaining some sense of control in an extremely uncertain time? Maybe. But it's also about autonomy; it's about sourcing ingredients responsibly, being good to my body, and reducing waste in the process." 
Writer and columnist Eric Kim is hard at work on his first cookbook, on Korean-American home cooking inspired by his family's recipes, and just wrapped the savory recipe development. He's moving on to baking and desserts with a challenge in mind. "My latest project is perfecting a Korean bakery–style milk bread," he says. "There are so many bad recipes out there, and the main objective for me is making sure anyone can replicate it at home without a stand mixer." He's searching for "bouncy sweetness" with a little chew while still tender within. "I'm enjoying the process so far. There's something calmly elemental about this kind of index cooking. It makes me feel like Kiki in Kiki's Delivery Service." 
Kim's editor, Raquel Pelzel, is working on perfecting Jamaican patties. "They're something I've been making since I worked on Cedella Marley's book six years ago, and now, with my boyfriend, who is Jamaican, I am trying to perfect the dough." She's happy with the filling ("it's pretty killer"), and now it's all about finding the right flakiness.
My colleague Talia Baiocchi asks a simple question about Italian hero rolls. "Why am I not making them?" She admits that sourdough has distracted the pursuit of baking great sub bread. "One that is perfectly plush and chewy, but still sturdy enough to hold many, many meatballs cloaked in mozzarella. Turns out, this breed of roll is not so easy to make (call me if you want to make giant breadsticks)." She plans to get to work this winter. 
As for me, I'm going to finally put some Laura Soybeans I bought this summer to use and make fresh tofu. There is really nothing like fresh tofu, and I hope to use the warm and silken bricks in soondubu jjigae, or using tofu's pulpy, blended byproduct for kongbiji jjigae. Nguyen, author of the homemade tofu bible Asian Tofu, gave me some pointers and a crack recipe, and I'll report back on my results.  
"I want to master the blowtorch," my colleague Kaitlin Bray admits, channeling, perhaps, most of our current moods. While her torch obsession is not related to burning down the reminders of 2020, her plan, instead, is to learn how to make Swiss meringue and to play around with piping techniques. "I need something fun and trivial in my life."