This Year the Grocery Store Does Better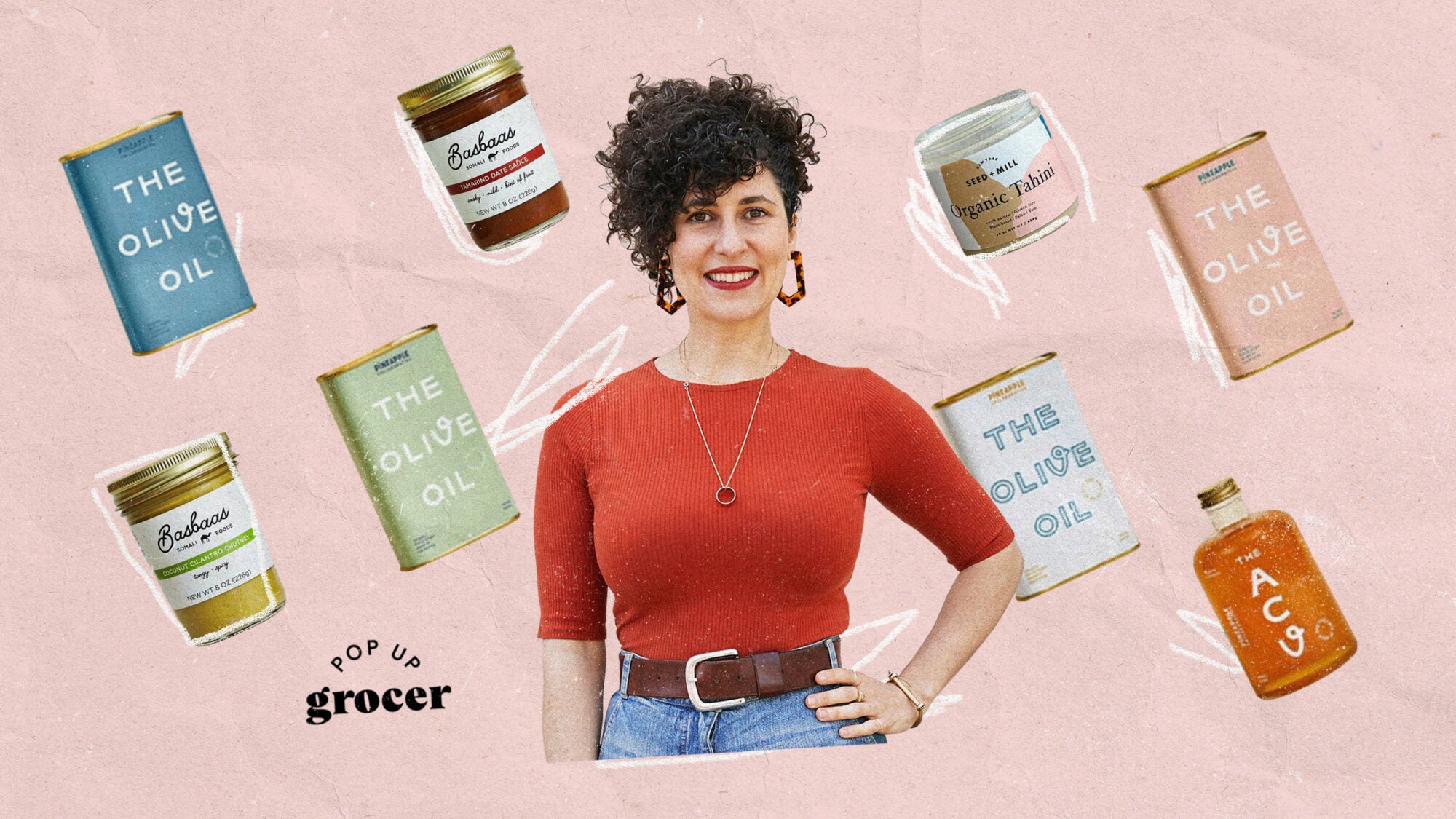 We talked to baker-turned-entrepreneur Erin Patinkin about some of her strongest grocery store convictions and predictions for 2022.
When I write Erin Patinkin to fact-check a few things, I confirm her birthplace is Chicago. "Only sport peppers, pickle, mustard, relish, tomato, and onions on my hot dogs," she responds. Confirmed! I've known the Ovenly baker and cookbook author turned entrepreneur and food business adviser for many years, and I recently joined her for coffee in her newish home of Kingston, New York, to get her take about the future of all things food: grocery trends, cooking gear innovation, and cuisines that seek better representation in the consumer packaged goods world.
Our conversation got me thinking about the upcoming year, and the challenges faced as well as the kernels of optimism in the air as we hopefully edge out of the shock of a two-year pandemic. Later on, I sent Patinkin an email asking for some thoughts about what to look for in 2022, and she was cool enough to write back. She has advised some of the food world's most interesting brands (almost exclusively female-founded), including Kismet, Pineapple Collaborative, Pop Up Grocer, and Seed + Mill—and there are many more exciting companies launching in the coming months with Patinkin in the mix.
After cofounding Ovenly and Seemore, you've gone on your work as a consultant and mentor, focusing on female-led businesses in food. What do you do exactly?
Put simply, I help start-ups scale and organize to get to fundraise—usually for a Series Seed or Series A. That can be collaborating on establishing standard operating procedures, revising financial statements and processes, and redefining high-level operations, from identifying co-packers and developing supply chain solutions to building decks and developing five-year financial models. Founders and I also take a deep look at vision, mission, and values and how to incorporate good jobs and sustainability into everyday practice. Most of the companies I work with are consumer packaged goods (CPG) in food, and a small portion are food retail or restaurants, or CPG or retail in fashion/beauty.
How do brands find you, and what exactly are you looking for in a company you work with?
Besides a single Instagram post many months back, it has been 100 percent word of mouth, and mainly referrals.
Prediction time. What are three areas in food that will grow significantly in 2022?
The pandemic really showed companies' weaknesses, and a lot of trends are going to have to do with adjusting for them (like supply chain and retention). Some I'm thinking about are:
Restaurant automation: Quick-service restaurants were already implementing automated technology pre-pandemic, but I think smaller companies are going to seek out those solutions now, too. The reality is that we have 10 million open jobs, and only 8.4 million unemployed people (as of fall 2021), so if the restaurant industry is going to be durable, we need to look at some automated solutions, especially when it comes to order taking.
Frozen Food: Frozen sales are exploding. 2020 was the year that Americans realized frozen is almost as good as fresh, and that having a freezer full of food is, well, great, and a salve for any times of crisis in the food system. I think we're going to see more and more companies come out with frozen products (e.g. Kajaana, one of the brands I'm helping launch).
What is the cuisine you wish got more attention, simply because it's so amazing and underappreciated?
Peruvian, specifically Liman. We have a few restaurants in New York City doing Peruvian well, but some of the most amazing eating experiences I've had were there, and I need more!
What are we, as members of the food media, missing? And what is the single biggest story in 2021 that you wish was covered more?
We incessantly hear about supply chain problems, but not enough about how those problems could cause a massive shift in how companies source. When Aramark starts talking about increasing local sourcing, it gives me hope that this could be a boon for local food systems and farms (both indoor and outdoor). We saw a lot of farmers' market and farm-to-consumer brands grow online, and, at least in the Hudson Valley, CSAs sold out in about a minute last year. I hope that's a continued trend.
You have coauthored a cookbook. Do you plan to write more? What would you want to work on—and with whom?
I did! Ovenly: Sweet and Salty Recipes From New York's Most Creative Bakery was republished last year. These days, I'm more interested in the business of food and how to create practical how-to guides. I think if I write a book again, it will be along those lines. But if I did write another cookbook, it would be a translation of my granny's hundreds of recipes (a mix of American and Serbian) into some sort of memoir and cookbook. I could imagine bringing in my friend Diana Spechler to help with the stories, Ana Ortiz to help with recipes, and Kelly Marshall for the photos. Or I'd create a book of a thousand recipes for soup. Gotta love soup.