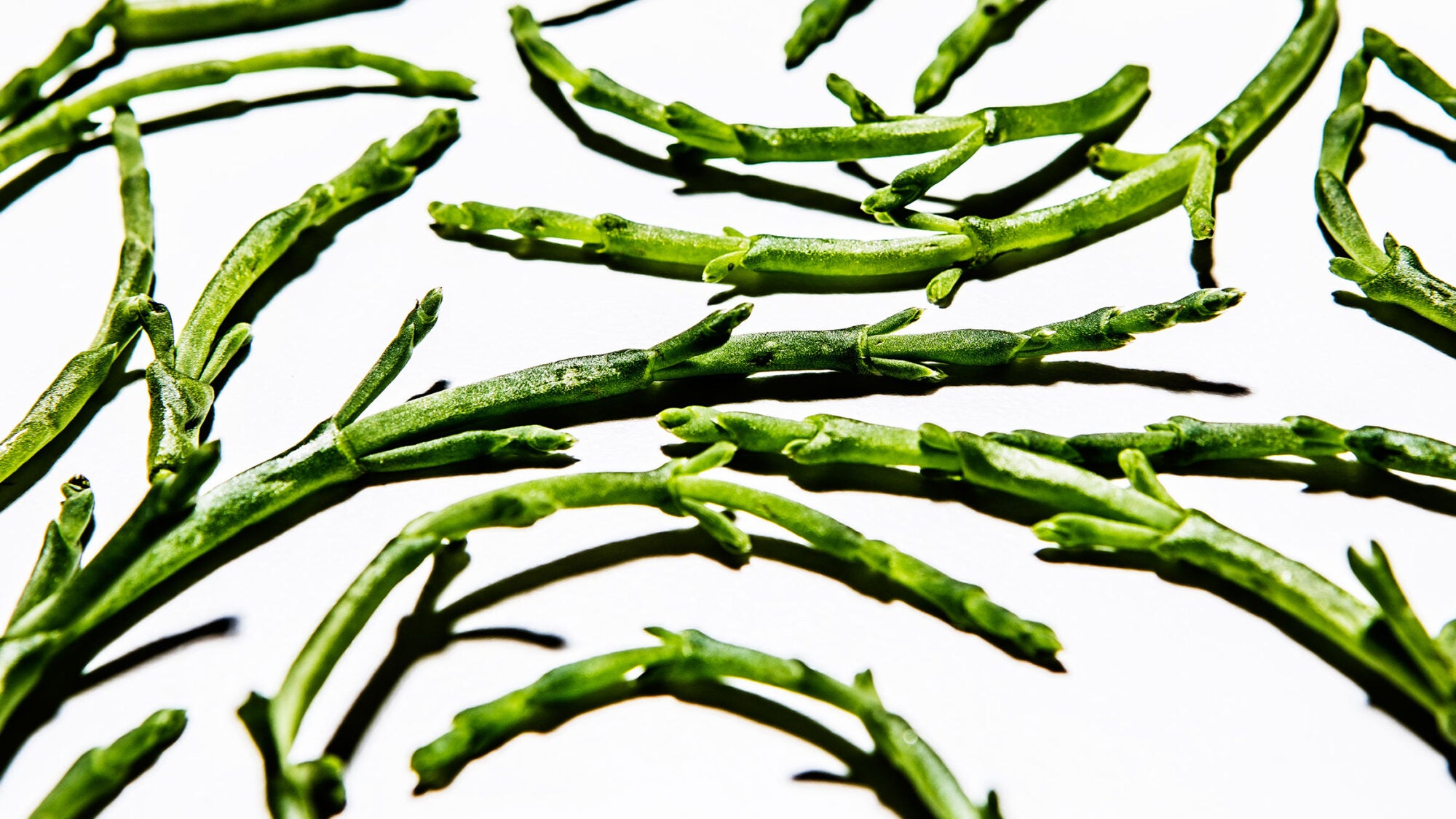 Salty, crunchy sea beans are washing up on shores—and menus—from Alaska to Italy.
As a child, I was told it was called pickleweed, a name that had immediate appeal for someone who loved the salty crunch of a kosher dill. The name, however, did not prepare me adequately for what it actually was: a green succulent of a plant that had the clean, briny flavor of the sea. It grew tucked between rocks on the coast of Maine, a surprise snack for a kid whose playground was the tide pools and mudflats of the St. George Peninsula, near Rockland. The plant was so grounded within my memories of Maine that I never thought I'd encounter it anywhere else.
Then, this past summer, I found myself in a restaurant perched on a cliff in Puglia, on the Gargano coast of the Adriatic, the rocky spur of Italy's boot. Served alongside the grilled whole fish was something the menu identified as salicornia, which our waiter enigmatically described as "a green of the sea." When the dish arrived, the fish was presented atop what appeared to be a seaborne cousin of broccoli rabe. Tasting it, though, I was transported straight back to the salt-air shores of my childhood.
Curious about the origins of this nomadic sea green, I discovered a cascade of names for what I'd known as pickleweed: samphire; glasswort; beach asparagus; akulikuli in Hawaii; deniz börülcesi in Turkey; tétines de souris (translation: "mouse nipples"!) in Acadia. And, most commonly in the United States: sea beans. The scientific name is Salicornia, but there are more than a dozen different varieties—some grass-like, others bushy, some thicker than a green bean—growing on the coasts of four continents, from Scandinavia to Senegal, Sri Lanka to Seattle. In 16th-century Europe, the ashes of sea beans were used to make soap and glass (hence "glasswort"), taking advantage of the sodium they absorb from being rooted in saltwater marshes.
Curious about the origins of this nomadic sea green, I discovered a cascade of names for what I'd known as pickleweed: samphire; glasswort; beach asparagus.
Along with its many names, sea beans are a culinary staple from Sitka, Alaska, where you might find it side by side with a pan-fried halibut, to the southwest coast of Korea, where it's used as a health supplement. Honolulu chef Chris Kajioka has been known to add them to poke. At Fish Cheeks, in Manhattan, chefs Ohm and Chat Suansilphong add the vegetable to their famous Southern Thai–style coconut crab curry. In chef Gabriela Cámara's new cookbook, My Mexico City Kitchen, they garnish sea urchin tostadas.
For the better part of a decade, sea beans have been on chef Justin Wills's menu at Restaurant Beck on the coast of Oregon. Wills grew up in Iowa, smack in the middle of the country, and encountered sea beans only in a product identification class at the Culinary Institute of America. But when he opened Restaurant Beck, which looks out over a cove in Depoe Bay and serves coastal new American cuisine, he discovered a cache of them while out for a walk on the shore. "I saw 20 massively full bushes of sea beans," he says, recalling handing a few to his son, who found them much too salty for his young palate.
The saltiness that shocked his son became an asset. He began quick-pickling them, dehydrating them, and grinding them into a powder to make salt. One dish, pickled sea beans with a wedge of crispy pork belly and a sweet corn ice cream, was such a hit that it's now a fixture of his otherwise constantly changing menu. Customers went wild for the vegetable's saline crunch, matched with the cool, savory cream and pork belly's hit of fat. "Whenever sea beans are in season here, mid-May to mid-to-late July, I'm out there, foraging for them each morning," he says.
You can, too. Whenever Christine Burns Rudalevige, author of the cookbook Green Plate Special, drives by a certain section of Freeport, Maine's waterfront, she pulls over and hunts for sea beans. She'd first encountered them while living in Norfolk, England, where they were called samphire and sold by her local fishmonger to accompany hot smoked salmon. Since moving to Maine, she's discovered the best place to find them is the intertidal zone, the part of the shore where the tide rushes in, allowing them to "get their feet wet," as Rudalevige says.
"That's what I specialize in," says Strusinski, "things that are overlooked. It's shocking that something so good goes so unnoticed."
She flash-blanches sea beans in boiling water—for 10 to 15 seconds—which she says is a good idea with any foraged sea vegetables to rid them of bacteria. It softens them slightly, but a cold-water bath keeps them crisp. Wrapped in a cloth in the fridge, they should keep for up to a week. Afterward, Rudalevige will sauté them simply in butter. "I don't like to do too much with them. They are delicate, especially after you blanch them." She likes to quick-pickle them, and she often swaps them out for cornichons on a cheese plate.
Sea beans occasionally make their way into grocery stores; they pop up at Whole Foods in New York City, and Rudalevige has seen them at Hannaford supermarkets in Maine, though at a price that seems laughable, given their abundance at nearby beaches. During the summer and early fall, Westcoast Seaweed in British Columbia—which calls them "sea asparagus"—will ship them to you, and in the winter, you can find them at Melissas.com, farmed from the Sea of Cortez in Mexico.
Sometimes a food is so embedded within a specific memory that we are blind to its presence in the larger world. It took a fish dinner in Italy for me to consider cooking with an ingredient I'd known about for decades. This happens a lot, Maine forager Evan Strusinski tells me. He sells sea beans and a variety of other sea vegetables with excellent names (sea blite, which looks a bit like rosemary but supplies a salty crunch; goose tongue, a briny spinach; sea rocket, which is in the mustard family and is pleasingly spicy) to restaurants up and down the eastern seaboard. He revels in the delicacies people might not realize were just underfoot. "That's what I specialize in," says Strusinski, "things that are overlooked. It's shocking that something so good goes so unnoticed."