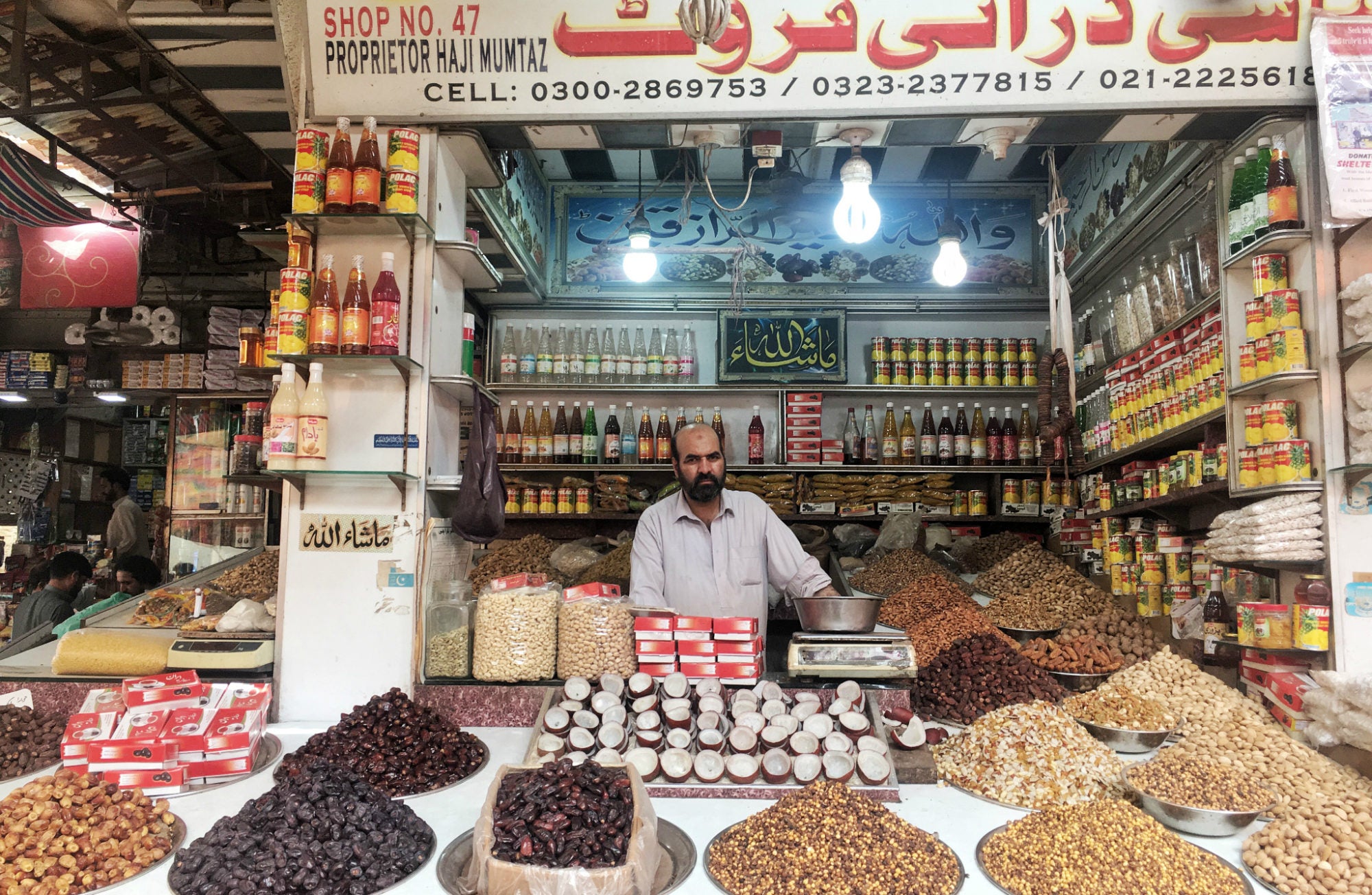 As someone who grew up in Islamabad, went to college in Lahore, and has traveled extensively across Pakistan, a writer can say, with certainty, that Karachi is the best food city in Pakistan.
"Maryam, if you give way to others in Karachi, you get left behind," Saeed, our office driver, tells me as he brute-forces his way through demonic Karachi traffic to get me to my hotel.
Born and raised in Karachi, Saeed embodies many qualities of the city I have grown to admire. He began his career as a truck driver, and hustled his way up to work for international organizations. He speaks six languages (Pashto, Sindhi, Urdu, Punjabi, Balochi, and Hindko) and a little bit of English. He walks fast, speaks directly, and drives with a fearless assertiveness. Saeed's family migrated from Pakistan's Federally Administered Tribal Areas in the mountainous northwest region of the country bordering Afghanistan. He is now one of 7 million Pashtuns who live in this sometimes frightening but magnificent city of 20 million residents.
Karachi is a microcosm of Pakistan. Home to over a dozen ethnic communities, it is the most diverse and volatile city in the country. The competition for resources among different groups has led to recurring intercommunal conflict that has held Karachi hostage for two decades. My Karachi friends often joke that before leaving the house, they first check to see which roads are open and what neighborhood is on lockdown because of a riot.
During the 1990s, there was tension between the Urdu-speaking migrant community—the Mohajirs predominantly represented by the controversial Muttahida Qaumi Movement [MQM] political party—and the native Sindhi population. Most recently, the pressure point sits at the intersection of MQM and the city's growing Pashtun population. The painful irony of these clashing forces is that they are also what enrich the mega city's kitchens.
I can say with certainty that Karachi is the best food city in Pakistan. Whatever part of the country you are from, whatever niche dish you are craving, Karachi delivers. You will find Sindh's legendary biryani, richly flavored meat korma (curry) nestled inside layers of turmeric-stained rice. Or nihari, a thick, sharp beef stew that originated in Delhi's Muslim neighborhoods, from the restaurant Zahid Nihari on Tariq Road. Or rustic mutton karahi—aged lamb simmered and fried in a spicy tomato base in a steel wok—from Kolachi, one of my favorite seaside restaurants in the city.
Saba Imtiaz, a food and culture writer, recommends the mixed chaat at Bombay Chaat House in the historical Bohri Bazar, or Goan fish curry at Biryani of the Seas. However, what tops her list of favorites are the chapli kebabs at the restaurant Super Nursery. Chapli kebabs are a Pashtun variety of kebab spiced with dried pomegranate seeds; they originated in eastern Afghanistan and Pakistan's Khyber-Pakhtunkhwa province.
Safieh Shah, a Karachi-based public health advocate and cofounder of feminist podcast Behenchara Diaries, says Karachiites primarily seek pleasure through food. She theorizes that it's because they live in a city with multiple identities, unlike Lahore—a predominantly Punjabi city—where she finds people have a more "extensive relationship with different types of pleasure" because of a shared identity. I can relate. I think  of my own immigrant experience and how my relationship with Pakistani food intensified after I moved to the United States.
I was curious to know if there was any group that had an outsize influence on Karachi's culinary scene. There's no clear winner, according to Saba. "It's really hard to generalize," she says. "A lot might depend on what part of Karachi one lives in."
Since colonial rule, many of Karachi's neighborhoods have been grouped by clan or ethnicity. Arif Hasan, a Karachi-based architect and urban planner, describes Karachi as four distinct cities: the central business district, dominated by Gujarati-speaking businessmen; the inner crescent, home to many Urdu-speaking middle-class families; the working-class outer crescent, host to a growing number of Pashtun migrants; and lastly, the elite neighborhoods of Defence and Clifton. In these upscale areas, you will find that the majority of the restaurants are influenced by Western trends, both in terms of their format as well as their offerings.
Karachi's home kitchens mirror the diversity and richness of its restaurants. In Islamabad and Lahore, I would always know what to expect when going for dinner at a friend or relative's home. Cooking with my friends from Karachi, however, opened the door to a whole new subsection of subcontinent cuisine.
Karachi grew in prominence during British colonial rule. During the 19th century, the rise of cotton production in the Punjab and Sindh provinces, along with the new railway system that connected Karachi's port to these cotton- and grain-producing regions, transformed Karachi from a provincial fishing town to a major port city. Karachi's boom attracted many traders from the south of India: Goa, Gujarat, Hyderabad, Kerala, and Maharashtra, among others. The city continued to grow after Partition in 1947, when Muslim families migrated from states such as Uttar Pradesh and Bihar and cities such as Mumbai and Bangalore. Karachi's home kitchens reflect these migration patterns.
My childhood friend, Mariyam, whose mother's family moved from the Indian state of Karnataka, taught me how to make a South Indian–style prawn curry, where you sauté a red paste of blitzed whole red chile, garlic and onion, and kadi pata (curry leaf) to create a base for prawns and coconut milk. Later, my college friend Erum, whose family came from Mumbai, showed me how to prepare her mother's take on the Hyderabadi classic, baghara baingan (eggplant in tempered spices). She roasted and ground a typical South Indian spice blend of whole mustard, cumin, poppy, and sesame seeds, then added that to sautéed onion before adding in sliced eggplant and tamarind-infused water.
South India's influence on Karachi cuts across its kitchens. My young aunt, Mariam, who grew up in Karachi but, like me, does not have South Indian roots, took tips from her Gujarati neighbors. She taught me how to make a simple aloo bhaji (spiced potato dish) the Gujarati way—flash-fry boiled potatoes in tempered spices. And most recently I learned about a mixed dal of masoor (red lentils) and moong (moong bean).
The dal I grew up eating most is masoor boiled in water, with a dash of turmeric and Kashmiri red chile powder, topped with a simple tadka (tempering) of browned onions. Mariam's mixed daal has more texture and flavor. The South Indian strain becomes evident early on, when you add six to eight kadi pata to the lentils. While kadi pata is used across the subcontinent, it is central to South Indian cuisine. The tadka also hints at a South Indian influence with its use of mustard seeds that infuse a nutty, earthy flavor to the dish. The end result is an elevated dal that can be had by itself or with a side of basmati rice.
Is it a dal that stays true to its alleged Gujarati roots? Probably not. But given that it was passed from a Gujarati neighbor to an Urdu-speaking one, I will say it's distinctively Karachi.