The Internet Is Obsessed with Shaved Fruit Ice, and So Am I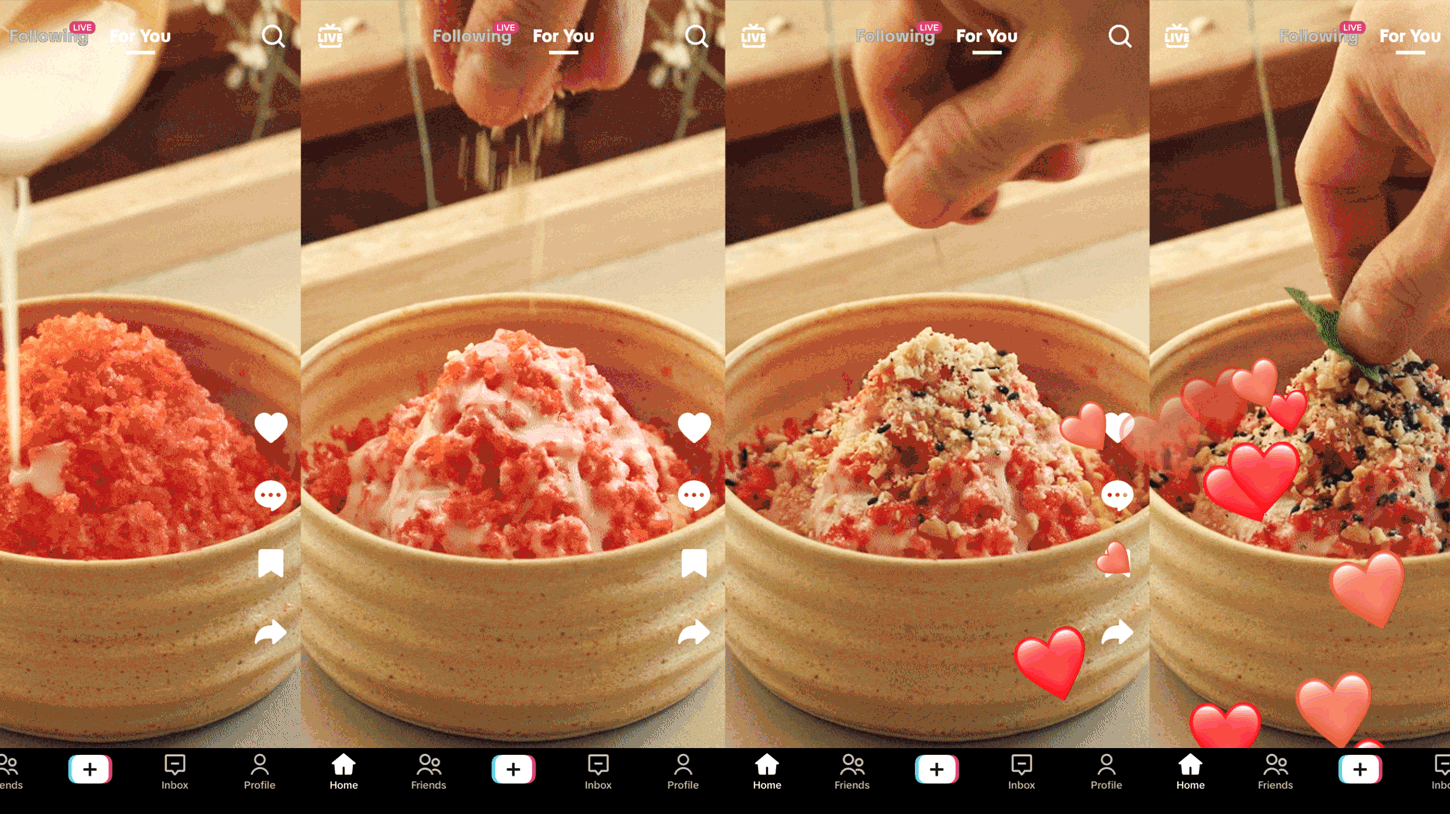 The coolest dessert of the summer starts with a grater and a dream.
Most days, my Instagram feed is saturated with food trends that seem designed by toddlers and cooking "hacks" that seem infinitely more complicated than time-saving. But every so often, the algorithm blesses me with a video that completely changes the way I think about a dish—and cookbook author Frankie Gaw's recent video illustrating the possibilities of shaving fruit like ice felt like nothing short of divine inspiration. 
"Honestly, one day I was making a yogurt for myself, and I didn't have any fruit except frozen fruit," says Gaw of the bag of frozen strawberries staring back at him. "It seemed dangerous to slice it, so I tried grating it, and it ended up reminding me of the shaved ice my parents, who immigrated from Taiwan, used to make for me." Called bao bing, this summer staple is sometimes made from a base of milk instead of ice, and it's topped with everything from adzuki beans to seasonal fruit like mango and strawberry. But using frozen fruit as a base instead of an add-on was an unexpected twist.
Gaw Microplaned the berries, then topped the fluffy fruit with a drizzle of sweetened condensed milk, finely chopped roasted peanuts, black sesame seeds, and a sprig of mint, and filmed the whole thing for his nearly 200,000 Instagram followers. It's less than a minute of satisfying, ASMR-style grating—punctuated with an "Oh fuck, that was so good" after Frankie takes a bite. The reaction was immediate and rabid: more than half a million likes (689,630 at the time of this writing), thousands of commenters tagging their friends, and endless riffs.
"It was very surprising that my Instagram post got so big, so fast, because this dessert took me all of 30 seconds to a minute to conceptualize, and not much longer to shoot and post," he says. "It's super cool to see how people have taken the technique and made their own versions with different fruits and cultural references. I've seen a lot of frozen watermelon with Tajín, which is cool."
Recipe developer Carolina Gelen was inspired to make a frosty take on peaches and cream: a mound of frozen shaved whole peaches grated onto a pillow of gently whipped cream, drizzled with maple syrup and chopped pistachios. Gaw himself even posted a follow-up "orange creamsicle" riff with frozen oranges and crushed pistachios, plus the requisite sweetened coconut condensed milk, black sesame, and mint.
View this post on Instagram
As the avalanche of video riffs makes clear, there's a wide world of shaved fruit ice possibility to explore. Part of the appeal lies in its practicality. Any summer fruit at risk of going bad can simply be tossed in the freezer and used whenever a shaved ice craving strikes, but using a bag of fruit straight from the frozen aisle works just as well. The technique can be applied to many types of fruit—Gaw recommends tart fruits like strawberries, peaches, pineapple, and citrus for the maximum amount of flavor per flake. (Peel citrus like oranges and grapefruit before freezing them to make the grating easier, and save the peel to zest on top at the end for an extra boost.)
Raid the pantry and fridge for toppings like nuts (peanuts and coconut work great) and seeds (think sesame seeds or pepitas), fresh herbs, and sweet drizzles, keeping an eye out for textural and flavor contrast. But when it comes to making the ice, the Microplane or another fine grater is essential. It's really important that the grater is sharp, so the newer the better.
"I tried other graters, but for me, the beautiful part of a lot of Asian shaved ice is that it's so fluffy," says Gaw. "Using a Microplane achieves a similar fluffiness. It has this really light texture and retains a lot of flavor, so I think it's the best way to go." He suggests holding the frozen fruit with a paper towel or fork to keep your fingers from going numb while grating, and also shaving the fruit directly into a prefrozen bowl to keep it from melting too fast. In my experience, grating a dense peach is a little frustrating if your Microplane isn't the sharpest, while more watery fruits like watermelon and oranges were easier to power through. Still, one bite of icy peach and it was worth the trouble—even though it took me longer to grate it than to devour every last sticky bite.