The Golden Age of the Golden-Brown Cheesecake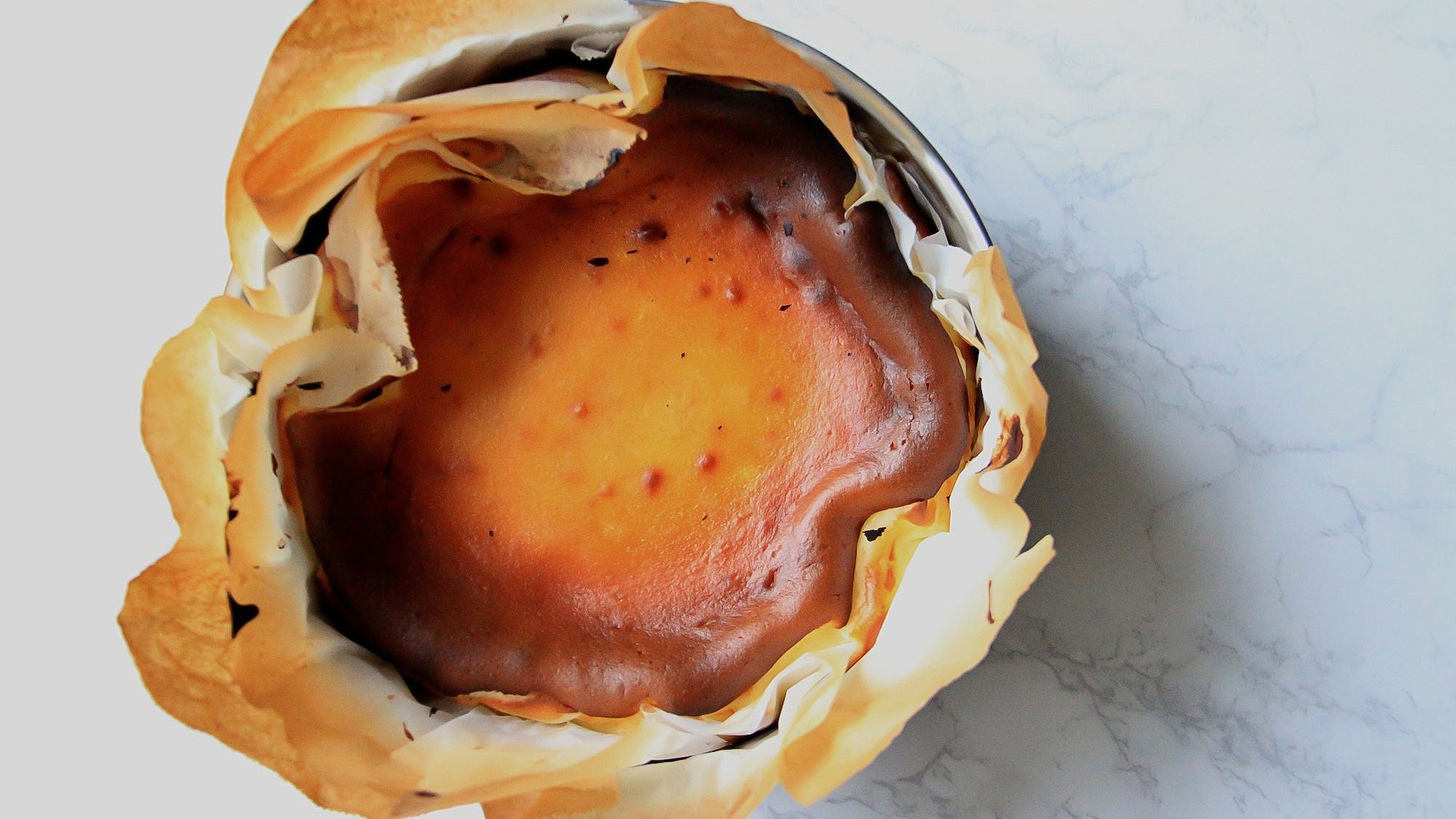 New York–style cheesecake has left the building. Go ahead—burn it a little.
More than two years ago, the journalist, recipe writer, and longtime friend of TASTE G. Daniela Galarza came to us with the idea to write about cheesecake: one that was dense like the iconic New York style but aesthetically antithetical to Diddy's favorite slice from Junior's. The Basque-style cheesecake that Galarza covered in her story, "Spain's Burnt Cheesecake Breaks All the Rules," most certainly makes good on that promise. In contrast to the porcelain-white, fruit-topped cheesecakes you may know from Manhattan diners, this one is instead crowned with a layer of burn (and sometimes surrounded by a fan of charred parchment paper). The browned exterior tastes like salted caramel, but inside, you'll find a supersoft center that "puddles on the plate," as Galarza observed. 
The article revealed the source for this visual riddle to be northern Spain, specifically the San Sebastián restaurant La Viña, where pastry chefs and food writers in the know (and Galarza is both) have been making pilgrimages for nearly three decades. For her own reporting, she tasted versions of the cheesecake in New York, Los Angeles, London, and at La Viña. One of those chefs who was also intrigued was Dave Beran, who, having tasted a version of the cheesecake in Spain, debuted his own burnt cheesetake in 2015 as part of Alinea's rotating pop-up Next, and later at his now-closed Santa Monica restaurant Dialogue. 
But it wasn't until after Galarza's TASTE story that the Basque cheesecake—and, with it, cheesecakes as a food group—went mainstream in a big way. The Today show, Food & Wine, and Bon Appétit all published original or adapted recipes. "I just can't stop making this," wrote Nigella Lawson for BBC Food last November, when presenting her own take. Beran gave a "master class" for Los Angeles Times readers. Actor Michael Imperioli celebrated his most recent birthday with one.
The cheesecake also found its way into restaurants far beyond the reaches of the Basque region. Michelin Guide associate digital editor Rachel Tan wrote about how three Michelin-starred chefs were Michelining Basque cheesecake in their Michelin-starred restaurants. Kim Severson, making 2021 predictions in the New York Times last December, named the Basque cheesecake the "flavor of the year" after spotting it as a soft-serve flavor in Singapore, and she thinks there will be a few Basque cheesecake birthdays over the next several months. "It seemed like every Japanese Instagrammer I followed was sharing their version of this cheesecake," wrote Namiko Hirasawa Chen in a detailed story on her blog, Just One Cookbook. And, true enough, the Basque cheesecake landed in Japan and Korea, as well as in New York's Koreatown at Little Grace Bakery. Is a Japanese-style Basque cheesecake pop-up so popular in the San Francisco Bay Area that people are selling bootleg versions of the frozen batter? Of course.  
These developments got me thinking that it would be fun to call up my friend Galarza to get her take on how we got here, and hear about her new job as a staff writer at the Washington Post and her soon-to-launch newsletter (watch the TASTE newsletter for links to that). "When I first heard about this cheesecake, and kept hearing about it, I was sort of like, 'Yeah, yeah, cheesecake is cheesecake,' and then I happened to be in London, and plane tickets to Spain were super cheap, so I was like, 'I gotta try this thing,'" she says, adding that when she arrived at La Viña, of course, the place was closed. Long story short: Journalists are crafty, and the cheesecake was had. "It's really special, with the texture, tanginess, and color all working together. And clearly, many people agree." 
Here is the original Basque cheesecake adaptation that ran with Galarza's story in 2019. We also reached out to Laurie Ellen Pellicano, former head pastry chef at San Francisco's Tartine Bakery and crack recipe developer, with a bit of a challenge: How do you scale down the mighty Basque cheesecake to serve one or two? Her resulting recipe, which makes clever use of a muffin tin, is pretty amazing.
Wrapping up my call, I asked Galarza for her advice on tackling the Basque cheesecake. "If you aren't using Philadelphia cream cheese, there's a risk that the texture will be off," she advises, explaining that the Philly brand's gums and stabilizers are just right for cheesecake making. Also, counter to many pieces of baking advice out there, she says, "The ingredients have to be cold." And if this is all feeling a little daunting, there's always the Goldbelly route. Austin pastry chef Tavel Bristol-Joseph will send one right to your door.