The Future of Food Media Is in Your Inbox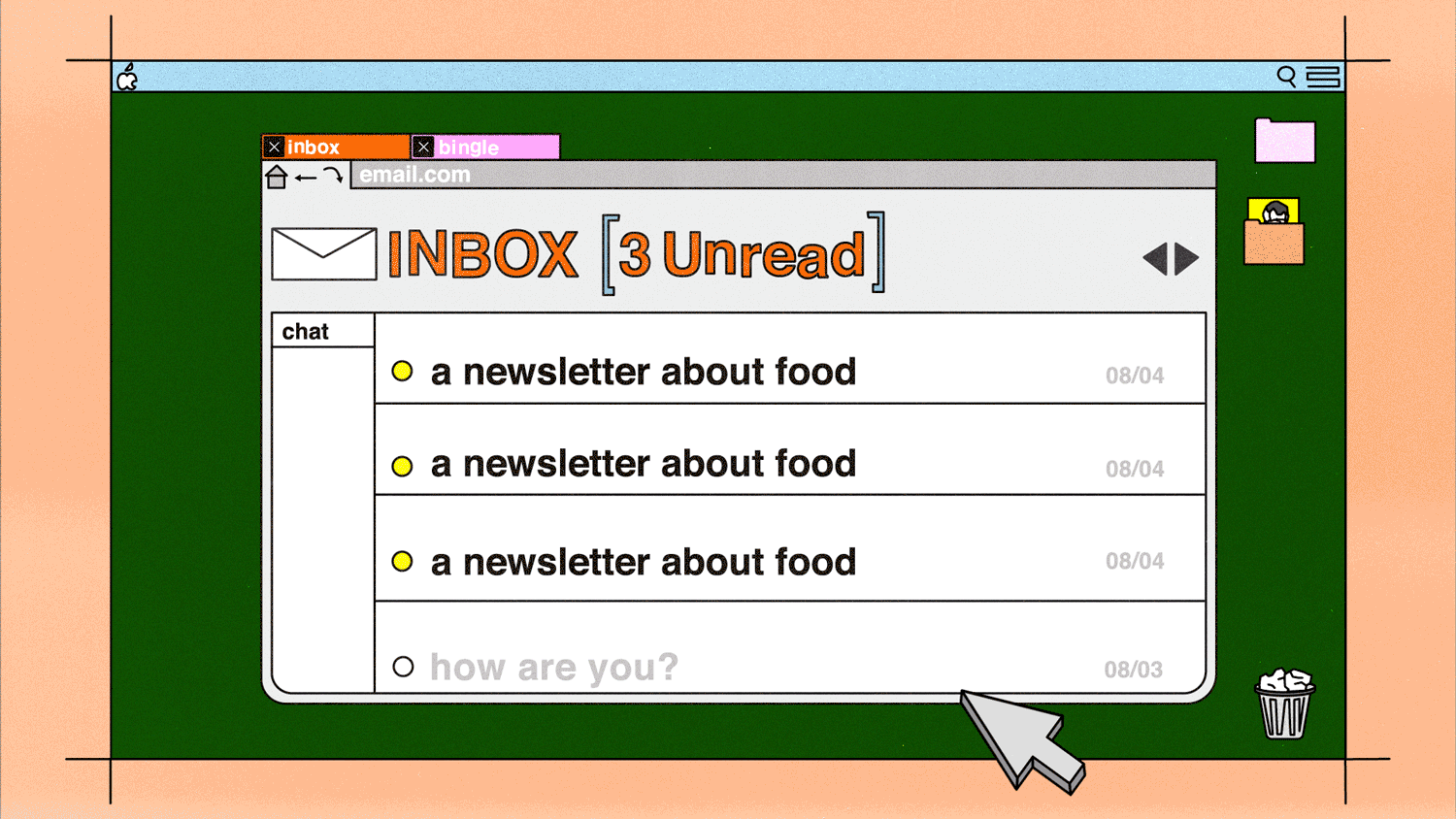 Indie newsletters are booming, and they're home to some of the most exciting food writing today.
The motivations vary. One author wants to publish meticulous, well-tested cookbook reviews. One wants to interview food writers and editors in a format that honestly contextualizes their work. Another seeks to help busy restaurant workers stay informed and wildly amused. One started a quarantine project out of boredom that mushroomed into a full-on editorial operation, with paid writers and illustrators posting multiple times a week. One originally intended to write about the Momofuku restaurant empire, though their project would later evolve into meditations on Korean-American culture.
While all of these writers have unique backgrounds and worldviews—typing into MacBooks in home offices and cafés around the world—they share a delivery method that is quickly changing the way food media is consumed (and viewed, as an industry writ large): the email newsletter. And putting the industry disruption and alternative monetization speculation aside, as a reader, it's an incredibly exciting time to be logging into Gmail. We're living in the golden age of the single-operator food letter.
"Food media in more traditional avenues has either died, calcified, or mutated, and there are hardly that many places to share these kinds of thoughts," says Helen Rosner, a longtime editor and writer and the New Yorker's current roving food correspondent. "As food magazines are falling like dominos, and newspaper food sections are less and less places to explore and go deep because of these horrific and ravaging budget cuts, it's like, what do you have left? Blogs aren't cool anymore, so we do newsletters."
When journalist Jonathan Nunn was furloughed from his job selling tea, he launched Vittles from his home in Camberwell, South London. The goal of the newsletter, published three times a week and written by paid contributors with Nunn's voice-of-god (or the editor, at least) italicized intros, was simply to respond to the current UK food-writing paradigm—a rarefied space larded with restaurant reviews and recipe writing, with little space reserved for class commentary or cultural criticism. "I find it strange how something that should be the most democratic subject to write about has become elitist, which is why I'm trying to platform as many voices as I can, particularly first-time food writers," Nunn says. "It's not diversity as box ticking, but because I believe that by doing so, you just get far more interesting stories being told."
In its short life, Vittles has published some of the most essential journalism and essay writing around. Melissa Thompson wrote about Black erasure in the British food world. Apoorva Sripathi wrote on discovering mangoes later in life. Ruby Tandoh appeared with a melancholy profile of the head chef at Cliveden Manor Care & Nursing Home in Buckinghamshire, describing the way COVID-19 has separated the home's cooks from their beloved residents. The ambition of Vittles, the execution of the art, the headline writing, the surprises and twists—arriving to inboxes several mornings a week, all for free—got my heart pumping while lying in bed each morning reading my phone, a time I've carved out, and treasured, since the world was turned upside down this spring.
"Nothing I have ever done in media prior to simply publishing myself has had as big an impact on my profile and my bank account."
Alicia Kennedy's weekly letter, From the Desk of Alicia Kennedy, is similarly anticipated every Monday morning. Kennedy, a journalist, podcast host, baker, and recipe developer from Long Island who is based in San Juan, writes her erudite weekly takes on subjects as varied as media, translation, and Negronis from the heart. "I simply aim to write an essay on a topic that I'm interested in exploring and related to whatever I'd been reading that week, whether that's Sarah Schulman's Gentrification of the Mind or a bunch of economists and philosophers on the concept of degrowth, or just Nigel Slater," she says, adding that the organic nature of the topical writing is to avoid the strictures of a pre-ordained editorial calendar. Kennedy describes both the reader and industry response as incredible, and says editors from "so-called prestigious publications" have been reaching out and asking her to pitch, speak on panels, and appear on podcasts. "Nothing I have ever done in media prior to simply publishing myself has had as big an impact on my profile and my bank account."
It's important to bring up money. With far fewer publications paying for freelance work, compared to even two years ago, money is a motivation. For all the creative freedom and autonomy that a single-operator newsletter provides, it's unsustainable if Nunn and Kennedy and the other writers featured here are not paid for their work.
And while TinyLetter, a scrappy newsletter publishing tool founded in 2010 and acquired by Mailchimp in 2014, was the personalized newsletter entry point for many writers and editors, it wasn't until late 2019 that everybody had a Substack. Or, at least, everybody wanted one and was mildly jealous of those with successful ones, dreaming of financial security through the power of I. The legend of Substack has been well documented (check out this recent episode of Recode Media podcast with Peter Kafka for some updates). Substack is a platform that makes sending an email as simple as posting a blog or a tweet. But unlike the relatively limited TinyLetter (which caps subscriber counts at 5,000 and whose layout is hardly sophisticated), Substack allows publishers to offer either a free or a paid send—or a blend of the two (freemium is the portmanteau).
In return for the hosting and transaction services, Substack takes a small cut of the paid subscriptions. From the Desk of Alicia Kennedy arrives each Monday for free, but for $30–$50 a year, paid subscribers receive two extra emails a week, including open discussion threads, interviews with writers, and recipes. And last Monday, Kennedy was named a Substack fellow honorary mention, earning an additional $3,000 stipend through an application and judging process.
Paula Forbes also earned a grant from Substack, awarded $2,500 in April for her Stained Page News, a spryly reported newsletter covering the cookbook publishing industry and featuring recipe excerpts, interviews, and news for cookbook lovers. Forbes previously held full-time editorial positions at Eater and Epicurious before launching SPN, first as a TinyLetter in 2018, then as a Substack in late 2019. In that time, she has grown her following to "several thousand" and enough paid subscribers to make it worth her time to write two newsletters a week. "I'd love to get the number of paid subscribers high enough to do this full time, so I can write thorough, tested cookbook reviews, like I've done in the past for mainstream publications." She spends between 10 and 20 hours a week on the newsletter, and she says open rates vary between 55 percent (free) and 77 percent (paid). Open rate, the percentage of email subscribers opening versus not opening, is a key metric in determining the health of a newsletter, with a 20 percent open rate widely considered the baseline.
"I get to go way, way more granular and esoteric—I don't think most mainstream publications care about cover reveals or book deals unless they're written by, like, Chrissy Teigen, but I get to include whatever I want in the newsletter," she says, adding that being more comprehensive and paying attention to details that might seem inconsequential to bigger publications helps develop a very specific and highly engaged audience.
"I find it strange how something that should be the most democratic subject to write about has become elitist, which is why I'm trying to platform as many voices as I can, particularly first-time food writers."
"A newsletter, where you have to subscribe and get a focused email—just for you!—feels more meaningful and closer to real-life human interaction, a thing I miss desperately," says cookbook author Alison Roman, whose weekly newsletter has pushed her writing into new territory (her recent one about Keens Steakhouse, and chewing on the topic of leaving New York City, was cool and unexpected). "Whenever I get an email from someone I want to hear from, even if it's just their newsletter, it's a good jolt of joy." Roman, who donates all money generated from the newsletter, says she's just trying to find a rhythm and have a good time with it. "Keep it breezy and fun. But I've got lots of ideas, and there are so many possibilities—I'm very excited."
Andrew Genung is based in Hong Kong and the voice behind Family Meal, a twice-weekly news roundup covering the restaurant industry that aims to help busy workers stay on top of the national conversation in restaurant food media. "Obviously, the 'national conversation' is defined case by case by me, and Family Meal naturally includes a level of vanity and know-it-allism that can only come from sitting behind a computer with time on my side and Google as an option," says Genung with the sharp wits (and sometimes elbows) that have made his letter a must-read. His cover letter to New York Times food czar Sam Sifton was an instant classic on Twitter. But Genung is more introspective about his approach to covering an industry currently battling a war on several fronts—between the virus and economic collapse. "It's also a bit of a love letter to journalism from someone who is first and foremost a reader," he says. "I want to point readers directly to valuable journalism, and I think it's in the best interest of people in the restaurant industry to be conversant about food media as a business and community."
Writing each Family Meal takes a couple hours, according to Genung, but the selecting of links is far more time consuming. "If I did a Grub Street Diet–type thing about how much time I spent scanning Twitter and everything I read in one week for Family Meal, it would be obscene," he admits, adding that he's reassessing his paid subscriber model, but he's conscious that many of his readers (75 percent, by his own estimates) work in the struggling restaurant industry, and asking for money is delicate. He proposed an NPR-style pledge drive for one-time contributions (instead of recurring subscriptions), and Substack said no—arguing that readers will repeatedly pay money for quality content, which Genung agrees is true.
That said, he's worried about oversaturation and subscription fatigue, a concern many interviewed expressed. "I already pay to subscribe to several newspapers (which I love), and just imagine if I used all my own logins for streaming TV sites!" Rosner agrees. "There is a saturation point that may come sooner than with blogs, and it's kind of comparable for podcasts," she says. "There is only so much time I have to read something in my inbox, or to listen to something on audio, as opposed to jumping around from webpage to webpage."
With so much frankly good stuff being written about food and food culture, and general fatigue creeping in for even the most passionate reader (we've all been there), aggregation has become an essential element in the food newsletter dynamic, and Josh Gee's Snack Cart and James Hansen's In Digestion are two of the best. With food media experiencing great change and fragmentation—and writers growing cynical about legacy media's lack of representation, low pay, and general out-of-touchness—launching letters and other platforms, as well as taking strong opinions to Instagram and Twitter, has become, as they say, the move. It's the job of the dedicated aggregator to collect these thoughts and present them with clear-eyed context—an art form in its own right.
Gee, who launched Snack Cart in 2016 and grew his subscriber base to 7,000 (he only sends a free version), kicks himself for not jumping on the Substack train, admitting that while he has readers reaching out to offer to pay, he's actually losing money on the venture—paying Mailchimp $100 a month for email maintenance. Snack Cart has been dormant since December, and absence does make the heart grow fonder. Each issue of his weekly newsletter typically ran over 3,000 words ("ridiculous and stupid") and compiled links for both new and older food writing. Lower sections broke out links from regional stories in New York, Chicago, Los Angeles, Boston, and Washington D.C., with Twitter screencaps and "Out of Context J. Gold of the Week" wrapping up the send. Gee is exploring options for re-launching the newsletter, but his day job working for the MTA in New York City is keeping him occupied.
"Food media in more traditional avenues has either died, calcified, or mutated, and there are hardly that many places to share these kinds of thoughts."
James Hansen, a London-based journalist and associate editor of Eater London, was also a Snack Cart reader, and he was inspired to launch his own take on aggregation, In Digestion, in April. (To note, Hansen, along with Paula Forbes, Alison Roman, Jonathan Nunn, and Alicia Kennedy, have all written for TASTE.) Originally a column in the now-defunct Gannet Digest, In Digestion expands on Gee's impulse to offer context and commentary on global food media writ large. "When you're a journalist, and particularly fortunate enough to be on staff like myself, other publications are competitors as well as sources of inspiration," says Hansen. "There's not a ton of space to air what you're reading, why you've been reading it, and the thinking it is leading you toward."
He describes his weekly emails, as well as interviews with journalists like Mayukh Sen and Korsha Wilson, as a space to encourage dialogue and refract ideas—"I hope, as well as a good place to visit for some weekend reading and thinking." The newsletter's readership has grown quickly, with around 9 percent paying $6 a month or $65 annually. And while sustained economic viability is important to Hansen, he operates with the luxury of full-time employment to help supplement his work. "I want to make it a genuinely global newsletter, which means covering work in other languages, addressing the issue of translation (which Alicia Kennedy so brilliantly unpacked in a recent newsletter of her own). And to ask what 'Food Media' is—beyond articles, video, podcasts, what other media are there, and what messages do they send?"
Giaae Kwon is behind the wonderful I Love You, Egg and represents the opposite end of the spectrum from Alicia Kennedy and Paula Forbes—that is, she writes without a traditional food media background. Kwon launched Egg in 2019, originally as Momofuku Brain, which she describes as a collection of a superfan's thoughts about the Momofuku Group's food, but even more so its cultural and social impact. "I kept sharing my thoughts on Instagram Stories," she recalls, "until my mentor said, 'You need to put all this in a newsletter.'" While the world of Momofuku is still on the table, she recently renamed her letter after Clarice Lispector's 1960s short story "The Egg and the Chicken" ("the weirdest thing I have ever read") to broaden the scope (check out her email about milling rice flour to make tubular garaeddeok, the foundation of ddeokbokki).
"I also do love eggs, fiendishly so, and the name combines my loves for food and literature," she says. Kwon calls her current subscriber base of 200 "very small beans," but with an open rate well above 50 percent, the following is committed. "My newsletter currently isn't monetized because it's so small, and my priority thus far has been to write as thoughtfully and as often as I can," she says. "Recently, though, I've been thinking of how to monetize and grow the newsletter, and I appreciate that Substack makes it easy to get started. It's one reason I opted to use Substack; I wanted to have the opportunity available for when I'm ready."
And that time may be sooner than she thinks. Substack's growth within the food media sphere is significant. It's allowing voices to be heard—through simple and free publishing tools—but it also allows creators to flip the switch for monetization. Of course, the work needs to be done, and the work can be tough. Many of the creators interviewed stated the obvious—these operations take time and concentration, which can be in short supply. But the future of the inbox is bright. "It's a place where super exciting stuff is happening right now," says Rosner.
Here are a few of the indie newsletters we're reading now. At TASTE, we will continue to publish our own newsletters (you can subscribe here) and feature our favorite writing from around the world of food in the Friday edition. Let us know if we've missed one, which we almost certainly have. Write to hello@tastecooking.com, and we will check it out.  
A Newsletter by Alison Roman: https://alisoneroman.substack.com/

Atole: https://renata.substack.com/

Eat Gorda Eat: https://eatgordaeat.substack.com/
In Digestion: https://indigestion.substack.com/
Family Meal: https://familymeal.substack.com/
Fish Galore: https://tinyletter.com/AnnaHezel
From the Desk of Alicia Kennedy: https://aliciakennedy.substack.com/
I Love You, Egg: https://iloveyouegg.substack.com/
Midwesterner: https://midwesterner.substack.com/
On Hunger: https://onhunger.substack.com/
Shelf Offering: https://buttondown.email/ApoorvaSripathi
Snack Cart: http://bit.ly/SnackCart
Some Meals Considered: https://somemealsconsidered.substack.com/
Stained Page News: https://stainedpagenews.substack.com/
Vittles: https://vittles.substack.com/
Wordloaf: https://wordloaf.substack.com/
You Can Do This: https://youcandothis.substack.com/