The End of Afghan Cuisine in Pakistan?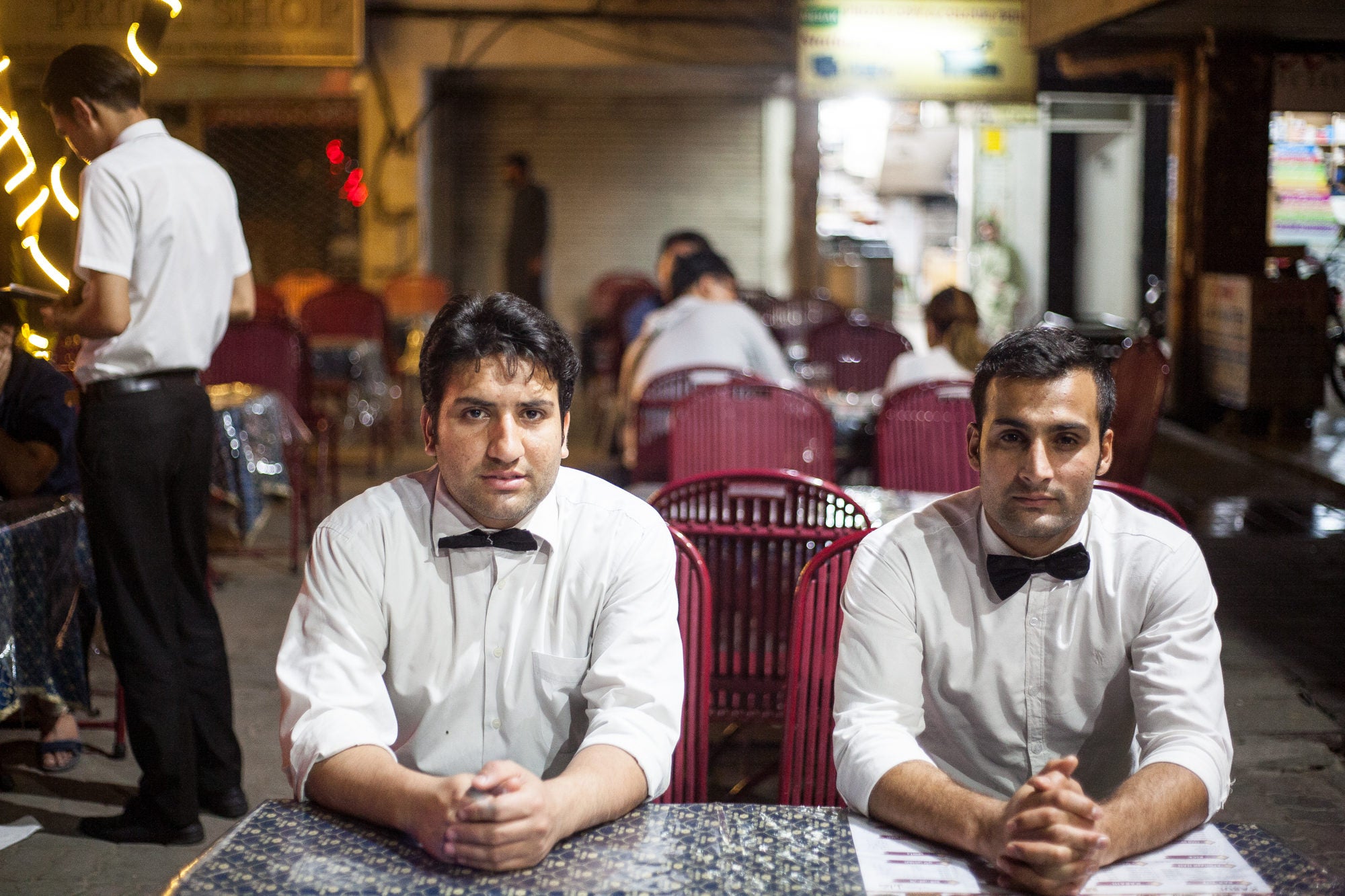 Pakistan's capital, Islamabad, is home to a deeply rooted Afghan restaurant scene—one that is now threatened by ongoing tension between bordering countries.
Our table was sandwiched between two large parties: On one side there were parents with young children shouting over each other; on the other, hefty men who laughed as they tore through Afghan tikkas with pieces of long, chewy naan. Servers deftly maneuvered from one table to the next, carrying large platters of skewered kebabs and clearing tables for a long line of restless customers.
It was another Tuesday night at Kabul Restaurant in Islamabad. While Pakistan's capital is often maligned for having the country's tamest food scene, its residents frequently take refuge in what may be the most popular Afghan restaurant in the country. Situated in Islamabad's elite F-7 neighborhood, Kabul Restaurant enjoys the city's most diverse clientele; you find yourself wolfing down Kabuli pulao—meticulously prepared rice topped with sweetened raisins and ribbons of carrots—alongside politicians, service workers, students, diplomats, and journalists.
Zafar Khan opened Kabul Restaurant with a friend 28 years ago. A lawyer by training, Khan still seems surprised by his decision. "I'm not really sure why I decided to enter the food business," he says, signaling one of his servers to bring us some kahwa, or green tea. Khan had moved from Afghanistan's Ghazni province to Pakistan with his parents during the 1960s, when he was a year old. It was a different time: The two countries had not yet been tainted by the war that has consumed Afghanistan for close to 30 years. While relations between the two countries weren't perfect then, they were certainly better than they are today.
Since the fall of the Taliban regime in 2001, Afghanistan and Pakistan have been bickering over who is responsible for the ongoing conflict that has changed the trajectory of both countries. In a bid to amp up pressure on the Afghan government, Pakistan has for almost two years now been aggressively pushing for the repatriation of the 1.4 million Afghan refugees who currently reside in the country. The government has imposed multiple deadlines on the validity of the legal refugee status, and while it is constantly extending the deadline (most recently to March 3), its declarations have caused understandable panic among Afghans in Pakistan, many of whom were born and raised here. Out of fear, many have returned to Afghanistan. Neighborhoods such as Peshawar Mor in Islamabad—often referred to as "mini Afghanistan"—now sit all but empty.
As a consequence, the government's actions also threaten the Afghan food industry that has grown in Pakistan in the last generation: Since the early 1990s, Afghan food businesses ranging from one-man stalls to multistory restaurants have become a reliable staple in Islamabad. In addition to providing friendly gathering spaces for Afghan transplants, they have enriched the city's small dining scene, which once comprised only a handful of Chinese restaurants, a pizza joint, and some lackluster barbeque spots.
At Khyber Restaurant, one of Islamabad's oldest Afghan restaurants, business has slowed because of the steady decline in the city's population of Afghans. While Kabul Restaurant has always catered to a mixed Pakistani and Afghan clientele, Khyber's business was fueled primarily by Peshawar Mor's Afghan residents and visitors. Many returned to Afghanistan after the fall of the Taliban regime. Now the remaining few have come under pressure to return as well.
Mohammad Ali, a 27-year-old server at Khyber, says that in addition to being a popular restaurant, Khyber had a booming catering business. In a good month, Ali says, they would cater to up to 25 Afghan parties. Now they are lucky if they cater four to six. Ali himself moved to Pakistan when he was only six months old. While his parents are back in Afghanistan, Pakistan is the only home he knows. "Most of my friends are Pakistani," he says. "I would like to stay here."
Khyber Restaurant has an extensive menu, a mix of traditional Afghan and Pakistani dishes. You will find a variety of karhai, meat fried in large quantities of oil and then simmered in tomatoes with salt, pepper, ginger, and garlic; qormas, curries that are thicker and less spice-heavy than the Punjabi variety; and barbecue, such as mutton tikka, Afghan tikka, and Afghan kebab. There are no descriptors shedding light on what makes a tikka or kebab Afghan, and it can sometimes be difficult to distinguish an Afghan dish from a Pakistani one.
Khyber's menu reflects the blended clientele at many of Islamabad's Afghan restaurants. That's certainly the case at Pak-Afghan Restaurant, a stalwart of the city's Afghan dining scene since Toryalai Sherzai's uncle opened it in the 1980s. Sherzai, its current owner, has been in Pakistan for the past 27 years; he moved from Kabul, where his family was also in the restaurant business. While his restaurant serves classic Afghan fare—Kabuli pulao; Afghan-style barbeque; manto, or Afghan dumplings—80 percent of his clientele now are Pakistanis.
The hostility between Pakistan and Afghanistan, along with the Pakistani government's recent actions, belie the fact that it's not uncommon to find tribes and, consequently, many dishes that share roots on both sides of the border.
The Shinwari tribe, for instance, is spread between Pakistan's Federally Administered Tribal Areas and Afghanistan's Jalalabad province. In Islamabad, the tribe has become famous for its cuisine, which revolves around salted lamb served whole or cut, and either grilled or fried in lamb fat. There are Shinwari restaurants all over the city. "It's become a brand name. Everyone's trying to cash in on it," says Dildar Khattak, owner of Khyber-Shinwari, the flagship Shinwari restaurant in Islamabad, and also located inside Peshawar Mor. Khattak himself is not of the Shinwari tribe (he's from Nowshera, a major city in the Khyber-Pakhtunkhwa province), but he insists that his staff are. Khyber-Shinwari also attracts a diverse clientele: Lately it's been getting a lot of Chinese customers, Khattak says, smiling as he points at a board with the restaurant's name in Chinese.
The restaurant also enjoys its fair share of Afghan customers. To learn more about them and the food they eat, I met with Mohammad Aqa Arif, Samiullah Ludin and Hamidullah Sohrabi, Afghan college students pursuing their studies at Islamabad's International Islamic University at the Center for Research and Security Studies (CRSS). They count Khyber-Shinwari and Kabul Restaurant among their favorite restaurants in the city. "We have Shinwari food in Kabul, too," says Arif, whose family lives in Kabul while he studies engineering. Besides being familiar, Shinwari cuisine suits the palates of these students, who find the Punjabi cuisine typically served at restaurants in Islamabad too spicy.
Saddam Hussein, a CRSS program officer who helped organize the meeting, tells me that Afghan food is flavored with the basics: salt, pepper, ginger, and garlic. "It's a simple cuisine," he stresses. As a Pakistani Pashtun, he grew up eating many Afghan classics at home, like do pyaaza, beef slow cooked in a large quantity of onions; kichri qurat, rice cooked in moong bean topped with dried yogurt; and Bolani, a flatbread stuffed with spiced potatoes. "You won't find these dishes at restaurants in Islamabad," Hussein says. These are what his colleague Ehsan Ul Haq, an Afghan intern at CRSS, calls "local" Afghan cuisine, versus the "international" Afghan cuisine that you normally find at Afghan restaurants across the world.
Khan believes that Afghan cuisine has not yet taken root in Pakistan. A big reason for that, he says, is the lack of qualified chefs. All of his kitchen staff are Afghan; his current chef is 72 years old. "If we found the right chefs, we would have a Kabul Restaurant in every city!" Khan says. He adds that other Afghan restaurant owners have tried to train Pakistani chefs to cook Afghan cuisines, but their businesses haven't done well. "If these young Afghan men get sent back," he says, gesturing to his servers shuffling from one table to the next, "we will see the end of Afghan cuisine in Pakistan."