The Challah Internet Is Full of Golden Twists and Turns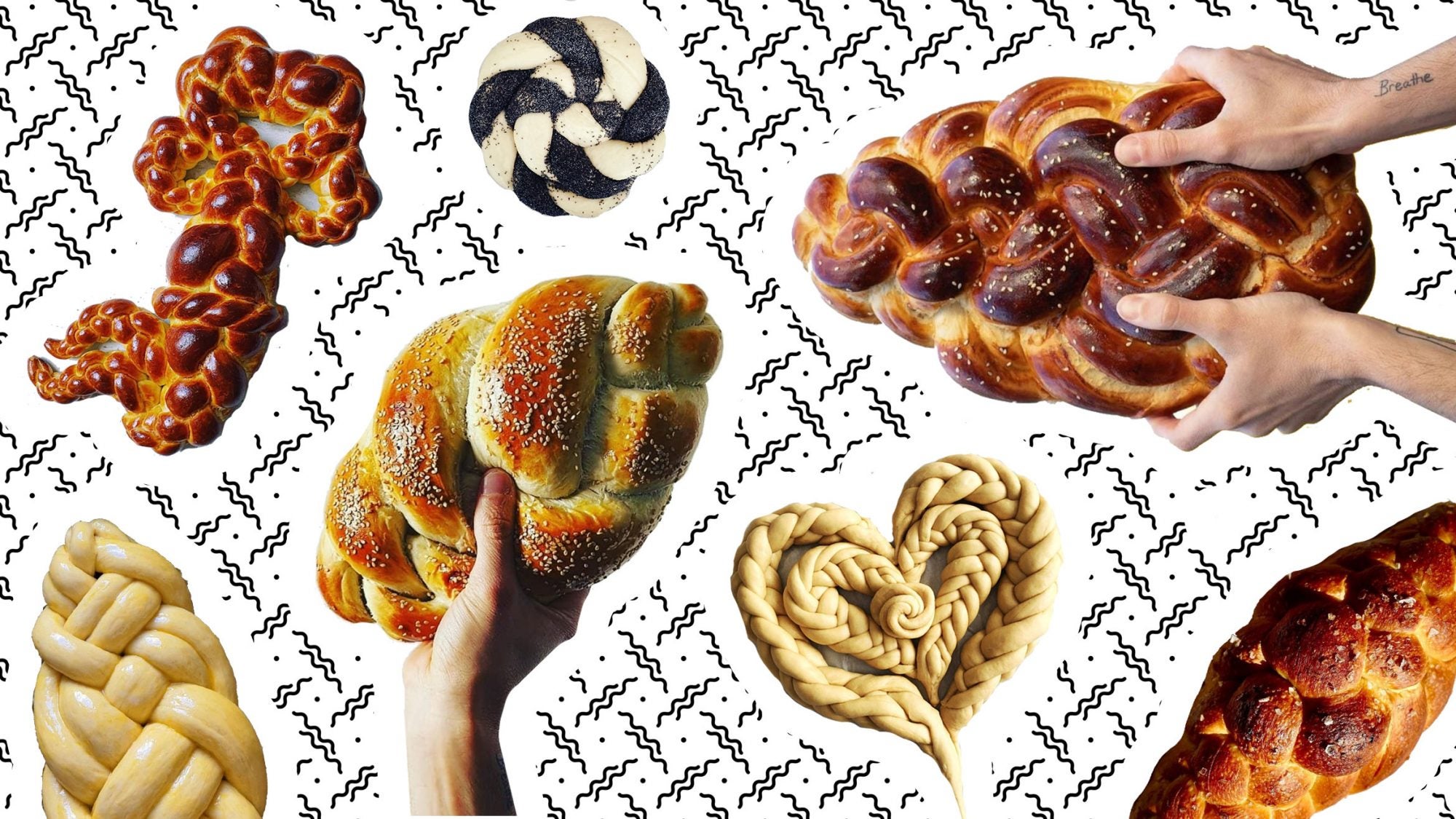 The eggy Jewish bread may be centuries old, but a handful of enterprising (and extremely online) bakers have changed the game forever.
What do turkeys, Ruth Bader Ginsburg, and Baby Yoda all have in common? They've all been rendered in the artistic medium that is challah. And it's clear that something transformative has been happening to the traditional Jewish Shabbat centerpiece. Instagram and TikTok bakers have largely eschewed the traditional braided challah in favor of more complicated techniques that have the alluring visual impact of an M. C. Escher drawing. And, if they do stick with a classic three-strand braid, then the rich, eggy dough is stuffed with anything from mint chocolate chips to ribbons of salami.
A cynical observer might scroll through Instagram and assume the worst for challah—that it's gone the way of the overwrought chef burger or maximalist cheese boards. But some of the most popular challah bakers and artists will tell you that challah is still about bringing people together to celebrate. It's an inclusive food, and for the most influential challah bakers out there, challah will always be about carbs, creativity, and a culinary link to Jewishness.
The latter is true for Cheryl Holbert of Derry, New Hampshire, who began baking challah more than 30 years ago, when she discovered that her mother's side of the family were Polish Jews. Today, Holbert is the sole proprietor of Nomad Bakery (@nomadbakery), and her more than 10,000 Instagram followers know her through her grid of nontraditional challah braids. There's a seven-strand wild yeast sourdough, challah pizza, granola challah, to say nothing of her artistic designs, like the cactus flower—shaped beet and turmeric challah, her heart-shaped vegan challah, and her "fancy-schmancy" hamsa challah—her most popular design on Instagram.
"When I made challah, I felt centered," she says. "I felt like I was in my skin. I had this joy and just knew I wanted to do it."
For the most influential challah bakers out there, challah will always be about carbs, creativity, and a culinary link to Jewishness.
This sense of joy fuels the best bakers in the niche (but quickly growing) world of challah art. Mandy Silverman of @mandyliciouschallah in Sharon, Massachusetts, regales her 33,600 followers with challah flavors that seem dreamed up by the unfettered creativity of a toddler. Tear into a Mandylicious challah, and you might find cookies and cream, rainbow sprinkles, honey-drenched phyllo dough (the Baklavallah), or even meaty fixes like corned beef and buffalo chicken.
Silverman grew up in St. Louis with her mother's classic braided challah. But eight years ago, her mother called her around Rosh Hashanah to tell her about a honey-stuffed challah she had tried at a friend's house. Usually, honey would simply be absorbed into the dough, but Silverman says there was a layer that oozed out of the challah. The friend refused to tell her mother how she did it.
"I promised I would help her figure out how to do it," says Silverman. "But I had never even made regular challah before."
Silverman got to work researching challah and stuffed breads in general, combing through books and websites, and eventually resorting to trial and error. After some overflows, burnt loaves, and raw insides, Silverman determined that she just needed a win. That's when she wondered to herself, "What if I put salami into a challah?"
"It totally worked!" she says. "It was amazing, and everyone liked it."
After that, she started stuffing her challah with all sorts of things: pesto, potatoes, and brownie batter, to start. Friends started requesting loaves for birthdays and special events and encouraged her to start her own business–all within nine months of her mother's call about the honey-filled challah.
It was October 2013 when Silverman officially launched her business, Mandylicious. "It's been growing year after year for over seven years," she says. Her Instagram following reaches at least 48 of 50 US states and over 70 countries around the world, but she runs her bakery out of her home with four ovens, baking about 50 loaves of challah per week. (That number jumps as high as 250 for holidays like Rosh Hashanah and Thanksgiving.)
Though Silverman has amassed an impressive following on Instagram, she says she doesn't let the demands of social media control her challah baking. Los Angeles–based baker Aliza Sokolow agrees, saying she doesn't think internet culture is shaping her inventively flavored challahs. Sokolow first learned to bake challah from a family friend a decade ago, but it wasn't until the past year of the pandemic that she started experimenting.
"I started baking challah and slowly selling it and donating all of the proceeds to charity," says Sokolow. "I had lost all of my work due to the pandemic, but I still wanted a way to give back. I am a voracious recipe reader, and I just started making different flavor combos based upon my reading and imagination."
At @alizajsokolow, you'll find a funfetti challah with rainbow streaks and her fan-favorite garlic knot challah, a for-charity collaboration with TV host Phil Rosenthal, with chunks of fresh garlic and parsley sprinkled over deeply browned strands. Sokolow also runs a weekly online challah baking class and branched out with @thisiswhatibaked, where she shows off her challahs and other baked goods, such as hamantaschen for Purim.
"It's got everything. It's consistent, it's evolving, it's beautifully aesthetic, and it's something that, wherever you are and whoever you are, you can do your own take and expression for your own reasons."
"The thing that's neat about challah is that it has such a devoted following," Holbert admits. She says people are baking it every week, except Passover, while pushing bakers in creative directions. "That, to me, is the perfect formula for something that's going to be successful on social media. It's got everything. It's consistent, it's evolving, it's beautifully aesthetic, and it's something that, wherever you are and whoever you are, you can do your own take and expression for your own reasons."
What really worries bakers like Silverman is the perception glossy Instagram photos might give that baking challah isn't for everyone. Visit Idan Chabasov's @challahprince, and it's easy to see why someone might be intimidated. The Israel-based baker built his following while living in Berlin, with regular posts of gorgeous photos for his nearly 32,000 followers of intricate braids that have the perfected symmetry and painstaking attention to detail of a mandala.
But Chabasov isn't looking to intimidate anyone. And like Holbert, Sokolow, and Silverman, he offers challah baking and braiding tutorials for beginners. That said, this is all still relatively new for him. Chabasov only started taking his challah seriously about six months ago and went full-time with it in September. He credits social media for his sudden success.
"Challah is a great tool for expression," he says. "The experience of braiding is like painting for an artist or writing for a writer."
At the end of April, he moved back to Tel Aviv, where he plans to devote his life to challah, doing everything from braiding demonstrations to creating designer challah logos for a fashion friend's clothing line.
"I want to create a kingdom of challah," he says, smiling. "I think this bread deserves it."
SOME CHALLAH BAKERS TO FOLLOW, BUY FROM, AND LEARN FROM:
Idan Chabasov (@challahprince)
Come for the expertly curved, braided, and tapered loaves; stay for the glamour shots.
Mandy Silverman (@mandyliciouschallah)
Silverman has woven everything from cheese sticks to Whoppers into her loaves.
Cheryl Holbert (@nomadbakery)
If you don't live close enough to Derry, New Hampshire, to pick up some loaves from Nomad Bakery, Holbert has you covered with braiding tips and tricks on her Instagram account.
Joy Huang (@joyosity)
In addition to a dizzying array of intricate breads and pastries, Huang will help get you started with a great tutorial for getting started with challah.
Aliza Sokolow (@alizajsokolow)
We've got an eye on that garlic knot challah.