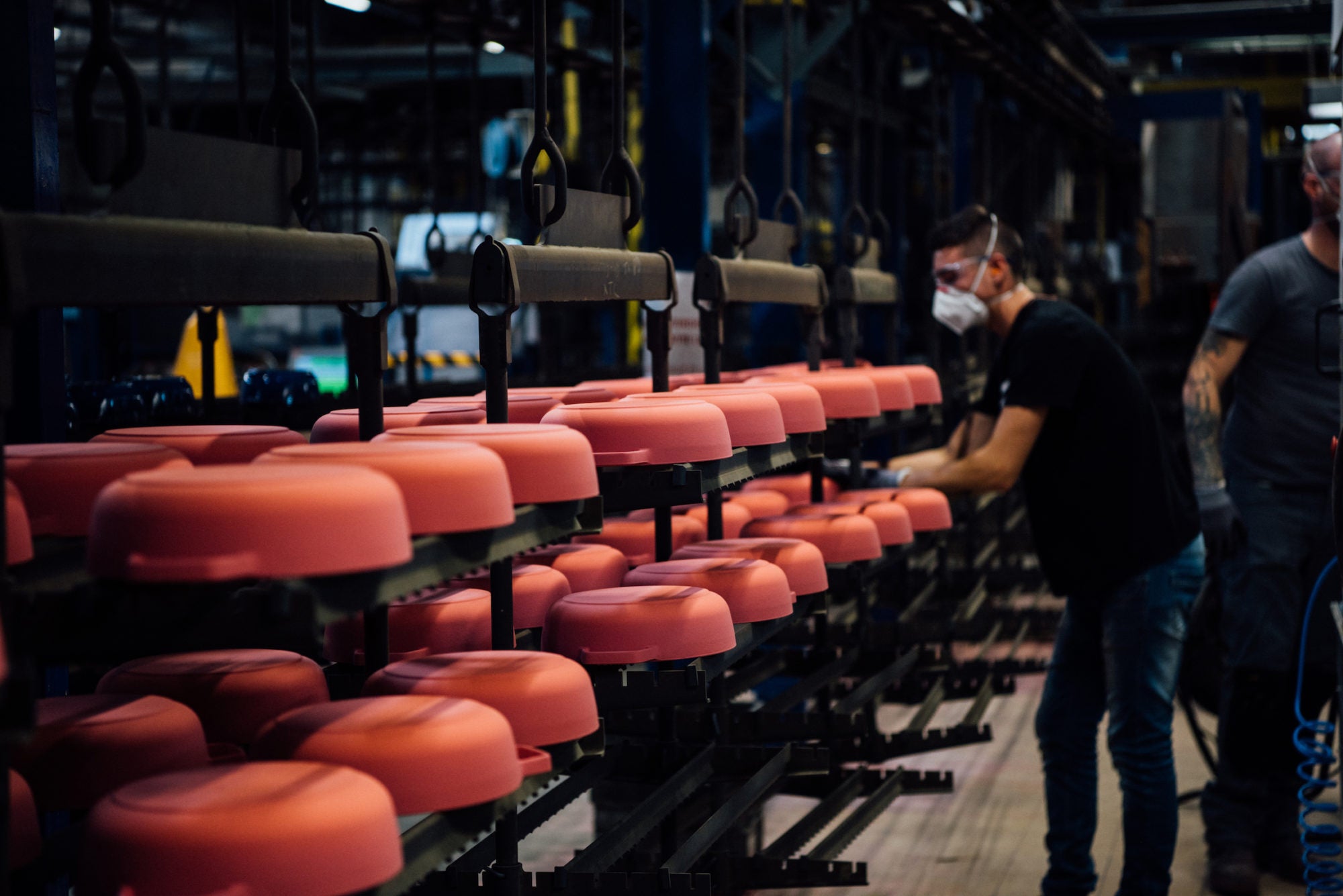 A cookbook author goes to France to find out how his favorite cast-iron cookware is made.
The first piece of cast-iron I ever cooked on was a wide, circular pan on which I fried my first egg. Like every new pan that entered my childhood household, this one was christened with a seasoning. My mom grabbed an onion and sliced it in half, stuck the prongs of a fork into the curved end, and dipped the flat side of the onion into a small bowl of oil, which she then painted across the surface of the hot cast-iron pan sitting on the stove. This became the pan in which I would not only fry countless eggs but also learn to make chocolate pancakes and paper-thin dosas made from a fermented rice-and-lentil batter.
A little over a decade later, I moved to America. For my first Thanksgiving in the country, at age 20, I took a classmate up on an offer to dine at their place with their family. The meal itself was exceptional: The creamy green bean casserole smothered with a topping of crunchy fried onions, the warm cornbread stuffing with cranberries, and the bright orange-pecan-crusted sweet potato casserole were all new to me.
But the most unusual part was that they were all cooked and served straight out of the oven in large pieces of the most gorgeous, shiny, dark ruby-red enamel-coated cast-iron cookware.
One of these—a large round pot—was called a cocotte, or Dutch oven, and from what my host explained, it was a highly coveted piece of cookware in her family. It was heavy to hold, but that added to its sturdiness and its resilience—after all, it had endured years of heavy abuse in the kitchen. It still looked as pretty as the day her husband bought it for her, she told me.
Years later, on our first Christmas together after marriage, my husband got me my first cocotte. A round pearly white pot, it was wide enough to hold a large chicken or make a boule of sourdough. It quickly became my most prized possession in the kitchen, so much so that for the first few months, I wouldn't let anyone else cook with it.
The use of iron to create cookware is not new—iron pots like the one I learned to cook with have been used for centuries in countries like China and India. But in Europe and America, iron cookware arrived a little bit later in the 17th century and became more common after the Industrial Revolution as cheaper methods for mass-producing the iron were developed. Born out of a desire to create a safe cooking surface, enamel coating began to be applied to cookware around the later part of the 17th century.
A few months ago, I got to visit the Staub factory, located in a little town called Merville in the north of France. Francis Staub originally started his company in 1974 in the Alsace region of France, where he began making his own version of the iconic round cast-iron pot called the cocotte. A protective enamel coat eliminated the need to season the pan and also allowed modern cooks to wash the cookware with soap—a convenience that normally leads to rusting in cast-iron cookware.
The pots are made from a combination of new raw iron as well as recycled material, like railroad tracks. The iron is melted in hot furnaces and then poured into various casts to set into their familiar shapes. Once the metal cools, the cast is removed and then subjected to several levels of polishing to remove any jagged edges before it can be sprayed all over with enamel and finally paint.
Each piece of cookware is boiled in acids and heated at high temperatures to test its resilience under the elements. Heavy weights are dropped on the lids to ensure they can resist being shattered, and whatever doesn't make the cut gets recycled and added back to the furnace. The final result is a shiny, gleaming pot that's once again inspected, packed, and sealed before it sails off to a home or restaurant.
Because you can cook with cast iron directly on fire, electric burners, or induction surfaces, you can use it for just about anything, savory or sweet. You can even pull a casserole straight from the oven and use it as a serving dish, as my friend's mother did at Thanksgiving all those years ago. My own growing collection of cast-iron cookware has been used to make stews, roast vegetables, seared steaks, and even cakes.
But to me, the promise of durability and reliability is what's made me a better, more confident cook. Even that first cocotte that my husband gave me has withstood the intense heat of the stove, the clatter that comes with the slamming of lids, and the occasional mishaps of my kitchen and become my favorite and most treasured pieces of cookware. Sometimes all you need to learn how to fry a perfect egg is the reassurance that you're probably not going to ruin your mom's favorite pan in the process.