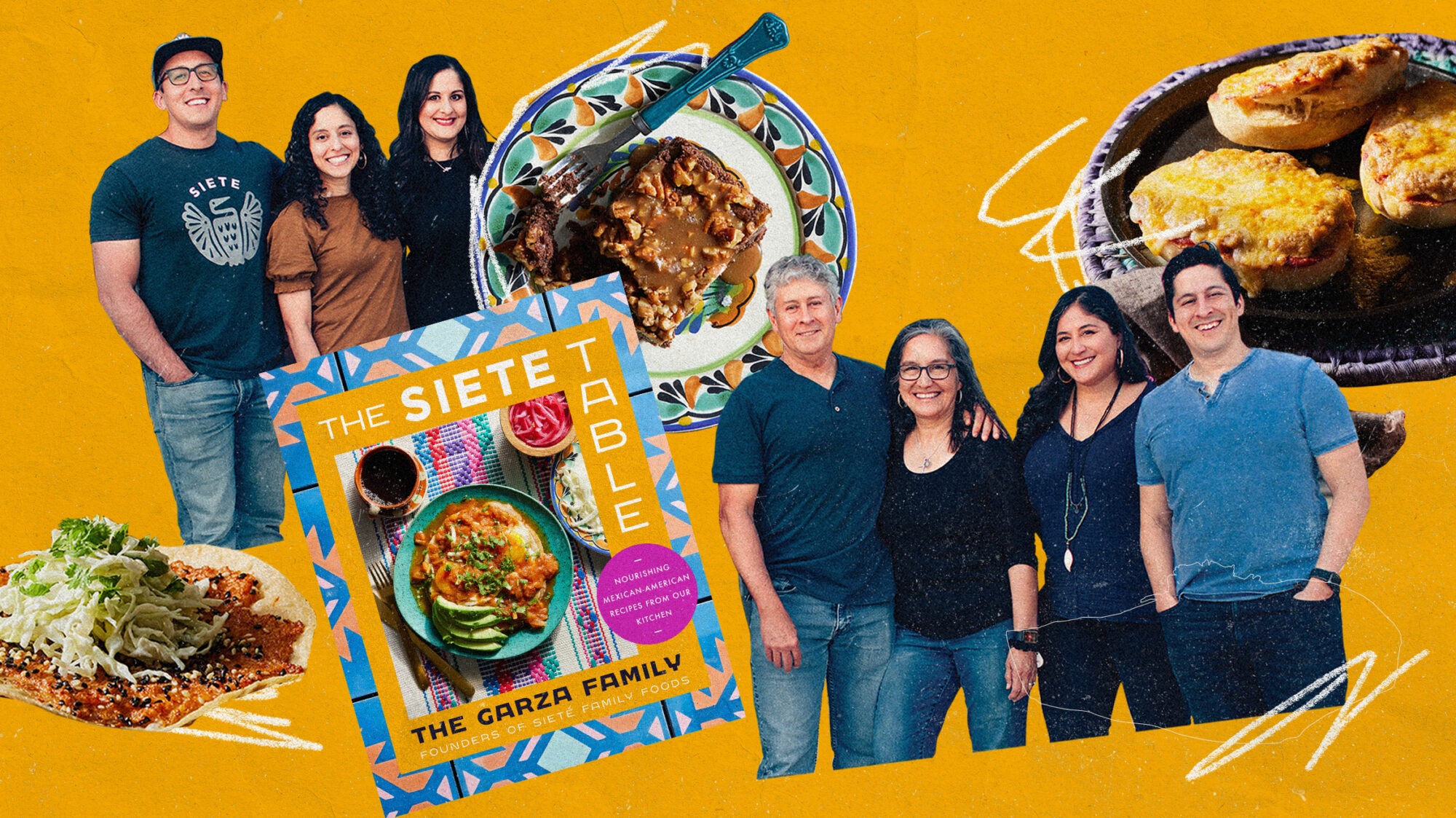 The Texas family behind Siete Foods can't adopt us all, but at least they're sharing recipes in an inclusive new cookbook.
Veronica Garza says that the beauty of quesadillas ("cheese tacos," as her family calls them) is achieving the perfect cheese pull, which, of course, requires the perfect cheese. "I especially like shredded Oaxaca cheese," proclaims the cofounder of Siete Family Foods and a co-author of the new cookbook The Siete Table. She describes Oaxaca's superior cheese pull, the sign of a quality melting cheese, as "droolworthy" and one of the recipes in their pioneering recipe collection.  
As a teenager, Garza was diagnosed with multiple debilitating autoimmune conditions. Depressed and overweight, Garza turned to her other six family members ("siete" notes the family's numerical bond) to increase their exercise but also turn toward grain-free, mostly vegan cooking. The Austin, Texas–based family would eventually launch a food company that expressed Mexican American cuisine, rich with dairy products and flour-based tortillas, in a new way. The recipes stuck, and the company now has annual sales north of $200 million, with massive expansion plans in the future. I got in touch with Garza to find out how the company is thinking outside the flour tortilla.  
From the jump, I gotta ask: The flour tortilla is such a foundational element of Tex-Mex cooking. How do you do it gluten-free without sacrificing flavor and texture?
Each of our products is made to fill a need or solve a problem. For example, I made what would become our first product, our Grain-Free Almond Flour Tortillas, eight years ago, after being diagnosed with several autoimmune conditions. My brother Rob suggested I try eating grain-free to see if it would help with my symptoms, and because my family does everything together, my parents and siblings joined me. We soon realized we felt disconnected from a major part of our Mexican American heritage: food. We missed traditional dishes like enchiladas and tacos, so I began experimenting in the kitchen to create a tortilla that we could all enjoy. When our grandma, who made the best flour tortillas, gave my almond flour tortillas her stamp of approval, we knew we had something special to share with people—beyond just family and friends! 
Migas vs. chilaquiles—can you pick a favorite?
This is a tricky one! I'd say it depends on the occasion. I usually cook migas when it's the end of the week and my fridge is running low on produce, but I still have essentials like eggs, onions, and maybe some tomatoes and jalapeños. Chilaquiles, on the other hand, are a dish I tend to think of as a "more dressed-up" version of migas, except I swap out the eggs for extra red or green sauce on top. Both are great for putting leftover tortillas to use and make a delicious breakfast!
Fried pickled jalapeños with ranch. Wow. Bravo. What inspired this recipe?
As a family, we love all things spicy and often eat meals (like sandwiches) with a side of pickled jalapeños. Our Fried Pickled Jalapeños and Carrots with Dairy-Free Ranch recipe is actually something that we created once for a Siete family meal. Everyone loved it so much that it became a staple appetizer after that. 
What makes your canned vegan refried beans better than all other canned refried beans?
Beans were (and are!) a staple at our table because they can be eaten with breakfast, lunch, or dinner! This is why it was so special for our family to make our very own line of Siete beans, made with avocado oil. 
What is one myth about Mexican food that you hope is busted after reading your book?
One misunderstanding that's sometimes made about Mexican American food is that it's limited to a smaller group of foods—for example, we see popularized meals like tacos, nachos, and burritos, but that's really just the tip of the iceberg when it comes to dishes of our culture. Mexican American food is rich in diversity and flavor, and we hope that after reading and cooking from our book—with recipes for things like Pecan Brownies with Coconut Cajeta and three different enchilada recipes—people try something new or find a new favorite dish! 
Could you shout out one restaurant everybody needs to go to in Austin?
There are so many great places to eat in Austin, where my family and I live, but one place we always enjoy visiting is Nixta Taqueria. They're masters of nixtamalization, and they specialize in making delicious and innovative meals using maiz (corn) from Mexico. We actually partnered with them recently for a Siete Small Batch to create a limited-edition run of Heirloom Corn Totopos (tortilla chips).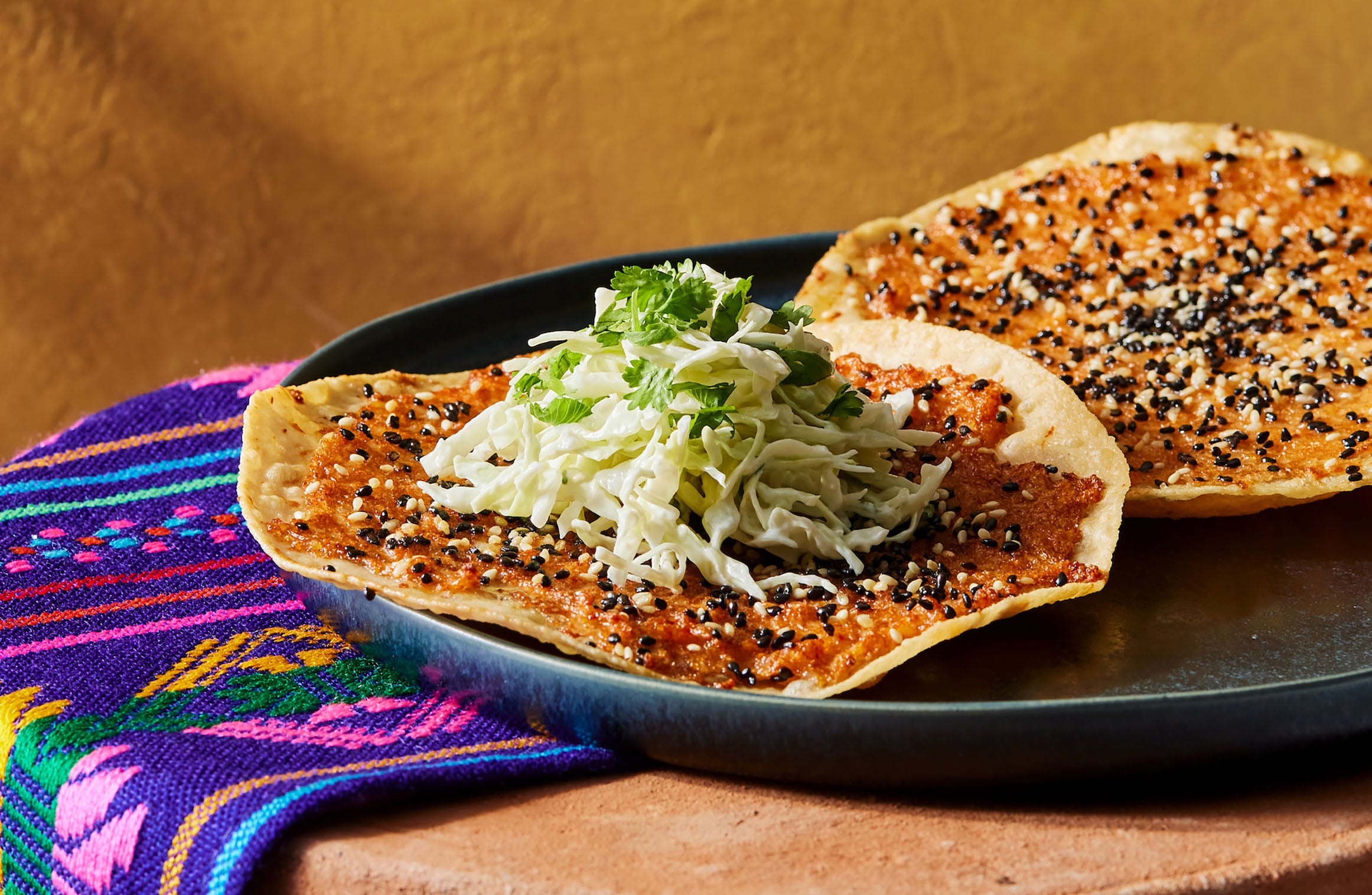 THREE EXCITING RECIPES FROM THE SIETE TABLE: