Raiding the Fly by Jing Pantry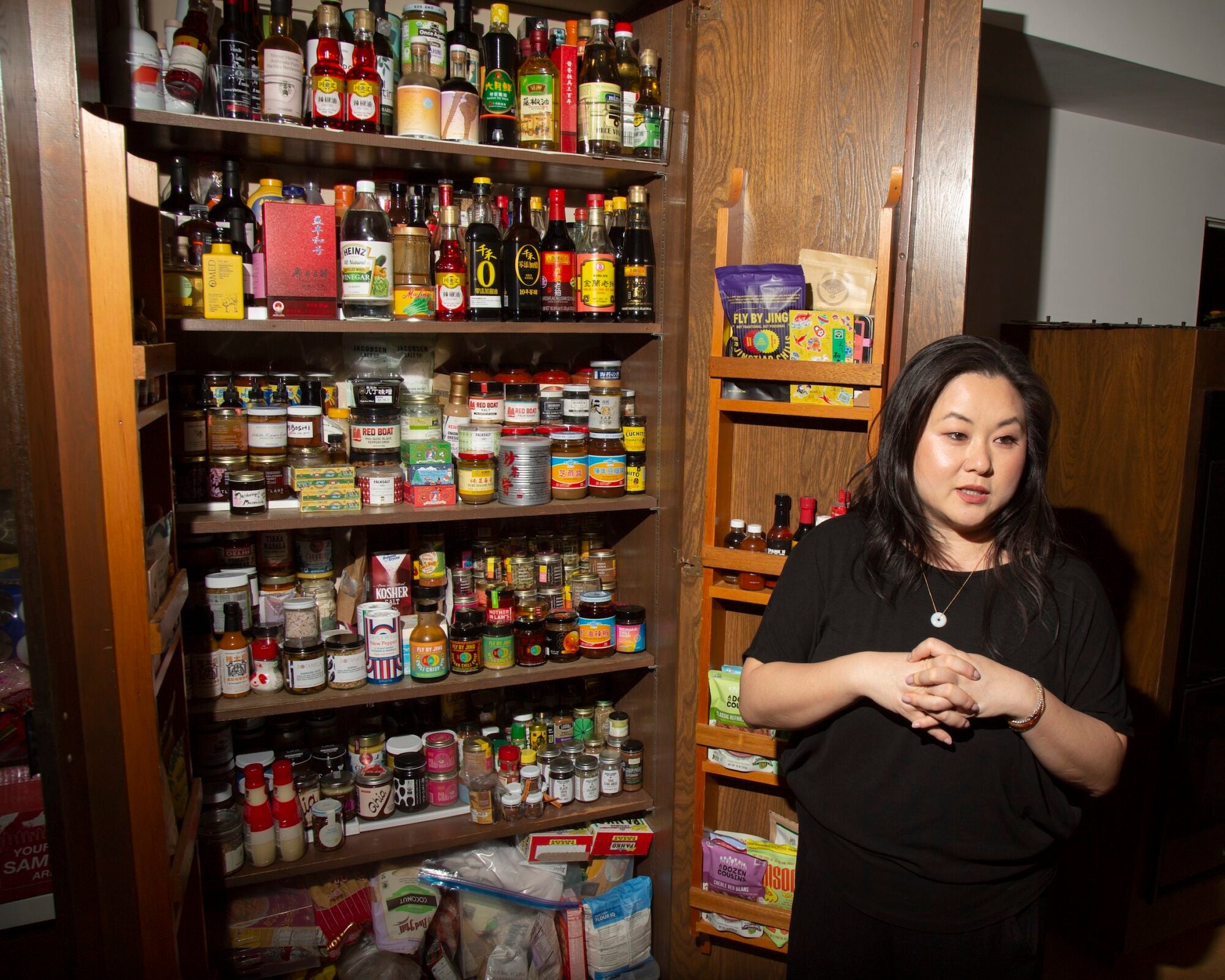 Jing Gao's cabinets are filled with premium Chinese staples and local Los Angeles brands.
Fly By Jing chili crisp, the breakout sensation from Jing Gao's line of Sichuan pantry items, is currently everywhere (and it almost felt like all at once). It's carried in practically all of the small, hyper-curated grocery stores across the country (the "shoppy shops"), but it's also sold at big-box big boys Target and, remarkably, Costco. It's been an impressive rise for a brand launched only in 2018 by a former marketing executive turned condiment queen. Fans of Gao's spicy, crispy, mouth-numbing condiment often use it as a hot sauce to add flavor (and, in this case, texture) to a finished dish. But Gao first started making and jarring her take on the staple Chinese pantry item to minimize prep work for the supper club she formerly ran in Shanghai back in 2016. One tablespoon of the chili crisp—which contains fermented black beans and aromatics like ginger and shallots—plus garlic, water, and a tablespoon of the Chinese fermented chili bean paste doubanjiang lets you mapo tofu in five minutes. 
"The reason I started Fly By Jing was because I love flavor, and different forms of spices and condiments are the best conduit for flavor," Gao says. The pantry she keeps stocked at her serene home in Van Nuys, in the San Fernando Valley of Los Angeles, which also serves as the efficient headquarters of Fly By Jing, is perfect evidence—and a thing of legend. Packed inside a seven-foot-tall, two-door wood cabinet, Gao's larder is filled with aged vinegars, aromatic pastes, tinned fish, spices galore, and, of course, her own products. (Some of her go-to ingredients are kept in the fridge, too, like soy sauce and pickled vegetables.) "I just buy whatever I see that I like and I want to try," she says. "It's really just what I think I can cook with." 
Along with that flavor-packed chili crisp, Fly By Jing's mala spice for seasoning protein, Chinese sesame paste to add thickness and fragrance to a dish, miso, Sichuan Pixian Douban Co.'s three-year-aged doubanjiang, and a ten-year-aged black vinegar are Gao's most used pantry items. The latter two she sources from Sichuan and sells exclusively on her site. Out of everything, she says it's the smooth, balsamic-like aged vinegar that "works the hardest." It acts as an important layer of acidity in many Chinese recipes, from salad vinaigrettes to traditional Sichuan dishes like twice-cooked pork, which Gao explains are all about balance, incorporating heat, sweetness, and savoriness as well. Another favorite from her stash is bags of Kayanoya dashi, which she uses as a shortcut to flavor broths and make chawanmushi.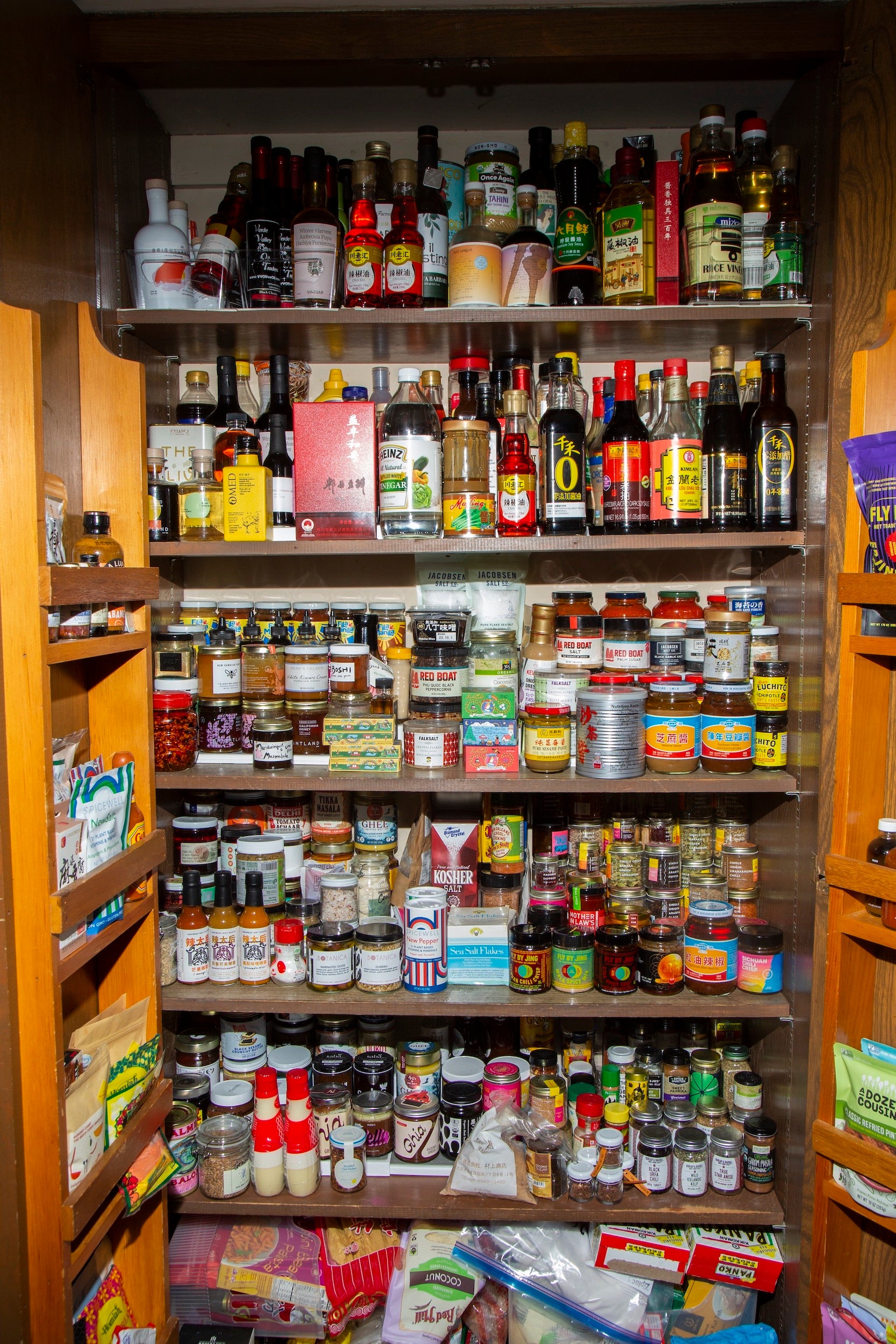 Gao is originally from Toronto and lived in Shanghai, Beijing, and Singapore for ten years. She chose Los Angeles as a base for her business since it's closer to China. (Before the COVID-19 pandemic, there used to be a direct flight from LA to Chengdu.) The sunshine, the excellent food scene, and the strong community of consumer packaged goods companies like her own were points in favor too. She advises a handful of other brands, including the Southeast Asian spice blend company Homiah, the crunchy black sesame paste makers Rooted Fare, and Fila Manila, which specializes in Filipino sauces. "A lot of [what's in] my pantry is from people in the community—I mentor a lot of up-and-coming brands," she says. It's easy to spot the various new-age products, with their colorful packaging and design-forward appeal, within her collection. Think spices from Diaspora Co., Brightland olive oils and honey (excellent for dressings), Ghia's Ghianduja hazelnut spread, chutneys and curries such as tomato achaar from Brooklyn Delhi, salted plums and syrups to use in cocktails from Oakland-based Yumé Boshi, and tins from Fishwife (including their collaboration tin: smoked salmon coated in Fly By Jing chili crisp) for easy lunches.  
At home, Gao loves to throw hot pot parties for food world friends like Bricia Lopez (owner of the legendary LA restaurant Guelaguetza and author of Oaxaca: Home Cooking From the Heart of Mexico) and Jell-O cake phenomenon Lexie Park—especially because she's made it easy for herself by creating a hot pot base for Fly By Jing. In Sichuan hot pot, the broth is pungent and aromatic—and exceptionally laborious to make. "It's literally dozens of spices, herbs, traditional Chinese medicine herbs [like amomum and star anise], doubanjiang, and usually beef tallow, so it's so deep in flavor," she says.
All she has to do, however, is add water to her hot pot base, then chop vegetables and set out the meat, along with sesame oil, which "makes it less intense and adds a layer of fragrance." Gao loves Bullhead Barbecue Sauce as a dipping sauce for items after they're cooked in the hot pot as well. The traditional hot sauce condiment has a thick and oily consistency, which makes it great for dipping, and a fishy, umami-forward taste to amplify flavor.
 The items in Gao's pantry are all about building flavor, really. Her core pantry ingredients are those of her own brand, since they serve as time-savers for making her favorite Sichuan dishes. Her other staples, many made by other LA-based food makers, further empower her to cook and host with ease. Whether it's using Sonoko Sakai's curry powder to make Japanese curry or topping a plate of cut fruit with Jacobsen Salt Co.'s finishing salt, Gao's collection is a streamlined and extensively seasoned affair.