Postcard From Phnom Penh: Getting Out for Curry Puffs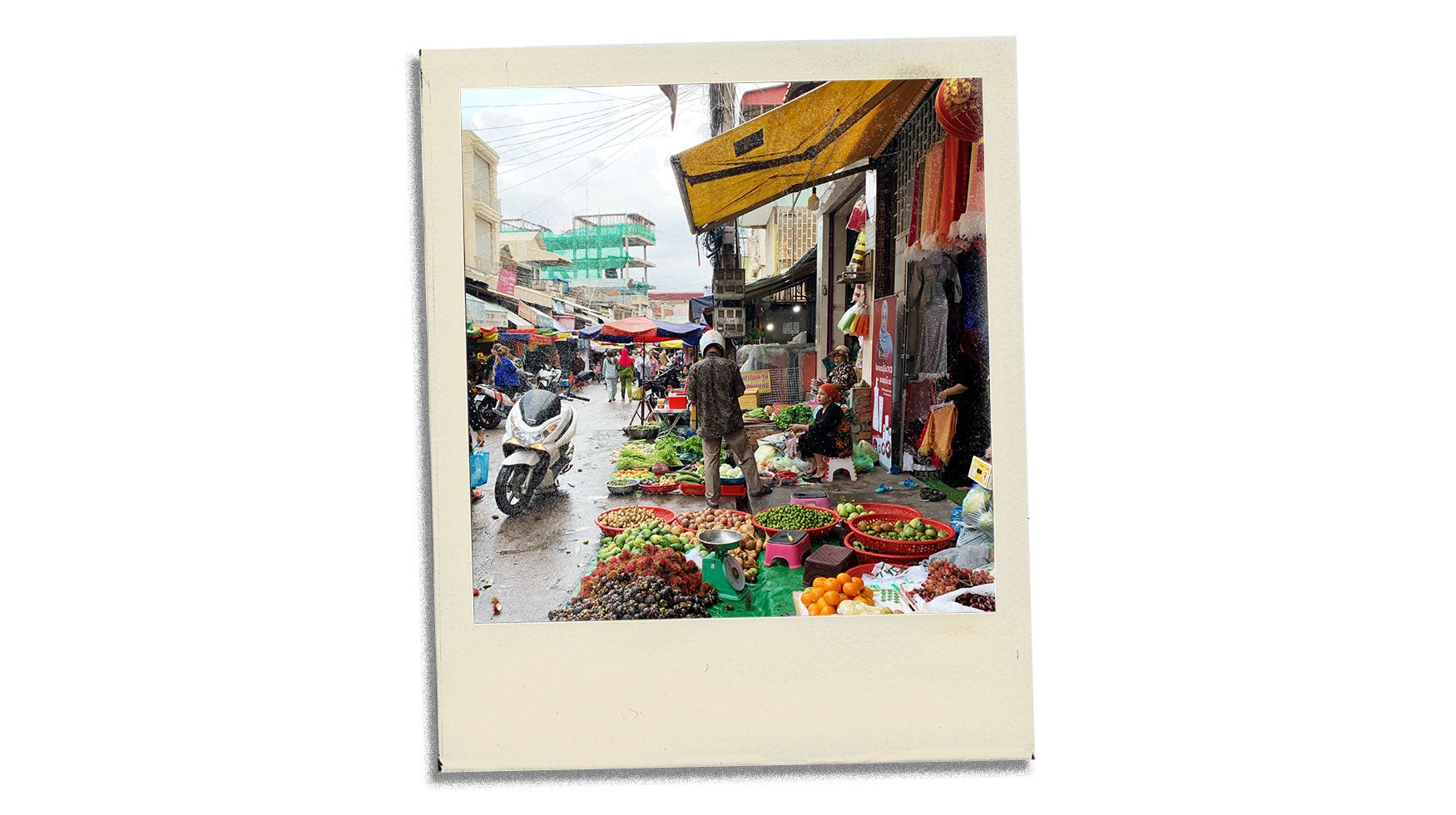 In Cambodia's capital, a fried snack is but a tuk-tuk ride away.
Like most Muslims across the world, Chams, a predominantly Muslim ethnic community residing throughout Cambodia, had a sober Ramadan this year. The mosques were closed, following government restrictions on religious gatherings in the country due to the pandemic. The markets, however, were still open. "The Chrang Chamres market is busy right now," my friend Sayana told me at the start of the monthlong observation. "It's always very festive during Ramadan!" Sayana, part Cham, part Javanese, lives close to the market in the broader Chrang Chamres neighborhood, about 30 minutes north of the center of Phnom Penh. The market has a lively mix of Cham and ethnic Cambodian vendors selling fresh produce and traditional Cham and Cambodian snacks.
I had met Sayana earlier this year, when we participated in a cooking demo together with the US ambassador to Cambodia in celebration of the holy month. Since this was the first time we were both cooking in front of a camera, Sayana and I were exchanging a series of nervous emails in the lead up to our meeting. When Sayana and I finally met, she made a strong pitch to come to the market. "It has the most food stalls this time of year," she emphasized. Back then, there was still deep uncertainty about the prevalence of COVID-19 in the country. I hesitated and told her I would be back in touch after Eid (marking the end of the holiday). Once the number of the country's active cases fell to zero, I reached back out and told Sayana I was ready.
June was the start of rainy season in Cambodia, and she picked me up in a tuk-tuk on a windy afternoon. "It's not as busy, but you'll get a good idea," she told me as we drove north of the city. By the time we reached Chrang Chamres, it had begun to drizzle. We clumsily huddled underneath an umbrella with masks on, and then began the tour. Dodging puddles and motos on the crowded street, she first took me to have num sarch. It's the Cambodian version of samosas, I thought, as I bit into a hefty curry puff packed with vermicelli noodles and ground chicken.
Before I could even process the subtle, peppery flavor, we had to jump to the next vendor and make a split-second decision about what to order. "Two of this, two of that," Sayana and I agreed. I had jek jien, banana fried in a flour and egg batter—a ubiquitous Cambodian street snack—before moving to the savory cake, num brai, made with flour, egg, salt, and chives. As I processed the very full flavor of num brai, I was struck by the abundance of the platter laid out on a banana leaf. "I want all of them!" I told Sayana as I angled my phone for an Instagram-friendly overhead shot. She swiftly ordered: two triep bai (sticky brown rice), two num phle eye (rice balls on banana leaves with shredded coconut), and two num karloc chee (sticky rice balls).
I wolfed each of them down before we grabbed a couple of stools to have grilled beef flavored with fish sauce and the Cambodian lemongrass-based curry paste, kroeung, with some baguettes and a side of pickles. By then, the rain had subsided. I let the taste of rice and coconut linger, while Sayana went to order. There was always room for more.