On the Road to Montreal, in Search of Poutine Nirvana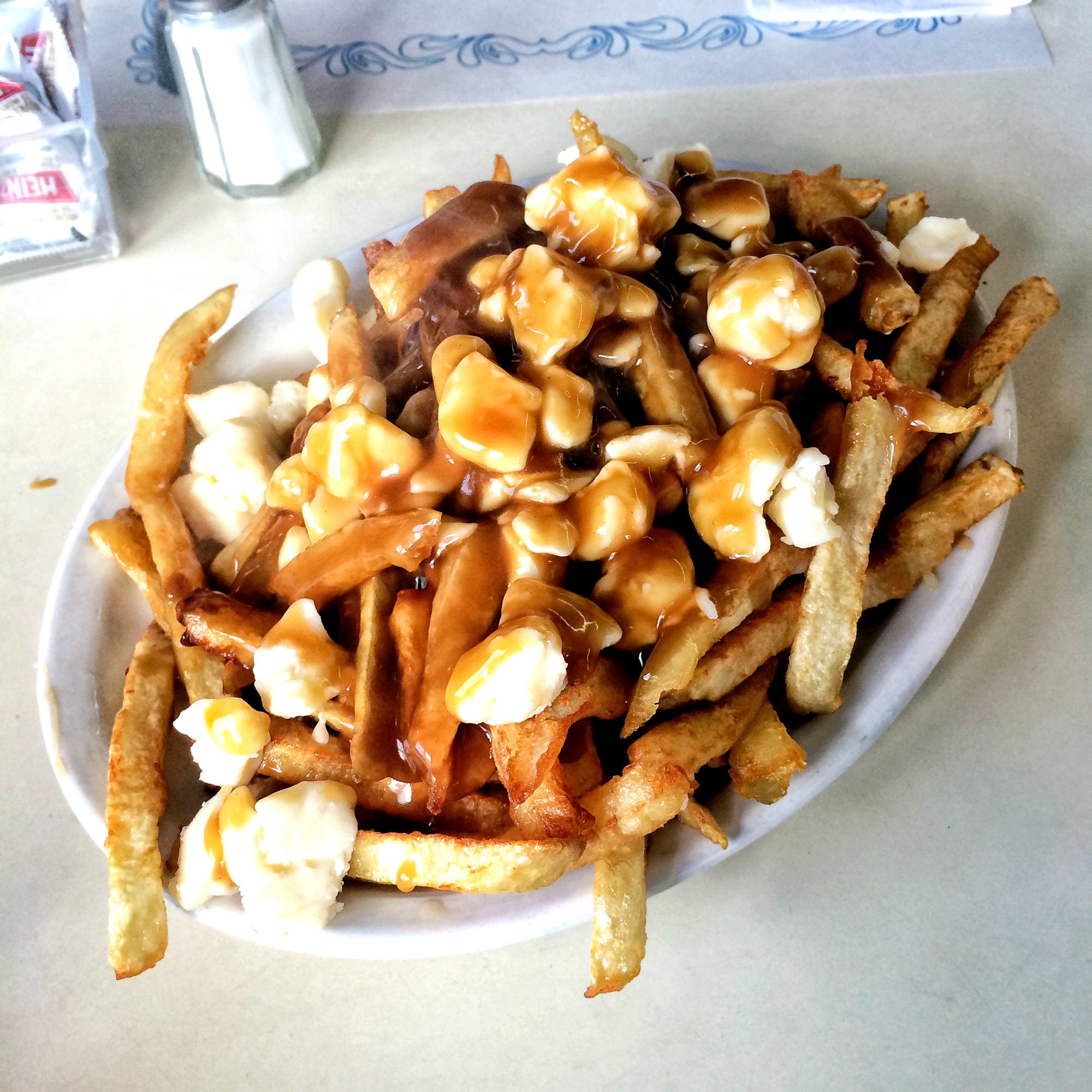 A pile of fries, topped with cheese and gravy, has been a decade-long obsession for Americans. But in French-speaking Canada, it's simply a roadside lunch.
The road between Montreal and the Vermont border is not unlike the stretch between Iowa Falls and Mason City. That is, flat and filled with farms. And if the wind is blowing the right way, you're not going to forget it. On a late-July afternoon, I find myself on this stretch of autoroute with a couple of friends and a Google Maps pindrop, cruising our way toward what we are hoping will be nothing short of poutine nirvana.
Poutine, a Quebecois national treasure, is roughly defined as a plate of French fries topped with cheese curds and a thin pool of beef, pork, or mushroom gravy. Over the past decade, American chefs have gone a little nuts for the stuff, with variations popping up topped with everything from kimchi to fried avocados. There were whispers of a poutine bar opening in New York City. Poutine? Personally, I was was kind of over it. But then my hungover buddy hit up a Canadian buddy for the name of the little diner on the way to Montreal. The one famous for poutine, Chez Ti-Polo in Saint-Sébastien. The one right in our path.
Chez Ti-Polo is like any rural roadside diner. There is a teenager working the register and an old woman reading the funnies. Or is it the obits? Hard to tell. But on her table next to the newsprint there is a plate of poutine, and boy is it a thing of beauty. The first thing you notice is that the frites are fried dark, a caramel hue that to some might seem overcooked. It's covered with the famous gravy and nobs of the fresh cheese. We order the biggest plate they serve and split it four ways. With the exchange rate in a good spot for us Americans, the plate costs less than an Extra Value Meal. It's heaven.
Weeks later, at a mutual friend's wedding, I run into Noah Bernamoff. Noah runs hip Montreal smoked meat and seasonal vegetables restaurant Mile End Deli, with locations in Brooklyn and the Bowery. Noah, who was raised a Quebecer, knows the powers of poutine. And as I start to tell him the story of the cow pasture and the random little diner in the tiny town near the Vermont border, his eyes widen and nods. Oh, you went to Chez Ti-Polo? You went to Chez Ti-Polo? Good move.