The Multimillion-Dollar Junkets That Introduced Americans to Olive Oil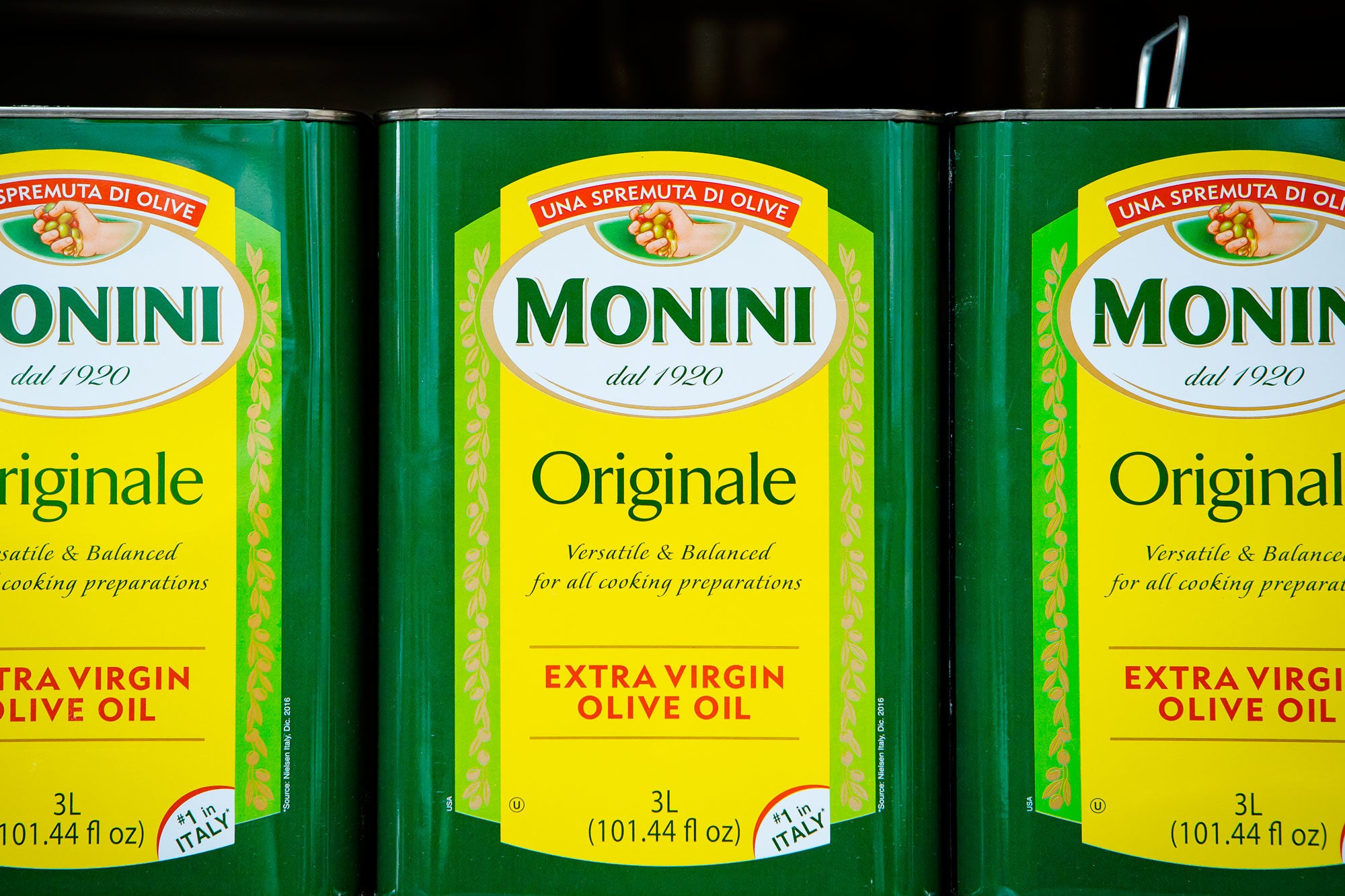 The olive oil industry spent millions of dollars throughout the '90s to try to sell American chefs and nutritionists on the Mediterranean diet. It worked.
Twenty years ago, Americans' kitchens were outfitted with canola oil and margarine, to be used sparingly. If Americans had heard of olive oil, they knew to avoid it: The USDA promoted a low-fat diet pyramid, with a base of carbs at the bottom and fats at the tip-top, to be used sparingly. Then, seemingly overnight, grocery store aisles were lined up with bottles and rectangular cans of the newfangled "healthy fat."
It all comes back to a group of 100 or so food writers, chefs, importers, and scientists who traveled to the Mediterranean in the 1990s and early 2000s with a nonprofit called the Oldways Preservation & Exchange Trust. Together, they introduced the Mediterranean diet and, most important, olive oil to America.
Today, the world consumes almost twice the amount of olive oil that it did in 1990, and olive consumption has risen about 179 percent since 1999. But in the early 1990s, "olive oil was not a mainstream product," explains Sara Baer-Sinnott, the current president of Oldways.
A politician and restaurant owner named K. Dun Gifford wanted to change that.
In the late '80s, he traveled to Italy and China and saw that, as processed foods and sugary treats were spreading across the world, the old ways of eating were disappearing. A large, boisterous man who had worked for Robert and Ted Kennedy and who was good friends with Julia Child, Gifford knew how to work a room and get what he wanted—and what he wanted was to change the way Americans ate.
He firmly believed that the Mediterranean diet, first written about in 1980 by Ancel Keys, was the answer—and that by promoting the traditional Mediterranean way of eating, Americans would be healthier. But how to get the word out? Gifford decided to seek out "multipliers" (we'd call them "influencers" today) to broadcast the concept.
In 1990, he formed Oldways, a nonprofit centered around public health as it relates to diet, with Nancy Harmon Jenkins and Greg Drescher, two gourmands he'd worked with at the American Institute of Wine & Food. They started planning immersive trips to Greece, Italy, and Spain to introduce influential people to unfamiliar ingredients and dishes.
"It was like going to food camp," recalls Ari Weinzweig, owner of specialty grocery store and importer Zingerman's in Ann Arbor, Michigan.
The multiple-week excursions—all costing thousands of dollars per person and free of charge to the travelers—featured discussions with Mediterranean experts like Jenkins and cookbook author Paula Wolfert, as well as nutritionists like author and NYU professor Marion Nestle. There were guests like Bobby Flay, Rick Bayless, Lidia Bastianich, and Madhur Jaffrey, too. "It was like going to food camp," recalls Ari Weinzweig, owner of specialty grocery store and importer Zingerman's in Ann Arbor, Michigan, who also attended.
On one trip, in 1992, Oldways whisked a group to Spain, where they stayed at high-end hotels, attended private olive oil tastings, and feasted on foods that were unheard-of for Americans at the time, like spinach with pine nuts and raisins, gazpacho, and romesco sauce. The next year, Oldways traveled to Turkey, where, as Paula Hamilton described afterward in the Oakland Tribune, guests ate exotic dishes like "pureed chick peas sprinkled with toasted pine nuts, thumbnail-sized meatballs, and creamy eggplant spread."
But there's no such thing as a free lunch. "The trips were primarily around the Mediterranean because the sponsorship for it came through the International Olive Oil Council," recalls Jenkins, who stopped working with Oldways in the early 2000s. In 1995, the New York Times reported that the IOOC "has spent about $2 million a year to finance Oldways conferences on the Mediterranean diet" (Baer-Sinnott says that this estimate is off, and the contribution was less than $1 million per year). The IOOC, which is now called the International Olive Council (IOC), only contributed part of the funds to make the conferences a reality, though. Dozens of other sponsors like hotels, restaurants, and entities like the Tourist Office of Spain contributed to the bottom line.
Oldways' agenda was clear: On each expedition, guests received a thick booklet that included traveling plans, speakers and talks, and advertisements from the region's producers. On that 1992 trip to Spain, a full page in the program read, "Olive oil, the new American favorite, appetizers to zucchini…and all those wonderful chickens, burgers, seafoods, soups & salads and healthy eating in between! For more information on olive oil, including free recipes and color brochures, contact: International Olive Oil Council."
So predictably, and by design, it was the olives and olive oil that caught guests' eyes. As Sally Schneider wrote in Food & Wine in 2000 after attending a junket, "My real education in the world of olives began on the Northern Aegean island of Chios." She included an "an olive buyer's guide" in the story and recommended them as "the perfect hors d'oeuvres, their flavors going well with wine or cocktails."
"It's the olive oil that is the true glory of Puglia's kitchen—the olives too, remarkably large, sweet and succulent," wrote Elisabeth Luard in a 1999 issue of Decanter. Weinzweig admits the junkets influenced his future buying habits. He said the Oldways tours were where he not only learned about burrata and Cavalieri pasta but also met the makers of La Spinetta olive oil. He's been importing it ever since.
Because fat of any kind was forbidden from the American diet, the idea of olive oil as a time-tested loophole intrigued a generation of gourmands. They returned full of inspiration, and, as the tastemakers spoke, America followed.
At Oldways' International Conference on the Diets of the Mediterranean in 1993, Jenkins remembers Walter Willett of the Harvard School of Public Health concluding a panel discussion by simply saying, "As far as I'm concerned, you can take the food pyramid and pour olive oil on it."
In 1994, Oldways, the Harvard School of Public Health, and the World Health Organization created the Mediterranean Diet Pyramid, which emphasized whole grains, healthy fats like olive oil, and fruits and vegetables—and moved red meat, butter, and white bread to the top. The conference and new diet inspired Jenkins so much that she decided to write her best-selling book The Mediterranean Diet Cookbook, which was first published that year and is still in print (the updated version is in Amazon's top 50 Mediterranean and Italian Cooking lists).
Meanwhile, Oldways began stretching its mission in other ways as well. In the early 2000s, it organized a conference called Sweetness in a Healthy Diet, sponsored by Tate & Lyle sugar company and Coca-Cola. According to Nestle, the sessions "seemed designed to reassure diabetes specialists that their patients could drink Coca-Cola with impunity." (According to Baer-Sinnott, Oldways was uncomfortable with Coca-Cola's involvement, and later returned funding.) Around that time, the IOOC backed away from the nonprofit. However, Oldways has continued to explore diets and host conferences to this day, including upcoming tours of Cyprus and Portugal.
Despite this history, the IOOC and Oldways changed the way Americans think about nutrition and diet. Though Nestle, perhaps the most famous nutritionist of her time, has been vocal about the IOOC and Oldways's imperfect sponsorship model, she credits the organization with inspiring her to create the first food studies program in the country at New York University. "I consider my work at NYU to be part of Oldways' lasting legacy," she wrote in 2013 on Oldways's blog.
Today, the Mediterranean diet is still considered one of the healthiest possible ways to eat: In 2013, UNESCO added it to its Representative List of the Intangible Cultural Heritage of Humanity, and in 2015, the U.S. dietary guidelines began listing it as one of three desirable eating plans. "We didn't know it then," says Weinzweig, "but we were part of an American food revolution."
This story has been updated to reflect a response made by Oldways.