Now Serving: Fall's Best Cookbooks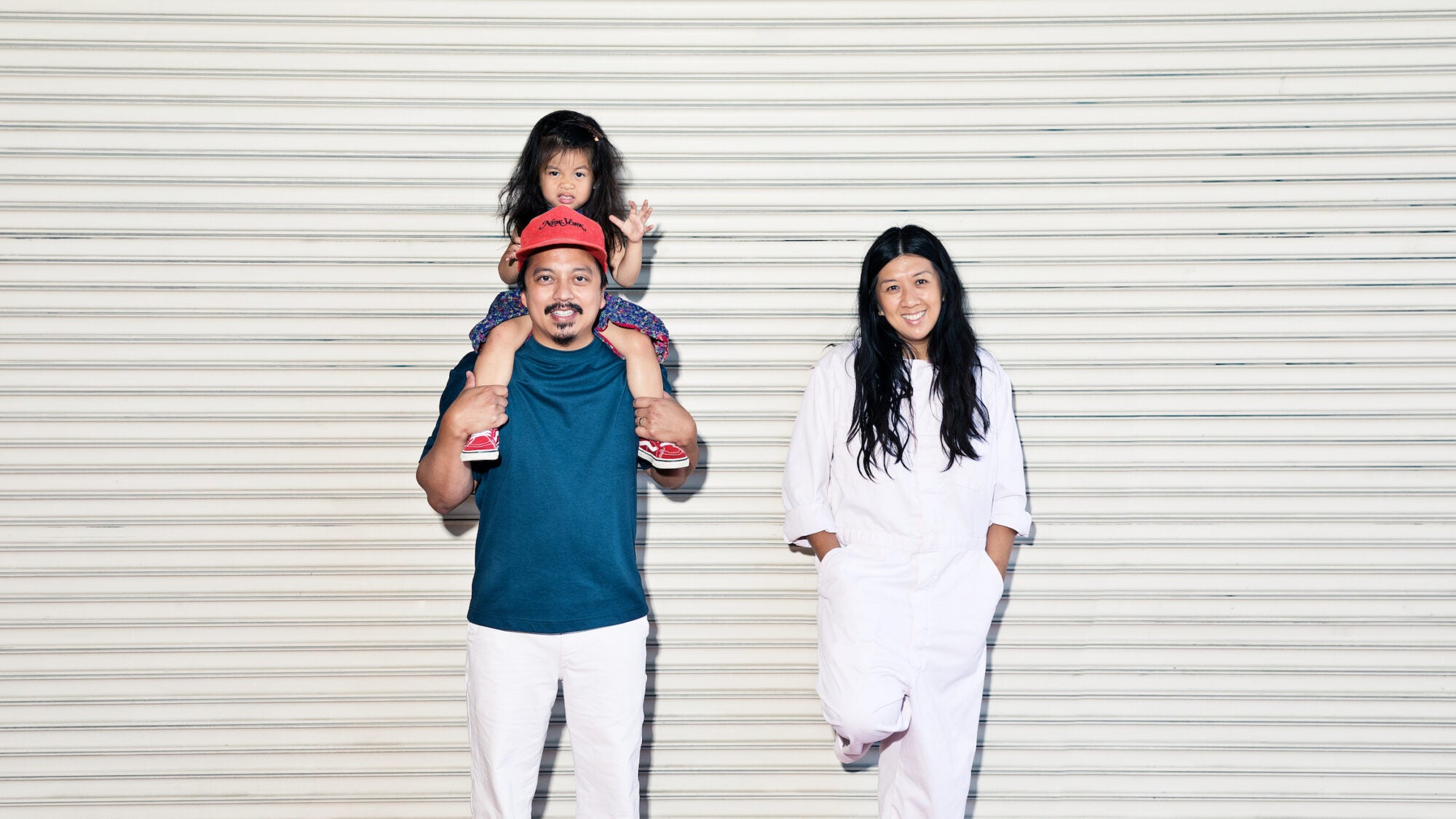 The couple behind LA's favorite cookbook store looks ahead to a big season in publishing.
Since opening their 475-square-foot Los Angeles cookbook and kitchen wares store Now Serving in September 2017, Ken Concepcion and Michelle Mungcal have been climbing the mountain all small-business owners hope to summit, eventually planting the flag of sustained profitability. When COVID-19 hit earlier this year and safety ropes started to snap, the couple endured by hastily pivoting their Chinatown business, located in the heart of LA's Far East Plaza, to an online-only operation, with local pickups on select days.
The pivot has paid off, and Now Serving's online orders have been building. Ken has launched a robust author interview series, featuring Zoom conversations with the likes of Lisa Donovan, Gaby Dalkin, Esteban Castillo, Alexander Smalls, and Sami Tamimi, for an audience that stretches far beyond Chinatown, LA, and even the United States. (See the full archive here.)
Originally conceived as a place for Ken, a chef and bibliophile who most recently worked under Wolfgang Puck, to "hang out" during his day off—Now Serving has become the city's go-to source, not only for chefs in search of out-of-print titles, but for cookbook fans looking for a curated collection of books and magazines from around the world. With the fall cookbook season upon us, we reached out to Ken and Michelle to find out what books they are most looking forward to, and their wishes for a more inclusive book publishing industry.
How are you both doing?
Michelle: Exhausted but lucky. Lucky that we were able to transition to an online platform, and lucky that people are willing to support us and that we can continue to maintain a level of business when so many people cannot. Our online component was never flushed out before the shutdown, so we had to throw that together and are still working on it daily. It basically felt like starting a completely new business. We also have a two-year-old daughter, so we split our days between her and the shop. And then the emotional toil of watching what's happening to our beloved restaurant industry and the world in general just compounds all the feelings.
Your Zoom events have been well attended. How do you pick which books and authors to feature?
Michelle: We try to highlight books that are newly released. But the great thing with Zoom is that it allows our reach to be international, so now we're able to host events for international authors and chefs that might not have been able to do an event with us at the store (before the pandemic) because Los Angeles wasn't part of their book tour. We try to put a lot of thought into who moderates the events, because we want to provide our audiences with interesting and diverse conversations. There is so much virtual content available now—especially with Instagram Live—so we have to think about what will make this event different from the next.
Ken, you worked in a bookstore after college and used your employee discount to buy cookbooks. What were a few of the titles from this period that really struck you?
Ken: A few come to mind and still resonate. The French Laundry Cookbook. It felt like something from a different planet to me, but the stories and anecdotes were so thoughtful. Becoming a Chef by Karen Page and Andrew Dornenburg. I probably read that two dozen times, because I couldn't afford to go to cooking school. This was also right at the time the Food Network emerged, so Emeril Lagasse's New New Orleans Cooking was a big one, and an early idea of what big-personality, celeb-chef books could be like, for better or worse.
What is your sales split between new and estate/vintage? And do you take on requests from customers for hard-to-find books?
Ken: When we first opened, we had scored a couple of big collections from estates, or folks who needed to let go of their books but didn't necessarily want to donate them outright. One of these collections we spent nearly eight hours poring over at a farm in Ventura County. Hundreds of books, late '60s to late '70s. At one point, a huge turkey on the farm was very curious about what Michelle and I were up to and just kinda stared us down a few feet from our books. I'll never forget that turkey. As for now, only a small percentage of what we carry is previously owned or vintage, simply due to the fact that the amount of new cookbooks coming out on an annual basis is astonishing. So it's a space and storage issue. But we do hope to bring more previously owned titles to our guests. It's pretty normal for our guests to inquire about books that are out of print or only available internationally, so we are happy to place special orders for them and see what's out there. Our guests constantly keep us on our toes and surprise us with titles that we haven't heard of or been exposed to. There's so much out there!
What are some of the fall books you are really excited about?
Ken: There are a ton of books coming out in the fall—here's a handful we are into: The Flavor Equation by Nik Sharma; In Bibi's Kitchen by Hawa Hassan and Julia Turshen; and Ottolenghi Flavor. This is an Ottolenghi release year, so everyone always looks to see what Yotam is up to. The Rise by Marcus Samuelsson, Xi'an Famous Foods by Jason Wang, and Baking at the 20th Century Cafe by Michelle Polzine are also highly anticipated.
What cookbook has not been written that you think really needs to be written? This could be linked to a cuisine, a culture, or a writer you really like who should have a book.
Ken: We would really love to see certain cuisines getting their due in regard to more coverage and scope in cookbooks. Countries such as Malaysia, Cambodia, Guatemala, Armenia, Colombia all need more books being written about them. That said, the entire continent of Africa—all those countries and cultures—need better representation by authors, publishers, and bookstores by tenfold. What's primarily available are just overviews of African dishes and not so much specific deep dives into individual cuisines. Senegal by Pierre Thiam, and Ethiopia by Yohanis Gebreyesus, shouldn't be exceptions but the rule.
You've described the community of independent cookbook store owners as being super supportive. Who around the country has been cool, and how did they help you out?
Michelle: Before we opened the shop, we reached out to Celia [Sack] at Omnivore Books and Nach [Waxman] at Kitchen Arts & Letters, and both responded with really honest and thoughtful emails on what owning a niche bookstore was going to be like in the time of Amazon. We knew this was going to be more a labor of love, but the insight on what the day-to-day looked like was really helpful in deciding if we were up to the challenge. They also helped share contact information for publishers and self-published authors. And since the time we've been open, we've sought out advice from Book Larder and other small-owned culinary shops like Japanese Knife Imports and Coutelier NOLA.
Ken, you've said that Now Serving was envisioned as a place you'd like to hang out on your off days as a professional chef. Has the vision remained to this day?
Ken: Our initial idea was for it to be just that, where I would want to go and spend a few hours on my day off. But now, nearly three years in, I have to say Now Serving has grown into something much more than that and with a life of its own, which is a great thing to see. Because as a chef, sometimes you can have this tunnel vision of what is cooking or what food even is to most people. I was trained and worked mostly in perfectionist kitchens, with a myopic view of what was acceptable and what wasn't. In fine dining, like any high level of craft or performance, your world is often colored by absolutes. Yet in building this place with Michelle and Nancy (our rock and special projects queen), Now Serving has become not only the place for a chef to hang out and engage in some shop talk, but it's also for the novice cook who's living on their own for the first time, the advanced bread baker, the fledgling home cook, and so many more. Our goal now is not to make Now Serving just for us, but hopefully for everyone who cares about food to be able to find something to engage with or be inspired by.
SOME BOOKS TO BUY, READ, AND COOK FROM
Jonathan Waxman is the longtime New York City chef behind Barbuto, the recently closed (though possibly soon to be resurrected) West Village restaurant beloved by chefs, writers, and neighborhood locals. And now he's telling the whole story in the restaurant's official cookbook.
Take an audio masterclass on sourdough from the bakers behind San Francisco's Tartine.
Yotam Ottolenghi is back with another book that stretches the possibilities of plant-based cooking. Flavor is full of style, creative recipe development, and, well, flavor.
TASTE contributor Cathy Erway has brought the world 50 super creative recipes with Sheet Pan Chicken, one of our favorite books of the season (and one we helped publish, alongside our friends at Ten Speed Press). Recipes include Thai yellow curry chicken thighs, Nashville hot chicken breasts, and five-spice chicken wings. All on a sheet pan, baby.
"Southern baking is American baking" is the refrain in The Good Book of Southern Baking, a creative and comprehensive collection from Kelly Fields, the James Beard Award–winning chef and owner of the New Orleans bakery Willa Jean.