Now Serving Cookbooks for Everyone on Your List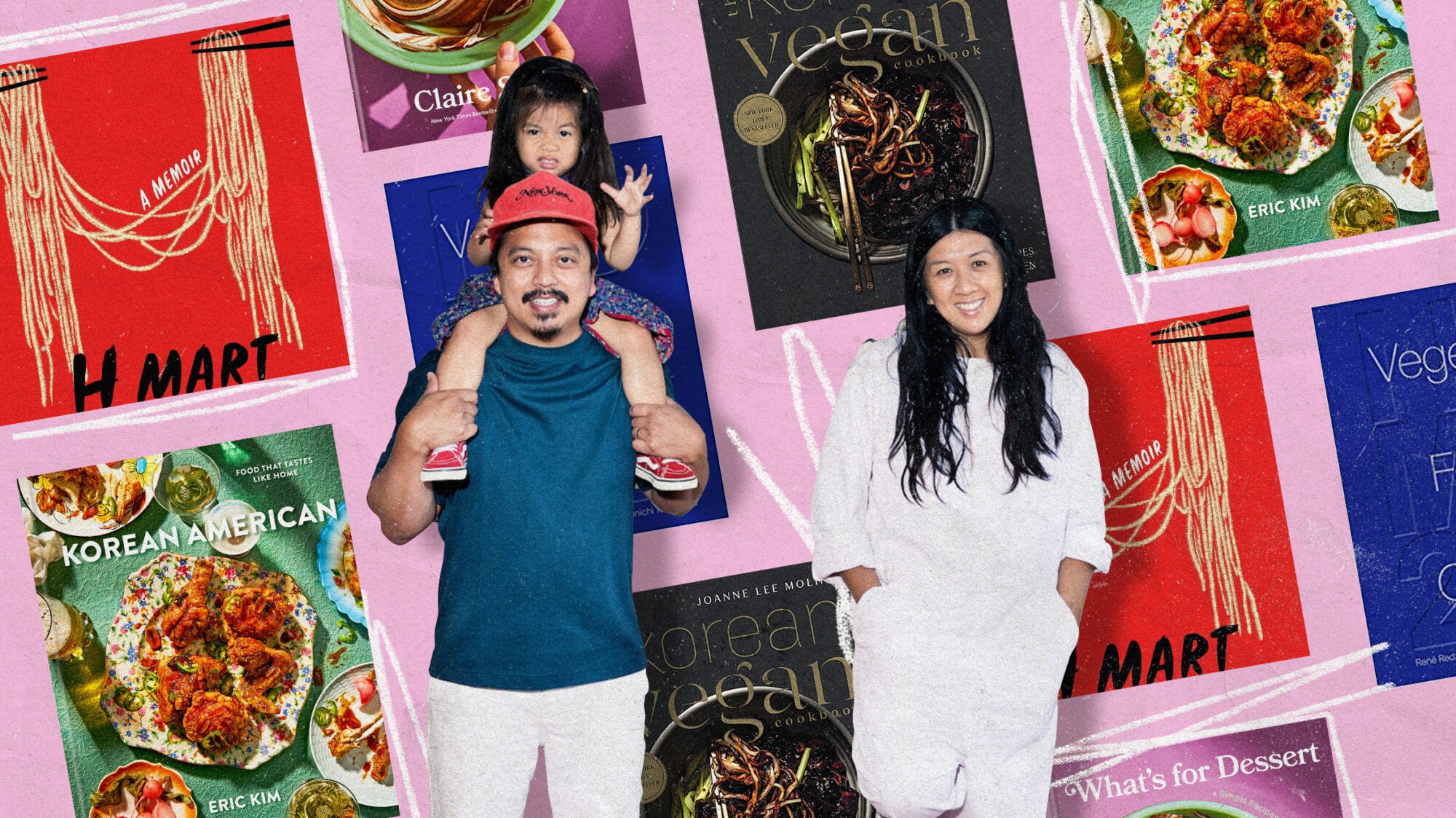 Ken Concepcion gives us a peek behind the checkout counter at Now Serving, L.A.'s favorite (and only) cookbook shop.
It's not traditional, per se, to read cookbooks like novels—cover to cover, word by word, without skipping ahead to locate relevant recipes or bits of serviceable advice. Rarely do you see folks flipping through Joy of Cooking on the train with the same rapture as, say, Sheila Heti's latest hardcover. But at Now Serving—LA's only dedicated cookbook shop—co-owner Ken Concepcion is working to change that. 
"Sure, there are certain cookbooks that I'd only flip through at home when I'm actually cooking," he says on a recent phone call as he fumbles around, preparing to open the shop located in Far East Plaza in the city's Chinatown for the day. "But we're also seeing so many cookbooks that double as travel diaries, or memoirs, or cultural love letters. The recipes are part of a narrative, and they're all ordered with intention."
For Concepcion, conflating cookbooks with literature is not a recent phenomenon. After earning his undergraduate degree in creative writing in 1996, he took a job at a local St. Louis bookstore, where he says he spent hours hidden in the stacks, paging through cookbook after cookbook. This informal, autodidactic food education inspired his career pivot into hospitality, and ultimately allowed him to forego the steep loans of culinary school.
For over a decade, beginning in 2006, Concepcion worked as a cook and, later, a chef de cuisine at Wolfgang Puck's esteemed Beverly Hills steakhouse, CUT. When it was time to trade in his apron, he asked himself: "Where would I want to hang out on my day off?" As it turned out, there weren't so many options outside of restaurants if he still hoped to hang out around industry folks and recipes. Now Serving was conjured up to fill that very void.  
Concepcion formally opened the shop in 2017 with his wife, Michelle Mungcal, a makeup artist. As the only dedicated cookbook shop in Los Angeles, it quickly became an essential part of the city's culinary—and literary—fabric. The aisles are filled with local chefs and hospitality denizens but also plenty of passionate home cooks, a cohort that's only grown in size and enthusiasm since the pandemic began. "Home cooking is becoming a more common language—which means our customers are always getting more adventurous in terms of what they're looking for and more savvy when it comes to culinary skill and vocabulary. They make reductions and gremolatas and bisques. They know the French names for various sauces and methods. They're familiar with quenelle technique," Concepcion explains. "This whole little sector of the universe keeps on getting bigger." 
As fall's slate of hyped cookbook releases hits bookstores in time for the holiday gifting season, I spoke with Concepcion about trends in publishing and the new cookbooks at the top of his buy list for 2022 and beyond. 
Are there any specific trends or niches that have dominated the cookbook world in 2022?
Earlier this year, it definitely felt like the moment for the Korean cookbook. We had Joanne Lee Molinaro's vegan Korean book and Eric Kim's Korean American, along with a few other major titles, which was very cool to see. And now, this season, we're seeing a much bigger focus on Taiwanese and Taiwanese American cuisine. As a Filipino American, I'm really enjoying seeing the ways readers, cooks, and publishing companies are giving a runway to Asian American authors who want to speak to their experiences as first-generation Americans through food. 
I've also noticed that we're getting more and more people in the shop asking for books that celebrate or focus on a specific restaurant, like the River Cafe retrospective or the Via Carota cookbook. Fifteen years ago, cookbooks were mostly restaurant-driven because they were these little pieces of history or iconography. People didn't want general home cooking—cookbook sales were driven by popular restaurants and chefs. And now, we've seen the paradigm shift toward home cooking and single-subject cooking studies. But everything comes full circle—so, of course, now we're seeing the needle move backward a bit toward that reverential restaurant coffee table book again. 
Are you expecting to see any new trends take over in 2023?
I honestly think we'll just keep up with so much of the momentum we've already created. We're still in the middle of this deluge of home cooking books, and our customers are still super excited about them. And on top of that, this year was a banner year for cookbook releases, quantity-wise. Publishers are pumping them out. Likely, there's a backlog of books that didn't make it out the door between 2019 and 2021, so I'd say we can all expect to see a lot of cookbooks this year. 
Getting more specific, we'll definitely continue to see a whole influx of vegetarian, vegan, and vegetable-forward books. Vegetarian cookbooks have always been out there, but right now, we're seeing them front and center—not just tucked away down niche aisles. These aren't just cookbooks made specifically for vegetarians, though. They're for everyone—for carnivores and serious chefs. And on that note, as vegan and vegetarian cookbooks keep getting more popular, we're seeing more genre fusion—think Mexican or Indian vegan that draws on super-traditional flavors but steers away from traditional proteins.
As far as new trends go, I think we'll see a bigger explosion of food memoirs. Frankie Gaw has a great book out called First Generation. It's a literary memoir about being Taiwanese American—but it's also a recipe book centered on Taiwanese cooking. Then, on the other hand, we have gifted authors like Michelle Zauner who really pushed the envelope on how we write about food. Her memoir, Crying in H Mart, is really representative of this leap forward in the ways we tell stories about culture or family through cooking—and it's been on all the bestseller lists since it came out over a year ago. I have a feeling we're going to see a lot more of that kind of thing in the future. 
Are there any specific new releases you're looking forward to?
I think the follow-up to Pasta Grannies, Pasta Grannies: Comfort Cooking, will be this year's go-to book for people who are interested in Italian food and pasta—especially because there was a great shout-out to "pasta grannies" on The Bear this summer. 
There's also a great book coming out from the former head baker at Tartine, Jennifer Latham, called Baking Bread with Kids. We haven't really seen that before: a really focused book for cooking with kids that also takes itself seriously. Plus, speaking as someone who's not really comfortable baking their own bread, I feel like this book might open some doors for me.  
Claire Saffitz has another book coming out, What's For Dessert, that I'm sure will be an instant bestseller and a big hit during the holidays. And in a slightly different direction, folks are absolutely going to be thrilled about the new Noma book, Noma 2.0: Vegetable, Forest, Ocean. I have to say, it's incredible. To me, it feels like this fun return to the celebration of the cookbook as an art object. 
Do you have a clear-cut way of defining what, exactly, constitutes a cookbook?
Honestly, we have this argument all the time at work. We always go back and forth, like, "Well, this feels more like a memoir, but it has a bunch of recipes. Does it go in food writing or in our biography-forward section? Or should it go in general cooking? Should it be classified by where the author is from?" I think for us, the one steadfast rule we've come up with is this: It has to include recipes. Seriously—that's the only rule.