Claire Saffitz Goes Outside Her Comfort Zone to Embrace Ours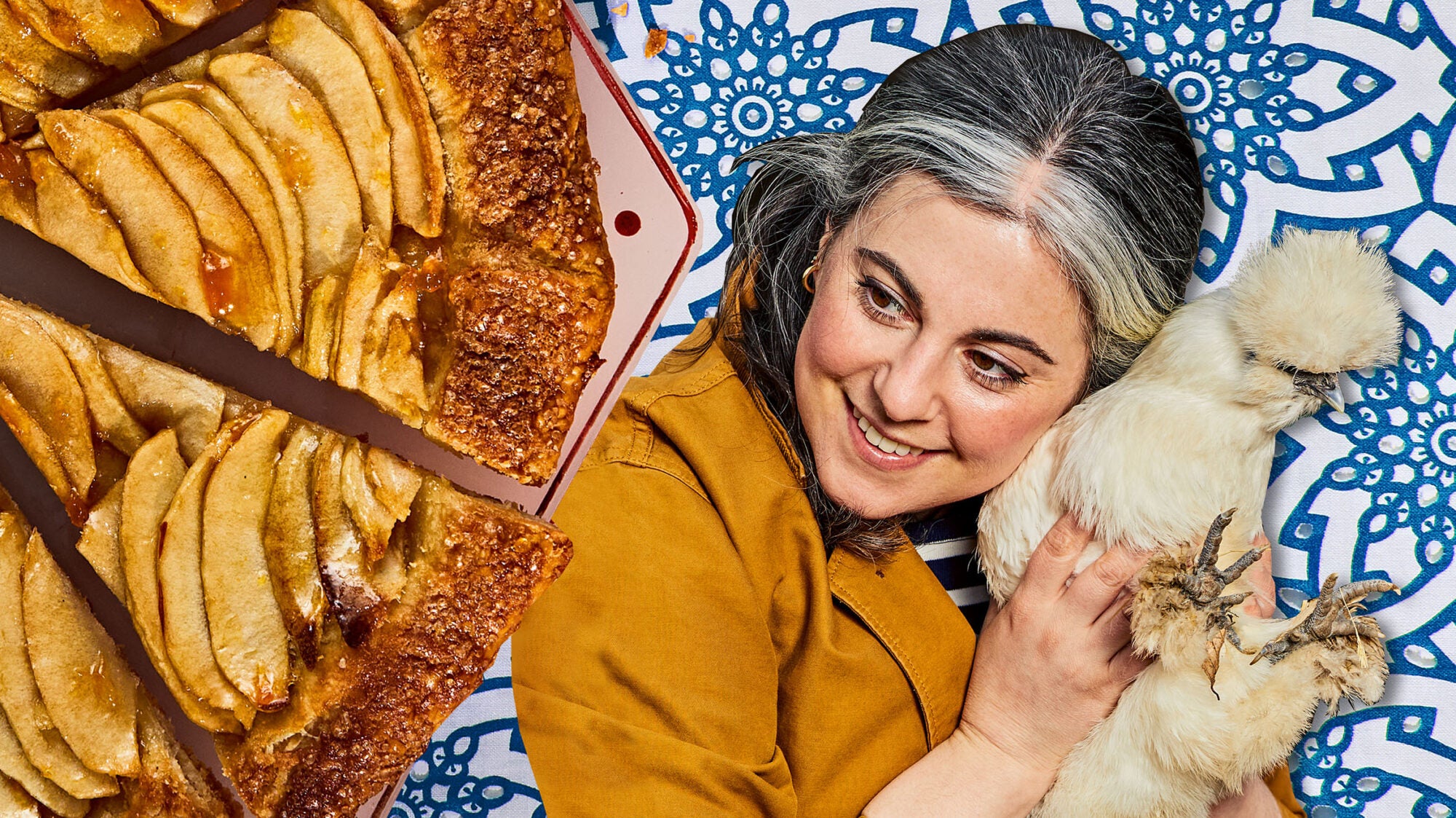 In a new book, What's For Dessert, Claire puts down the stand mixer to reach people where they dessert most.
A ruler in the utensil crock. A jar of sprinkles by the stove. These are the telltale signs that I'm in a dessert person's kitchen. You probably know the type: someone who dedicates precious counter space to a KitchenAid stand mixer and rules holiday pie duty with a buttery fist. Except I'm not in just any kitchen, but the upstate New York kitchen of Claire Saffitz, the patron saint of modern dessert people.
These days, Claire's poppy-seed-dusted fingerprints are found all over bookshelves and social media feeds. Her five-year tenure in Bon Appétit's test kitchen and the 2020 debut of her best-selling first cookbook, Dessert Person, has elevated Claire's recipes to the level of mononym status most often reserved for Martha, Ina, and Ottolenghi. The late-October arrival of her second cookbook, What's for Dessert, will plunge everyone's favorite malted brownies baker back into the whirlwind of book tours and promotional events. But for now, she's literally off the beaten path in a rural region by the edge of the Catskills—but it's decidedly not Hudson or Kingston or another town frequented by apple-picking Brooklynites sipping naturally fermented cider. Instead, the main attractions are a chicken coop recovering from a recent bear attack and an intimidatingly large flock of wild turkeys roosting on the wood pile.
Saffitz and her husband, Harris Mayer-Selinger, a chef-owner at the burger and shake shop Creamline in Chelsea Market, are here putting down roots to bear literal fruit: two gardens overflowing with squash and strawberries, and a cluster of local apple trees to someday become an orchard. 
It's a glorious East Coast fall day dappled with sunshine and the first golden leaves. You can practically smell apple cider donuts on the breeze, and so the chosen dessert for today's baking expedition feels fated: an apple galette made with Honeycrisps I carefully strapped into my back seat for the drive up from Brooklyn. At first, I'm expecting to whip up some homemade frangipane, maybe carve some apple rosettes. But this recipe epitomizes What's for Dessert's inclination toward simplicity—to, in the words of the pioneering futurist Buckminster Fuller, do more with less. The fruit is peeled and sliced simply, scattered with lemon-zest-scented sugar, drizzled with cream, and lacquered with a glossy layer of apricot jam just before serving. 
If Dessert Person taught readers how to bake like Claire, What's for Dessert taught Claire how to bake like her readers. Developing the recipes in the immediate aftermath of her debut cookbook's success provided a real-time window into what people were looking to make—the citrus-dappled olive oil cake that launched a thousand Instagram posts, and leaning towers of croquembouche. "This book is a little bit more outward-facing to the different communities of dessert people I've encountered," she says. "It's for people who like desserts and want to make them but have limitations, whether it's time or skill or kitchens."  
The resulting recipes are more approachable (no stand mixer required in any of the recipes) and wider-ranging (not just baked desserts but frozen and chilled, too). Many are updated takes on nostalgic classics, like a creamy banana-sesame tart and tall chocolate soufflés, tirelessly tested to deliver maximum flavor with minimum fuss. Claire embraces the full potential of store-bought ingredients, folding crushed Oreos into vanilla Häagen-Dazs for salty brownie ice cream sandwiches and turning frozen phyllo dough into a frilly showstopper of a honeyed nut pie. But every shortcut is within reason: You'll still need to parbake the graham cracker crust for tangy "no-bake" grapefruit bars, because Claire has standards, and soggy pastry won't do.
"I started this book asking, 'How can I keep this as approachable and streamlined as possible while also being a little more experimental?'" Claire says. Some of the recipes—wobbly French 75 jelly with grapefruit, creamy rice pudding with candied kumquats—feel aggressively untrendy. When I work up the courage to say as much to Claire, she grins. "I consider that a compliment. I am generally not in the business of giving someone a recipe that they should make right now. I'm trying to be in the business of giving someone a recipe they can make forever." Of course, add in NYC-based photographer Jenny Huang's glossy photos and Claire Saffitz's cosign, and suddenly it's easy to imagine rice pudding taking over Instagram this fall.  
Honeycrisps are on the counter, and I'm expecting to curl up on a stool in the kitchen and watch Claire do what she does on YouTube: demonstrate the right way to laminate butter into dough with warmth and wisdom. Instead, she wants to trade jobs. Now is probably the time to mention that I'm a terrible baker. I don't own a stand mixer, let alone a proofing drawer, and every pie crust I've attempted has ended in way too many tears (both rips and the kind you get from crying). Like the millions of fans on YouTube and Instagram, I am in awe of Claire's pastry skills. The fact that we worked together at Bon Appétit for a time, where I inhaled every leftover cream pie and croquembouche in the test kitchen, only increases this.
My heart is already racing as I whisk together the flour, sugar, and salt. Claire fills up a measuring cup with ice water as I slice the chilled butter into small pieces and smash them into the flour. "Is this okay?" I keep asking, and Claire keeps replying that it is, until the butter is mostly smashed and it's time to bring out the bench scraper. This is the crux of Claire's latest pastry development: Instead of bringing the dough together by hand, she uses the metal tool to chop the butter-flour mixture like a hibachi chef last seen working the early shift at Benihana, breaking up the butter without developing tough gluten. It's extremely fun. Another difference: After drizzling in the ice water, we slice and stack the low-hydration dough to create flaky layers, biscuit style. My pastry still looks a little patchy once it's been shaped into a round, but Claire wraps it in a layer of plastic and adds pressure with the rolling pin, promising it will hydrate further and prevent cracking as it chills. 
It's really when we start to roll out the dough that I notice all the subtle tricks that don't always make it into a recipe. Instead of just showering extra flour over the top of the pastry, Claire rubs the flour into the dough and brushes off the excess. Instead of just rolling out one side of the dough, she uses the edge of a bench scraper to tuck little bits of flour under the dough packet while rolling to unstick it from the counter, then flips it over and rolls the other side, too. It turns out that I've even been rolling apples inefficiently. This is the work of somebody who didn't just work in food editorial at Bon Appétit but who received a master's degree in culinary history from McGill University in Montreal and then studied pastry in Paris at École Grégoire-Ferrandi. 
Claire starts by peeling a circle around the stalk ends, then quickly zooms the peeler down the lip she's made—a trick learned from a cook named Antoine on her first day of pastry school in Paris, when they made tarte Tatin. 
"I think my whole evolution as a cook and recipe developer was coming to the realization that simple is the hardest," Claire says. "Anyone can make something complicated and have it taste good. But doing something really simple and having it deliver in every way you want it to is very difficult." The timer chimes, and my heart leaps. It's too hot when I dare to take a bite, soft fruit melting, crispy pastry shattering into smithereens. It's perfect, of course.
A confession: I was fully prepared to leave Claire's supervision and never dare to make pastry again. The thought of failing after the privilege of receiving her one-on-one instruction was too much to bear. Blame the encouragement or idyllic autumn surroundings, but the promise of getting to eat that buttery galette again made me willing to risk it all—or at least my pride and flour. After all, there's a pint of vanilla ice cream in the freezer. The addition might not be quite as minimalist, but I have a feeling Claire won't mind. 
RECIPE: Walnut & Oat Slab Pie 
RECIPE: Easy Apple Galette
Photos by Jenny Huang