It's Not Korean, It's Korean With a Hyphen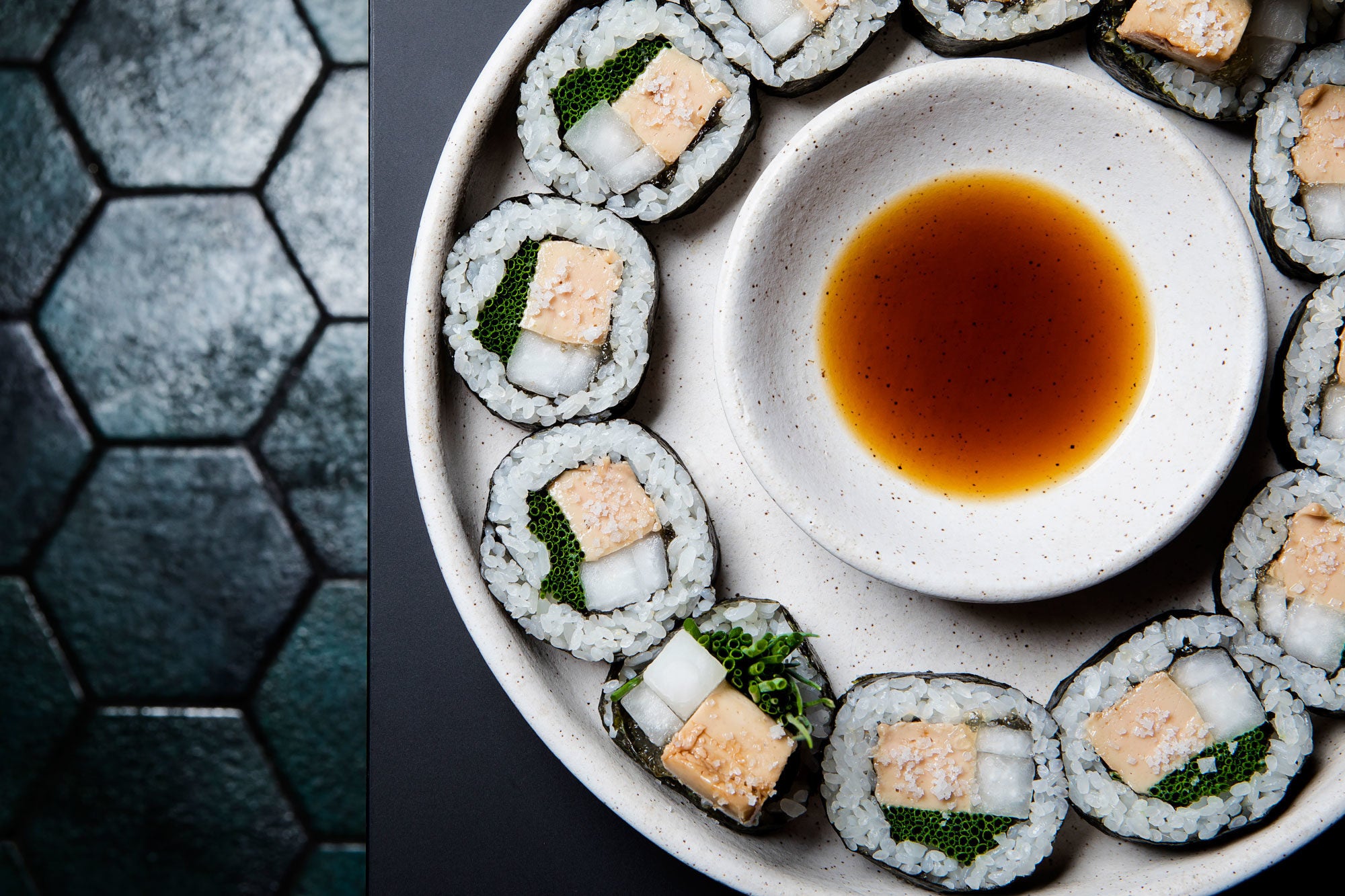 Korean-American, Korean-French, Korean-Chinese. In 2019, Korean food flexes in many ways through the cooking of David Chang, Pierre Sang, Eunjo Park, and an army of ambitious chefs and home cooks.
Food nerds aren't any different than fashion nerds, or art nerds, or music nerds. I spend a lot of time paying attention to the social media and journalistic output of food nerds, and because of this, I knew that, for the past five years or so, there's been an ever-expanding world of Korean food in New York and elsewhere that goes beyond the barbecue and kimchi stew places that I love in Koreatown.
Places like Atoboy and Atomix and Her Name Is Han, offering gochugaru-cured cod roe and cocktails made with premium soju and, at Kāwi—the just-opened Korean restaurant from David Chang and chef Eunjo Park—kimbap (seasoned steamed rice and various fillings, wrapped in nori) made with foie gras instead of traditional Spam. Places like the brand-new Windrose in the West Village, which filters Korean cuisine through both a French and a Southern soul food filter with dishes like truffled tteok (rice gnocchi), a mac-and-cheese-esque preparation with béchamel, gochugaru chile powder, and a pork rind crumble, for crunch.
I thought I saw a common thread of straightforward French influence, but what I found on closer examination was more nuanced, less cohesive, and ultimately a reminder of something that I heard Tony Bourdain (my former boss and coauthor) say any number of times, one of those quotes that's starting to show up in clickbait-y lists as the anniversary of his death comes and goes—and I wish that he were here to say what he thinks, as an observer and enthusiast of the world's cuisines:
"It seems that the more places I see and experience, the bigger I realize the world to be," he said in the closing vignette of an old episode of No Reservations, in which he attempts to summarize a visit to Machu Picchu. "The more I become aware of, the more I realize how relatively little I know of it, how many places I still have to go, the more there is to learn." Here are four perspectives from the current Korean-Slash world we live in.
Perspective One: Korean-American at Kāwi
I asked David Chang about the foie gras tucked into the kimbap at Kāwi and whether that signified an intentional French influence on the menu.
"No, it's really to do a play on Spam," he said recently in a sit-down interview. "If anything, Kāwi is Korean-American. Most Koreans feel that kimbap needs to be cheap…but it's OK for Japanese food, spicy tuna rolls for 15 to 18 bucks, to be sold at Whole Foods? If you sell kimbap for more than 18 bucks, people say you can't do it. Why? Because it's Korean food—but it's so similar to Japanese food."
The mission that he and his chef, Eunjo Park, have set for themselves, he said, is to cook Korean food, from an American perspective, in a way that has never been done before. "We want to establish a different narrative for what Korean food can be…. For Korean food to take the next step, we almost have to appropriate Korean food," Chang continued. "We didn't want it to have that French [fusion] thing. There's a certain maturity level from a chef, [when] you go one step further than just the merging of two cuisines."
At the end of our conversation, Chang gave me a reading assignment: an essay by Seoul-based architect Byoungsoo Cho, from The Architectural Review, called "Mak and Bium: Imperfection and Emptiness in Korean Aesthetics," to help me start to understand the deliberately Korean influences at play in his work.
"So many things, from our food, to our traditional dance and even to our understanding of the city, manifest a certain matter-of-factness about how we approach being," Cho writes. "Korean aesthetics endorse a distinct fondness toward the unexpected. Such is the special condition of Korean culture: a solemn abjection of the refinement for which so many others strive. We value humility that bears witness not only to a work itself, but also to an embracing compassion for the context in which we realize it."
Perspective Two: Hard-line Korean, With Allowances for Butter
I next reached out to Nari Kye, a veteran television producer and the codirector of the documentary film Wasted! The Story of Food Waste. Kye was born in Korea and came to the States as a young child; she traveled back to Korea twice, with Bourdain and crew in tow, to produce and appear in episodes of No Reservations and Parts Unknown. The mother of two young children, Kye is practically evangelical about sharing and disseminating Korean culture and language, running a small Korean-language preschool program in her Brooklyn neighborhood in addition to her TV and film work.
When I asked for her thoughts on the rise of French-Korean cuisine in the States, she was firm: "I'm a militant purist, especially when it comes to something as sacred as Korean food. And I am not a fan of 'precious' Korean dishes. I want the atmosphere loud and smoky, and the food to be homey and fast. For me, the heart of Korean food is just that: heart. It's not a cerebral cuisine, like Japanese or French." Kye points out, however, that chefs working in the U.S., with their nearly unlimited access to ingredients and information, have the opportunity to create any number of new cuisines that take Korean food as a jumping-off point, beyond the combination of kimchi and butter.
She added that in Korea, there's only one truly "killer combo," which is Chinese-Korean food. "When the Chinese immigrated to Korea, they started restaurants, and they came up with their own shit, but tailored to the Korean palate-dishes like jjajangmyun (black bean noodles), jjamppong (spicy seafood noodles soup), and tangsooyuk (deep-fried sweet pork) that are now ubiquitous in Korea, especially in the delivery circuit. In any Koreatown in America, there's always a Korean-Chinese restaurant."
Perspective Three: French Ingredients, Korean Style
Tempted by the siren call of a press release, I had dinner at o:n°, a new Korean restaurant in Manhattan whose tabletops are fitted with induction burners and whose signature dishes include various jeongols, or hot pots, that are assembled and cooked with tightly timed precision by your dutiful server. One such hot pot, inspired by the French classic, coq au vin, contains chicken legs, bacon, whole garlic cloves, and pearl onions, each element roasted separately, then boiled in stock with ground perilla seeds, a staple Korean seasoning. According to chef Nam Hyung Woo, "Replacing the wine with chicken and beef bone stocks applies a more Korean style, but still stays true to the concept that no flavor is lost throughout the cooking process."
O:n° is the controlled, quiet, smokeless answer to the convivial Korean barbecue restaurants lining the streets a few blocks north, in the West 30s, Manhattan's largest Koreatown. Writing in the The New Yorker, restaurant critic Hannah Goldfield called it "Hot pot for the type-A personality." The menu is solidly Korean, but with some additional French touches—a roasted pork chop with a creamy lemon-oyster sauce accompaniment, a classically constructed mille-feuille dessert-whose presence, chef Woo said, is a credit to his wife, Carole Renciot, a veteran of many French kitchens.
"She taught me various cooking techniques that were different from what I already knew, and I was inspired to incorporate these new techniques and flavors into my Korean cooking, to create dishes in my own style," Woo said. Does he see a natural connection between French and Korean cooking? "I actually think there are very few similarities to Korean and French cooking," he said, "which is why I thought it would be intriguing to combine them together."
Perspective Four: French Foundation, Korean Touches
A few weeks later, I found the most straightforwardly balanced approach to French-Korean fusion I'd seen at one of Korean-French chef Pierre Sang's three namesake Paris restaurants. As part of a multicourse meal that at times leaned harder to the Korean side (lightly grilled salmon dressed with gochujang vinaigrette and garnished with pounded crisped rice and pickled turnips) and at other times the French (a buckwheat-crusted berry tart served with Comte) was a dish that thoughtfully straddled both worlds: octopus tempura with a silky potato puree and lentils de Puy cooked with kimchi and butter.
"I've spent more than half of my life in the kitchen, but I'm not a good enough cook to do strictly Korean food," said Sang, who was born in Korea and adopted by a French family. He started his chef training as a high school student in France and continued on to earn a series of professional culinary diplomas through the university system. In his early 20s, he spent a year in Seoul, cooking at a small French restaurants and seeking out opportunities to learn about his Korean roots.
"That's where I met my wife. Ever since then, Korean foods became my daily nutrition," he said. "Watching and learning from my wife and her mother, who is a great cook, my knowledge of Korean food grew, little by little."
Back in France, Sang now employs four Korean-born cooks at his restaurants and continues to build his knowledge alongside them. "Still," he explained, "we work from the French foundation, weaving in some Korean touches, more so than the other way around. Our French customers have a feeling that they are having dishes that they are used to, but they discover there is something different. The Korean customers are happy to try French dishes with some elements familiar to them."
In Sang's pragmatic insistence on working with the foundation he knows best, and his humble acknowledgment of his own limitations, I hear echoes of Tony Bourdain's realization that there is always so much more to learn and see, and of Byoungsoo Cho's essay: both the "humility that bears witness … to a work" and the "compassion for the context in which we realize it." So, too, does the participatory and performative nature of hotpot cooking at o:n° invite diners to bear direct witness to the work of composing their meal.
Chang uses the explanation of his newest restaurant's name, a play on the Korean word gāwi, which means "scissors," to further underscore the ideas of humility of work and compassionate context.
"Korean culture is about using shit that you have to use, because you don't have access to anything else, and the scissor became a very useful tool in the kitchen," says Chang. "It's sturdy; it's a different take on something that you might have in your household. Me, Jo, Koreans that became Korean-Americans, [we] are fascinated with the fact that the scissor is a fucking scissor … it has one use for one person, a different use for another. That's what we wanted the food of Kāwi to be, depending on who's looking at it."
The same logic could be easily applied to the Chinese-Korean food that's dear to Nari Kye—it's a hybrid borne of necessity, neither all one thing nor another—and it's neatly embodied in Sang's simple but elegant recipe for lentils de Puy, a French staple, with kimchi.