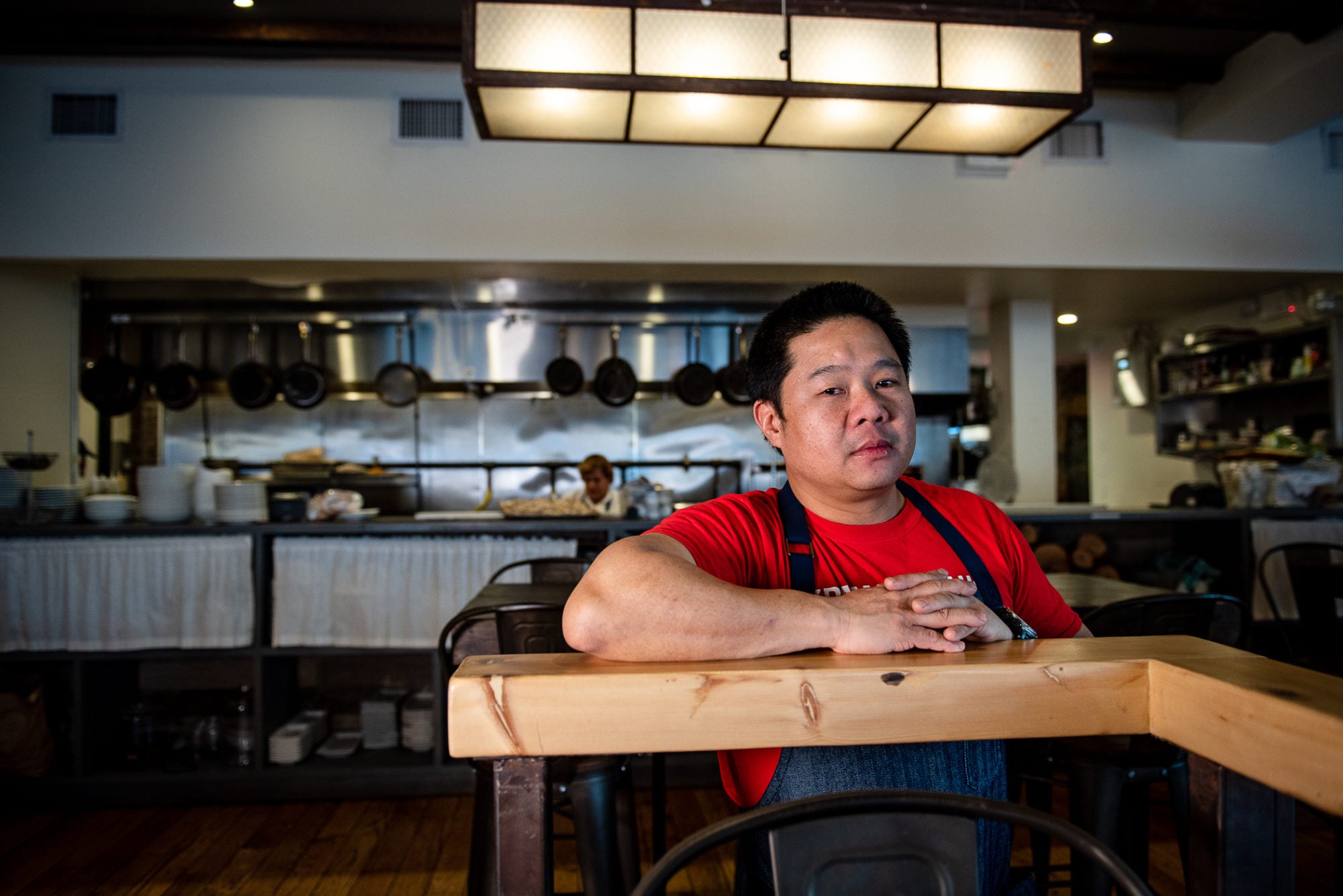 What does gastropub food look like in a neighborhood where 167 languages are spoken? Tony Liu, the chef at the Queensboro in Jackson Heights, Queens, has an answer.
"It's a cliché, but there was a lot of Spam," says chef Tony Liu, describing his Hawaiian childhood table. "My mom would do a mix of ground Spam, cream of mushroom soup, and cheddar cheese, spread it on toast, and broil it. Or she'd sear the Spam and give it a mustard and brown sugar gravy, which is so good."
Liu has literally and figuratively traveled the world as a chef; he's now working two blocks from his New York City home, at the Queensboro in the highly diverse neighborhood of Jackson Heights, Queens. He presides over a smart, compact menu that highlights his extraordinary pizzas, a deft way with pasta, his facility with world cuisines—a Thai steak salad, a popcorn chaat appetizer, Peruvian ceviche—and his killer instinct for crowd-pleasing favorites, like the homemade pigs in a blanket with everything-bagel seasoning and full-size franks that he served at the restaurant's first New Year's Eve party. The Queensboro's sous chef Josh Venne's Chinese-style yeast-risen scallion pancakes are a menu staple (as is the clam garlic bread whose recipe Liu has shared below).
Born and raised in Honolulu, Liu grew up eating a mix of American convenience foods and dishes that reflected the island's compelling mix of Polynesian and Asian influences.
"Canned food is very big in Hawaii because of the legacy of war rations and because there aren't enough farms for the population that's there," he recalls. "We'd have that cream of mushroom soup mixed with ground beef and egg noodles, which I still love, but we'd also have things like ginger chicken, with ginger from the Big Island, or shoyu chicken, or fish with steamed sweet potatoes and stewed taro leaves in coconut milk."
Liu's father is a retired airline mechanic, which allowed the family to travel on a shoestring to Europe, Asia, and the continental U.S. when Liu was young, often in search of local specialties. "All that travel was inspirational to my dad," recalls Liu. "He was always reading food magazines, tracking down recipes for special occasions and holidays. I remember him making an Indonesian gado-gado salad, which I'd never seen before."
Primed to cook, Tony's first summer job as a teenager was at a Korean barbecue restaurant, breaking down chickens and mixing kimchi. After a stint as a dishwasher, he enrolled in culinary school at Kapiolani Community College, sharpening his skills, cooking part-time, and keeping an eye on farther horizons.
"At first, I saw myself staying in Hawaii and having a decent career, but the more I cooked, I knew that to grow, I needed to leave." An avid surfer, Liu recalls a watershed moment: "I was working at a restaurant right on the beach. I thought to myself, I must really like cooking, because I can see the waves but I want to stay in the kitchen."
He left Honolulu for New York, earned a bachelor's degree at the Culinary Institute of America, and did an externship with chef Gray Kunz at Lespinasse, where he saw more-nuanced expressions of the Asian-Western fusion principles he'd learned in some Hawaiian kitchens. His first paid job out of school, in the late 1990s, was at Daniel, under chef de cuisine Alex Lee, where he stayed for two and a half years, working his way from canapés to hot appetizers to the fish station. At Daniel, Lee was a powerful inspiration.
"He took the time with each cook to show us how to do things. A one-on-one with him was almost poetic. I know this is a cliché, but Alex taught us the importance of tasting everything—knowing what something was supposed to taste like, and then knowing what to do to get it there, so that a dish wasn't a recipe, it was a memory," he recalls.
From there, eager to stretch, Liu cooked at Floyd Cardoz's restaurant Tabla, which produced "American food viewed through a kaleidoscope of Indian spices," according to Ruth Reichl, who awarded it three stars in The New York Times in 1999. "I learned how to work the spice ratios, and what works together, and why," says Liu. Between day shifts at Tabla, he'd pick up occasional evening work at Montrachet, where he met his wife, Alison Tozzi Liu, then a fellow line cook and now VP of marketing, communications, and editorial at the James Beard Foundation.
Liu's next goal—a stint in a Michelin-starred European kitchen—was kick-started when 9/11 dealt a blow to fine dining in New York. He took off for Martin Berasategui's eponymous Basque kitchen in Lasarte-Oria, just a stone's throw from the gastronomic mecca of San Sebastián, where the Michelin stars are more highly concentrated than nearly anyplace else in the world, save for Kyoto, Japan.
"I didn't know much about Spanish cuisine, and my language skills weren't great, so it was really trial by fire. The other cooks were speaking Spanish but also French, Japanese, and Basque," he recalls. "But if I watched and listened carefully, I could figure out what I needed to do."
Back in the States, Liu headed to Babbo, ready to immerse himself in the Italian vernacular. He started in pastry, under the late, great Gina DePalma, because that's where there was a job opening.
"It's always good to learn pastry, especially if your eventual goal is to open your own restaurant, and Gina was a great teacher." He later pivoted to pasta, an incredibly demanding station with its own multicourse tasting menu, and was eventually promoted to sous chef before opening nearby August with a pan-European menu that he executed well enough to earn two stars from The New York Times. Apart from a round on Iron Chef America facing off against former boss Mario Batali, Liu largely eschewed the siren television that called to so many of his peers, preferring to keep his head down and work, quiet and steady.
"I know a little about a lot of cuisines, rather than knowing a lot about one cuisine."
After five years, he moved on to the top job at Morandi, Keith McNally's first Italian venture, and eventually took the reins at Pulino's, McNally's wood-fired pizza restaurant.
Now Tony and Alison have two children, 8 and 12 years old. As his family grew, he realized, as so many career chefs do, "I wanted to have a more balanced life, a little more family time. This industry is tough, and you make adjustments, and do the best you can, but I missed a lot."
With family in mind, Liu teamed up with local partners Dudley Stewart and Mike Fuquay to open the Queensboro in a sprawling former furniture store. Jackson Heights has no shortage of Mexican, South American and South Asian food; the Queensboro, with its accessible food, thoughtful drinks program, and roaring brunch trade, speaks to a long-pent-up neighborhood demand for a full-service "new American" joint that manages to cater to the neighborhood's eclectic mix of families, singles, and old-timers, who famously speak a collective 167 languages.
"Jackson Heights is very culturally diverse, very similar to what I grew up with in Hawaii," says Liu. "I know a little about a lot of cuisines, rather than knowing a lot about one cuisine, so hopefully my cooking at the Queensboro connects with our guests."