Mexican Desserts and the Magical Can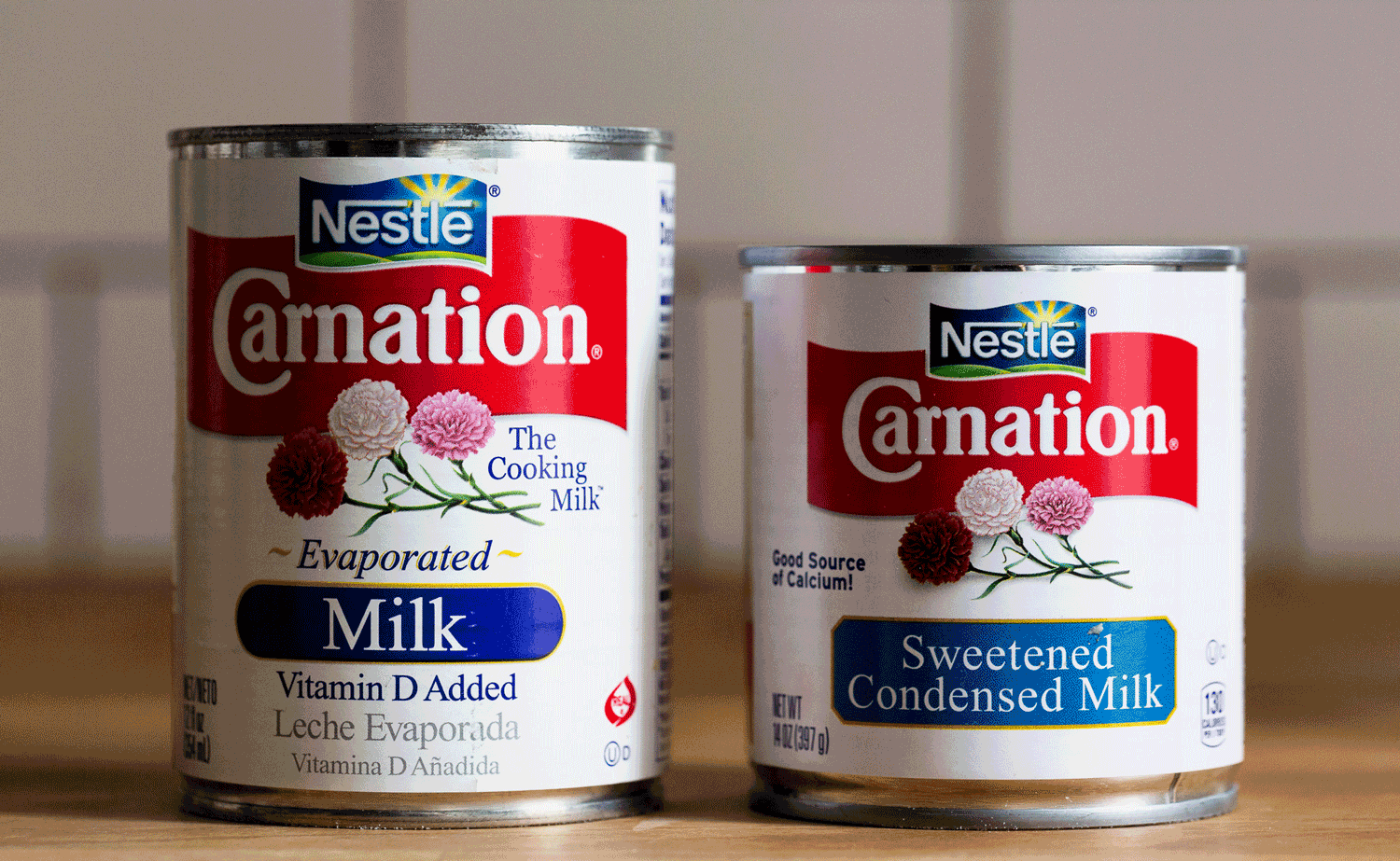 It's a key ingredient in tres leches cakes and dulce de leche, but condensed milk also works as a sauce on its own.
My earliest memory of condensed milk involves my aunt Lina, who would often take my sister and me on adventures in our hometown of Mexico City. My aunt, whom we lovingly called Cucus, didn't have a lot of money, but she always found ways to make us feel special. And going to mobile street fairs with her was one of my favorite things to do.
The fairs always had stand-alone stalls that sold small hotcakes, which I loved. The nutty smell of the bubbly melted butter on the griddle captured me every time. On one of these expeditions, I saw someone order the hotcakes with a sticky, silky, pale sauce straight from a small can that I had never seen. I became curious and asked my aunt about it, but she just shook her head and said it was too sweet. The man making the hotcakes was more receptive—he poured a little bit on the side of my plate and suggested I try it. Sure, it was sweet, but so were the rest of toppings, and I had never tasted anything quite like it before.
My husband, who also grew up in Mexico, compares condensed milk to crème-anglaise, a thin, custard-like sauce that forms the base of ice creams, Îles flottantes, and crème brûlées. With condensed milk, the bulk of the water content of the original cow's milk is removed, leaving the flavorful fatty solids, and sugar is added, giving it a glossy thickness and extending its shelf life.
Once I discovered this can with the magical sweet sauce, I started seeing it all over the city.
I realized many flan recipes are made with it, but you can caramelize it (turning it into dulce de leche) on a stovetop, or make an impromptu dessert by drizzling it over strawberries, bananas, or other fruit. Some places use it as the sauce for sweet tamales (made with fruits, nuts, or chocolate) or as a dipping sauce for churros.
One of the most interesting uses for condensed milk is as a topping for the steamed sweet potatoes that are sold as afternoon street snacks in Mexico City. The men and women who sell these snacks push metal carts all around the city—are essentially rolling wood-fired ovens with vertical chimneys for the steam. The sweet potatoes are cooked inside the oven, along with the occasional sweet plantain or cactus paddle. They are served on a plate and often drizzled with condensed milk and at times a touch of salt.
Still, out of all these applications, my favorite way to use condensed milk is in the light, moist, spongy, tres leches cakes that I remember eating as a kid at my friends' birthday parties. It wasn't till later in life, when I went to culinary school in Mexico, that I became fascinated with these cakes, which manage to hold their structure even when soaked in the sweet, milky mixture. My classmates had a whole range of strong opinions about how to make the cakes, but there were two ingredients that everyone agreed were essential: evaporated milk and condensed milk.
Since then, I have become increasingly enamored of tres leches and love the versatility of it. I have tried at the very least 50 different kinds of soaking liquid, including crème anglaise, caramel, goat's milk, and custards flavored with cinnamon, lime, and even chiles. But it's difficult to match the particular sweetness and texture of condensed milk, which binds to the cake, making the sponge softer and richer.
People often ask me if tres leches is from Mexico, and the answer isn't so simple. It is definitely a quintessential cake in Mexican cuisine, as it is in other Latin American countries that claim to be the cake's place of origin. The ingredients themselves definitely came from Spanish influences, as we didn't have dairy, wheat, or even sugar cane before the Spaniards arrived—but the style of cake is more reflective of things that happened later on in Latin American history.
During the early 20th century, Porfirio Diaz was the president of Mexico, and he was enamored with French culture, which led to the period that is often referred to as the "Frenchness" of Mexico. In the world of sweets, this was reflected not only in the types of cakes and sweets that were made but also the introduction of cafés as an affordable luxury for many and not just for the extremely elite and wealthy (though they were by no means cheap). In the 1940s, Nestle and other manufacturers of condensed milk began putting recipes for tres leches cake right on the can, bringing the dessert into more and more home kitchens in Mexico.
The cake is a crowd-pleaser and one that I always associate with celebration. It manages to be complex and subtle at the same time, and it can be so versatile. At my first job as a pastry chef at Rosa Mexicano in New York City, I made a chocolate version with rum, caramelized bananas, and fresh whipped cream. You can also substitute one of the milks for a different kind of flavoring, like coconut milk or espresso.
One of my favorite classic versions is one I tried at a friend's house years ago. It is served in a rectangular baking dish, and after it has soaked overnight you still serve it with extra milk mixture to "sauce" the already moist cake. You can serve it on its own, layer it with fruit, top it with whipped cream, meringue, or even dulce de leche or cajeta to make a cuatro leches version.