Melissa Clark Gets Chicken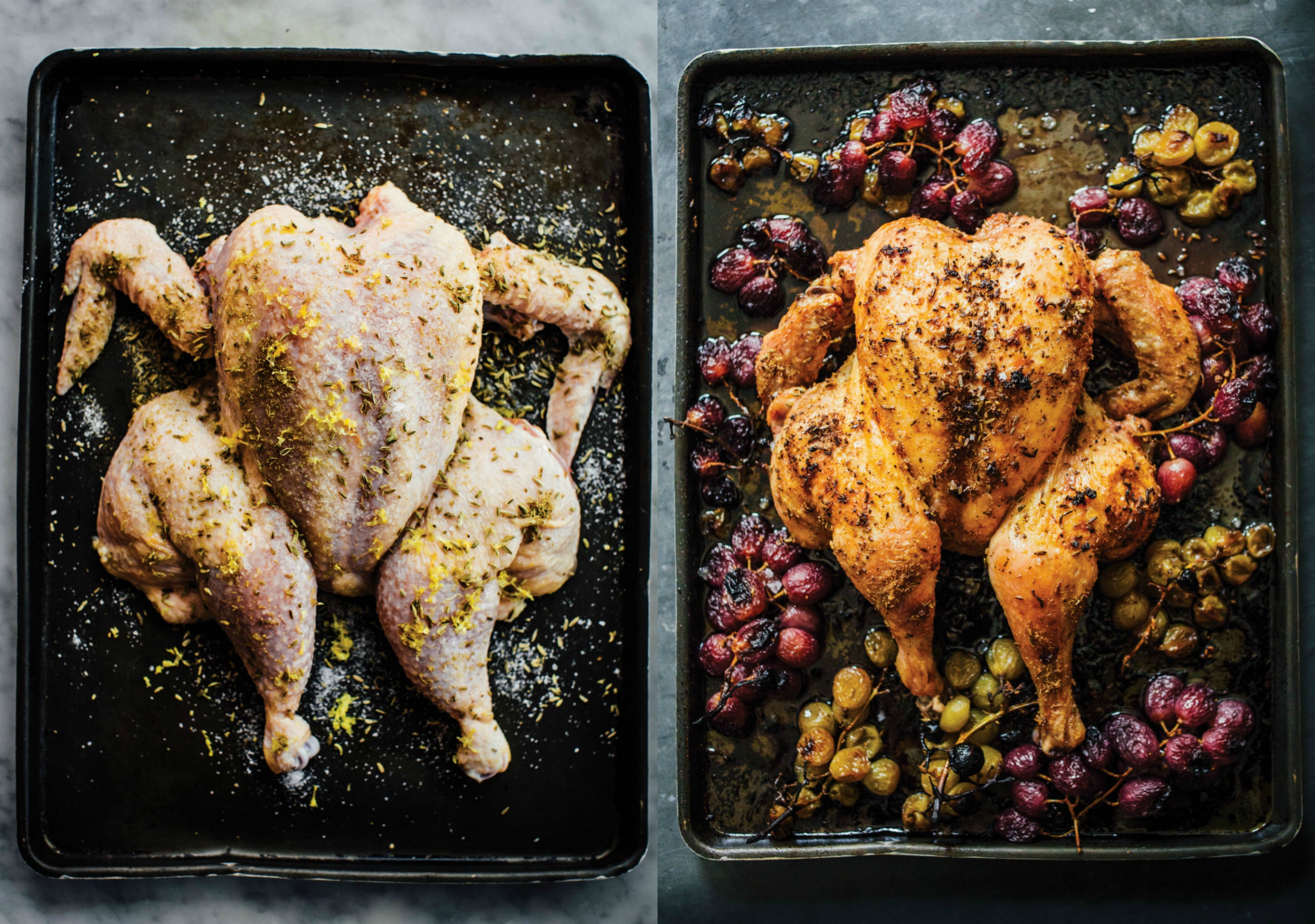 In her cookbook, Dinner, the bird goes global with fish sauce, harissa and za'atar.
"Sometimes cooking is about shopping," admits Melissa Clark, the popular New York Times columnist and author of the upcoming Dinner: Changing the Game (Clarkson Potter; hitting streets in early March). I've asked Clark about harissa, and how this relatively easy-to-find North African condiment made with pulverized chiles and garlic punches up the most trusted of weeknight dinner staples: roasted chicken. "With sheet-pan chicken, you think you know what it's going to taste like—garlicky, maybe a little lemony, with crisp skin," she says. "And it's good. But dab on some harissa, or gochujang, or wasabi, or pesto—even an interesting, unexpected mustard—and you can transform the dish with very little effort."
Dinner is not just an expertly tested cookbook, with 200 main-course recipes—each edited down to single page—that serve as a set piece for an easy and interesting dinner. The book is also a great democratizer for foods from around the world. Her concise pantry pages (casually called Ingredients to Keep on Hand) cover some serious ground. It's Diamond Medallion status dining. There are seven types of vinegar included (sherry, cider, Chinese black), as well as fish sauce, kimchi, Indian pickle, sambal, and of course za'atar, a Middle Eastern spice blend you've been reading all about on TASTE. Clark includes all of these (trust me) easy-to-find ingredients in the book, and having personally made several of the recipes myself, I can say that her opening chapter, on chicken, truly shows her fluency with the global pantry.
It's obvious that Clark adores cooking with chicken. "You can give the white meat to people who prefer their protein on the milder side, in nice slices uninterrupted by skin or sinew or gristle," she says of cooking's original white meat. "And then the dark meat pleases the more adventuresome eater, especially when you serve it on the bones." (She especially loves the cartilage.)
The chicken chapter includes 27 recipes, and paging through it, I found myself nodding in approval. Like when the DJ at Britpop night plays your favorite Blur and Super Furry Animals deep cuts back to back. There's a whole-roasted bird with sumac and plums. There's an interpretation of Colombian ajiaco with chicken breasts poached with cilantro stems, jalapeño, and chicken stock, finished with corn, avocado, and lime. There are breaded cutlets slathered with kumquat and cranberry chutney, and recipes with origins in Thailand, Vietnam, Turkey, and the American Southwest (featuring a very well-placed ranch dressing cameo).
From time to time I like to roast a chicken at a high temperature in my small Brooklyn apartment (the crispy skin is worth the smoke and burning eyes, or so I plead with my understanding wife). Clark's version is stupidly simple. Basically, you buy a bunch of grapes and quick-cure them in sugar and salt. Next, rub the spatchcocked bird with fennel seeds, salt, pepper, lemon zest. Roast it all. Finish the dish with a quick pan sauce of sherry vinegar and butter. It was so good. Clark has a great knack for using one ingredient in as many forms in a recipe as possible. In this case it's grapes, and the sherry vinegar (made from fermented fruit) adds a sourness to contrast with the sweetness. And as with the harissa chicken I dove into a few weeks earlier, it was winner winner, chicken dinner.