Let's Turn Up the Volume on the Food Podcast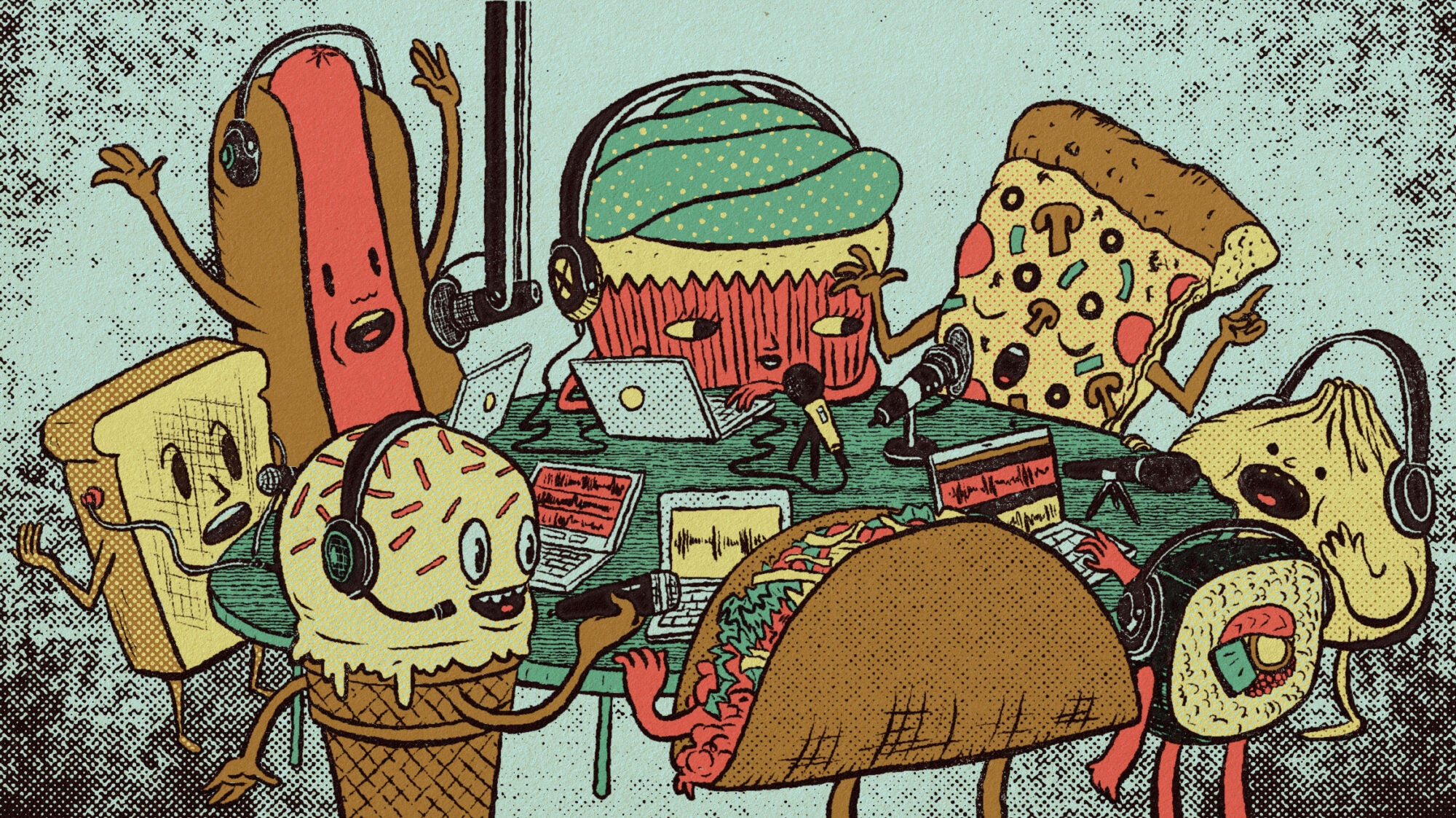 As the podcast medium continues to grow, a little business savvy and audio experimentation can go a long way for the growing category of food.
"Did you know that almost all bananas in our grocery stores are one variety, called Cavendish?" asks the journalist Clarissa Wei as an instrumental soundtrack builds in the background. Cicadas start to buzz. Tropical birds chirp. You begin to envision a muggy environment as Wei explains how she discovered the unknown facts of the ubiquitous breakfast fruit after moving from her native California to Taiwan. "Right now, in my garden, I'm growing three different types: a normal yellow one, similar to a Cavendish; a vibrant red one, which tastes like a custard; and a tiny banana that's only a couple of inches long and much sweeter than grocery store varieties," she says.
This sound bite is from a 27-minute episode of Climate Cuisine, the weekly podcast Wei hosts on Whetstone Media's new podcast network, Whetstone Radio Collective. Like other episodes of the show, which explores how sustainable crops are grown around the world, it goes on to give insight from various experts—in this case, the food writers Von Diaz and Vanessa Mota, biologist Rob Dunn, and journalists Meenakshi J. and Vidya Balachander—alongside immersive sounds and captivating music.
This cinematic style of audio storytelling is one of many diverse approaches to the modern food podcast—a quieter, though quickly growing, category of untapped potential within the explosive world of audio entertainment. There are shows anchored by conversations with notable guests (such as TASTE's own) and banter-driven shows led by harmonious hosts who debate controversial topics (do bay leaves do anything?) and discuss current events. Cooking-focused shows like Food52's Play Me a Recipe and Home Cooking by Samin Nosrat and Hrishikesh Hirway aim to help home cooks hone their chops, while Gastropod's deep dives into esoteric topics like why offal has declined in popularity over the last century appeal to science and history nerds.
Some podcasts are made with a restaurant industry audience in mind. Others—such as Evan Kleiman's Good Food (on KCRW) and Christopher Kimball's Milk Street Radio (on Public Radio Exchange)—are made in partnership with public radio stations and built from several short segments that range from greenmarket reports to spotlights on new cookbooks.
It's time for food shows to step up to the plate.
Yet despite all the diversity and pent-up demand for food content, from home cooking hacks to deep dives into global food cultures, very few existing food podcasts have broken into the mainstream on the level of major hits like The Daily and How I Built This. But who says they can't? Podcasts are still relatively new—while nascent exploration began almost 20 years ago with the advent of the iPod, they only started to seriously catch on after Serial launched in 2014—but their position within the broader media landscape is growing every day. It's time for food shows to step up to the plate.
"Podcasting continues to be very much like the Wild West," says the cookbook author and podcast host Julia Turshen. "There are a lot of darts being thrown at the board, and some are sticking more than others. But I think anyone can take a shot." Turshen produces Keep Calm and Cook On, a conversational show that explores themes spanning from professional relationships to mental health, entirely on her own: she books guests, secures sponsorships, records, edits, and uploads. She taught herself these skills so that she could have complete creative control over her podcast, which she says receives between 5,000 and 15,000 downloads per episode.
And the show is profitable. Turshen is able to make $1,000 per episode via sponsorships, and she estimates that each episode takes her eight to ten hours to create. She leans on the relationships with brands she's previously worked with—such as King Arthur Baking Company and OXO—for financial support, who see the value in her modest but "very, very loyal and very positive audience."
As a freelancer with multiple income sources, podcasting is just one pillar of Turshen's work. This is also true for Korsha Wilson, the food writer and host of A Hungry Society. While working on Boundless Horizon, a special series she produced last year in partnership with the Museum of Food and Drink's "African/American: Making the Nation's Table" exhibit, she was able to secure a grant from Lodge Cast Iron. Before that, Wilson's podcast was on Heritage Radio Network, where she benefited from their network of advertising partners.
As Wilson embarks on her own solo journey as a podcaster in the coming months, she hopes to launch advertisements to air on her show. The purpose of A Hungry Society is to shine a light on the many talented people in the food world that don't get enough attention. (Past episodes have featured Wisconsin-based chef and 40 Acres & a Mule founder Adrian Lipscombe and food writer and SalviSoul founder Karla T. Vasquez.) Yet Wilson knows that her audience—people who want to listen to food podcasts and are interested in the stories of Black and brown chefs—is small, and her primary goal isn't to generate significant profit. "If it was the main way I make a living, then I think I would feel like it's too hard to sustain or actually make a living doing, but I don't feel that way because I look at it as a fun project that I get to do on the side," she says.
Jordan Okun has a podcast called Air Jordan devoted to the food culture of Los Angeles. He calls it "the definition of a niche pursuit." A deal with Goldbelly, wherein they pay him a monthly fee and a commission based on partnerships with local chefs that he brings onto the platform, enables him to generate "a strong side hustle annual revenue stream," he says over email. "But it still isn't profitable enough for it to be a primary job on its own, and it probably never will be in its current form, without the support of a large podcasting network looking to break talent by putting resources behind the production and marketing of someone they believe in."
Another barrier to growth for food podcasters is that distribution platforms like Apple don't make it easy to discover them. Within Apple's podcast app, "Food" isn't yet its own category—it's a subcategory of "Arts," which means food shows are hidden several clicks away from the home screen. Apple works with others in the industry (such as producers, hosts, marketers, advertisers, and hosting providers) to keep categories up-to-date based on creator supply (the number of shows being made in a specific category), advocacy, and listener demand gauged from searches. While they haven't announced any plans to elevate the Food category above the fold, it's a possibility for the future, provided that Apple and its cohort of industry collaborators see growth in supply and demand.
"When I talk about food on The Sporkful, the listener is going to get a user-generated image in their head that is custom-tailored to their own personal experience."
Chelsea Kreps, a digital media agent at WME, says that networks have "shied away from food-focused content in the past because food is a concept that is so inherently visual and personal." But Dan Pashman, host of top-ranking food podcast The Sporkful, argues that the interactive nature of food is exactly what makes podcasting a perfect medium for it. "When I talk about food on The Sporkful, the listener is going to get a user-generated image in their head that is custom-tailored to their own personal experience," he says. "So a hundred thousand different people could get a hundred thousand different pictures." His most popular episodes have not been the ones with celebrity guests but those centered around a compelling question—for example, why are McDonald's ice cream machines always broken?
Pashman has been turning a profit on The Sporkful since he moved the show from WNYC to the podcast network Stitcher in 2017, where he's guaranteed an annual income in addition to ad revenue share. His shows routinely receive 120,000 downloads per episode over their lifetime. Although The Sporkful benefits from being one of the top food podcasts (any brand that's looking to advertise on a food podcast will discover them first in a Google search), Pashman believes that growth in food podcasting is a natural extension of growth in other areas of food content, from social media to TV and cookbooks. He says there are a lot of food companies looking to get into advertising on podcasts but that, ultimately, there is little success to be had outside of networks. "Big companies want scale, so podcasts are better off being together in large networks—or it could mean a smaller network, but one that is specialized and owns a category," he says.
The idea of a smaller network is exactly what Whetsone Radio Collective is hoping to achieve. Whetsone Media, which is most well-known for its print publication, raised a little over $115,000 through Indiegogo to produce ten shows hosted by experts around the globe, including journalists, anthropologists, and chefs. Four are available to listen to now, and the rest will be released over the course of the next few months. Whetstone founder Stephen Satterfield says their collective approach is a way to combat the "chaotic environment around discovery" within the noisy podcast landscape and deliver a "coherent ideology." "Releasing a network, as opposed to a single show over time, gives listeners the confidence that if they see a show with our label on it, it's a north star for a really thoughtful, well-produced, and well-curated podcast," he says.
Dana Cowin, the former longtime editor in chief of Food & Wine, now creative consultant and host of Speaking Broadly, does her show in collaboration with Heritage Radio Network, a Brooklyn-based independent radio station supported by sponsor partners and listener donations. She loves that the network handles sound engineering and marketing, which allows her to focus her efforts on finding and interviewing up-and-coming, pioneering women in the food space for Speaking Broadly. But she recognizes that neither she nor most of her peers with food podcasts have been able to break through in the way that Pashman has. "Podcasting started out as a way to avoid the gatekeepers and the big companies, and now podcasting exists across this gigantic continuum, but a lot of the movers and shakers are asking a lot of the old questions, which are: 'How big can it be? How much money can we make? How big a star is this?'" she says.
One of the big stars of food podcasting is David Chang, arguably the contemporary food world's biggest celebrity chef. Chang launched The Dave Chang Show with the sports and entertainment-centric The Ringer podcast network in 2018, and two years later, The Ringer was acquired by Spotify in one of its first big moves toward becoming a podcast powerhouse. Earlier this year, The Ringer launched a feed dedicated to food, a Spotify exclusive called Ringer Food that includes shows from popular podcasting personalities Juliet Litman, David Jacoby, and Joe House.
On the other hand, smaller-scale podcasts have the benefit of an extremely loyal and engaged audience on account of their specificity. FOH is a service industry podcast hosted by longtime restaurant workers Kelly Sullivan and Lillian DeVane. The duo, who first met as colleagues in New York City (Sullivan now works at a bar, while DeVane recently moved to Oregon for graduate school), broach topical issues like labor strikes and the "atrocious crimes against humanity" of restaurateur Keith McNally.
They drop new episodes on a weekly basis and receive an average of one thousand listens a week. One of their regular bits is called "service stories," where they talk about the absurd things that happen to them at work or read listener stories (think a daytime first date where one person has a single cocktail and the other has five). Many of their listeners are service industry workers as well. "The major draw for the audience is a sense of catharsis and broader understanding," Sullivan says. And as DeVane puts it: "We've built this really special and weird and nuanced group, and we talk about personal things and the industry at large. I think there's obviously something there, but I guess there's not money for larger companies. It's not really glamorous."
FOH has a Patreon and offers bonus episodes and a biweekly newsletter to listeners who pay $5 or $10 a month, respectively. DeVane says that being on Patreon, as opposed to having ads, empowers them to "say whatever we want, and sometimes we say things that are insane, that we don't even believe ourselves, we just like to say them." They currently have 111 paying subscribers per month, and they say that makes them enough money so that if either of them needed something, they could buy it, or if they wanted to make merch, they could, but that their profits do not amount to a regular paycheck. "Truly, no one has ever approached us, no one's ever asked us to be at a network, and nobody cares outside of this very dedicated and inconsistent and fervent group that listens to the podcast," she adds.
Not all food podcasters are looking to make podcasting their full-time job. Hosts like Turshen and Wilson view it as a labor of love and an opportunity to go deeper with subjects whose work they are interested in. Perhaps more importantly, most creators aren't sure about whether what they are doing is able to be monetized in a meaningful way. Turshen points out that there is very little public information around how to make money in podcasts. "Where there is very little transparency and very little equity is when it comes to money and who is getting sponsorships and what amounts they're able to bring in," she says.
Still, many food podcasters remain drawn to the medium and express the desire to figure out ways to deepen their relationship with their audiences and create richer shows. As Satterfield says, "There is a real intimacy living between someone's ears as the narrator." He and his team are betting on the notion that there is thrilling terrain yet to be explored in telling "transportive" audio stories about food. "Ambient sounds that place listeners [in specific environments] are really just the tip of the iceberg of what's possible," he says.
Similarly, Okun has been experimenting with what he calls "experiential listens" such as a New Orleans episode that followed him and friends across 20 restaurants in 49 hours. He says it was one of his more popular episodes. Even Kreps at WME, who believes that the specificity of food means its role in the audio market is small, says there's potential in this type of "immersive experience" that leverages audio outlets in addition to host talent.
Cowin, a trend forecaster in her own right, agrees that there is a bright future for food podcasts that are made like TV shows. "What is the music? What is the sound of the kitchen? What is the sound of the food? What are the elements to build a lush, more scripted, more produced way of being in the world that makes it irresistible?" she asks, pointing to elements that have made podcasts an exploding genre in media writ large. "It's that irresistible quality that every single medium has to think about, whether it's print or film or Instagram, that makes people come back because it's a habit."
Food Pods to Tune Into: