Korean American the Deuki Hong Way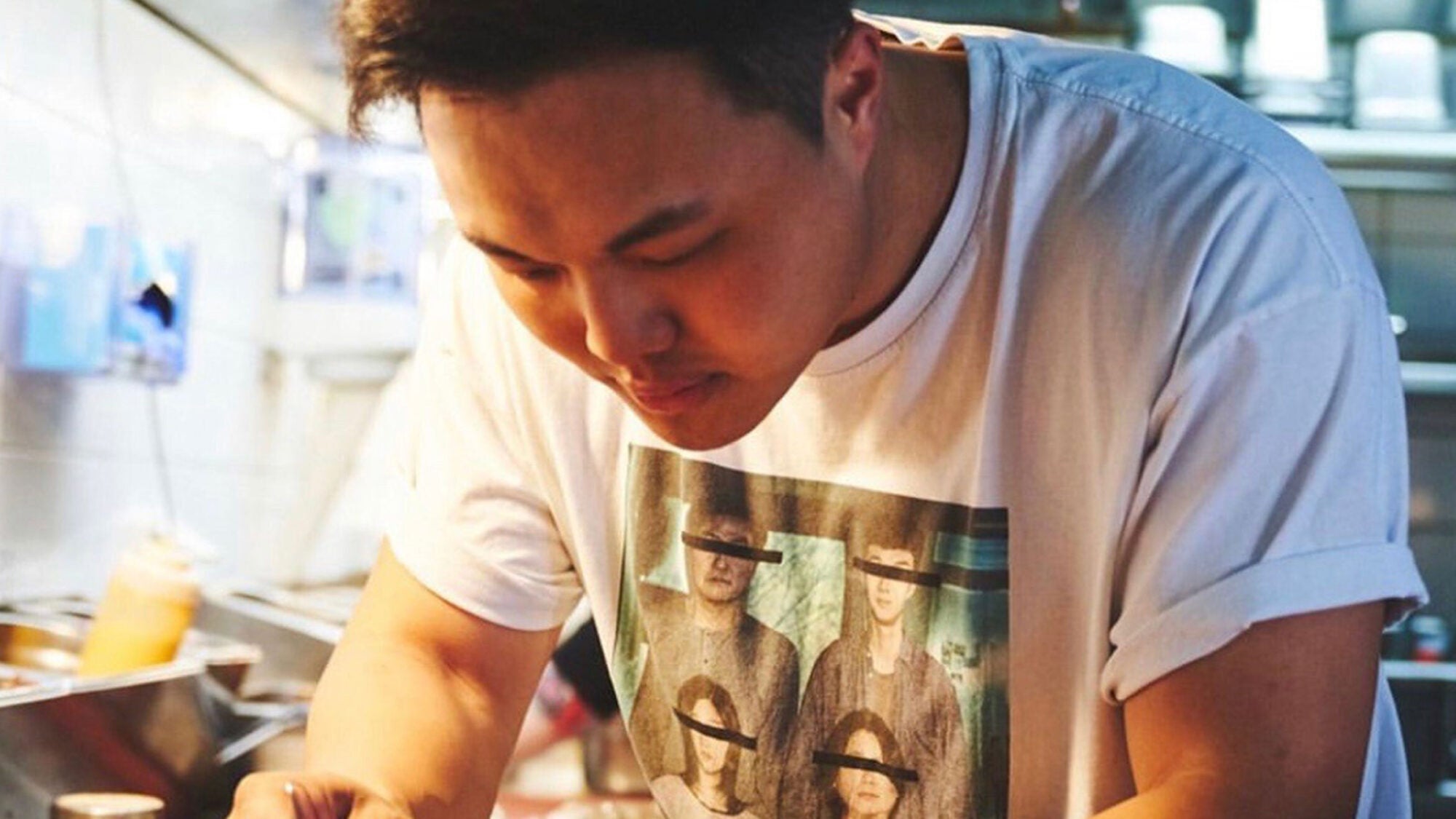 Amid the COVID-19 pandemic, the San Francisco chef and author has shifted his focus to a not for profit.  
San Francisco–based chef Deuki Hong has been in constant motion since we started writing together almost a decade ago, first on a guidebook naming the top 60 Korean restaurants in New York City (2013), and then on a cookbook—Koreatown: A Cookbook (2016)—that took us around the United States to Korean communities in Atlanta, Chicago, Los Angeles, and Washington, DC. Koreatown documents the stories of chefs and home cooks in these locales, as well as the booming interest in Korean food and culture that today, in an era of BTS fandom and Parasite-inspired bowls of ram-don, has shifted into a whole new gear. That said, we still think that Korean food has exciting new highs to reach in America, and Deuki's journey as a chef and spokesman of all things Korean is just getting started.
He's been named an Eater Young Gun and listed in Forbes 30 Under 30, appeared on the Today Show many times and reported live from the 2018 Winter Olympics in PyeongChang, South Korea. But what gives Deuki the greatest satisfaction is working the line, developing new recipes, and helping his employees grow. COVID-19 has been tough for everyone in the restaurant industry, and I wanted to catch up with my friend to find out how he was dealing with things on the West Coast, but also to look ahead a bit. "What's exciting him about Korean food in the United States and around the world?" I wanted to know. Turns out, there's so much going on.
Dude, how are you doing?
I'm doing okay. It's been a crazy four or five months for everybody working in the industry. For the first few months, we were in pure survival mode, and now our heads are a little above water. The business is stable. And while we haven't been able to reopen the café, we were able to launch Sunday Gather, which is a Hawaiian bakery-slash-restaurant that operates as a not for profit. Fifty percent of our employees come from a program that helps develop job skills for people who have previously been incarcerated or homeless and are in need of training. We've been so lucky to be a part of this, teaming up with The Way ministries.
When the COVID-19 mist lifts, what do you want to be doing?
Models are going to shift, and even before COVID, our company was talking about doing an Asian snack and convenience store, which would have done really well right now. I mean, why is convenience store food so bad in America? In Asia, it's a pretty viable option for lunch or dinner. So we are planning something.
We started working together on books almost ten years ago, which feels like 30 years ago. Over this period, how has Korean American food and culture as a whole transformed?
When a culture become popular and really hits the mainstream, everybody starts to look at the food. With K-pop and the Korean dramas becoming so big, so have the dishes featured in them. I did a video making kimchi fried rice for VICE Munchies, and they tell me that it became one of their most popular videos after a BTS band member mentioned that kimchi fried rice was his favorite food. Like, overnight, a quarter million views. What is a lot different now is that Korean influence is much greater.
It was so weird to feel 100 percent American and 100 percent Korean. 
Like, our friends don't just know about a Korean restaurant, they have a favorite Korean restaurant, a favorite Korean dish, and might not only seek out a Korean restaurant for barbecue.
It's moving in the right direction. Some people may argue that it's moving too slow, or they are scared that Korean food is going to be a fad, but we've been there, and it's definitely not a fad. People have been saying that for a decade. It's not a fad. I'm a firm believer that if the product is good, it will succeed.
During the winter Olympics in 2018, you visited Korea for the first time since you were living there as an infant. What was the trip like?
Growing up in America, I felt very Korean, but stepping foot in Korea, I felt very American. And it's this dichotomy that only Asian Americans feel when visiting Asia. I remember going to the opening ceremony and seeing the Americans parade around and being excited. But then ten minutes later, seeing the Koreans enter, and it was the first time both North and South Korea came together as one Korea, and you just get emotional. It was so weird to feel 100 percent American and 100 percent Korean.
What's the current food scene like in Korea?
As we write in the book, Korean food can be strong, spicy, sweet, powerful. When you go to Korea, there's a lot of finesse and simplicity that you don't see in the States, but it's all so flavorful and never bland. It's this beautiful thing where you don't try too hard, but it's still really damn good. If American Korean food is in your face, Korea Korean food is what you simply want to eat every day. It's craveable in a different way. Take the banchan, for example. In Korea, it's seasoned simply with salt, and as we write in the book, it's all about son-mat—seasoning by hand. And the stews in America smack you in your face with chile powder, but in Korea, it's much more nuanced. I really appreciate that.
The most important question: Who is going to win the NBA Finals?
I want the Clippers, but I think the Lakers are going to take it. I want it for LeBron, and I'm typically not a LeBron lover. I'm not a hater, but I don't go for him. But I want this for him.
This interview has been condensed and edited for clarity.

4 RECIPES WE ENJOY FROM KOREATOWN: A COOKBOOK
Bulgogi: Soy-Marinated Grilled Rib Eye
Thinly sliced beef, usually sirloin, rib eye, or brisket, is marinated in a mixture of soy sauce, mirin, and sesame oil before landing on a smoking-hot grill or grill pan—or a tableside grill, if you want your house to smell like your favorite Koreatown restaurant.
Gamjatang: Spicy Pork Neck and Potato Stew
Gamjatang literally means "potato soup," but it's also a homonym for "pork neck soup." It's hardly just potato soup. While potato plays a role, the two key elements are meaty pork necks, cooked long until the meat is fall-off-the-bone amazing, and earthy, wild sesame seeds.
Kimchi Jeon: Kimchi Pancake
Crisp and chewy pancakes are an incredibly popular menu item at Korean restaurants. They are fun to pull apart, and they offer diners little hints of kimchi (or scallions and seafood), mellowed out with crunch and elevated by a soy-vinegar sauce. Note: You sometimes have to ask for the sauce if the busy servers forget. Never let this happen. But! Most pancakes you find in American restaurants—and we're talking about 70 to 80 percent of them here—are (1) usually burnt, and (2) way too doughy. Let us show you how to make them right.
Dongchimi: Water Radish Kimchi
Dongchimi is a short-fermented radish kimchi traditionally served in the winter months—paired with steaming hot dishes—though you can often find it at restaurants year-round. Unlike the spicy red kimchis, dongchimi is a white "water kimchi." The pickling liquid is more of a broth and is slurped up with the tender radish. It's wonderful—sour but without an overpowering pop, a little sweet and spicy.
MORE BOOKS TO BUY, READ, AND COOK FROM:
American Tacos is an instant classic, and José Ralat writes the American taco history that you think you know. His writing style is so fun, too! Buy this book right now.
Last week, we talked with the couple behind LA's favorite cookbook store, Now Serving, to find out what they are looking forward to this fall.
TASTE contributor Cathy Erway has brought the world 50 super creative recipes with Sheet Pan Chicken, one of our favorite books of the season (and one we helped publish, alongside our friends at Ten Speed Press). Recipes include Thai yellow curry chicken thighs, Nashville hot chicken breasts, and five-spice chicken wings. All on a sheet pan, baby.
Take an audio masterclass on sourdough from the bakers behind San Francisco's Tartine.
Shirley Chung's Chinese Heritage Cooking From My American Kitchen will fill your mind with the ingredients, techniques, equipment, and recipes to set up your own Chinese kitchen at home.
Lukas Volger loves vegetables more than you, and his latest book, Start Simple, breaks down the 11 ingredients you need to cook all vegetables all the time.