It's Called Kerala Fried Chicken. You Won't Forget It.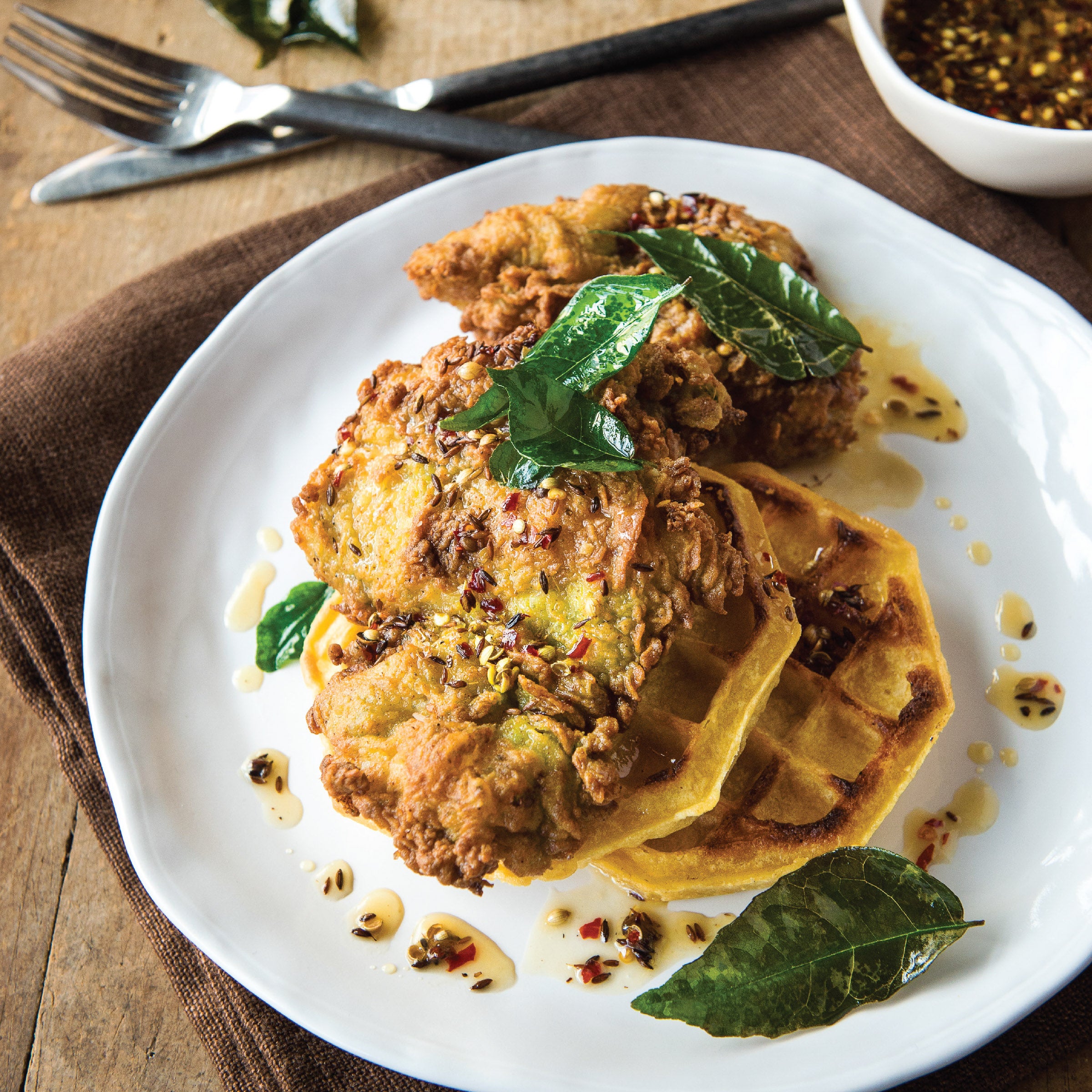 I met Asha Gomez through a plate of her South by South India fried chicken. I was in Atlanta for the first time in years, blazing and grazing through the city's breathtaking dining scene. I had found my way to her restaurant in Berkeley Heights, Cardamom Hill, and ambitiously ordered the pork vindaloo, a big plate of goat biryani, and that chicken, which came with waffles and some maple syrup spiked with coriander and cumin. It was special—fragrant and herbaceous—and stuck with you like a first kiss.
I'd later learn that the chicken was brined for a couple days in buttermilk (standard for the South) and a puree of ginger, 20 garlic cloves, serrano peppers, cilantro and mint. It was not a standard chicken soak one bit.
"When my mother made this chicken back in Kerala, this was her thing," Gomez says of her tropical homeland on the southwest shin of India, pointing out the appealing green hue of the marinade leaves on the chicken. "It's the garlic that makes this such a wild dish." The result is a chicken that's tender from the brine but packed with an unfamiliar, though appealing, marriage of herbs and spice.
Now the recipe is out in the world, thanks to Gomez's debut book, My Two Souths. And it's a keeper. Throughout her cookbook, Gomez bridges the gulf between Atlanta and Keralan food cultures with ease, all the while pushing the border-blurring recipes way beyond fusion. In the dense volume, a dish called weeknight fancy chicken with rice incorporates ghee (Indian clarified butter), cardamom pods, star anise, chopped apricots, and loads of garlic (classic Gomez), while a ginger and turmeric beef stew is a distant cousin of the Brunswick. Indian home cooking can be tricky, with hard-to-find spices and many pots landing in the sink. But here, Gomez has been able to simplify, explain, and tell you how to make dinner in one page or less for nearly every recipe.
"There are only about 10 recipes with an insane amount of ingredients and preparation," says Gomez with a trademark deep chuckle. But for the most part, the book represents how Gomez cooks at home. She may grind and toast her own spices, but it's nothing too complicated. "And Americans are starting to fall for cooking with spice," she says. And south Indian fried chicken is the introduction that America needs. It's really, really that good.
KERALA FRIED CHICKEN
Makes 8 servings
INGREDIENTS
2 cups buttermilk
10 garlic cloves (editor's note: maybe add more)
6 whole Serrano peppers, seeded if desired
1 bunch fresh cilantro (about 1 cup)
1 bunch fresh mint (about 1/2 cup)
2 tablespoons plus 1 teaspoon kosher salt
8 boneless, skinless chicken thighs (about 3 pounds)
Canola oil, for frying
4 cups unbleached all-purpose flour
2 tablespoons coconut oil, melted
2 stems fresh curry leaves, for garnish
DIRECTIONS
1. In a blender, combine the buttermilk, garlic, peppers, cilantro, mint, and 2 tablespoons of the salt and purée until smooth. Place the chicken in a large container with lid, and pour the buttermilk marinade over the chicken. Toss the chicken in the marinade, making sure it is well coated. Cover and refrigerate for at least 18 hours and up to 24 hours.
2. When ready to fry the chicken, fill a large cast-iron skillet with 1 inch of oil and heat gently over medium heat until the oil reaches 350°F. Place a cooling rack over a rimmed baking sheet and set aside. Combine the flour and 1 teaspoon of salt in a shallow dish and set aside.
3. While the oil is heating, remove the chicken from the marinade and gently shake off the excess marinade. Dredge each piece of chicken in the flour, coating thoroughly.
4. Place the chicken in the hot oil, taking care not to crowd the pieces. Cook the chicken until it is deep golden brown and cooked through, about 4 minutes on each side, or until a meat thermometer reads 165°F. Drain the chicken on the cooling rack and drizzle with the melted coconut oil.
5. Dip the curry leaves in the hot frying oil until crisp, about 10 to 15 seconds. Set on the cooling rack.