Keema Spaghetti Is 4,500 Miles Away From Bolognese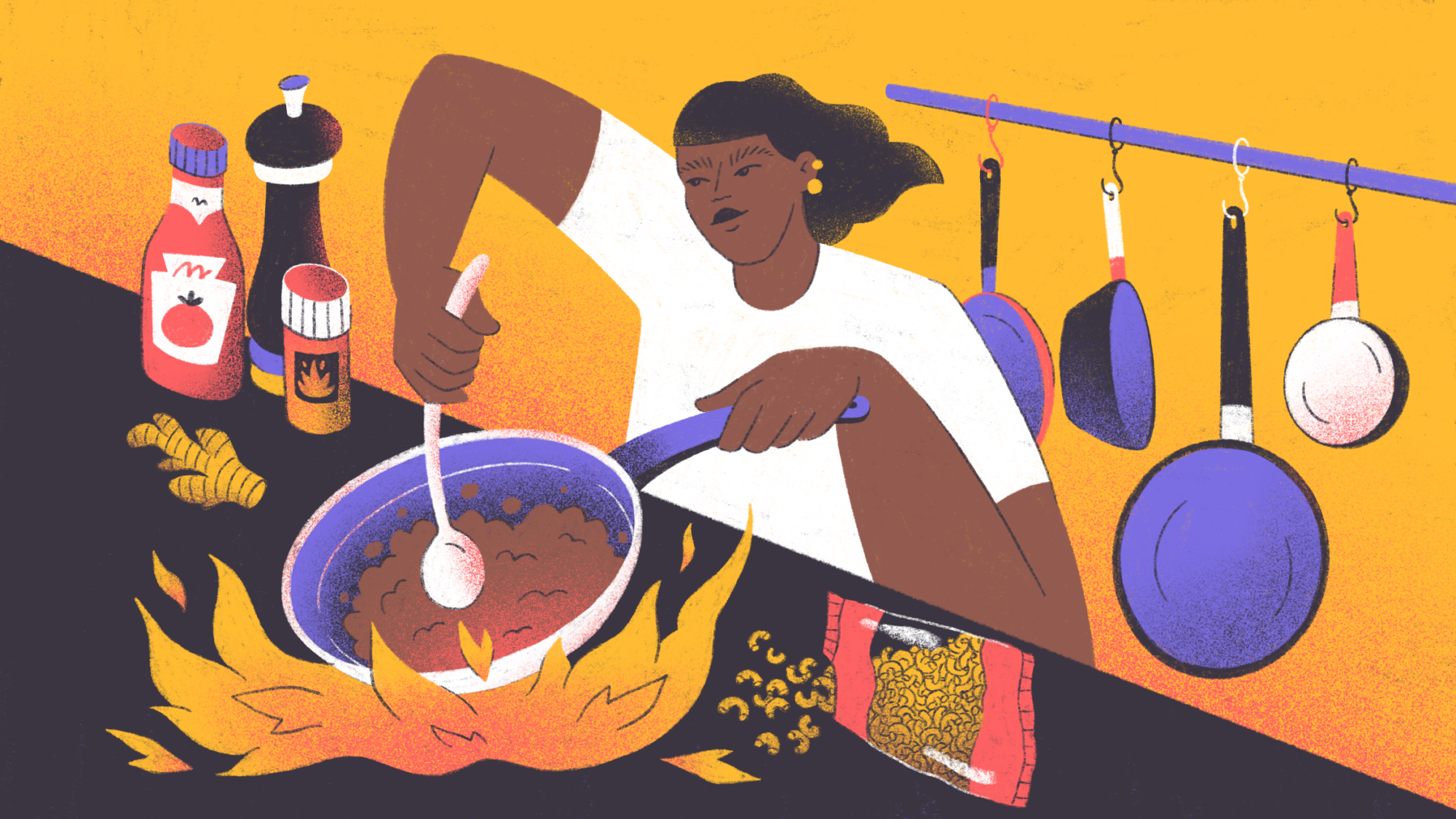 There's an art to making this fragrant and delicious South Asian meat sauce, packed with ginger and garlic, drizzled with ketchup, to pair with pasta.
My introduction to spaghetti wasn't on the kids' menu at an Italian-inspired franchise restaurant but at my mother's distinctly Punjabi table in Islamabad. It turns out, in South Asia, I'm not that special. Keema spaghetti, or keema macaroni—a seamless pairing of sharply seasoned ground meat and boiled dry pasta—is to the subcontinent what spaghetti and meatballs is to the United States. But you shouldn't for a second confuse it with Italian food.
A household staple in South Asia, keema is made with ground meat of any variety. A common way to cook it is to simmer it on a bed of sautéed onions with an aromatic blend of whole and ground spices (including, but not always, garam masala, cumin, and coriander powder). While tomatoes are optional, in Pakistan, many families (including mine) add chopped Roma tomatoes to thicken the sauce and, on occasion, finish it with a vegetable of their choice—peas, green bell pepper, and potatoes being the most popular. 
Keema is normally paired with rice or roti, but somewhere along the way, families also began to serve it with spaghetti. The exact recipe for this brilliant coupling, however, can vary drastically. In India, Dr. Kurush F. Dalal, a Mumbai-based archaeologist and culinary anthropologist, says it's typically cooked with ground lamb. In Pakistan, you normally prepare it with beef, but ground chicken works too. Haya Ismail, who grew up in Karachi and now works as a chef in New York City, said her mother's recipe was chicken keema dressed in heaps of chopped cilantro, with hints of ketchup, served with either spaghetti or macaroni. In comparison to pasta paired with Northern Italian Bolognese, Ismail finds this South Asian variation, with overcooked spaghetti, on the drier side —"Nothing al dente about it," she adds. 
"I hate it when people call my keema pasta sauce 'Bolognese,'" my friend Faiza, who grew up in Karachi but is now based in Maryland, told me. "It makes my toes curl." Similarities between the two dishes do exist. Both are built around a union of ground meat and tomato sauce, but while Bolognese draws upon a base of onion, celery, and carrot—lightly spiced with salt, black pepper, and occasionally a scant pinch of Italian seasoning—the keema South Asians pair spaghetti with is drier, and it's always spicy. And unlike Bolognese, it is pre-tossed with either spaghetti or elbow macaroni—and topped with ketchup rather than Parmesan.  
When Zeenat Ayesha (who goes by Gina) first served Bolognese to her customers at Pappasallis Restaurant in Islamabad, they found it bland. "We had to make some adjustments," says Ayesha, who grew up all over Pakistan thanks to her father's army background but is credited with bringing Italian cuisine to my hometown. While Ayesha refrained from adding spices such as garam masala, which South Asians typically add to traditional keema, she sharpened her original sauce's flavor and added the extra step of "bhuna" for the meat. 
The exact recipe for this brilliant coupling, however, can vary drastically.
An essential technique in South Asian, especially Pakistani and North Indian, cooking, bhuna involves frying ingredients together on high heat while stirring them constantly. I have found that Pakistanis take the task of bhuna, especially with respect to ground meat, very seriously: stirring for several consecutive minutes at a time until their arms hurt and the oil begins to separate from the spices. The process helps temper the thick smell of ground meat, especially beef or lamb, and melds it with the flavor of fried onions and spices. The result is contrasting flavors and a more granular texture than what you might encounter in a typical Bolognese.   
Ayesha confirms that keema spaghetti existed way before there were any restaurants serving Italian-influenced pasta or pizza in Pakistan. "Spaghetti was always available," Ayesha tells me, adding that it was at first imported to the country until the Pakistani brand Kolson began making it. 
Dalal believes that keema spaghetti likely came out of the British club culture that emerged during British colonial rule in India, starting in 1858. Originally meant for European male colonialists to socialize with one another, the clubs' environments (and menus) were designed to transport their members back to London. While the menus eventually evolved, they sped up the introduction of European ingredients and dishes to the subcontinent. 
Dalal points out that the more ubiquitous type of pasta in the region is elbow macaroni. It appears that, like in the United States, packaged macaroni arrived on the subcontinent before spaghetti. He speculates that it might have been part of the provisions provided to the Indian population by the British colonialists during one of the World Wars. 
Since then, many groups across the subcontinent have made it their own. He points to a spicy mixed vegetable dish, macaroni sabzi, prepared by Sindhi Hindus who migrated from Pakistan's southeast Sindh province, as well as the Parsi community, who make "many a macaroni salad." It's therefore no surprise that many South Asians pair their keema with macaroni too. 
Shanaz Ramzi, journalist and author of Food Prints: An Epicurean Voyage through Pakistan, does not view spaghetti as foreign. She tells me that if you visit Pakistan's Northern Areas, many communities prepare these types of noodles themselves. Keema spaghetti (or keema macaroni), as it is cooked in urban households, however, is always paired with packaged pasta.
Ramzi likens keema spaghetti to shepherd's pie, a convenient way of making use of leftovers. "It's comfort food, easy to dish out, especially in times of emergencies." Many parents will just pair leftover traditional keema with pasta to feed their children. Others, like my mother, would adapt her keema recipe to make it more "Italian." Instead of using the typical spice blend she uses for Pakistani-style keema, she seasons it with salt, pepper, some red chile powder, and oregano. Similarly, my friend Faiza swapped out her family's keema recipe with that of a lasagna sauce she found on the Allrecipes website to add new flavor notes, such as fennel seeds, to a dish that she had otherwise grown bored with. 
The fact that the utility of keema spaghetti remains relatively the same—a generous and reliably satisfying meal for families and impromptu guests—despite the many twists and turns home cooks give to the dish explains its enduring legacy. It also helps that it's delicious. My mother unexpectedly made it for me this past winter on a snowy day in Washington, DC. After inhaling it within what felt like seconds, all I could think was, "Wow, I didn't know I needed that."