Jonathan Gold Walks Into a Korean Restaurant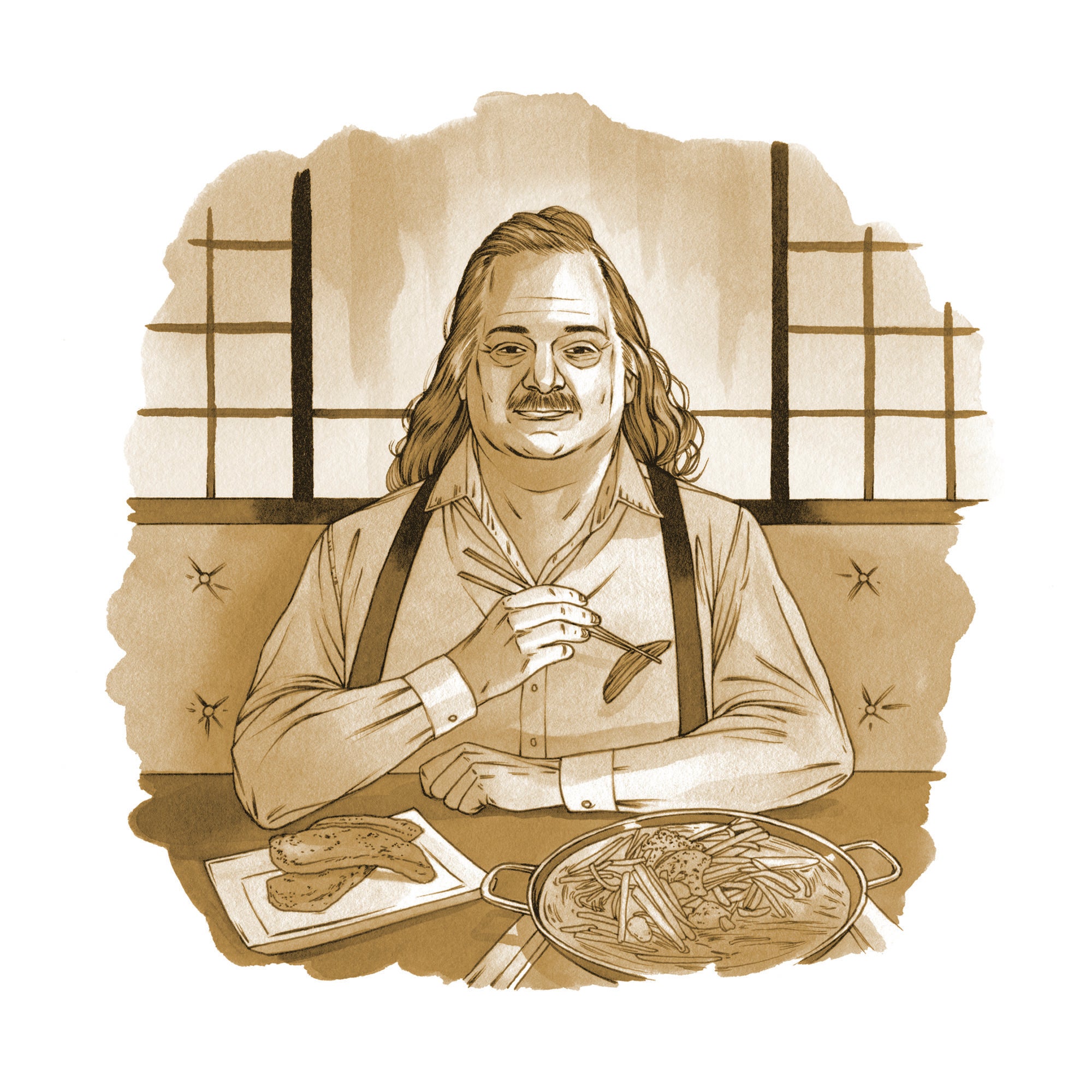 "The thing is, the restaurants here are as good as the restaurants in Seoul." A meal in Los Angeles Koreatown with the late, great J. Gold. 
Pulitzer Prize–winning Jonathan Gold's last story as restaurant critic at the LA Weekly in 2012, a position he held for nearly three decades before returning to the Los Angeles Times, was a 10,973-word masterpiece detailing Korean food in Los Angeles. Though the "60 Korean Dishes Every Angeleno Should Know" headline reads more listicle than magnum opus, the article told the story of not just where to get the best bossam in L.A. County—for the record, it's Kobawoo—but reaffirmed the nation's most acclaimed restaurant critic as a keen observer and lover of Korean food and culture.
We met for lunch at Hamji Park on West 6th Street on a cool January afternoon in 2014. I was researching the cookbook I would write with Deuki Hong, Koreatown, and had just arrived at my sublet in Silver Lake when I received a short email from the critic to connect at 1:45 p.m. "You're hot on Hamji Park," his email read. "Ok. Pico or Sixth St.?" I sensed some skepticism. (This was a place I loved, that served my favorite stew, and I wanted Gold's take.) But Gold was game to eat, drink, and talk about Los Angeles's Koreatown—a place he loved dearly and wrote about for almost four decades. I'm convinced Koreatown was his favorite L.A. neighborhood (of many neighborhoods to favorite), and I regret not asking him to lay it down for the record.
We dove into grilled pork ribs, a steaming bowl of gamjatang (a pork-neck stew spiked with wild sesame seeds), and a small cauldron of cheonggukjang, an extra-fermented bean paste soup that the critic compared, possibly favorably, to a scene from Invasion of the Body Snatchers. "It just takes over your fucking system," Gold said, declining a bite. We started talking about his recent trip to South Korea, where he attended a kimchi festival and trucked around Gwangju with San Francisco chef Russ Moore. "It's so obvious that Korea was such a profoundly poor country," he said after a sip of Chamisul. "They eat the low-tide stuff. There is hagfish and sea squirts off every coastline, but only a few will eat it. It's a cuisine of necessity."
And necessity is how Gold described the reason a vast number of L.A. Koreans moved to the city in the late '70s and early '80s, many to build businesses that make up the sprawling Koreatown of today. At that time, while the Korean economy slowly transitioned from an agrarian society to the technological superpower we know today, immigrants flowed into America's biggest cities in record numbers, hoping to make a better life for themselves. With few entrepreneurial opportunities, due to language barriers and cultural divides, many of the new arrivals opened food-related enterprises like produce markets, small grocery stores, and, of course, restaurants that catered directly to the Korean-American immigrant community. It was a "for us, by us" ethic that has remained strikingly the same, some 30 years later.
This may be why many Korean restaurants around America, but particularly in Los Angeles, have a more dated aesthetic and a clear resistance to assimilate to Western tastes (menus featuring more Hangul than English; Korean folk music played on the crackly stereo). "It's like if there was an 'American House' in another country and it was stuck in the Ed Koch era," Gold observed. But the lack of change presents a unique and exciting opportunity for people of all backgrounds to explore a food culture firmly of its time, place, and circumstances. L.A.'s is a very special Koreatown.
"The thing is, the restaurants here are as good as the restaurants in Seoul," said Gold. He conceded that if you took the top 50 restaurants in both cities, the top 10 would go to Seoul, but insists that numbers 11 through 50 would be in America. While some Koreans living on the peninsula in East Asia might question Gold's statement as hometown pride or ignorance, the truth of the matter is that Korean food in America is the real deal; in many cases it's never been watered down, and this tireless critic has spent a whole lot of time thinking about it.
I asked Gold to humor me with a bite of cheonggukjang. He dipped his spoon into the funky stew and had a taste. "It's better on Olympic," he said. But I knew that already. It was in his article.
Photos by Sam Horine. This essay originally appeared in Koreatown: A Cookbook.