John Currence: A Serious Man. Serious About Breakfast.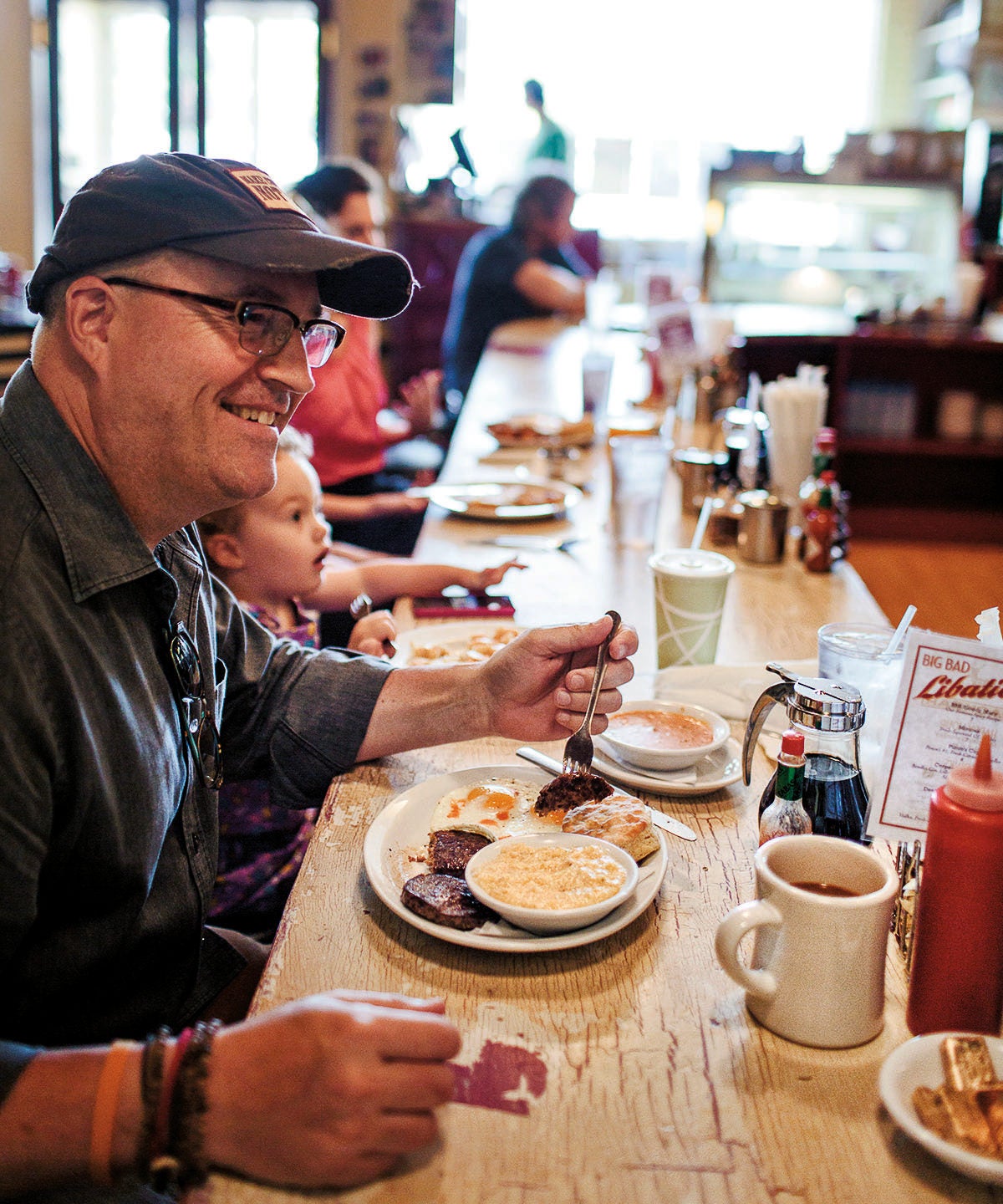 For John Currence, as a child growing up in New Orleans, breakfast meant sitting at a counter with his parents and watching—mouth agape—the line cooks fireflying eggs, bacon and short stacks. "The whole scene was like Hopper's Nighthawks, but in the morning," says the Oxford, Mississippi, chef, of his early exposure to the chaos of the hash line. He's now seated at the bar of Minetta Tavern in New York City, sipping a Buffalo Trace and lemon and hyper-articulating his favorite meal of the day. There were the racially integrated diners ("New Orleans was like a checker board to me," he says) and the long brunches at the city's haute Creole Centenarians Arnaud's, Commander's Palace, and Broussard's—with holidays at the jacket-required Caribbean Room at the Pontchartrain Hotel. To Currence, these were the days.
Today Currence firmly believes the American breakfast is a meal that gets passed over. And considering that many of us might have started today with a Kind bar, something tall from Starbucks, or a Go-Gurt, he might be onto something. But the James Beard Award–winning chef also feels strongly that heritage dishes like cinnamon rolls, hoecakes, and the low-country skillet—particularly those with roots in the South—are often (and criminally) relegated to places like Waffle House and Cracker Barrel, served as a hollow version of their former selves. But instead of weeping into his bowl of watery grits, he did something about it: He opened a breakfast-all-day diner called Big Bad Breakfast in Oxford in 2008 and added another in Birmingham two years ago.
The cooking is a tip to the chef's childhood, all short stacks and egg plates, but prepared with a chef's eye for quality and creativity. And now we have the restaurant in book form. Big Bad Breakfast: The Most Important Book of the Day (Ten Speed Press) is Currence at his best—which contrary to public opinion is not behind a burner, but punching stories and essays into a MacBook Pro. Currence can straight-up write, and the book (like his previous release, Pickles, Pigs & Whiskey) has the chef telling personal stories about long-shuttered bakeries and hotels, waxing on the South's lack of cumin-based cookery, and traveling away from his perch in Mississippi in search of breakfasts across borders.
It's this topic, memorable breakfasts from near and far, that had me most interested. The book is a tribute to his childhood in the South, but I wanted to hear about the memorable breakfasts from his extensive travels to France, Asia, and NYC. Well, some parts of Europe maybe weren't so memorable. "In France, breakfast is half of a chocolate croissant and a coffee," he says with a sigh. "In Italy, it's just an espresso and a cigarette. And in the U.K., you got that weird bangers and mash and really awful bacon." Thankfully, breakfast is redeemed in other parts of the world.
Mumbai, India
"There's a group of Iranian expats that were sort of exiled to India, and they set up this string of restaurants that oddly looked in some way, shape, or form like Balthazar—like a Parisian brasserie. But they served this Farsi cuisine, and kheema, which is like ground spiced lamb, is one of their big breakfast things. So they make omelets with kheema in it, or you get kheema pav, which is just the kheema with a really doughy, soft, leavened Portuguese bread. And chai is sort of their signature tea. There's tons of ginger, cinnamon, and coconut in there."
Locanda Verde, New York City
"Breakfast wasn't cliché; breakfast wasn't overly dogged. Everything was beautifully executed and thoughtful. There was sort of an eggs in purgatory, there was some homemade granola, and I remember really crusty bread, with maybe marinara and soft-poached egg, that you kinda busted all over the top of it."
Commander's Palace, New Orleans
"Eggs Hussarde, eggs Sardou, eggs Benedict, all those things that were just covered in hollandaise. And sautéed crabmeat and hollandaise. I mean, I just think it's a natural fit. Crabmeat, particularly all the blue crab—there's absolutely nothing that compares. All of this is an unapologetic indulgence. And you're building for a nap."
Kuala Lumpur, Malaysia
"The favorite thing I had the entire time while I was in Malaysia was at this little breakfast stall across the street from my hotel in Kuala Lumpur. There was an interstate on top of an interstate, and you had to cross by foot and find 25 of these street stalls set up, and they all had makeshift seats to sit in. They're all lit by fluorescent light, and they all look like something out of Blade Runner. And so you would just go and sit and nobody spoke any English. So all I could do was go and point at stuff. And what I found was Malaysian roti, this crazy, super-glutinous flatbread. It was totally doughy and tearable, and they would fold them in quarters and layer stuff onto them like onions or chutney. But then you'd just tear pieces and dip in your dal, your lentils. And then they made the crazy Malaysian coffee, which is like Vietnamese coffee and they use tons of sweet condensed milk. It was the only meal I would repeat each day."
Israel
"I went on a trip with a bunch of chefs, and the entire time we were there I couldn't find a good shakshuka. I found it at hotel buffets for breakfast and the eggs were overcooked; the tomato didn't have a lot of flavor. So when I got back home, I talked through it with my friend Alon Shaya, and I wrote a recipe for my book that is pretty great. And then, when I finally told Alon that I didn't understand why there wasn't any good shakshuka in Israel, he was like, 'Dr. Shakshuka!' He said he should have taken me to Dr. Shakshuka. Next time."