It's Time to Know the Name Rahanna Bisseret Martinez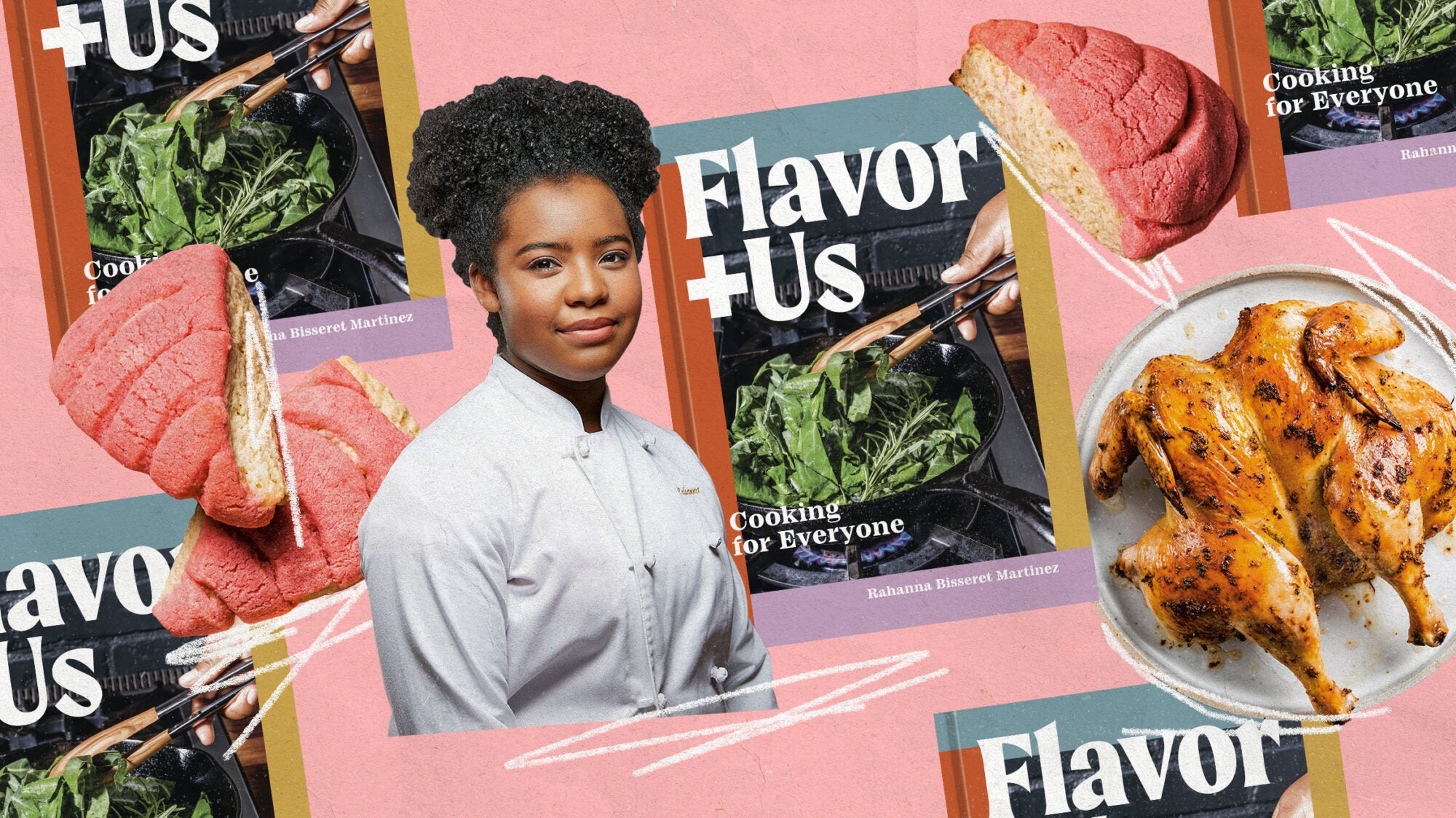 The Top Chef Junior finalist's debut cookbook is filled with punchy flavors and a deep love of the grocery store.

 
Publishing a debut cookbook as a teenager may seem premature, but for Rahanna Bisseret Martinez, it's right on time. In 2017, she became a finalist on the first season of Top Chef Junior at the age of 13, where she won over the judges with nuanced dishes like sweet potato pecan pie topped with lemon thyme ice cream and a cajeta drizzle, she knows how to create food that speaks for itself. 
After stints in the kitchen at Bay Area legends Chez Panisse and Mister Jiu's, Rahanna is currently wrapping up her freshman year at Cornell University's School of Hotel Administration, an elite hospitality-focused business school often known as a training ground for the upper echelons of fine dining and five-star hotels. But the food in Flavor+Us is unfussy and highly craveable, rooted in her Black, Mexican, and Haitian heritage and the diverse array of communities that influenced her palate growing up in Oakland, California.
Think: maitake mushroom tacos drizzled with mole verde, oolong tea flan, and awe-inspiring concha scones. Each recipe shimmers with a sense of joy and gratitude—for peak-season produce and the farmworkers who get it to our plates, for honoring long-standing cultural food traditions and making new ones. 
Here, Rahanna and I talk about the grand tradition of California cookbooks, the produce she misses most on the East Coast, and the recipes she leans on as a college student. 
This is your first cookbook, which is so exciting. What cookbooks did you look to for inspiration?
Growing up, I would go to the library and get a bunch of cookbooks. It wasn't until I was 13 that got my first cookbook of my own: Essential Emeril by Emeril Lagasse. He was a recurring judge on Top Chef Junior. He's one of the people that inspired me growing up, so it is a very special memory for me.
There are classic California books that have a great influence on me because of the produce and other ingredients celebrating California (which are readily available all over the United States) and really reflect a love and respect for natural foods and seasonality. Of course, I was especially influenced by Alice Waters's cookbooks, like The Art of Simple Food I & II, Chez Panisse Vegetables, and Chez Panisse Café Cookbook. All of these cookbooks reflect a consideration for the home cook and an essential love of natural foods. I also looked to Hawa Hassan and Julia Turshen's book In Bibi's Kitchen. I love the way the instructions and recipe headers are interwoven like someone is there telling you a story about their lived experiences.
You write that your cooking is driven by a desire for flavor exploration and culinary inclusiveness. What is your favorite unexpected flavor combination or dish that came out of this in the book?
The recipe for Oolong Tea Flan has been one of my longtime favorites. To me, moving a whole dish of water into the oven when making a traditional flan can be a lot of work and a potentially clumsy experience. Instead, I was inspired by egg custards that are easily steamed over a stove. I wanted to incorporate the subtle flavors of oolong into the custard with the deep flavors of caramel and brown sugar. 
You write a lot about your love of grocery stores in the book. What's your favorite type of ingredient to shop for, and why?
I really love recipes and ingredients that give me a sense of nostalgia, the same way people love certain songs that help them to reminisce about different emotions and moments in time. I love to shop for ingredients that give me a sense of nostalgia.
I go to school in a pretty rural area. Recently I was on spring break, and I went to NYC to visit my sisters. While I was there, I had a mission to pick up the ingredients to make the most sweet and salty snack that I love from my childhood. I immediately went to find ripe mango, chamoy, limes and lemons, and powdered dried chile peppers.
What gets you excited to cook for a new season like spring?
What I love the most about food is that so much of it is seasonal. With spring here, I do miss the citrus season of California. Especially after working at Chez Panisse, we would zest and juice so many varieties, and the smell of it would fill the air. It was so delicious. That being said, I am so ready to explore the farmers' markets on the East Coast and make new recipes and food memories. I'm very excited for it.
Which recipes in the book are you turning to most as a college student?
I really have been using the quicker recipes included in the book—just things like the Quick Guacamole, Salsa Molcajete Roja, and the Zesty Salad. Recently, I celebrated my 19th birthday. For one of the first times in a long while, I was able to cook a large meal for others, and some of the recipes I made were the Quick Zesty Green Salad, Farmers' Market Carbonara, Oat Horchata, and a tweaked version of my All Green Focaccia. I served ten people, and it was so fun to share the book's recipes with others for one of the first times.