It's Time for Opulent Oatmeal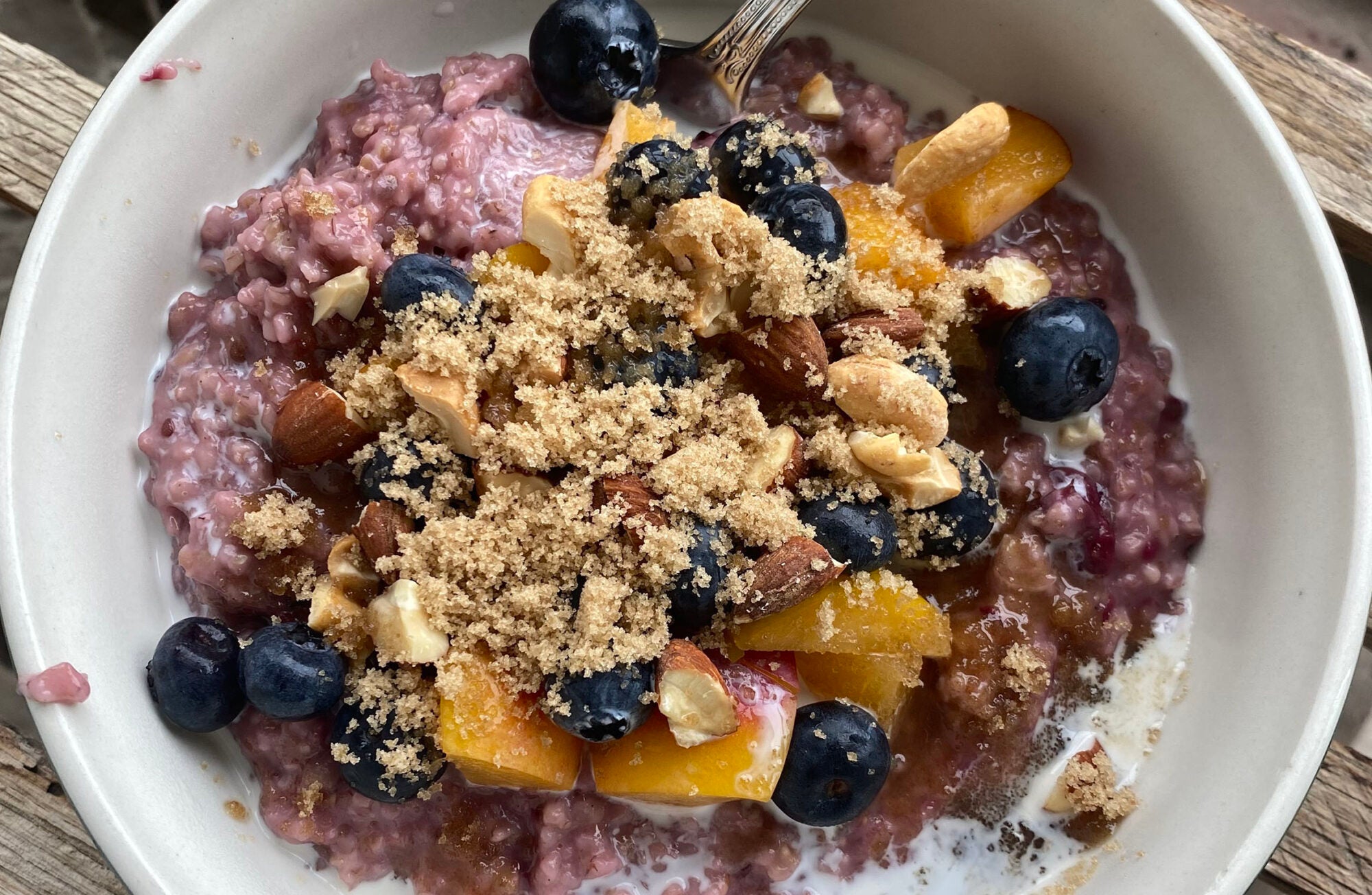 Put down those dusty instant packets, and pick up the heavy cream.
When the temperature drops and leaving the womblike bed in the morning becomes even more of a challenge, I use breakfast as a form of bribery. Sometimes it's a sesame bagel with a smear of scallion cream cheese from the bodega on my corner; less frequently, it's homemade pancakes, heavy on the chocolate chips. Most often, though, it's oatmeal. I know what you're thinking: boring! 
I blame those dusty packets of instant oats for giving oatmeal a rep as a bad diet food. But believe me when I say that it doesn't have to be this way. The cozy pantry staple is a blank canvas begging to be gilded with the full force of your fridge—from miso-glazed mushrooms to a generous drizzle of tahini thinned out with maple syrup. Why stop with a handful of frozen blueberries? The time has come for opulent oatmeal, and here's my strategy for making it. 
Good oatmeal starts with the right oats—steel-cut, to be specific. Steel-cut oats—you've certainly heard of them—are pieces of the whole oat plant with only the inedible hull removed, sliced to allow the starch to essentially melt into the cooking liquid. A roughly 30-minute simmer in enough water to cover the oats melts the small pellets into an ultracreamy, velvety porridge without the requirement of any milk. It's ideal for lazy brunches, but not great for Monday mornings. But this needn't hold you back.
The cozy pantry staple is a blank canvas begging to be gilded with the full force of your fridge.
I didn't get on board with this cooking method until Christina Chaey shared her make-ahead method with Bon Appétit in September 2020. She pointed out that cooked steel-cut oatmeal keeps for days in the fridge, and can then be easily warmed and loosened on the stove or in the microwave with a splash of water or your preferred milk. Now, when I have the forethought, I make a big pot of oatmeal on Sunday for breakfast, then I'm set with the base to take in various flavor directions throughout the week.  
With cooked oatmeal stocked in the fridge, I turn my attention to toppings. My ideal oatmeal always has a creamy component (nut butter, tahini, heavy cream), something fruity (golden raisins, sliced apples, whatever flavor of Bonne Maman jam is on my fridge door), and a shower of seedy sprinkles (toasted coconut, buckwheat groats, sesame seeds). A pinch of brown sugar is mandatory, but my best bowls don't stop there with the luxe touches. 
Eating Los Angeles chef Minh Phan's soupy, congee-like mushroom porridge at Porridge and Puffs—a wonderful restaurant currently on hiatus but scheduled to reopen this winter—inspired me to add miso and chile to the mix to skew things savory. I've taken a page from the playbook of West Taghkanic Diner in Upstate New York and steeped bags of Earl Grey into my original cooking liquid for a delicate tea flavor (and a caffeine boost). And lately, I'm stirring steamed-then-mashed sweet potatoes into the porridge for extra sweetness and heft.  
It's all oatmeal, unrestrained by flavor profiles or healthful ambitions. The ethos to making it opulent is simple: Let your cravings and your pantry contents lead, and deliciousness will follow.