It's Never Been Harder to Pick a Favorite Bagel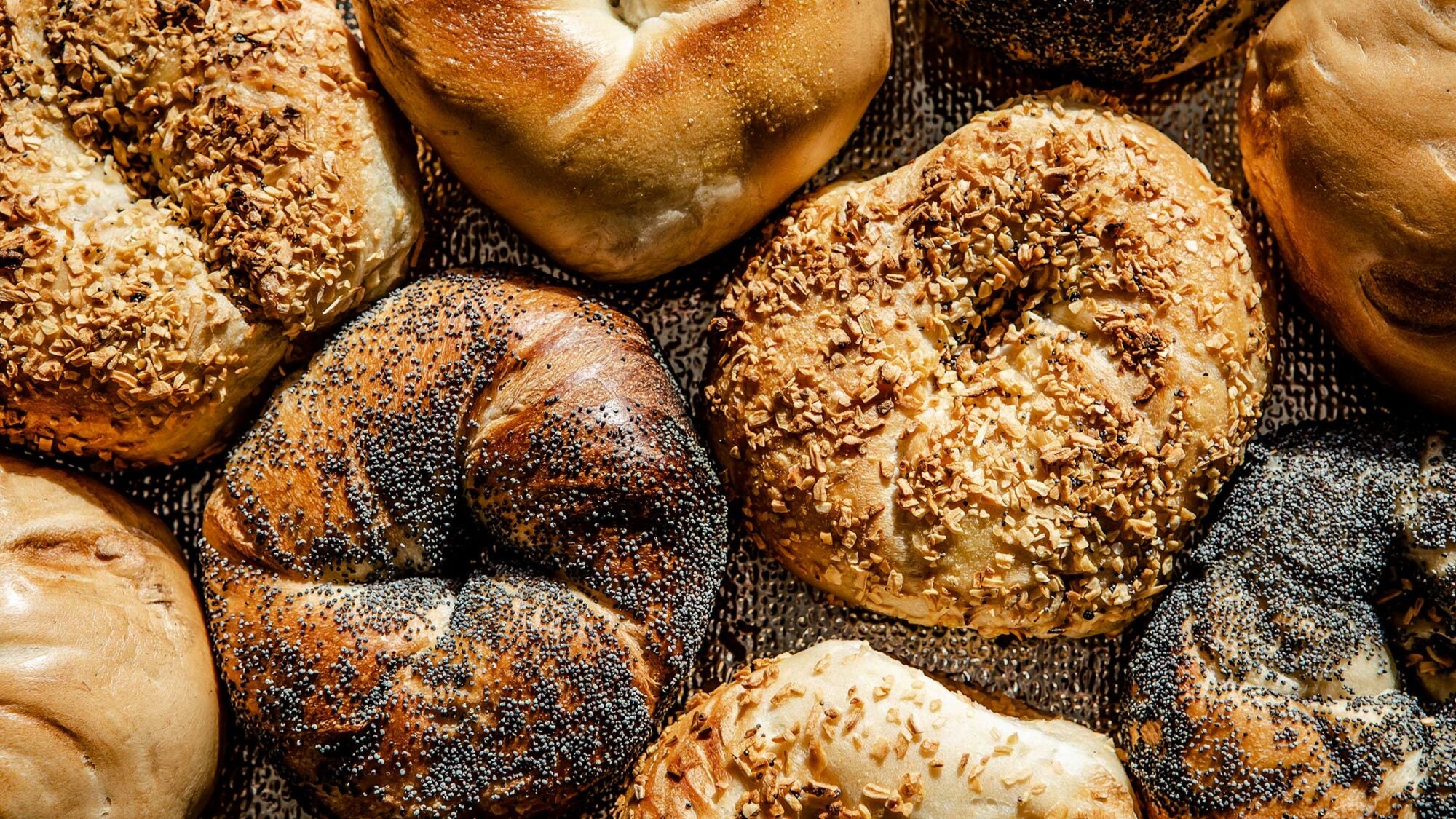 A boom of pop-ups, at-home experiments, and schools of thought has put the bagel back in the news.
As a Jewish, food-obsessed New Yorker, it almost goes without saying that I'm emotionally invested in bagels. When I was a kid, my dad would wake up early on Saturday mornings and go buy a dozen of them, plus two half-pints of cream cheese (regular and scallion) and a gallon of orange juice to bring home. My family was always partial to Murray's and Ess-a-Bagel in Manhattan and Goldberg's out on Long Island, but in recent years, I've been loyal to Utopia in Whitestone, Queens. These bagels were the holy grail: giant and squishy, best freshly baked but still fabulous the next day after being toasted and slathered with a schmear.
When you're accustomed to the ritual of eating New York–style bagels, pride can translate to a purist perspective. But a dogmatic mindset about the superiority of New York bagels would mean missing out on enjoying a St-Viateur bagel in all its charred, honeyed glory. Or turning a blind eye to all of the incredible versions that are expanding the bagel lexicon within New York City and beyond, especially as restaurants have swiftly adapted their takeout options in the face of the pandemic.
In Brooklyn, pizzerias like Speedy Romeo and Leo have started offering them to reel in morning customers for added revenue. Melissa Weller is serving her minimalist take on the classic New York–style bagel as part of her residency at Gertie. At the ramen restaurant Mo's Original in Prospect Lefferts Gardens, owner William Garfield brought on Josiah Bartlett, a baker who formerly worked at Leo, to develop an in-house bread program. The duo know each other from Portland, Maine, and according to Bartlett, they were inspired to create something reminiscent of their "mutually beloved bagel from home"—the fine sourdough specimens at Scratch Baking Co. Bartlett uses a long-fermented sourdough leaven to make his dough, a unique seed mix that includes fennel seed and thyme, and "a healthy dusting of cornmeal" on the bottom (a nod to the aforementioned Scratch Baking Co.) for a bagel with a tangy flavor and a crackly crust.
This new wealth of options spans far beyond New York. Bagel booms are underway in cities like San Francisco, where bagel makers are using regional ingredients and tweaking their recipes to suit local tastes, and Philly, where Jacob and Alexandra Cohen started Kismet Bagels last May. After COVID-19 hit, and their work in real estate and advertising had slowed down, the Cohens stockpiled yeast and flour and began to bake up a storm. When it came time to try their hand at making bagels, they were hooked. For the Cohens, using whole grain flour from a local mill, completely smothering their bagels in seeds, and creating familiar flavors with a twist (think black-and-white sesame and white poppy–sumac) are key components of a Kismet bagel. They now supply retail partners like Di Bruno Bros., sell direct to customers on the weekends at specified pickup locations, and rent 3,000 square feet of commissary space to bake from. In lieu of opening a bagel shop, they hope to grow the brand by expanding Kismet's wholesale program, social media presence, and pop-up footprint.
For those who don't have a neighborhood spot a few blocks away, the pandemic has presented the perfect opportunity to tackle bagels at home; a project that might have previously been considered difficult and time-consuming comes to life with a surplus of downtime and the promise of freshly baked bread. "Bagels are a really fun bread to make because they employ a variety of methods like cold fermentation, boiling and baking, and the ability to add mix-ins to flavor your dough," says Reva Castillenti, a baker and recent New York expat who offers online bagel workshops from her home in Portland, Oregon. Kate Ray, a culinary student and writer, has been developing her own bagel recipe from home in flavors like everything-ramen and turmeric-cardamom golden raisin. "I like a very chewy bagel, so I knead them until they pass the windowpane test," she says.
One benefit to making your own bagels is size control. "Bagels have become bloated and so large that I can usually only eat half, especially when it's topped with the works," says Claire Saffitz. Her own recipe for "A Little Bit of Everything Bagels," published in her book Dessert Person, is extremely popular and calls for four ounces of dough per bagel (compared to the six-ounce behemoths from most bagel shops)—in addition to caraway seeds in the seasoning and a bit of rye flour to add an earthy, pumpernickel-like flavor. The result is a chewy bagel with a crusty and blistered exterior, which some home bakers have dialed up by experimenting with unconventional combinations like garlic-Parmesan and cinnamon-sugar.
It's an exciting time to be a bagel connoisseur and a liberating time to throw any ideas about bagel "correctness" to the wind. (I'm even a bit curious to try Jeni's new everything bagel ice cream.) But that's not to discount all credibility of the venerable New York–style bagel. Although Saffitz borrows from Montreal by boiling her bagels in a liquid sweetened with barley malt syrup, she maintains that her recipe leans heavily toward New York, since the technique doesn't impart a noticeably sweet flavor. "And I made them in NYC with NYC tap water, which must count for something!" she says.
Where to Buy Great Bagels Online:
Bagel Hole
These hand-rolled, New York–style bagels have been made in Brooklyn since 1985.
St-Viateur Bagels
Arguably the best in Montreal.
Shelsky's
Don't miss flavors like Sichuan peppercorn and pretzel.
Wise Sons
These kettle-boiled bagels are made with California ingredients.
Pop's Bagels
Old-fashioned bagels proudly made with LA water.