How Mild British Tea Became Masala Chai, the Spiced Soul of India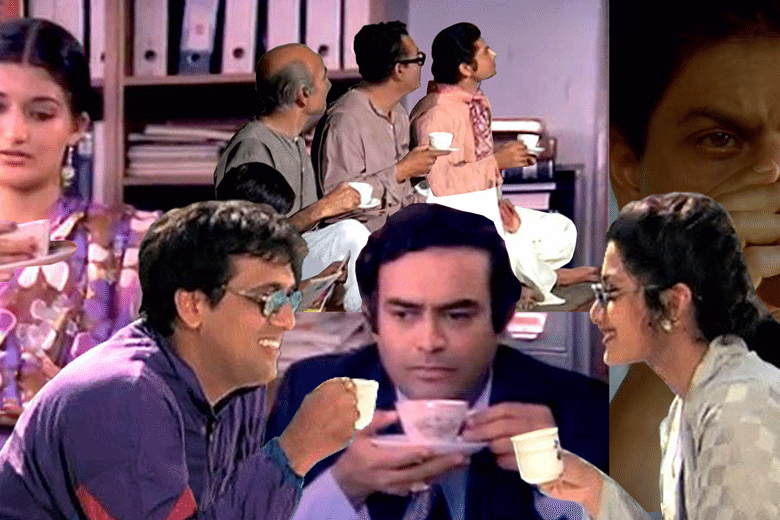 With ginger and cardamom, a beverage steeped in colonization became something distinctly Indian.
At the time when Madonna's "Like a Virgin" started steadily pumping out of American radios in the 1980s, Lata Mangeshkar's "Shayad Meri Shaadi Ka Khayal" was all the rage in India. It's a syrupy song about a girl telling her boyfriend that her mother thinks she should get married, and that's why he is invited for tea. Since then, "Chai pe bulaya hai" has become a popular phrase to suggest an arranged marriage meeting for a couple, in a country where 90 percent of marriages are organized by families. Both on- and off-screen, a cup of masala chai is what a potential groom is served when he meets a potential bride for the first time under the surveillance of their families.
This love for chai in Bollywood trickles right through the '90s with another hit number, "Ek Garam Chai Ki Piyali Ho, Koi Usko Pilane Wali Ho," meaning "I just want a hot cup of tea and someone to make it for me." The song has over 5.9 million views on YouTube alone. This is to say that, for most Indians, patriarchal undertones aside, love is chai, and chai is love.
But in contrast to our emotional attachment to the drink, chai is not indigenously Indian. It didn't become widely popular until long after coffee landed in India from Yemen around the 16th century. Today, India is the second-largest producer of tea in the world, with over 900,000 tons grown annually. "It is a relatively new flavor for the vast majority of Indians," says Krish Ashok, author of Masala Lab: The Science of Indian Cooking. Ashok is a Chennai-based food writer with a unique way of looking at Indian cuisine through the lens of science and history.
A lot went into converting tea from its stark black British avatar to the shade from Kim Kardashian's milky brown contouring kit.
He says that there is no record of chai consumption outside small tribal communities in Assam (East India) until the British marketed tea to Indians as a refreshing beverage in the early 20th century. The colonizers set up tea estates across the country, but the locals who worked on them didn't care for the product, and it remained a drink of the "memsahibs," who hosted afternoon tea parties complete with silver sugar bowls, tongs, and spoons that went back into their closets at the end of these soirees. In one of his interviews, public intellectual Shashi Tharoor said that it was only with the Great Depression of the 1930s, when English housewives could no longer afford the luxury of buying tea, that the British were stuck with vast quantities of unsold tea and were forced to create a market in India.  
A lot went into converting tea from its stark black British avatar to the shade from Kim Kardashian's milky brown contouring kit. "Indians never quite appreciated the mild flavors of tea and immediately proceeded to add spices like ginger and cardamom to enliven it, and thus was born masala chai," Ashok says.
According to a report published by the Tea Board of India, today, "close to 88% of the total households in India have reported consumption of tea," but no two homes make it just the same. The shade goes anywhere from khaki-colored milky chai to chocolate brown tea with just a dash of milk. But here's how an ideal preparation should be made, as per Ashok: "The crucial variable is the steeping time. The more you steep, the more the extraction." He advises using 200ºF water with three to four minutes of steeping.
A typical masala chai is heavily milky, with the addition of a spice mix that has at least four kinds of spices. Most Indian homes have a stash of ready-to-add chai masala in their kitchen cabinets, often made from scratch. In addition to what Ashok mentions above, my blend has clove and peppercorn, while Padma Lakshmi prefers hers with star anise. The addition of this powder gives the tea more depth and complex, warm notes.
Today, masala chai is a common drink on the menus of several popular Indian restaurants in the United States, such as Chai Pani, Botiwalla, Sona, and Adda, to name a few. And ready-to-use chai masalas can be purchased from retailers like, Vadham, and Spicewalla.
While Ashok likes his drink with copious amounts of grated ginger thrown into the brewing process, for me, steaming cups should be paired with Parle-G biscuits. I mandatorily dunk a biscuit in the drink and scoop it out all soggy, just before it disintegrates into the pool of milk, forming a hot mess.