How An Ice Cream Maximalist Sells New York's Most Hyped Scoops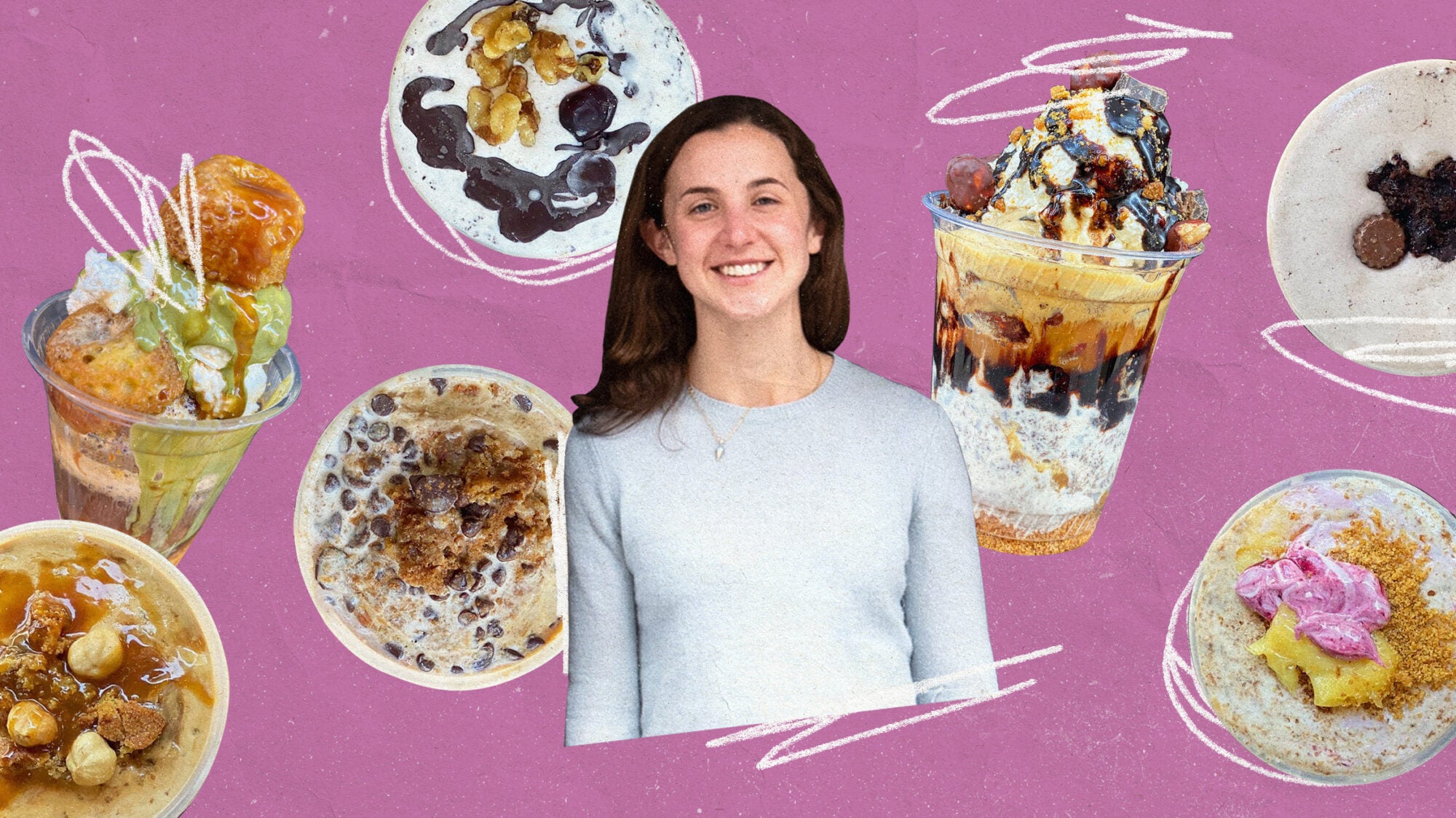 Hallie Meyer's Caffè Panna combines Italian gelateria culture with American toppings mania, and the city goes wild.
Most afternoons, the corner of Irving Place and 19th Street in Manhattan is overtaken by a snaking line of uncommonly enthusiastic people. (This is New York, after all.) Eavesdrop on their conversations, and you'll overhear the sort of fever and connoisseurship usually reserved for an Arc'teryx drop—only they're here for a decidedly more perishable form of limited release: ice cream from Caffè Panna. 
Owner Hallie Meyer has created something extremely rare: a hyped New York City food that truly delivers. Sorry, rainbow bagels. It helps that she's a real flavor maximalist who dares to mix pretzel brown sugar ice cream with pretzel brittle, peach ripple, and soft-baked cinnamon cobbler "blobs." Then there are the daily adventures with affogato: a pile of vanilla and banana cinnamon ice cream topped with peanut butter cups, crunchy graham cracker brittle, whipped panna (aka Italian heavy cream) straight from Piemonte, and a shot of espresso. It's like eating a banana muffin with coffee, only infinitely more indulgent.
The daughter of lauded Union Square Hospitality Group restaurateur Danny Meyer, she got her start scooping cones at the local ice cream shop while attending college in New Haven. But her infatuation with ice cream really took off in Southern Italy, where Meyer worked at an agriturismo and made it her mission to eat at every gelateria in sight. "I fell in love with the culture—how you go to the same place for espresso in the morning, then an affogato or gelato in the afternoon," she says. 
After cooking at the Rome Sustainable Food Project in 2017, Meyer began selling her own ice cream at Mottley Kitchen in the South Bronx, where she was teaching through AmeriCorps. The seeds were planted for a full-time ice cream shop as a following among friends and ice cream lovers grew, and Meyer returned to Italy to work at the renowned Roman gelateria Otaleg to finalize her dream. When Meyer returned to the United States, Caffè Panna was born. The result is an Italian-accented ice cream (not gelato) shop, with olive oil and amari sourced straight from Sicily but plenty of American-style mix-ins. 
"There are things I love about Italian gelateria culture and their way of producing, and also things I love about traditional American ice cream. I like to think I've melded the two sides of ice cream and gelato that I love most and mushed them together into Caffè Panna," Meyer says. "We're definitely not trying to be authentic here in any way—we're just authentic to ourselves."
Here, Meyer talks about her approach toward building balanced flavors, cultivating hype, and her favorite bodega ice cream.
To start, I heard you just got married. How was your wedding? Did you have ice cream for dessert?
Of course we did! My team very diligently produced around 900 mini pints, which is the format we like to do best for weddings. It's basically like those Häagen-Dazs dixie cups but mini Caffè Panna. We did two different flavors for the rehearsal dinner, one with honey from my uncle-in-law's bees in Guam.
For the wedding itself on Saturday, we decided to do a flavor for each of our parents. My husband's parents had mocha almond fudge and key lime pie. My mom had vanilla sweet cream with a peanut butter swirl—it's a classic at Caffè Panna called Aud's Dream—and Danny's Mint Chip, which is my dad's favorite flavor: fresh mint. Then we also had vanilla and cookies and panna because some people need their Oreo fix.
Caffè Panna has become known for these very maximalistic affogatos and sundaes. How do you go about building all those layers of flavor?
I write a production sheet that changes every single week. I figure out the pints and tubs we want to produce—which become scoops and sundaes—plus flavors for soft serve and our wholesale partners. The regular sundaes typically feature more fruity, olive oil-y flavors that we want to speak on their own without coffee. It's usually gonna be the more nutty, caramelly, chocolate cookie flavors for the affogato because those play well with espresso. 
I've seen people waiting in line for the weekly pint drops. How do you build that kind of hype and appeal?
We call it the Pokémon strategy—how you have to collect all the pint flavors because they change every week. I hope it's because the flavors are resonating and people are getting out of their comfort zone. "Yes, I want to get cookies and panna every week, but I didn't know I'd like olive oil nocciola, and I did, so I should go ahead and try fresh mint this week."
I'm a fruity ice cream person; I eat strawberry ice cream every night. The numbers show people like chocolaty cookie flavors more, but I'm still on the crusade, and my customers are starting to eat fruit more. Who won't like super fresh strawberries cooked down into a perfect jam and swirled through the ice cream?
Did you get any advice on running a restaurant from your dad, Danny Meyer?
He luckily stays out of it unless I ask him for advice. I'll ask him to coach me through hard convos with employees, but other than that, I don't want my parents telling me how to do things, like anyone wouldn't.
And what's your go-to bodega ice cream?
The one I eat nightly isn't Caffè Panna—it's Häagen-Dazs strawberry. It is the strawberry ice cream I aspire to when we make it here. They have a stunningly beautiful product with a simple, clean ingredient list—you can't go wrong. I've done those side-by-side taste tests with it and any other strawberry on the market, and it is the strawberriest.